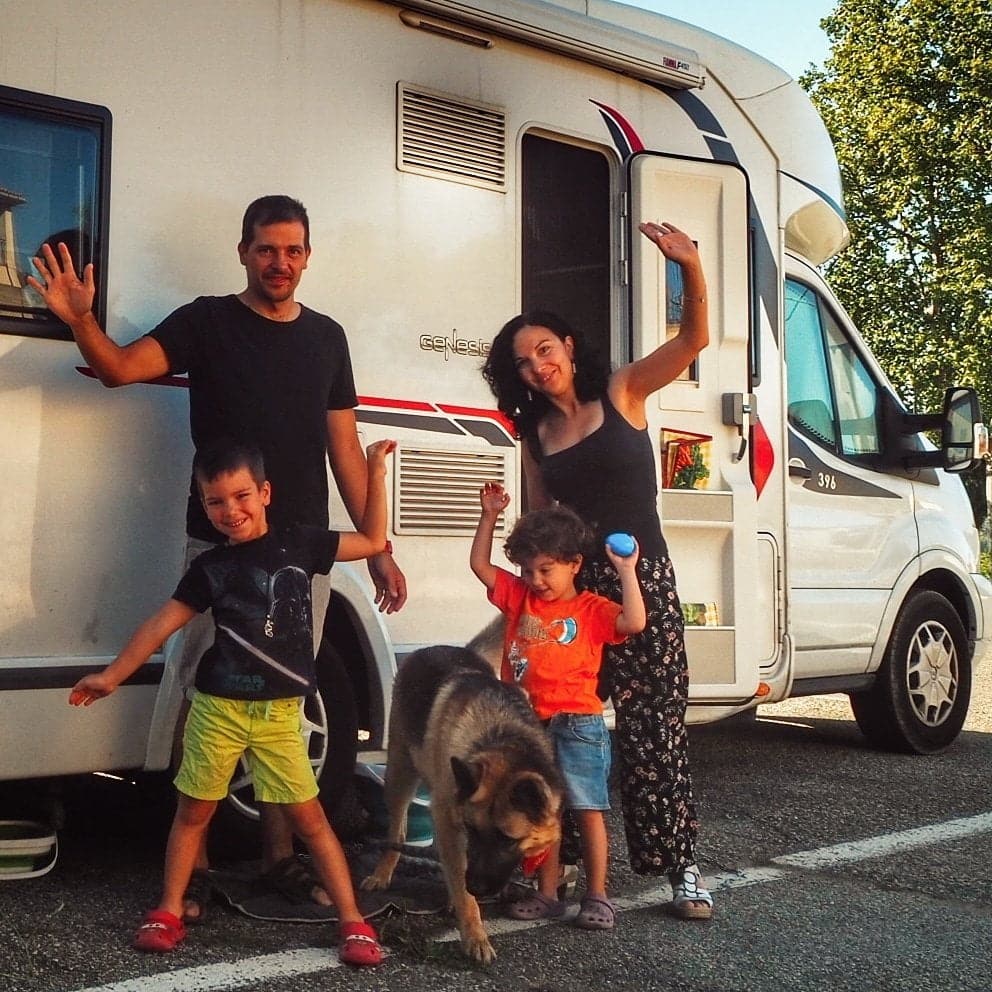 Kucavana, its name and its history
Traveling by motorhome is our passion and here is its history.
Kucavana is the name with which our children baptized our new motorhome the day they got home.
Anna with 2 years old did not know how to say motorhome very well and said something like "kucavana" And so repeating it, she and her brother, who was laughing at her sister, gave her his name. And the truth is that we love the whole family!
Our Kucavana is one Challenger 396, a new model from 2018 from Challenger, she has taught us how to travel by motorhome.
Su history goes back to the day we decided to sell our old and historic 25-year-old Volkswagen California van, the Cali, a full-fledged hippy van :). After spending 3 weeks in the Pyrenees during the summer of 2017 on 4 and enduring days of intense rain with two little children, we clearly saw that we had grown too small and that we needed a change in our lives 🙂
Choosing a Challenger 396
Our initially favorite was the Benimar Sport 323 nasturtium and with bunks and we were quite convinced of it, it was what we needed: bunk beds for children and a lot of dining space which is where we would spend the most time, with a double bed that should not be made or undone.
However one day, and almost by chance we passed by Cargol Caravans, in Parets del Vallès, and we said let's see if they have a nasturtium with bunk beds ... And here Our surprise, they did not have but they had just received a new 2018 model of a profile with a great novelty: tilting bunk beds that gave at the same time a free area for children or second dining room and best of all a large large garage (just what that we missed in the Benimar!)! It also had the gas oil heater as we wanted and the gas fridge and it was a Ford cabin (in the Fiat it did not come well! I am quite short hehehe).
The second we fell in love, it was our perfect motorhome, for our children, our dogs and for us. Perhaps the qualities of Challenger were not the best, but neither was Benimar, but the distribution was very important for us.
Choosing a motorhome is very personal, we believe that each family has their needs and that there is not a perfect motorhome for everyone, but rather that everyone finds their perfect AC.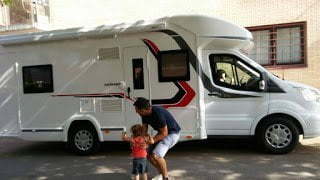 So we present you our Kucavana, a Challenger 396, with whom we are very happy, especially with Montse our saleswoman 🙂 Thank you for showing us what our Kucavana was going to be that day!
If you want to see it inside you can see our VídOr where we show you our Challenger 396 motorhome both outside and inside.
Video of our motorhome
And who do we travel on it?
Well we are one family from a 36 year old couple, Pilar and Jose, that we live in a small town of Barcelona, with two wonderful children little ones 4 and 7 years old, Anna and Arnau. In addition, we have 3 adopted German Shepherd-type dogs, that is, large ones of about 40 kilos. All three are adopted from the Vilanimal protector, with whom we have great esteem and have collaborated for many years. From here we encourage you to adopt! www.vilanimal.org !
We can only take one or a maximum of two of the dogs on each trip, due to space and family logistics (and because the two males fight us 🙁), but the others stay with the grandparents at home who are delighted and from here We warmly thank you for all the support you always give us. THANKS, WE LOVE YOU !!!
We are a computer engineer and a political scientist who is also a university professor, who grew up in a caravan going from town to town like a good daughter of fairgrounds (cop what ??? public administration). We have both worked to modernize public administration for many years and we try to make it better one day. We go above all to small town halls giving organizational support and digitally transforming them, helping them with their strategy and internal organization. We met for a few years doing the same thing in a company and we continue together and doing the same.
For us, traveling to small municipalities is our day to day, all year round, weekends and weekdays. We love it and we enjoy it, and above all, getting to know its people.
We hope to see you soon in one of the thousands of corners that await us in this beautiful world, remember to say hello!
Manual for traveling in a motorhome