Plan a responsible trip to Morocco.
We are travelers, not mere tourists.
A few months ago that We decided that in 2020 we would go to Morocco.
A destination that for us is special. We know that it will be the first trip that will break the cultural patterns of our children.
Until today, Anna and Arnau have not left Europe. AND This year we will have to cross more difficult borders, the cultural and social ones.
We really want. And we want it to be a special trip for the whole family. We are travelers, not mere tourists, and this is clear in all our trips.
In our trips we seek learning, awareness and open-mindedness. That is being a traveler, living it, learning, feeling and integrating.
And the A good traveler gets involved, gets involved wherever he goes.
For this, a little over two months ago, we decided that our trip to Morocco had to havea purpose beyond mere tourism. TeIt had to be a responsible journey in every way. Being a traveler meant that.
So we started to look for associations and NGOs that will help families in Morocco in some way, like us.
It was then, when we discovered this great Association: IMA, Friends of the Children of Morocco.
IMA, not only helps Moroccan children, to be adopted by Spaniards, but also helps break the silence for single mothers in Morocco.
Mothers, who suffer a dramatic situation of total social, legal and institutional exclusion in Morocco.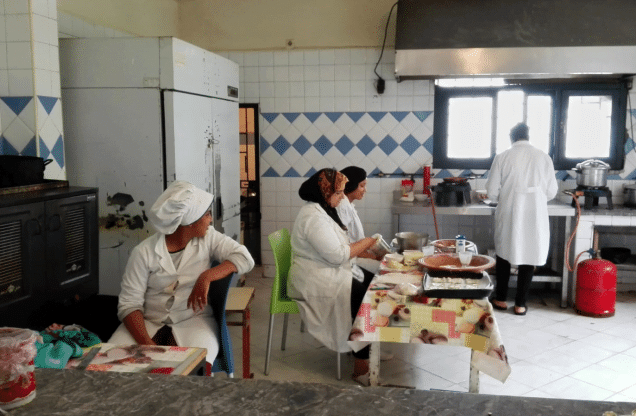 Single mothers in Morocco
Single mothers in Morocco are totally rejected for their families and repudiated by friends, neighbors and community. Goodbyes of their jobs and chased by the police, as sexual relations between unmarried people are punished by Moroccan law with penalties of one month to one year in prison. And the worst from there, subject to mistreatment and sexual and labor exploitation.
The precariousness of these women in many cases makes them run away from becoming pregnant and abandoning their children at birth, fearing what comes next from their Society.
From the 2015, Amics dels Infants del Marroc (IMA) works closely with the Association Solidarité Féminine (ASF) in a comprehensive project that promotes the rights of single mothers and their children, preventing child abandonment.
It supports them comprehensively through a center of attention and total orientation with accompaniment, through literacy and vocational training workshops, through job placement, through the prevention of unwanted pregnancies among youth and through awareness-raising of the population, society and defense in institutions.
This project has undoubtedly marked us. And since we met him, we've wanted sea part of our purpose in the trip to Morocco that we are planning.
We will reveal everything we will do with them shortly, but for now we want to ask you for support for this cause.
How? Supporting Crowdfunding They currently have assets to reach 3500 euros that they need to maintain the center for a few more months for these single mothers and their children in Casablanca. In that center these women take refuge from the disaster until they integrate into working life through a Restaurant and a Hammam that they themselves manage and that we will visit when we are there. If someone goes there you can find them at these addresses: https://solfem.wordpress.com/locations/
Less than 20 days left and they have not reached the purpose of the 3500 euros, Can you help us help them achieve it?
Bring your grain of sand here
Because we are travelers, not mere tourists. Let's help these families.
Breaking the silence against the social exclusion of these women and their children
2018 data in Morocco
People in prison for having sex outside of marriage
Clandestine abortions a day, with a 13% death rate for mothers
Amics dels Infants del Marroc ...
Other trips of the Kucavana