Schokland what to see and do?
Schokland, the island without water World Heritage Site by UNESCO. An island without water around? Yes, what you hear, where water one day overcame man and where man finally overcame water. A unique, unusual and different place in Holland.
On our way through the Netherlands, or as we call it, Holland in a motorhome, we discover fairytale villages, unusual places, natural parks and castles with a lot of charm. We also discovered Holland with children, with our children, and with our dog Max, who widens our gaze and makes us enjoy it 200%.
Stay on our journey through our posts on our blog and start traveling with us to Holland by motorhome.
To start with ... 2 Schokland maxims in a motorhome
1

Under no circumstances do you camp or spend the night freely, be responsible, free camping is totally prohibited as well as free spending the night outside campsites or motorhome areas
Camping is prohibited throughout the Netherlands, but in addition, the Netherlands is also prohibited from spending the night free by law.
We know that the vigilance of the police is maximum before the camping and free nights in the country and that they are fined 200 euros for it because of what colleagues have told us. So, do not camp and do not spend the night for free and against the law of the Netherlands, we must respect the rules of each place, remember you are a guest.
REMEMBER, CAMPING IS OUTSTANDING THE PERIMETER OF YOUR VEHICLE (take out table and chairs, awning, open windows ...).
2

Know a minimum about the Netherlands. Netherlands guide by motorhome
We make it easy for you, here is a small guide to Holland by motorhome with everything you need to know.
Language
Holland what language do you speak?
If you are looking for: Holland what language is spoken? Holland language or Netherlands language? or Dutch language? Holland what language do you speak?
Well here is the answer, These are the 2 official languages ​​in Holland or what is the same and as it is officially said, the official languages ​​of the Netherlands:
- Dutch. Language of Germanic origin that uses the Latin alphabet. Commonly in Spain we call it Dutch, but the truth is that it is poorly spoken as a language. Dutch is precisely a dialect of Dutch. Dutch is spoken not only in the Netherlands, but also in the Flanders and Brussels region of Belgium, in Curaçao, Aruba and other Dutch island territories, and in Suriname.
Dutch dialects. There are 2 main dialects of Dutch, although there are more variants: Dutch in the north and Flamenco In the south.
- Friesian or Friesian. A minority but official language of about 400.000 people, spoken in the Friesland region of the north of the Netherlands. It must be said that it is also spoken in a part of Denmark and Germany. It is a language very similar to English and in danger of extinction.
Finally, you should know that although it is not an official language, most of the Dutch speak perfectly English and German.
Basic words in Dutch
Basic words in Dutch
Yes, Ja.
No: Nee.
Hello: Hoi.
Good morning: Goedemorgen.
Good afternoon: Goedemiddag.
Good evening: Goedenacht.
Thanks: Bedankt.
You're welcome: Graag gedaan.
Please: Alstublieft / Gelieve.
Goodbye: Dag / Tot ziens.
Currency and prices
Holland coin
Euro.
Holland average prices
The prices are similar to France, a little higher than Spain in most products, but not much more expensive.
Holland population
Netherlands inhabitants
Approximately 17.000.000 inhabitants.
Holland capital
Capital of the Netherlands
Amsterdam
Typical food in Holland
Tasting the gastronomy of the country where we travel should be a must on our trips.
In netherlands buying in supermarkets is similar to that in Spain. Now, restaurants don't have a menu like here. Usually paper and you usually eat only one dish and usually without dessert. It is true that the dishes are large and sufficient.
There is a lot of restaurant fast food and friterias that for a low price, around 10 euros per person you will eat well. But if what you want is to try quality gastronomy of the country, it has an average price per person of 20 euros for just one dish.
Be that as it may, don't leave without trying the following typical Dutch food.
Typical foods in the Netherlands
- The Frieten, the French fries with a thousand sauces to choose from.
- Carbonade flamande or stoofvless in Dutch, the beef stew par excellence accompanied by French fries.
- Stoemp, the mashed potatoes with vegetables. They put it to accompany many times the typical large stuffed meatball in Belgium or other meat or fish dishes.
- Moules frites, mussels with fries. The same as the French but with very rich varied sauces. Of course, here the dish costs twice as much as in France.
- Garnaalkroket, shrimp croquettes or delicious shrimp. Shrimp in general is very tasty and they also put it in salads or as a side, especially on the Belgian coast.
Typical sweets from Holland
- Wafels, the super Belgian waffles that there are of different varieties and types of doughs and topings.
Tips for traveling by motorhome or van to the Netherlands
Regulations for parking and overnight in the Netherlands in a motorhome
The Netherlands is a country where you can park anywhere that is not prohibited by an ordinance or municipal regulation during the day. But at night things change. The regulations on the overnight stay of motorhomes exist and in this case in a restrictive way.
By law it is forbidden to spend the night in any vehicle outside a campsite or motorhome area throughout the Netherlands.
In addition, you will see that being a very capitalist and privatized country, there are no free areas.
To camp
Free camping is prohibited, only in campsites and motorhome areas you can camp. In the latter, not all of them, since there are some public ones, which, although they are paid, do not allow camping either.
Getting around the Netherlands: roads and bicycles
Netherlands Roads
In Holland the roads they are mostly free, although there are no excellent highways like the toll roads in France and Spain.
Bicycle, a must in the Netherlands to get around. And watch out for them when you drive!
On the other hand, keep in mind to move around the cities and towns that the means of transport par excellence are the bikes.
Be vigilant when driving, cyclists always have preference and also go without a helmet.
And if you can, bring your bike with you, rain or shine is a must to enjoy this trip.
Schokland what to see and do
On your trip to Holland by motorhome, camper or car by free Schokland you must be uA must if you like unusual and different plans.
Schokland is a centuries-old island in the former Zuiderzee Sea. An island with a lot of history. Schokland was an island with a large population that lived on fishing and commerce, but due to the continuous floods and tidal waves its inhabitants had to abandon it. Now, today it is dry from the drainage of the Noordoostpolder polder in 1942. It is a spectacular place, full of nature, history and culture.
Schokland is a World Heritage Site and a symbol of the Dutch fight against water. A wonderful place, with many monuments and archaeological sites. In fact, you should know that it was the first World Heritage Site in Holland. The more than 160 archaeological sites on this island show the development of its inhabitants. One example, in 1984 human footprints more than 4.000 years old were found, which are now housed in the Schokland Museum.
We visit the entire island by bike inside and out until we reach the noordpolder and even bathe at its nearby beach.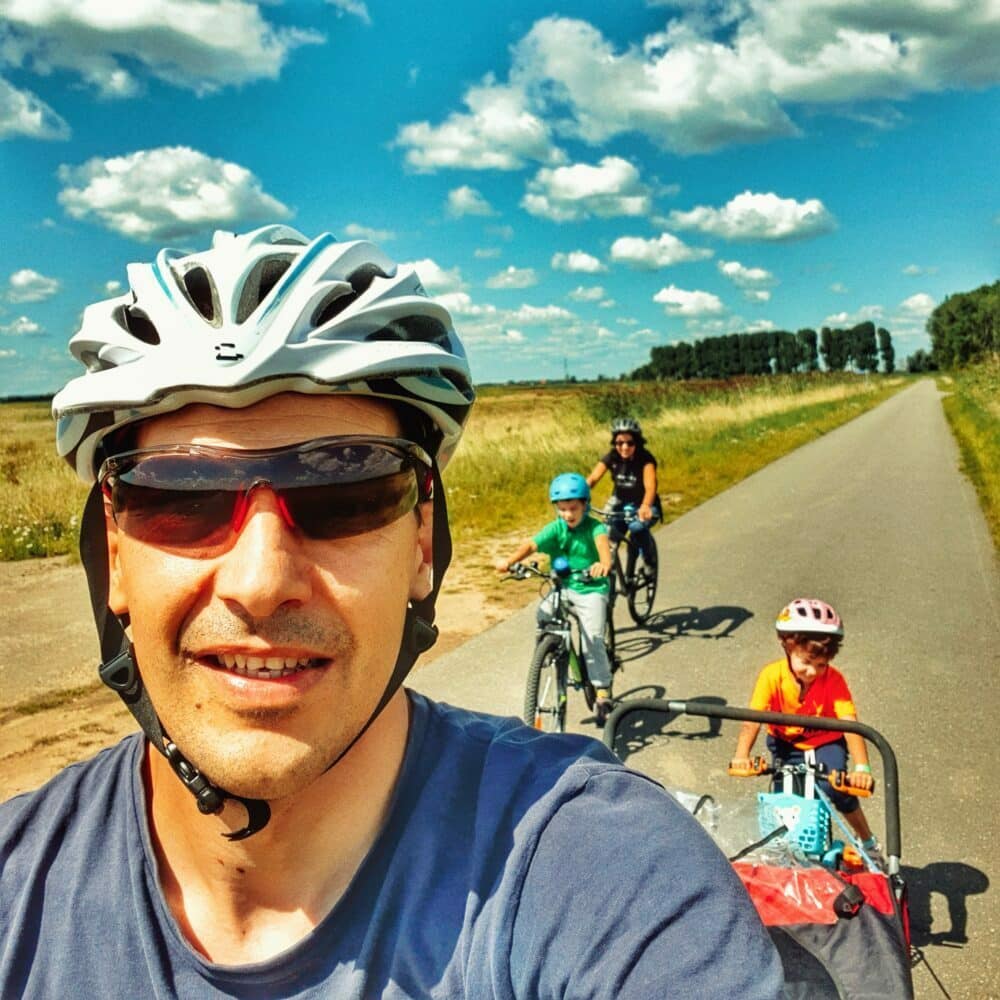 Things to see and do in Schokland
Visit the Schokland museum
Visit the lighthouse ruins
Go around the outside of the island to see how the island protrudes from the polder
Visit the ruins of the church in the south of the island
Visit the old port of the island at the northern tip
Visit the polder and pedal along its upper bike path by the sea
Go to the polder beach
Where to park and spend the night in Schokland by motorhome or camper
We park and spend the night at the mini farm camping near the island. A magnificent place with a horse and pony that our children and us fell in love with.
The cost was € 20 per night and from there you can cycle to the island and the polder.