Live traveling in a motorhome. Year 2020. Year of pandemic. Are you aware that you are making history? Many people are already prepared to migrate to the 'new normal'. Have you ever been tempted by the nomad life or living in a motorhome?
Discover the best recommendations of this family that lives, travels and enjoys in a motorhome with their precious baby. They left everything to live in their motorhome traveling the world and they are succeeding despite the current Covid situation. They have been on their adventure for 3 months.
However first, some very practical questions on how to live traveling in a van or motorhome and living in a motorhome! Keep reading!
Can you live traveling in a motorhome?
In this life wanting is power. And if not, our babyvanblog family will quickly show you. You can live in a van or you can live in a motorhome, of course, although first you should know a few things.
Living in a motorhome saves bills and lifts your soul. It is a new way of life for many brave and adventurous families. People say that By living in a motorhome you save more than 6.000 euros a year in current expenses. According to these calculations, in a concrete house you would spend 17.000 euros a year and in a housing vehicle, the figure would fall to just over 10.000 euros. Of course, each person is a world, so the 27 euros a day of medi, can vary greatly depending on the family.
We already know how much it costs to live in a motorhome. Now, we wonder if "you can live in a motorhome." In other words, is it legal to live in a motorhome?
If you are tempted by this lifestyle, you should know that in our country Spain, you cannot register in your motorhome or van, which is a handicap to school or to have access to doctors. Now yesIf you do not settle in a single place with your motorhome, the chances of having legal problems are reduced. The authorities will treat you like just another traveler. Living nomadic means that you can move and live anywhere in the world without too many ties.
This is assured by motorhomes who have already tried the experience of live in a motorhome like Babyvanblog
YE HERE THE INTERVIEW WITH OUR GREAT TRAVELING NOMAD FAMILY BABYVANBLOG
Don't miss their recommendations!
The nomadic family that left the south of the south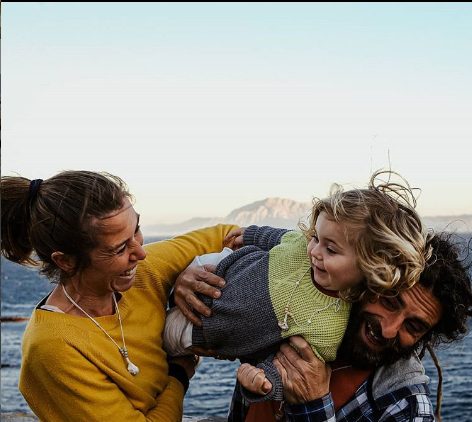 This family rooted in Tarifa, south of the south, is composed of Marco (Italian), Oli (Galician) and their son Iago. Together they travel in a motorhome as old as it has lasted for a year. Right now, they enjoy a nomadic lifestyle in it. They have renovated it and it is their home. It has a name: «La Gorda». His cat Lola is also part of the family.
What advice do you give a newbie to AC or camper?
We consider ourselves newbies! We would not know what recommendation to make. I imagine that the best thing we can share, what has served us the most is trying to ensure that destiny or times do not limit our well-being along the way.
On our first trip we hoped to complete a certain route that became an impractical plan when we started shooting. We knew how to redirect on time, adapting to the needs of the three of us, the road pleasantly surprised us and we ended up having a wonderful experience.
But the process of learning and adapting to the motorhome without previous experience was and continues to be slower than we thought. Our motorhome is from 89 and we take great care of it, for example we realized that with her and Iago, who was a year and a half, we could not make trips as long as we had planned.
What extra do you recommend for a motorhome or camper?
I think our biggest extra was the bikes. Thanks to them, our daily logistics of travel, excursions and errands greatly improved. In many small towns or tourist sites in high season it is not very easy to move a motorhome every time you need to make a short trip (if there are no good combinations of public transport, for example).
Iago is in his back seat very happy and we feel much more autonomous. And right now, we think our biggest extra is the solar panel. We seek above all autonomy.
Any trick that makes your life easier?
Yes ... right now that we have been planning our "escape plan" ... hehe, we have made a garden during confinement and prepared preserves that do not need a refrigerator. The vacuum bags to store blankets or winter clothes are also helping us a lot.
For those who do not have a compressor refrigerator and have an old trivalent refrigerator, like us, it is not bad to install a double fan (pc) to blow the hot air out and improve performance.
In our motorhome we do not have air conditioning for very hot days, but we have installed a "turbovent", a skylight that moves the air both outside and inside (depending on what you need) and improves the ventilation of the cell at nap time or as an extractor hood for cooking.
What route do you recommend doing in a motorhome or camper in Spain?The coast and the interior of Cadiz. Autumn and spring are great, they have lovely beaches and there is a lot of natural park for those who like nature and active sports.
It has it all, the mountains very close to the coast, and a humid interior such as the Sierra de Grazalema or the Bosque de la Niebla, where you can find primitive vegetation typical of a climate very distant from what one imagines when coming to the south. The sunsets in autumn are the ones with the most special color.
What route do you recommend doing in a motorhome or camper in Europe?
We can recommend what we have done so far. Lombardy- Liguria- Tuscany- Umbria and Sardinia. We have done it in July-August and we totally advise that it be at another time, as it is very crowded. Liguria and Tuscany have many things to offer and are well prepared for motorhome tourism, they are family sites and of great heritage and landscape interest.
As for Sardinia, it is a paradise, both the coast and the interior. In every curve there is an impressive place. Dream coasts with dream mountains. The northeast area is difficult for motorhome tourism, very prohibitive and unwelcoming. The southern area is great, nothing to see. We did the entire coast, arriving in Olbia from Civitavecchia by ferry, and leaving from Portotorres to Barcelona by ferry as well.
And what destination at Christmas?
We cannot make any recommendation for this date. We haven't tried that experience yet.
The best proposal to go in a motorhome or camper with children?
For us, any place with a natural environment is always great. We love meeting other families or visiting sustainable or educational projects, but we understand that the variety of possibilities depends a lot on each case.
As a new mother and father and a new family in a motorhome, we feel that we have a thousand possibilities ahead of us to explore!
The most impressive place to spend the night with a motorhome or camper?
We feel a certain sensitivity towards Sierra Morena, in the part of Jaén, specifically Aldea Quemada with its canyon, gorge and the Cimbarra waterfall. Our hearts shrink and our instincts sharpen.
Be it the roar of the waterfall when it is full, knowing that space is shared with lynxes and wolves or the great starry sky from the hole in the skylight. Of course, it is a protected area and you have to be respectful of the regulations and contribute to conserving the area. For the night, the town is very close.
What do you think of his advice on living in a motorhome?