10 Lessons Learned About Disneyland Paris You Need To Know Before You Go
1. People
On January 1, there will be no people at Disney with a hangover. Lie! Whenever the children have a party, there are people to petar! Be that as it may, cultivate your patience before going… Especially on summer or Christmas holidays!
2. Thefts of carts
They will not steal a cart from us again, there are so many bad people at Disney. Whoosh all over the face. And not one, two that we carried. The third that they take from us at Disney. Chains tomorrow. Luckily they were the rental ones, that with the magic plus annual pass for us they were free ... but 25 euros that you lose per cart ...
3. The tails
There will be a time when there is no queue at the princess pavilion. Lie! At 8 in the morning there is already a 60 minute queue !!! That if at 12 hours ... 120 minutes !!! Madruga and Disney will help you hehehehe
4. The annual pass
The annual pass to Disney pays off and is wonderful. Sponsor 3 people with your pass, also, it's great they extend the annual pass for 6 more months! Rotten lie !!!! It is only to lengthen the agony of the amortization of the pass 😱… .if once it is worth it… it loses its charm the second time everything…
5. Money, money
You will not spend anything apart from the entrance fee. Lie! There are death traps, or triple somersaults, everywhere! In fact there are more shops and restaurants than attractions !!!
6. Lineberty saves you waiting
Application Lineberty It's a marvel, you take a number and you don't have to queue to take pictures with the characters at the Studios park. Lies !! What a disappointment my daughter. 9:45 a.m., they open to catch the hours, 9:46 says that for Minnie everything is full !!! 😱😱 We take the buzz and op you can only reserve 1 !!! Ale runs, my husband installs it on his mobile for another ... Summary go with as many mobile phones as possible and the app installed at 9:45 at full speed! Then refresh, sometimes they open again in the info i, they notify you of the time the queue will open again and directly put 1 person then you all pass.
7 Restaurants
There are no cheap restaurants at Disney. Lie! There is a Mcdonald in Le Village cheaper even than in Spain (the happy meal), and with an annual pass they make you 10% off. Total eat garbage for garbage, this is cheaper hehehe
8. Free stuff
At Disney they don't give anything away. Lie, and for good! We have been given badges, letters and even a cap on several occasions! they will have seen us face to write this post hehehehe
9. Disney magic
Disney is going to be enjoyed, it is pure magic. Lie! Enjoy queuing, crying, rain or cold that strikes you or the sun that hits you in summer!
10. Childish goodness
There is no cruelty at Disney. Let's see, we all know that in the middle of the movies the father or the mother are loaded as soon as they start ... Totally, I take care with some of the attractions and the little ones ... Although I have to say that my little 3-year-old in this Second trip he was already desensitized to cruelties and he liked it more than the older than 6 years! hahahahaha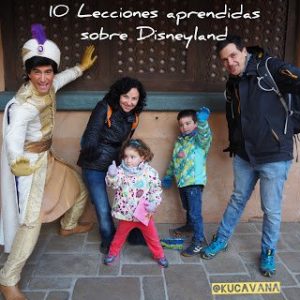 If you want more details and advice about our Disney experiences in summer and Christmas, access the posts on trips to Disneyland Paris by motorhome on these links: