This couple from the Basque Country, passionate about camperlife, are one of our great discoveries on Instagram this year. They have made us fall in love with their routes and trips.
They are a couple who love the mountains, the sea, traveling and photography. But above all they love adventure and live with passion for what they like.
They really have beautiful photos and very useful information for the camper world. They are the profiles that add value to the world of caravanning and camper without a doubt. Therefore, I encourage you to follow them.
If you want to know more about traveling by camper for a couple of adventurers, do not hesitate to meet them and follow them on Instagram, you will love them!
Japan by motorhome: 3 reasons to make this trip
Our last motorhome trip was to Japan. A country that I already knew, and this time we chose the island of Hokkaido, north of Japan in a rental motorhome.
1 Skiing in Japan: the best snow in the world
Specifically, we went 15 days in January 2020 looking for the best snow to snowboard.
In recent years, Japan is becoming very fashionable since the best and deepest snow in the world is found in the Japanese country.
An unforgettable trip. Not only because of its snow but because its culture is amazing, its incredible temples and there are places with a lot of impressive peace.
2 The gastronomy of Japan
What to talk about its gastronomy, a marvel. Ramen, a traditional soup typical of Japan, is the best way to warm up the country. And it is not for less, since we reached -22 degrees below zero.
But there is much more gastronomy than ramen. We have sushi, skewers, yakiniku, sasimietc …… All highly recommended dishes.
3 Los Onsen, Japanese hot springs on our Japanese route by motorhome
Another highly recommended and typical thing in Japan are the "onsen" Japanese baths with natural sulfur hot springs that emanate from mother earth.
I invite everyone to be encouraged to travel to Japan by motorhome, camper or whatever they want since it is a country with a lot of charm.
Travel to Japan by motorhome: rent and camper culture
Rent a motorhome to make a route through Japan in a motorhome
Renting a motorhome in Japan is worth the same as in Spain, more or less. You have a lot of possibilities on the Internet to be able to make the reservation from your home without problem.
Motorhomes in Japan: what they are like
Japanese motorhomes are not like European ones. Are much smaller between a mixture of motorhome and camper.
Toilets and showers in winter Japan motorhomes
The ones that you rent in winter don't have a bathroom, otherwise the tanks would burst. Taking a shower is easier, all over Japan there are Japanese onsen baths that are everywhere. There you can shower with sulfur hot springs since Japan, as it is a very volcanic country, has a lot of hot springs.
You have Japanese baths in all the towns and they are very cheap. They cost about 2 or 3 euros. Of course, if you have tattoos be careful since tattoos are very frowned upon, since they are associated with the yakuza and the Japanese mafia. I was kindly kicked out in an onsen. That is the only big problem you can find in all of Japan: onsen and tattoos….
To go to the bathroom, you have to go to the rest of the roads, which are really very clean and if not, take the restaurants where you eat or also very practical the 7-eleven bathrooms.
The kitchen on a trip to Japan in a motorhome in winter
On the kitchen they have is totally basic of a gas stove without more. But to eat I recommend you to go to restaurants that for € 6-7 you can eat wonderfully.
Cold and snow on the northern Japanese route in the motorhome
With the cold without problem, the gasoline heating works well despite the fact that the temperature outside reached -22 below zero.
It is very important to make this trip that the motorhome is 4 × 4, and with winter wheels. Since ice and snow are a day to day of northern Japan in ski season.
Safety and hospitality on our Japan motorhome trip
Otherwise Japan is a very safe country to travel. The people are very friendly and despite the fact that the language is often a barrier, you will have no problems communicating with the local people as they are very friendly and hospitable.
Drive, park and spend the night in Japan in a motorhome or camper
First of all, you should know that in Japan people behave like the British on the left. So don't lose sight of this point.
As for staying overnight, in our case we went in winter and on top of that we went to the northern island of Japan by motorhome, Hokkaido, where the thickness and cold snow are usually very generous in winter. Obviously there are no campsites open in winter.
We were a bit crazy, really, but we had no problem where we slept on our own. The Japanese are very respectful and quite friendly in that aspect and with the camper life.
It must be said that we did not see any area of ​​caravans or anything similar.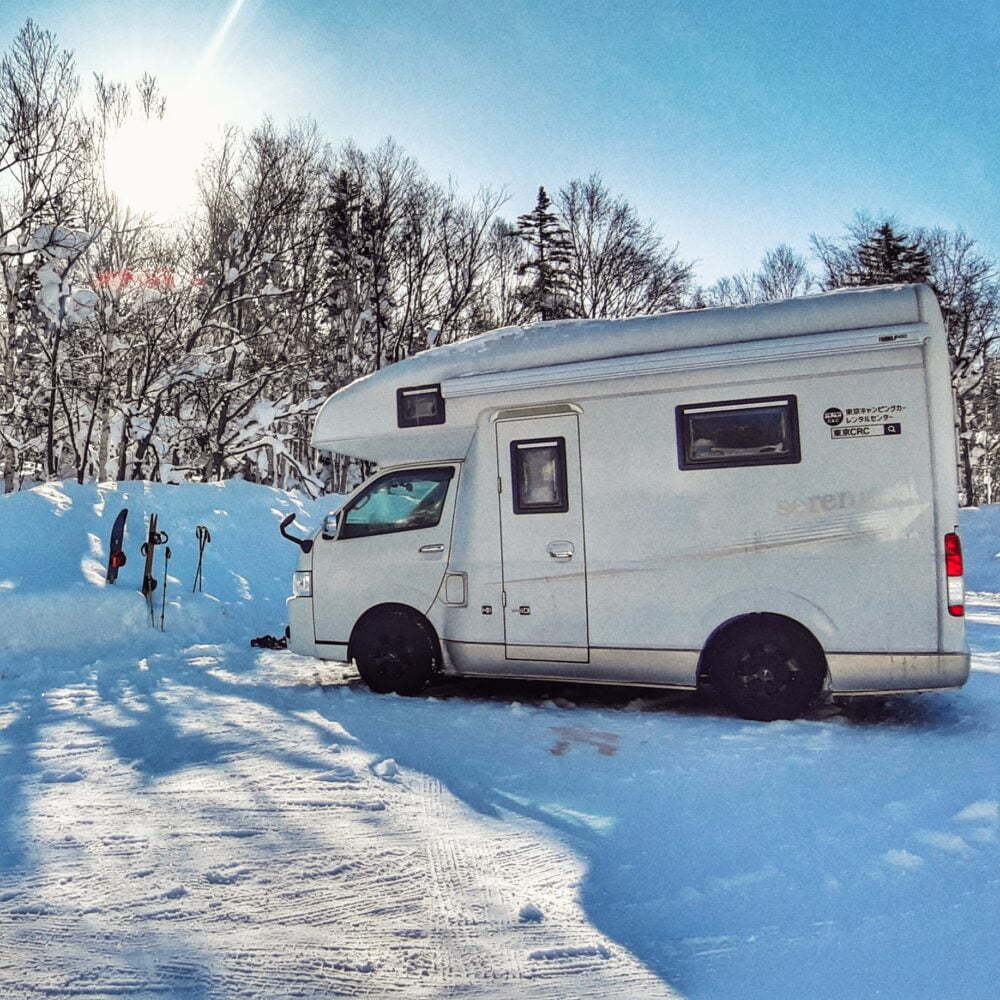 Our route through the north of Japan by motorhome for 15 days
Our route through the north of Japan in a motorhome for ski lovers was the one that I will narrate below.
First of all you should know that it is a route for great lovers of skiing, snow and the mountains, expert white lovers.
It is a 15 day route.
The only trip to Sapporo is 24 hours from Madrid. Coming out
from Madrid to Japan is a 14 hour flight to Tokyo and then from Tokyo to Sapporo there is
to catch another plane.
For this reason, we recommend at least making this trip in at least 10-15 days.
Sapporo, 1st stop on our route through northern Japan by motorhome
1st stop Sapporo: The capital of the island of Hokkaido. It is a mandatory stop. Its ice festival is amazing and it is worth a visit to this city.
Otaru
2nd stop Otaru: Coastal city with very good seafood at a great price. The Otaru seafood market is a must-see where you can taste fresh seafood. The king crab is the most typical of this market but it is only for the most powerful pockets. We ended up eating some typical dishes in the same market, choosing the seafood yourself.
Niseko
3rd stop Niseko: A town well known for its abundant snowfalls and for its famous ski resort. Very touristy, but it is well worth a day of walking around its town.
Daitsesuyan Park
4th stop Parque Daitsesuyan: A mountainous landscape and a place to visit for any mountain lover. Active volcanoes smoldering with sulfur and a breathtaking view. An onsen, thermal baths, in the hotel next to the parking lot will relax you after a good walk.
Furan
5th stop Furano: Another city known for its ski resort. A beautiful town and also known for its traditional gastronomy.
An alternative route through the Japanese Alps in fewer hours and ideal for families with skiing children
There is an alternative route for less
expert skiers or families with children: the Nagano area, on the island of Honzu,
In the Japanese Alps, where the snow monkeys are, monkeys in the snow,
lovely towns and cities like Matsumoto, Takayama, little Kyoto with
ski passes of 20-35 euros maximum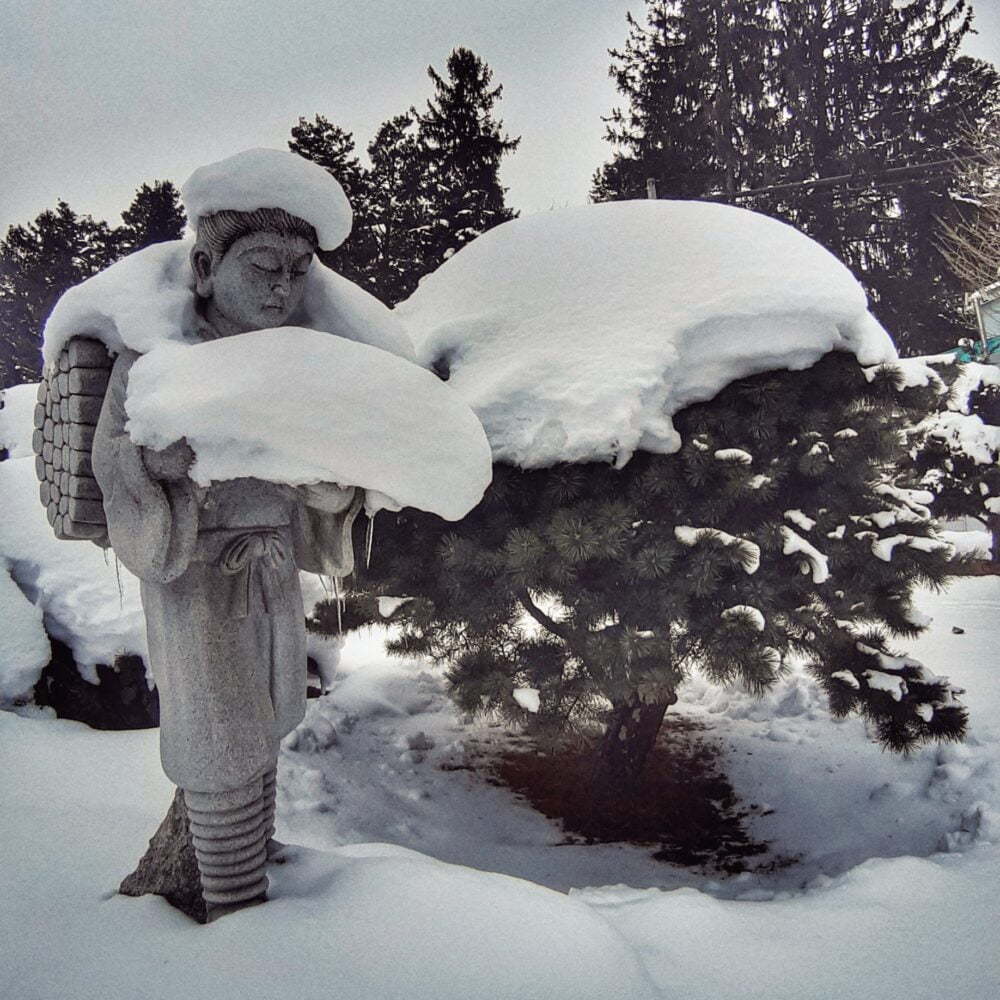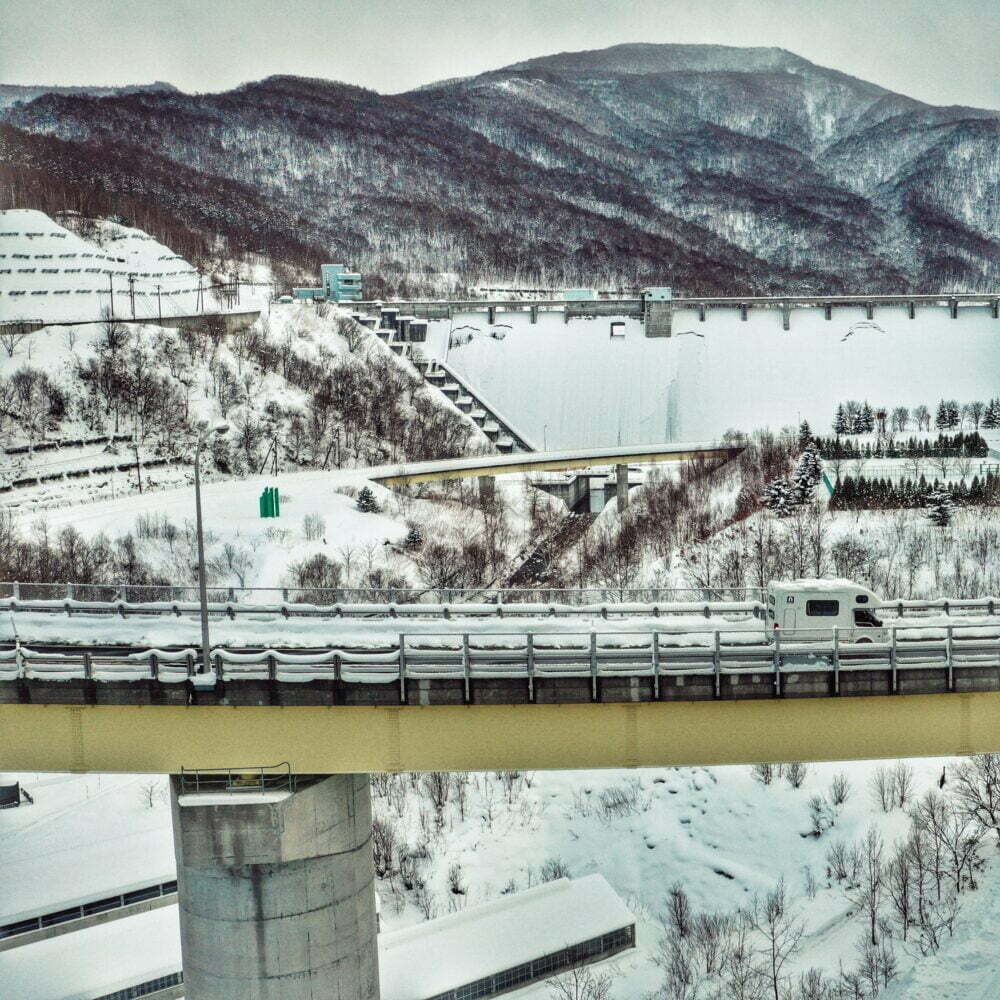 An alternative route through the Japanese Alps in fewer hours and ideal for families with skiing children
There is an alternative route for less expert skiers or families with children that we have also done on other trips: the Nagano area, on the island of Honzu. In the so-called Japanese Alps, where are the snow monkeys, monkeys in the snow, beautiful towns and cities like Matsumoto, Takayama, little Kyoto and where you can ski with 20-35 euros maximum ski passes.
A great route with great plans!
Other articles that may interest you