Baiona in a motorhome on a route through Galicia in a motorhome, what to see and do?
Baiona in a motorhome, in Galicia in a motorhome, what to see? Without a doubt, if you go to Galicia by motorhome, Baiona is a must on your route. It is not only because it is one of the most historical points of Galicia, but because here the beaches, coves and tides of the Atlantic are worth seeing.
On the route through Galicia in a motorhome, we discover fairytale towns and pirates or Vikings, beautiful coves, natural parks and charming historical sites. We also discover Galicia with children and with our dog that broadens our gaze and makes us enjoy it 200%, although with a dog we will find many forbidden to pass, to take into account if you travel with a dog.
Stay on our journey through our posts on our blog and start traveling with us to Galicia by motorhome.
To start ... 3 maxims about Galicia in a motorhome
1

Be responsible in a motorhome: do not overcrowd, you see in low season or in interior parts of Galicia
Before going to Galicia by motorhome you should know that Galicia by motorhome in summer and mainly on the coast is very crowded in recent years. That and that the parking spaces are sometimes very small makes the best time to go to Galicia in a motorhome is always out of high season, that is, outside of July and August, which is when the coastal points are overcrowded above all.
If you go in July and August in a motorhome, a recommendation: always stay in campsites or motorhome areas and move if you have the possibility by motorcycle or in a small rental car.
2

Under no circumstances camp, be responsible, wild camping is totally prohibited
Camping is prohibited in all of Spain, but Galicia also has protected natural areas, for which all the more reason we must be the most respectful of the environment.
We know that the vigilance by the civil guard and local police is maximum before the encampments and that they are fined 200 euros for it. So, do not camp and do not spend the night in the forbidden places.
REMEMBER, CAMPING IS OUT OF THE PERIMETER OF YOUR VEHICLE (take out a table and chairs, awning, open windows, spend more than 72 hours in the same place ...).
3

Know a minimum about Galicia. Galicia guide in motorhome
We make it easy for you, here is a small guide to Galicia by motorhome with everything you need to know.
Language
Language
Galicia has two official languages: Spanish and Galician. Due to the large influx of tourists in Galicia, a lot of the population speaks Portuguese and it is also very common for the staff of the tourist services to speak some English.
Population
Population
The census amounts to 2 701 743 inhabitants.
Currency and prices
Currency
Euro.
Prices
The prices in Galicia are similar to those that can be found in other Spanish tourist destinations. Probably, the greatest difference in price is seen in the hotel industry, which if we compare it with communities such as Catalonia or the Basque Country, the price is a little lower.
Some examples: coffee with milk: € 1,80; beer cane: € 1,50; loaf of bread: € 0,50; Menu of the day in a normal restaurant: € 10.
Typical Galician food
A delicious gastronomy
Galician gastronomy is an authentic delicacy forged in the middle of the Atlantic. You can find flavors of a great diversity and exquisite products top quality… all of them linked to the land and the sea.
On your trip to Galicia in a motorhome you will find restaurants for all budgets. The usual thing among tourists is to take advantage of the mornings to visit the beaches and coves eating something light and reserve to indulge in the evening in a restaurant.
En Galicia eats well and in abundance, definitely.
The typical Galician dish is seafood. This rich delicacy has its origin in an abundant product of the area.
The skewers and tapas Galician octopus, Galician empanadas, pork shoulder with turnip greens, chorizo ​​with cachelos, padrón peppers or Galician tripe they cannot be missed in your visit.
Ah! do not forget to try their tasty Galician broths and stews, nor its cheeses (from Arzúa-Ulloa, San Simón da Costa or Cebrero) nor the Santiago cake or the Mondoñedo cake and the Allariz almond groves.
And to water the meals the spirits and the queimada they cannot be absent as typical Galician liquors.
Official tourism website
Galicia Tourism Website:
https://www.turismo.gal/
Getting around Galicia: roads
Carreteras
In Galicia's road network, the highways and highways stand out, which as a curiosity are identified with AG- and with a blue background, unlike the rest of the autonomous communities that are usually AP-. AG stands for "Autoestrada Galega". There are many highways in Galicia and pejae, on the other hand, there are few highways, including the Costa de la Muerte highway or the Valle Miñor highway, the rest are generally very good quality highways.
Several of these main roads leave back roads towards the different populations and coastal area especially. All these roads are in good condition and also allow you to enjoy a dream landscape along the way, although some are curvy and narrow, but in general they are accessible to everyone.
Galicia legislation in motorhome or camper
Legislation of Galicia for motorhomes: vigilance against camping on the coast and protection of natural landscapes
The legislation is the same as the Spanish state in Galicia.
If a municipality does not prohibit us by ordinance from parking and / or overnighting of motorhomes, we can park and spend the night without problem, as long as we do not leave the parking marks and do not camp (this is very important).
Bans on parking / spending the night in Galicia in a motorhome, sometimes, and always camping!
In some points of mainly coastal municipalities, they veto us parking and spend the night in their streets. Unfortunately, this is the result of the abuse of many who have camped where they should not. The most prohibitions are to spend the night in motorhomes, especially in parking lots on the coast, in the interior there is no problem as a general rule.
What is extremely forbidden, and this is by law for all of Spain, it is camping. We cannot camp in any public place.
And remember, that camping is spending more than 72 hours in the same place or going outside the perimeter of the vehicle (opening a simple window, taking out the awning or taking out the table and chairs is camping).
Advice to avoid camping with heat in Galicia in a motorhome or camper
That is why a tip if you come in summer, come with autonomous air conditioning or an autonomous Viesa-type refrigerator so as not to open windows or take anything out and thus avoid all kinds of fines while also being cool in your camper or motorhome. For us, God Viesa is everything 🙂 It should come standard and not be an extra, we always say it, so surely many would stop camping and stop us from banning unique places.
Spend the night, camp and do services in Galicia in a motorhome
Where to spend the night, camp and do motorhome and camper services in Galicia
Galicia dIt has many campsites and many motorhome areas, some public and many others private.
Campsites and private motorhome areas in Galicia
There are many options in Galicia in different destinations to find campsites and private motorhome areas at a good price.
These two points are where we must go if we want to camp (take out a table, chairs, awning, open windows ...). Campsites and private areas are the only ones that allow us to camp.
Public motorhome areas
There are many municipalities that have also opted to establish public motorhome areas in Galicia. Most free areas.
But remember that in these public areas camping is generally prohibited. Here you can spend the night without disturbing anyone and you can do services, but not camp as a general rule.
Gas stations and supermarkets that offer services to motorhomes and campers in Galicia
There are some Galician gas stations and supermarkets that make emptying and filling water services available to motorhomes and campers. Some points even allow overnight stays.
Baiona by motorhome what to see and do
BAIONA STARTING POINT OF THE GALICIA ROUTE BY MOTORHOME
What to see and do in Baiona by motorhome
To plan your visit to the best of Baiona and its surroundings, we advise you to see this map with all the places of interest that you can find in the city.
The main thing and our recommendations from Baiona in a motorhome:
Our route through Galicia by motorhome begins by visiting Baiona, south of the Rias Baixas, a city with a lot of history.
Example of this his fortress, its old town and its port, the first in Europe where the discovery of America was announced.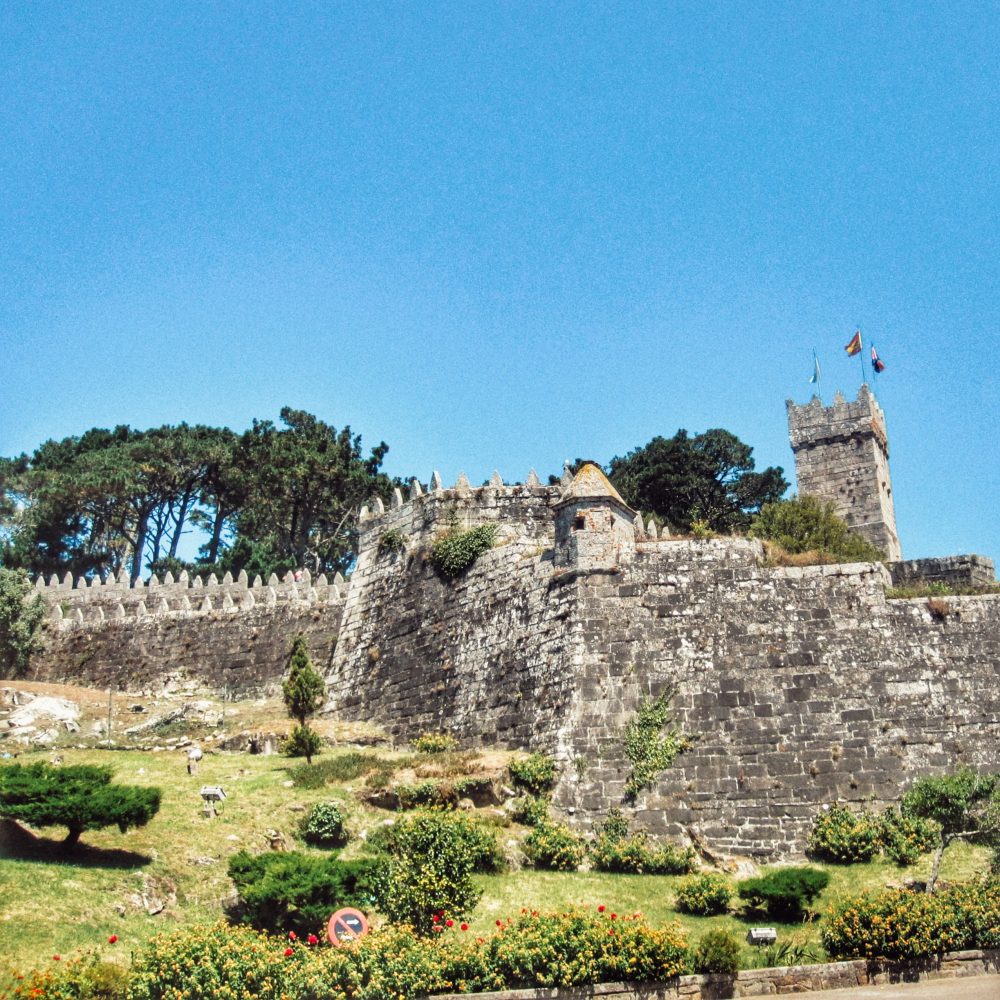 Baiona is known for being the first port in Europe where the Discovery of America was announced. So here it is mandatory to visit its port and there you can visit the replica of the caravel Pinta.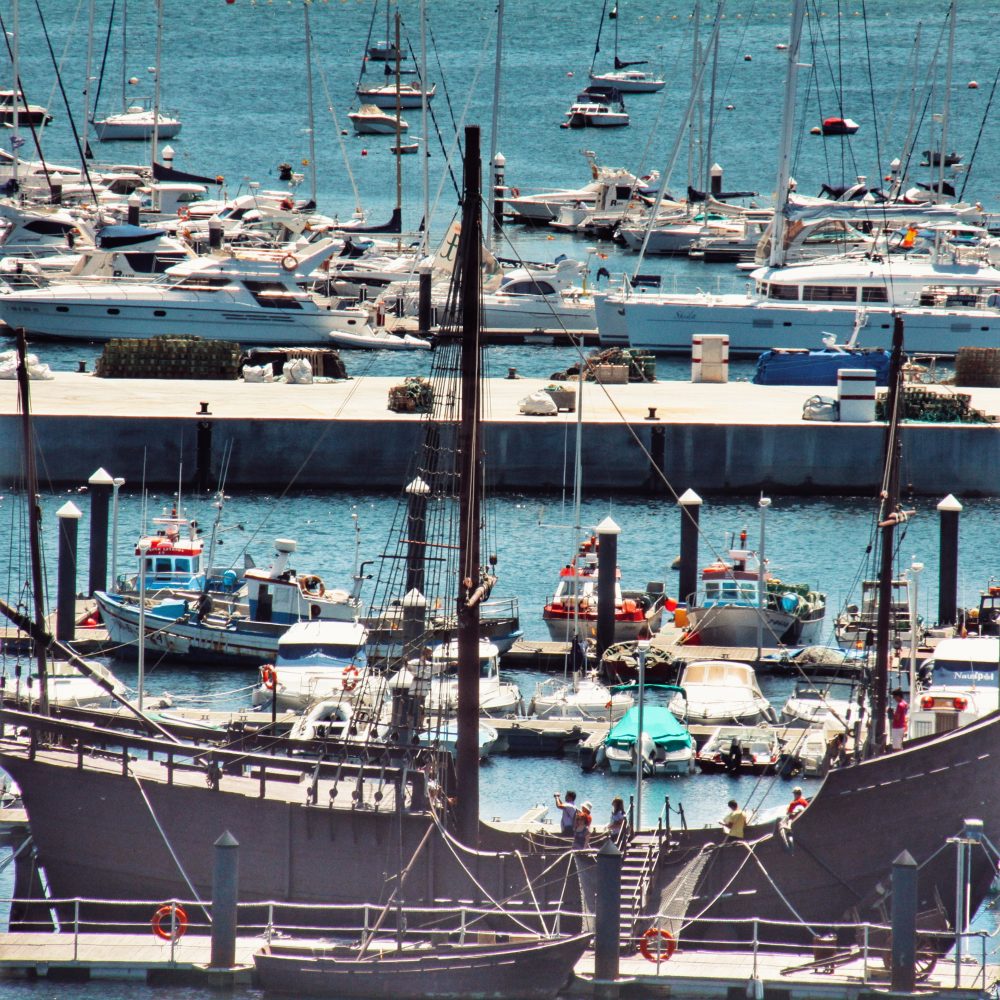 And from there, you can visit the viewpoint "Virxe da Roca" on Monte de San Roque and enjoy spectacular views of the Atlantic. You have parking along the road to go up to the viewpoint.
And finally, our extra suggestions: You can visit the surfing Patos Beach and America Beach.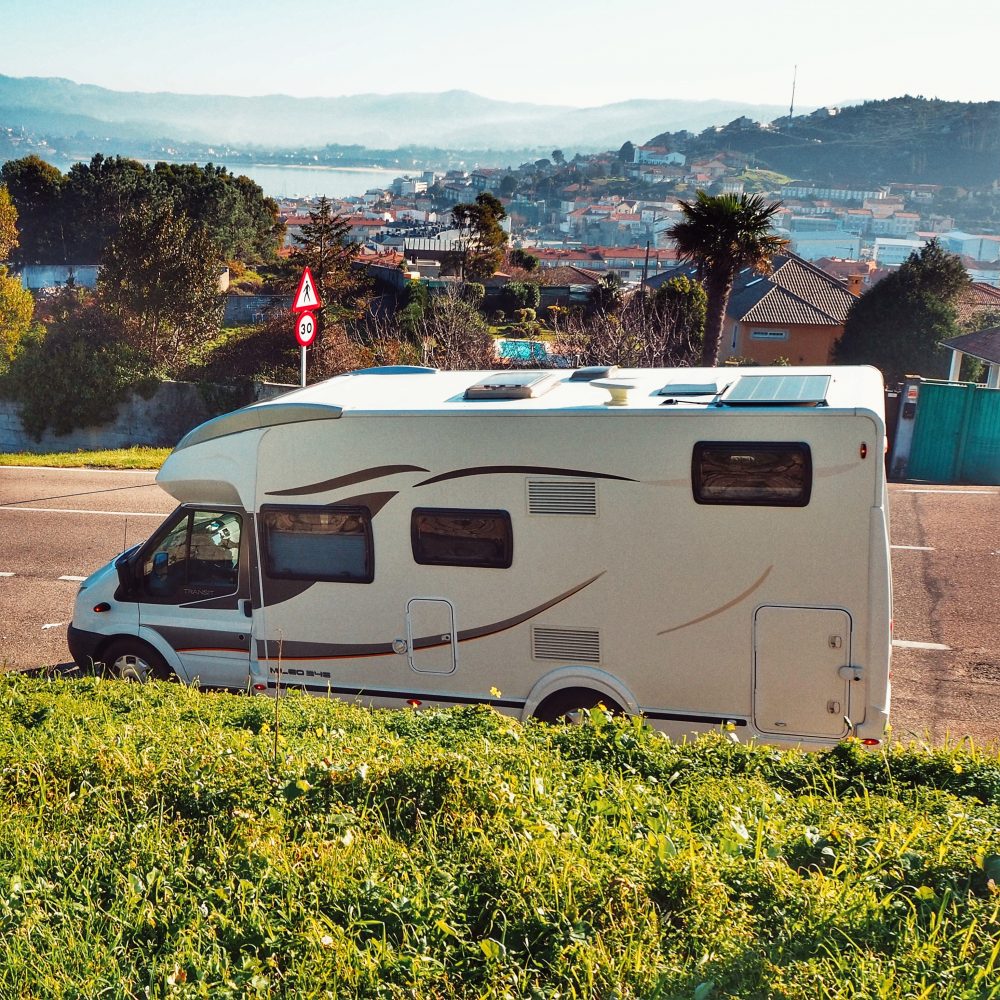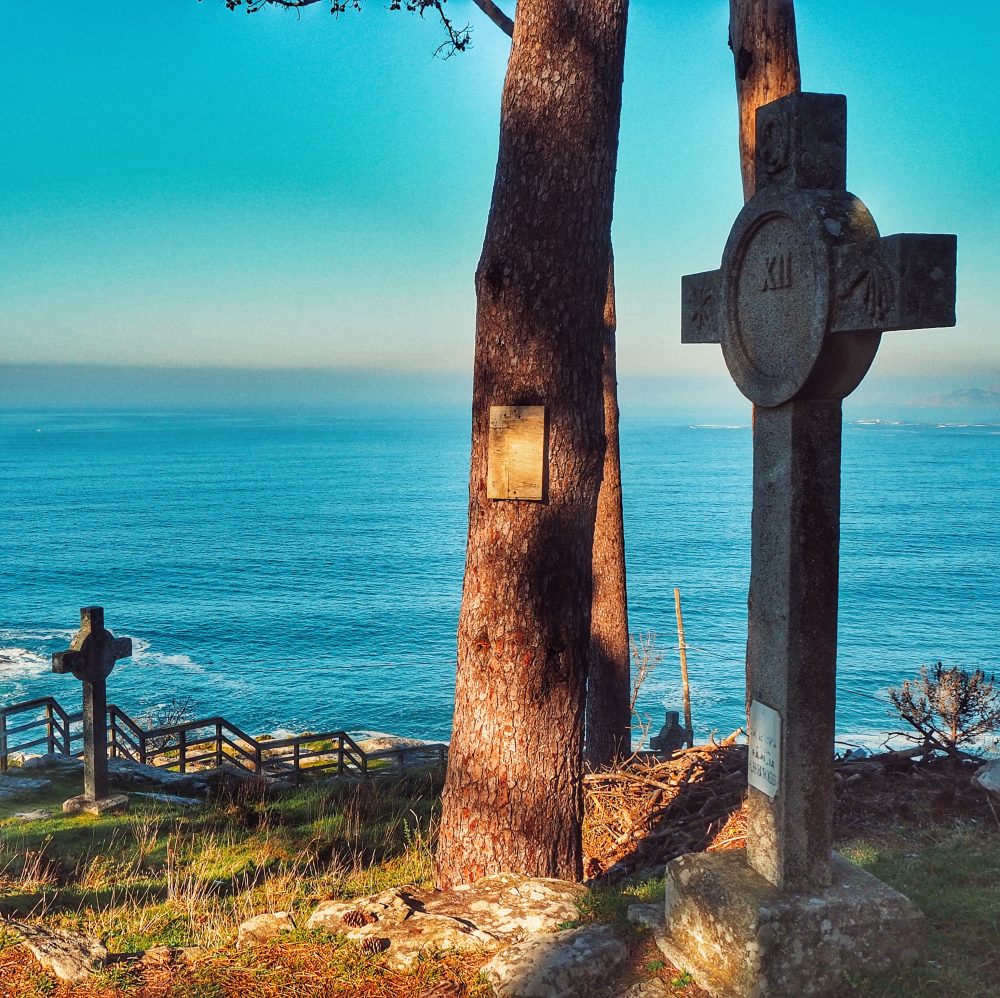 Park or spend the night in Baiona in a motorhome
For a stop in this city you can park in a car park near the sports center.
If you do not have a motorhome and what you want is to rent one and start in this world, this is your service. Or, if you don't have time to organize your next motorhome or camper trip and you want someone to organize it for you with the utmost professionalism, this is also your service.
We advise, manage, solve doubts, give support and set up a route or organized trip in a motorhome personalized to your tastes and needs, so that you go calm, safe and your motorhome trip is unforgettable.
PRICE: Depending on the days of the organized motorhome trip to be assembled.
From € 20
Other articles that may interest you to travel in a motorhome or camper van