Discover an inspiring journey through Lithuania by motorhome. A destination that will seduce you with its impressive landscapes!
We are a family of 5 who travel by camper. We like to venture out and be surprised along the way, so we tend to plan the routes just enough to get an idea of ​​what we want to see or do and we leave another part for what arises and surprises us along the way.
The truth is that, with the route this summer we have had it quite easy. Most of us carry Lithuanian DNA and it is a country we travel to frequently.
Traveling in Lithuania by motorhome or camper: everything you need to know before leaving
Regulations on overnight stays and camping in Lithuania
When traveling in Lithuania by motorhome you should know that wild camping is allowed, but… Respecting a series of criteria:
It is necessary to maintain a cleanliness of the place and a prudent distance from the lakes.
In nature reserves or national parks it is allowed up to a certain point or it may be prohibited, so you have to be well informed.
It is forbidden to do it in cities or urban areas near houses.
Doing so on private property requires the consent of the owner.
In Lithuania there are many areas set up in wooded and nature areas where you can camp, they have picnic areas prepared and there are even points where you can make a fire.
With the theme of the overnight stay it is even simpler Because you will hardly find anywhere that prohibits it (it only happened to us once and we will tell you where it was).
Services for motorhomes and campers
Although staying overnight is not a problem ... finding services for motorhomes and campers can cost a little more, especially when you are away from the larger or more touristy cities.
In our opinion they are a little scarceThere are few campsites and areas that provide all kinds of services and we had to find our lives a little to dispose of gray water or look for water points to fill the tanks.
During our tour of Lithuania by motorhome, on several occasions we went to a car wash to dispose of the gray ones while we showered the van and even resorted to a cemetery in search of drinking water.
Roads and tolls in Lithuania
The main highway is the one that connects Vilnius with Klaipeda (it is about 300 km), it is very good and is free. There are several more nearby highways, equally free.
The back roads is another story and it is possible to find some in bad condition. Keep in mind that it is a very rainy country throughout the year, in winter it snows a lot and the roads are frequently damaged.
The local driving mode can be somewhat aggressive, especially if you drive through the center of the capital. Reckless overtaking, people breaking in, etc.
The positive is that there are no toll roads and gasoline, compared to the European average, is quite cheap.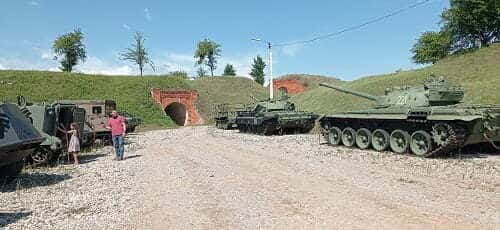 The best and worst of our route through Lithuania by motorhome
What we liked the most
Enjoying the greenery of the landscape and nature.
Bathing in all the lakes that we have been able to.
Taste the local gastronomy.
Having learned more about pagan legends and Baltic mythology.
Observe how they think of the little ones. In many restaurants and bars they put an area for children (even if it is a simple table with legos) and in supermarkets there are boxes with priority for parents.
Learning more about the language and customs.
Find gintaras (amber) among the stones of the beach.
To have been able to have bathed us in the icy waters of the Baltic Sea.
The beer flavored with cherries.
And last but not least, being able to visit grandfather after so many years without seeing him.
What we liked the least
1. The constant rain (14 days, it rained 12 days) and we did wear raincoats, but we forgot our wellies.
2. Not foreseeing that in the area we were going to, it would be more difficult to find drinking water to do so in advance.
3. Failure to verify with Google Maps that the road was going to become a dirt road and since it rains a lot we could get stuck.
4. Not having thought of alternative plans for rainy days (although they eventually came up).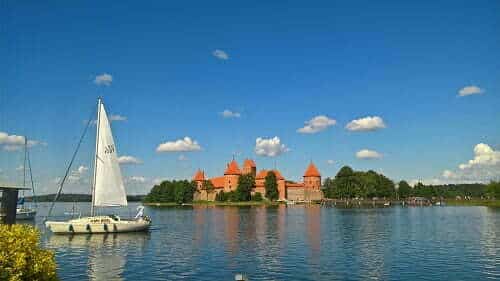 Discover with us ... the best 15 places in Lithuania!
01 | Merkinėsapžvalgosbokštas / Observation tower in Merkinė
Our first stop over the border was inside the Dzūkija National Park.
The Merkinė observation tower it is one of the tallest observation towers from Lithuania, with 26 meters high.
From the observation deck at the top of the tower, the Nemunas Landscape Reserve, the confluence of Nemunas and Merkys, the Pastraujas Island, the Merkinė Bridge and the Merkinė city opens.
Lithuania is a very flat country, so the construction of observation towers is the best way to enjoy good panoramic views from the heights.
We wandered through the village and went for our first Lithuanian meal, and so we tried the Kokorai, a kind of cabbage stuffed potato pancakes, vegetables, bacon ... They were very good! In the vicinity there is also the Merkinė Pyramid and the Merkinė Mount, which are two very curious places to visit.
Where to park and spend the night in a motorhome in this destination
In our tour of Lithuania in a motorhome, we discovered that at the base of the observation tower there is a small parking lot, but to spend the night there is a small lake 4 km away, in the direction of Merkinė, with a covered picnic table and a bonfire for barbecue. . Small, simple and charming at the same time.
02 | Elektrėnai, modern city founded in 1960
This is where our papa bear grew up and where so many memories of his childhood he has.
Located halfway between Kaunas and Vilnius, is one of the newest cities in Lithuania (founded in 1961), as it was established during Soviet times as a living space for power plant workers and hence its name.
It is near the Elektrėnai Reservoir, an artificial lake that was created to cool the power plant. The water is several degrees warmer than the water in the other nearby lakes.
He showed us that peculiar modern church.
He explained to us what were those 3 icons of the city that are now missing, such as the three chimneys in the plant (of which now only one and a half remain), the 10m high springboard that was in the lake or that huge Ferris wheel from the one that saw the whole city.
We went to old amusement park and we saw the remains of the roller coaster, now out of operation, but we had a laugh when we remembered the fear that was passed when riding on it, fear of not being thrown off the rails and of the squeaks that hit! Now everything is converted into a skate area, zip line and park for children.
We visited the ice stadium where hockey games are played and ice skating is done, but at the time it was being used to vaccinate.
We walk through the city and through that cool park where you can play chess in a big way or play with the water jets.
And of course, we end by bathe in the lake, although the day was gray and cool.
Where to park and spend the night in a motorhome in this destination.
We stayed to sleep at the grandfather's farm, but in a nearby lake there is a campsite (it costs about € 15 per camper / day) with services and a lake for bathing.
03 | Kernavė archaeological museum, from capital to town
We continue with our route through Lithuania by motorhome.
What do we like a museum and even more, those that take you to other times!
The price of the ticket is at will, leaving one euro in the mailbox or sending an SMS.
The first thing we see are some mounds with stairs and incredible views of the Pajauta Valley. These mounds, in Lithuanian are called "piliakalnis" which would be a fortified mound or castro.
Kernavė in the past It was the capital of Lithuania (XNUMXth century). It is estimated that it was the last European pagan capital. Today it is a town of little more than 300 inhabitants.
Next to the piliakalnis, there is a small recreated village where you can go into each house and imagine how life developed there 10.000 years ago. And then they already had a sauna !!! Although according to the kids it smelled like barbecue.
The best date to get to know it is undoubtedly that of San Juan (Jojines), where the ancient rites of the Summer Solstice: There is a folk music festival, bonfires are lit, wreaths are woven and floated, a ring of ferns is found, sailed, danced and sung. The event ends in the morning with the consent of the rising sun.
Where to park and spend the night in a motorhome in this destination.
In Kernavė there is a pay area (about € 10 per day) with all the services that is about a historical place that they are recreating. It is a former cooperative farm from Soviet times.
04 | Dūkštųąžuolyno / Oak grove of Dukstai: all legends
Near Kernavė we find this small route and we enter pagan Lithuania, the one that adores trees, especially oaks and also considers some stones sacred.
The most important god was Perkūnas, the god of thunder, but they also especially worshiped the goddess of the sun, Saulė, and the goddess of the moon, Menulis.
It is a journey through an ancient sacred oak grove, along a 2 km path, in which various gods of Baltic mythology are represented in the different wooden sculptures. Gabija, Medina, Austeja, Velinas… The one with stories and legends that can be told along the way!
05 | Trakųpilis / Trakai Castle
Another essential visit on a good trip through Lithuania by motorhome is that every year that we come, we are going to spend the day here.
There is so much to do!
- Visit the castle and learn about the history of the great Duke Vytautas «The Great», who the first time he was to be crowned king, his crown was stolen and for the second time he did not arrive because he fell from his horse and killed himself. But he left a beautiful red brick castle in the middle of a lake.
- Rent a boat for a walk on the lake.
- Ride through the heights in a hot air balloon (for children over 6 years old).
As it rained on us, we went to see the Museum of chocolate sculptures. To eat here, the kibinai are typical, which are dumplings that the Karaimai (Karaites of Turkish origin) cooked for King Vytautas. Cepelinai are the national dish of Lithuania so a couple also dropped.
Where to park and spend the night in a motorhome in this destination.
There are enough people who give up space on their porches to charge parking. For campers and AC, it costs about € 5 to park or € 20 to spend the day and spend the night.
06 | Velnioduobė / Devil's Hole
It is a hole in the forest, of unknown origin, 210m in diameter by 40m deep and at the base there is a 9m layer of peat, accumulated soil and water underneath. That water connects with several nearby lakes.
There is nothing spectacular about it and maybe it is not like going on its own, but it is near the Trakai castle and the mystery calls us. It is one of the charms of our Lithuanian motorhome experience.
On the way they warn you that you are entering a Magic Forest. The path through the forest is dirt.
There are many legends of this place, but the ones that struck me the most was that of the sheep (or the calf). He tells that a sheep got into the bottom of the hole and the earth ate it up, the shepherd who tried to rescue it also ate it. Days later, both were found floating in a nearby lake.
There a circular route skirting the hole, but we, of course, we went all the way to see if the earth eats you or not ... and we have to say that it is effectively sucking you little by little. They are muddy lands, that as you stand for a long time, you notice how your feet sink more and more, but taking a quick walk does not happen at all!
07 | The Lithuanian Folk Museum, Rumšiškės: See how they used to live
It is one of the largest open-air museums in Europe in terms of surface area (195 ha) and has more than 140 homes.
The museum is distributed by the different regions of Lithuania (Aukštaitija, Žemaitija, MažojiLietuva, Dzūkija and Suvalkija) and in each of the regions there is a village recreated with old houses (between 100 and 200 years old) that have been brought to the museum from their original location and rebuilt respecting the original characteristics.
So you can get an idea of ​​how people lived in each of the regions of Lithuania in the past.
You can enter the different homes and in some of them you will find live exhibitions and you will see how they weave, how they made jewelry, shoes, toys ... And also play as in the old days! with stilts, bows, scooters and more.
Costumes and witches
Several events are held within the ethnographic museum throughout the year, but the one that is most important is that of Užgavėnės. It begins on the night before Ash Wednesday and a staged battle is reenacted between Lašininis ("The Fat Man") who personifies winter and Kanapinis ("The Hemp Man") who personifies spring.
People in disguise and characterize themselves with devil masks, witches, goats and other funny characters. They dance traditional dances and eat the traditional dish of the celebration which are pancakes with different toppings.
Here you have to prepare to walk a lot and spend the whole day.
Where to park and spend the night in a motorhome in this destination.
The museum parking is paid, you could spend the night in it but they charge you about 5 euros for the whole day (from 9 to 21) and then they are 0,5 per hour. There are nearby picnic areas along Lake Kaunas where you can spend the night.
08 | Kaunas tvirtovės VI Fortas / 6th Kaunas fortress: the Soviet stele
Look there are nice things to see in Kaunas! but at the same time we were also curious to know the history behind those walls, why they are there and there are so many.
There are a total of 11 forts around Kaunas. All of them have their similarities and at the same time their peculiarities.
They were built by the Soviets before the imminent arrival of the 1st world war.
Perhaps the most visited and popular fort is number 9, but this time we chose to visit number 6.
On the 6th the visit is guided, in Lithuanian or English (you have to book in advance) and it cost us € 9 for the family ticket. You cannot leave the defined path because every day remains or even grenades come out of the ground (the guide said that he had his own museum in his office). My son found remains of bushings during the tour.
The guide explains in an entertaining way the history of the place, which as you can imagine is quite gloomy. You can enter the various trucks and tanks of the exhibition. This place will impress you on your route through Lithuania by motorhome.
09 | Pašiliųstumbrynas / Pašiliai Bison: speechless
The last Lithuanian bison was shot in 1854 and none were seen again until 1969, when two bison were brought in from the PriokskTerrace Reserve in Russia.
Between 1970 - 1972 Eight more bison arrived at the reserve and in 1971 the first bison was born here. It was called "Giriniu" (In the Forest) and now the names of the bison that descend from it, have the letters GI at the beginning of their names according to an international treaty.
In 1973, 119 years after having killed the last one, he started with the reintroduction of the bison in the wild, therefore, a herd of free bison began to form in Lithuania. There are currently 21 bison in the reserve's enclosures and 72 bison that roam the surroundings in a radius of about 30-40 km, but it is not easy to see them in the wild.
10 | Kryžiųkalnas / Hill of Crosses, Šiauliai: unusual
How to describe this place? Curious, unusual ... The truth is that it impresses!

The Hill of Crosses is a small mountain full of thousands of crosses.
You will discover on your trip through Lithuania by motorhome that the origin of this ritual of placing crosses, it is said that it could begin between the years 1831 and 1863, after two failed rebellions against Tsarist Russia. The relatives of the victims, unable to recover the bodies, put a cross for each of the fallen.
From the few initial 20 crosses, it went to 200.000 (or more) today.
It is not only a place of Catholic worship or pilgrimage, it can also be seen as a symbol of resistance to the invader.
Where to park and spend the night in a motorhome in this destination.
There is paid parking (€ 2,90 / 24 hours), with bathrooms during the day.
11 | Kuršiųnerija / Curonian Spit: very picturesque
It is a narrow curved sand isthmus that separates Curonian Lake from the Baltic Sea.
There are several points to cross Curonian Lake. The usual is to do it from the port of Klaipeda and from there a boat leaves periodically, transferring the vehicles from one side to the other.
A toll is paid only one way, of about € 13 per car or € 26 per motorhome and once inside the national park a tax is paid that can be around € 30, depending on the type of vehicle and season. It is not cheap to get here, but that also influences not finding it overcrowded.
Negyvosioskopos / Dead dunes or gray dunes: To access the dunes you also have to pay an entrance fee. These are large sandy hills with ravines blown away by strong winds. They are the longest dunes in Lithuania, home to one of the saddest stories of the Curonian villages. In 1675-1854, up to four Nagliai villages were buried under the sand.
Not to be missed!
Nida is a beautiful town, with picturesque houses and also a very good atmosphere. We caught him celebrating a festival and after drinking liters of that delicious cherry-flavored beer, we decided to sleep in a parking lot in town.
There is a lot of beach throughout the isthmus to bathe and we are grateful that the rain gave us two days of truce to be able to do so. One of the things that entertains us the most is looking for amber among the stones of the coast.
Raganųkalnas or hill of witches:
It is shrouded in legends. It is said that, since time immemorial, witches gathered and performed their rituals here. Now the wooden sculptures commemorate them. We also see sculptures alluding to mythological beings, especially Neringa who, according to Baltic mythology, the isthmus was formed by this strong girl who was playing on the beach.
Where to park and spend the night in a motorhome in this destination.
Here there is a ban on camping and spending the night freely throughout the Neringa Natural Park. We slept in a paid parking lot at the entrance to Nida. There are also campsites, but in summer they are usually full.
12 | : Anykščiai: guaranteed fun
In this small town, fun is guaranteed!
Our first stop was to see the second largest rock in Lithuania. It is called Puntukas.
It is not strange that they have it cataloged, because due to the evolution of glaciers, they hardly have any. It weighs 265 tons and was moved by those huge ice tongues more than 14.000 years ago. It has its own legend and it commemorates two Lithuanians who were the first in the world to fly across the Atlantic.
Following the path of the rock, we reach a footbridge in the heights to walk on the trees and finish at an observation tower (you have to pay an entrance fee).
Nearby there is a cognitive route to go barefoot and you walk on pine cones, wood, stones, mud, some snail almost fell and on missiles too. Next to it there is another path with very nice wooden sculptures. All this is paying a few euros.
We dress as warriors
We arrive at the historical complex of Šeimyniškėliai, which is basically a fortress made of wood in which we have a great time dressing up as warriors, making archery competitions, sword fighting and medieval games. A family ticket cost us 9 euros.
We slid down the Toboggan run, we walked through Anykščiai and on the way back we saw… the inverted house and there we went to do the canelo for a while! Right next to it we still saw a park of labyrinths, but with a hustle and bustle it didn't give us the day for more.
One of the most spectacular days of our trip to Lithuania by motorhome.
Where to park and spend the night in a motorhome in this destination.
There is a lot of parking area under the observation tower, there are picnic areas and nearby there is a lake where you can spend the night.
13 | Geographical center of Europe: cardinal point
The location of the geographical center of Europe depends on the definition of the borders of Europe and mainly if remote islands are included to make the calculation, or not.
In fact, in Belarus and Estonia there are also geographic centers of Europe.
In this there is only a column with a crown of golden stars and a cardinal point on a rock. Access is free and if you know a little, about 20 km is the «Europos Parkas», which is an open-air art museum (here you do have to pay entrance) with the strangest sculptures, created by artists of all nationalities.
14 | Druskininkai: spa town
It is known for being a spa town.
For rainy days, good are the alternative plans!
We wanted to bathe, but with such a downpour ... we went to a covered aquapark. Many slides of all levels, wave pool for the older ones, beach (with sand and mini waves) for the little ones, jets, sauna, spa ... Relaxation and fun!
And when the rain stopped a bit, we went for a walk in the GiriosAidas forest.
15 | Vilnius: welcome to the capital
We are reaching the last of our destinations on our route through Lithuania by motorhome. Vilnius is the capital of Lithuania, it is known for its Baroque architecture and a walk through its historic center is a must.
The founding of the city is linked to Duke Gedeminas and a dream he had with an iron wolf that is now an icon of the city. Today you can visit the Gedeminas tower. In the vicinity is Vilnius Cathedral or the mound of the three crosses.
In the capital, there is a very particular neighborhood called Uzupis. This neighborhood declared itself independent as a republic on April 1, 1997. It has its own constitution (and it is very curious), its flag, its own president and a mini army. The sovereignty of this republic is not recognized by any government, but there it is!
We also recommend you go up to the top floor of the city's television tower. There is a cafeteria where they make great smoothies and the best thing is the panoramic views of the entire city through its revolving platform.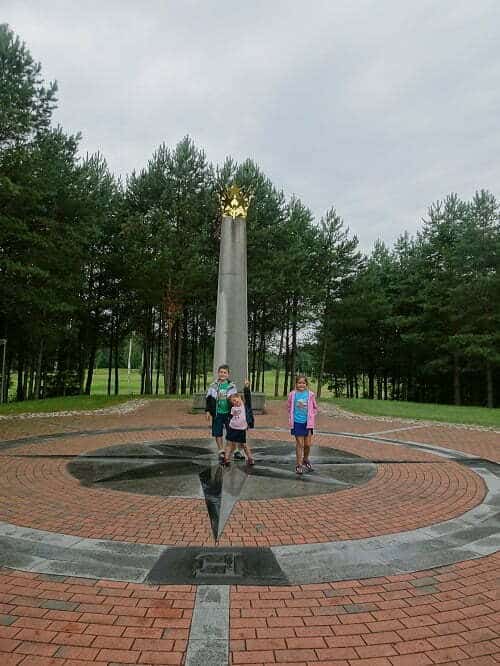 And up to here our route through Lithuania by motorhome. Hopefully it will inspire you and pique your curiosity to get to know this beautiful country.
Follow us! See you soon!
Other articles that may interest you about motorhome trips in Spain