Discover an inspiring journey through Osona and Ripollès: Catalonia in a motorhome, camper or car on your own. Be amazed by some picturesque inland destinations to rage. Much more than you imagine!
Arantxa and Laura from Barcelona, ​​they are two sisters that from their Instagram profile show excursions and routes through Catalonia experienced in the first person ... that inspire us.
Today, they want to share with us two great routes through the Catalan regions of Ripollés and Osona.
1. Routes through Catalonia in a motorhome, camper or car: El Ripollès
We begin our route through the towns of the Vall de Camprodon. In it we will discover different towns that all follow the same stone architecture, essence of the north of Catalonia and artisan traditions. You cannot miss Setcases, La Roca, Camprodon and Beget.
Are you going to discover Catalonia by motorhome?
Setcases: a very picturesque town
We start with the northernmost town called Setcases. Located in the province of Girona and in the Ripollés region, it is a small picturesque town, with cobbled streets and stone houses. In it you can breathe a lot of tranquility and a feeling of local tradition, with its small artisan shops where we can find products such as local sausages, the typical Birba cookies, artisan honey or other souvenirs.
Likewise, it is an area with a tourist influx in the winter months since it is located very close to the pistas de esquí de Vallter 2000 and therefore in the center of town there are some very peculiar seats made with skis.
We are enjoying our route through Catalonia in a motorhome to a great extent!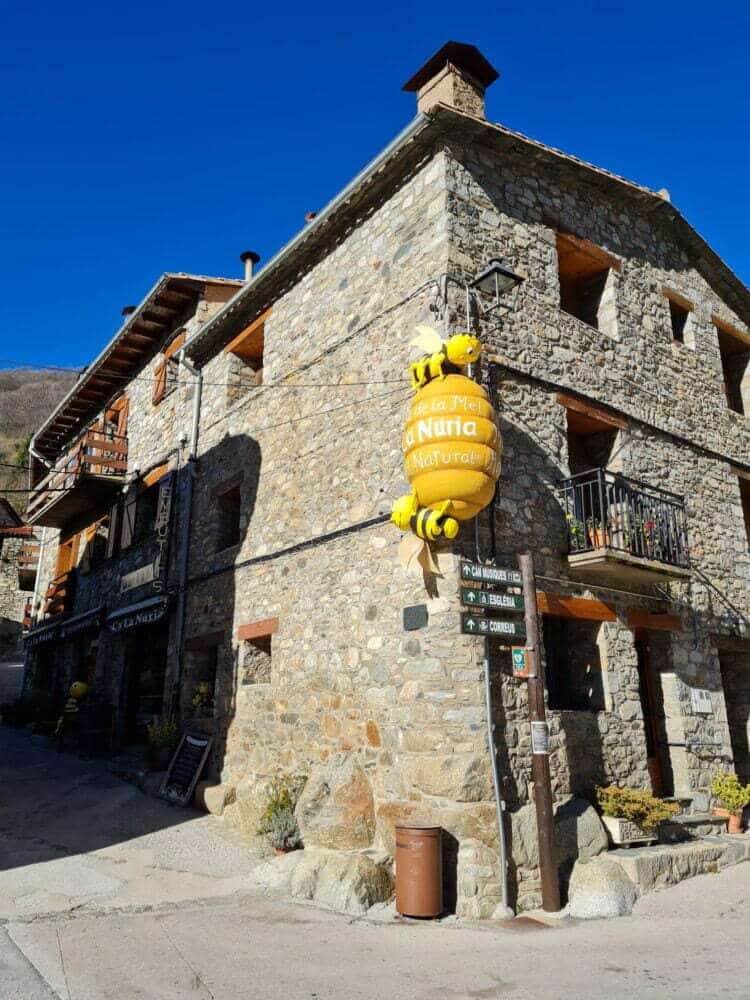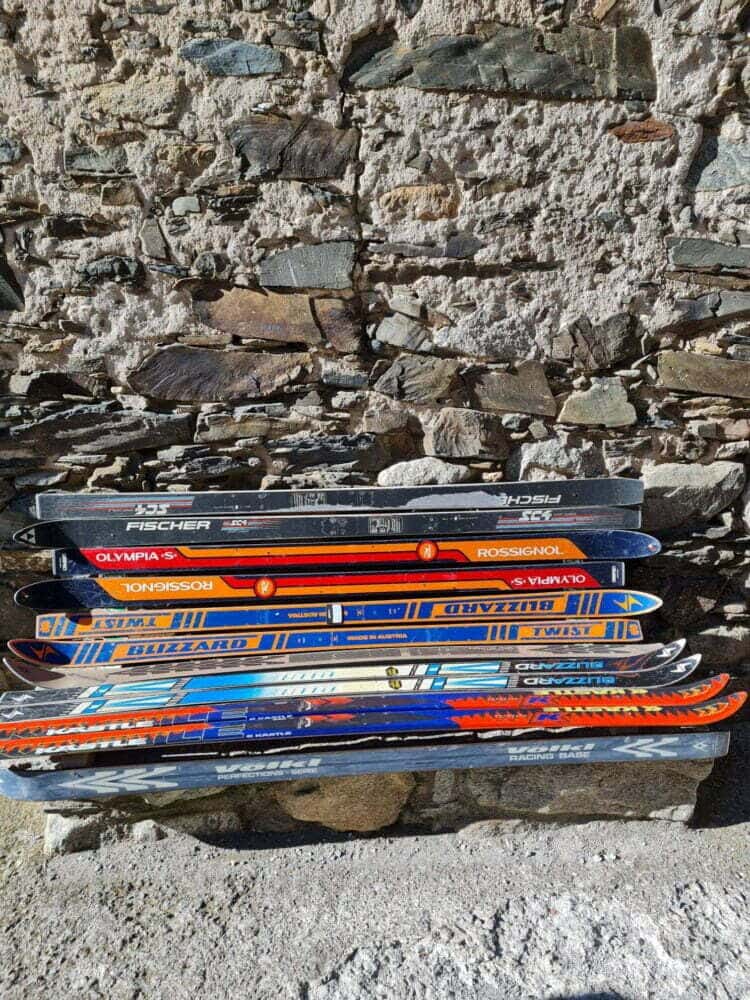 Ca La Nuria Setcases / Photo: @soulrey_
Seats made with skis / Photo: @soulrey_
Essence and traditions
You can also visit the Church of Sant Miquel, with its attractive golden baroque altar, and next to it, the Font del Replegador, a small fountain located in Plaça del Replegador that has a mill wheel which reminds us of country traditions.
Sant Miquel Church / Photo: @soulrey_
Font del Replegador / Photo: @soulrey_
On our route through Catalonia in a motorhome, we would also like to share one of the legends that exist of this municipality and it goes like this: A family of ranchers consisting of a father (blind) and his seven children climbed the mountains for the first time time to graze his sheep when it started to snow.
The children were surprised by those strange whitish things that fell from the sky and the father explained to them that they were snowflakes and that in a few hours all the mountains would be covered and his cattle would not survive the cold.
Then they began to descend the mountain when they came across an elderflower and decided to settle there. Each of the sons built a cabin, making a total of seven. Hence the name of the Setcases population.
The Rock: Stairs to Heaven
We continue our route through Catalonia in a motorhome and we head towards Camprodon, but be careful! before we decided to make a stop in a town that draws our attention for its location on top of a rock and that, as its name says, The Rock.
This unique town is located at 1.040m of altitude and was established at the foot of the Castell de la Roca. Today we can park the a small parking lot on Camí del Canal street and from there go up Plaça and Carrer del Túnel until you reach the Church of the Virgen de la Piedad of Romanesque origin (XNUMXth century).
From there we can access the Castell de la Roca Pelancà and go up to the viewpoint. Yes, we know that from below it seems that there are many stairs but we recommend you climb little by little because the views are worth it.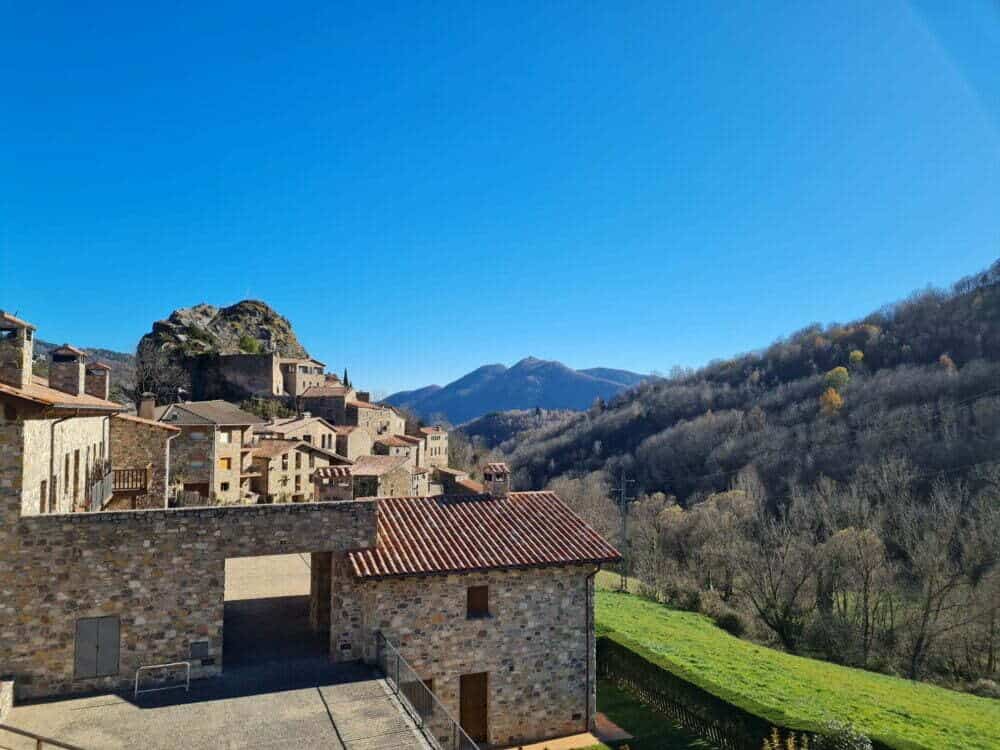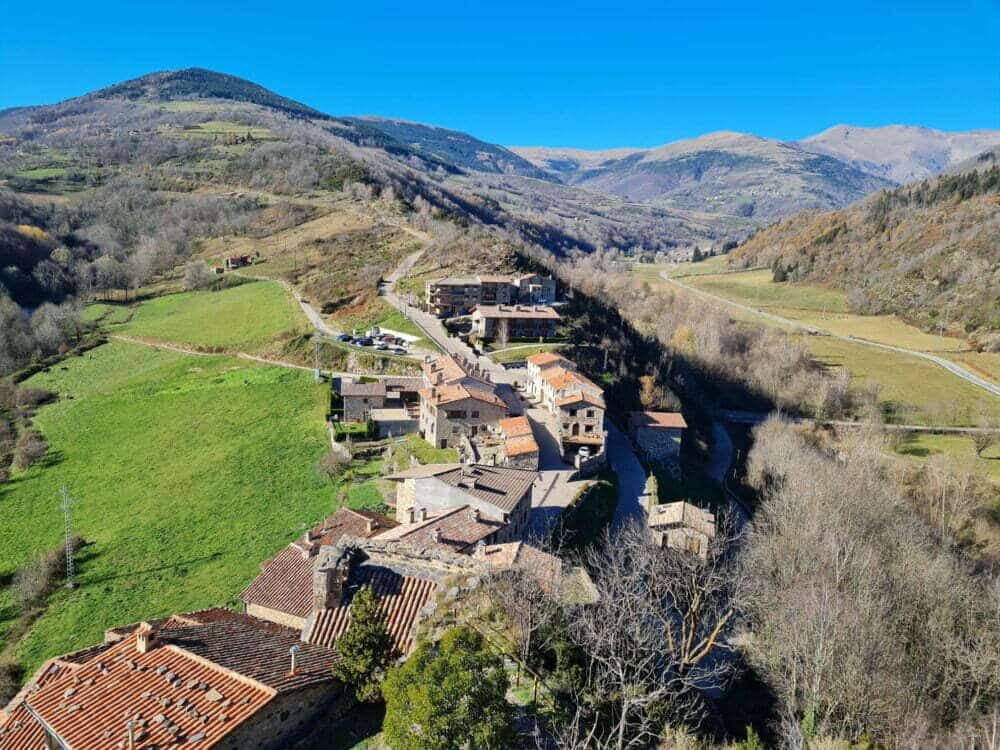 Entrance through Camí del Canal / Photo: @soulrey_
Views from the viewpoint / Photo: @soulrey_
Camprodon: Walking through the Middle Ages
We continue our journey to the famous town Camprodon. It is one of the largest medieval towns in the area And what we recommend the most is to get lost in its streets of the historic center. Of course, a wonderful place to visit on your route through Catalonia by motorhome.
One of the recommended points is the Pont Nou de Camprodón, which is the symbolic image of the town, where we can take some photos from the bottom but we can also access the bridge and take the occasional selfie.
We change perspective and head towards Calle Valencia. This is the main street and in it we can find different businesses and restaurants.
Another place we can visit is the Monastery of Sant Pere. In its beginnings, this religious space had the function of a church, but years later it was decided by order of Guifré II of Besalú that it should be founded as a monastery.
And finally, we recommend that you take a walk through the Passeig Maristany. In this small avenue we can see different unique buildings that are currently private homes and above all the most pleasant thing is to walk among its large trees that make it up in parallel.
Our route through Catalonia in a motorhome is enchanting us!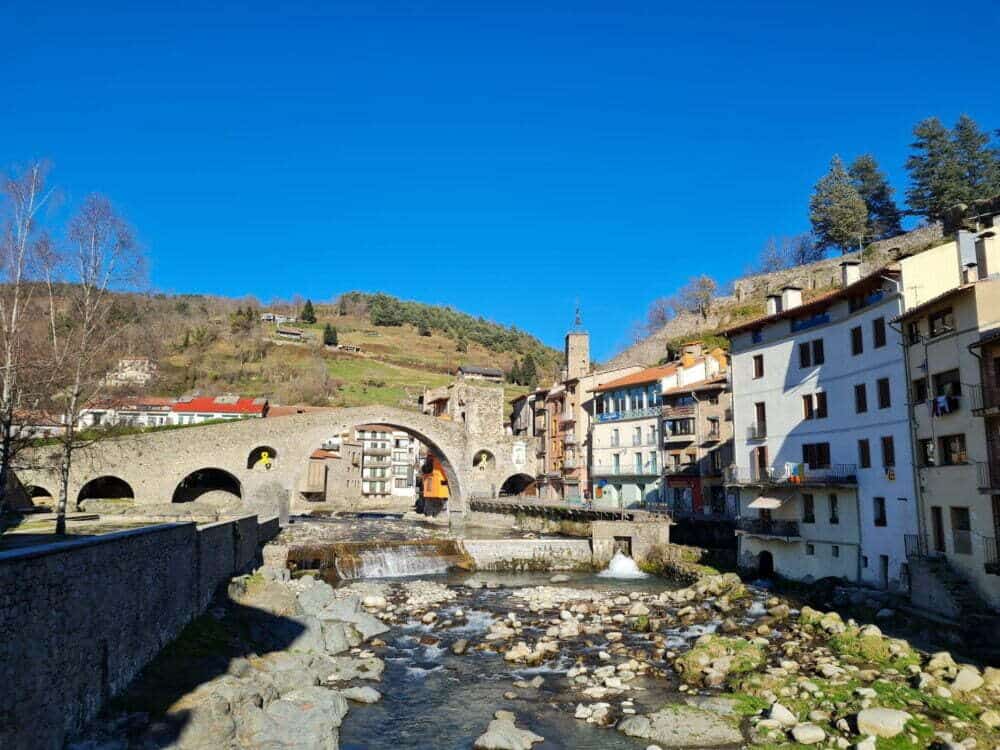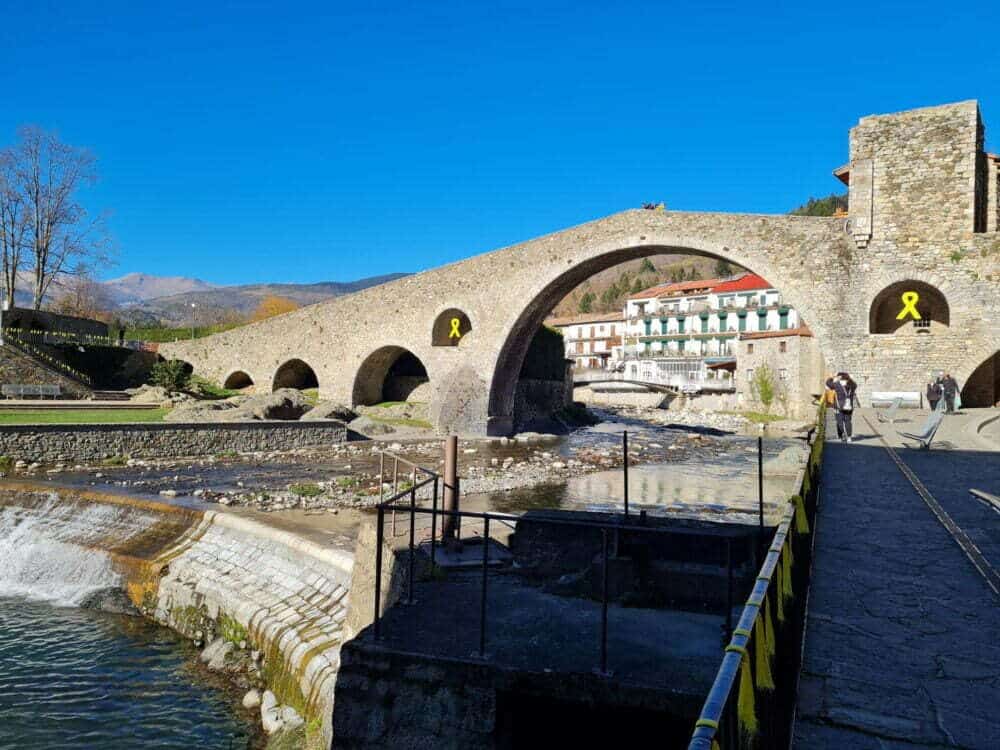 Pont Nou de Camprodon / Photo: @soulrey_
Sant Pere Monastery / Photo: @soulrey_
Beget: a really nice town
It was time to move to our last stop. And this is in Beget; considered one of the most beautiful towns in Catalonia and without a doubt we reaffirm it.
We must say that to access this we must cross a curvy road that is a bit complicated but worth because the goal is impressive within our route through Catalonia in a motorhome. Right at the entrance of the village there is a small free parking area.
Beget is a town located between the mountains, which have a beautiful church in the Catalan Romanesque style and two small stone bridges that cross the Riera de Beget.
A skyline steeple
We could say that the Church of Sant Cristòfol is the skyline of the town, thanks to its bell tower that stands out at first glance. It is also considered A Cultural.
We visited it in the late afternoon and it was a shame because we would have liked to see the Pozas de la Riera Salarsa. But nevertheless we were able to enjoy a quiet walk through its cobbled streets and the tranquility that those stone houses with half-timbered houses gave off.
This is over ... what a shame
And we come to an end. The Route through Vall de Camprodón has left us quite impressed for the Catalan architecture that we find in its villages and for the natural setting that surrounds them.
We believe that this itinerary can be done in one day but there are also other towns in the area and circuits in the middle of nature to continue discovering places that allow you to spend more days. If you are planning to make a getaway through Catalonia in a motorhome, you cannot miss the route through El Ripollès!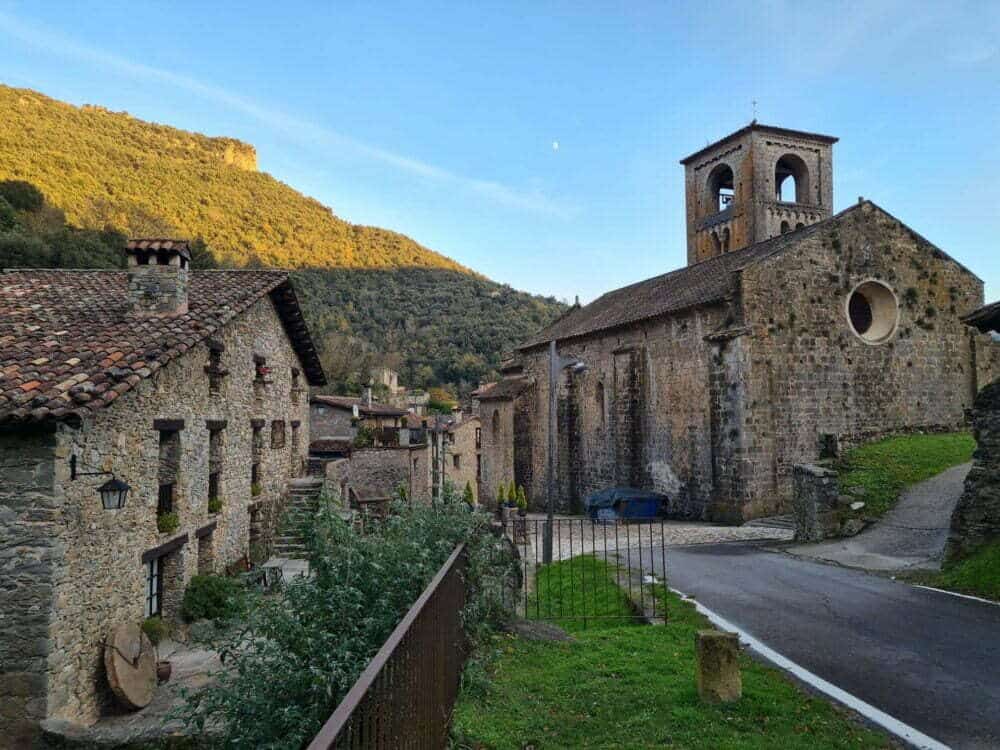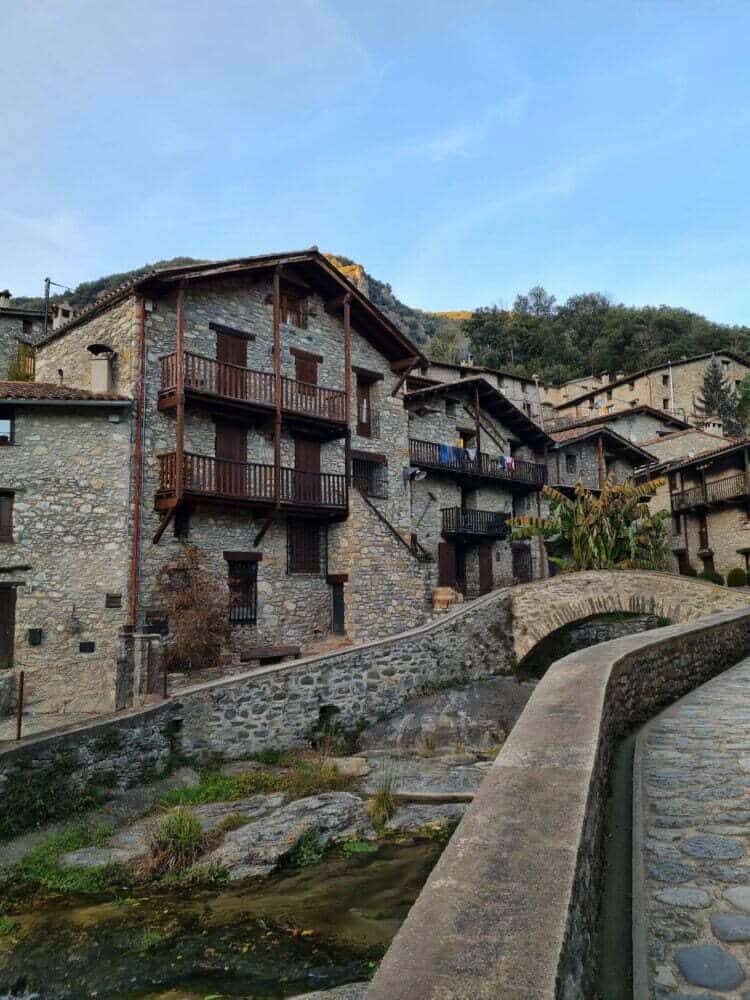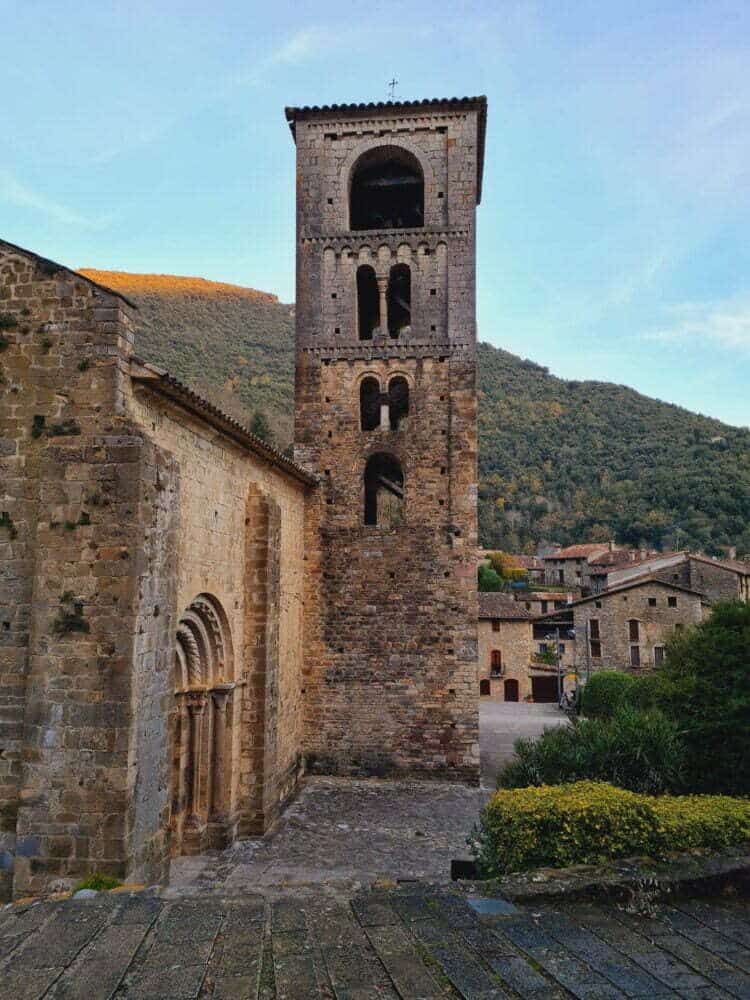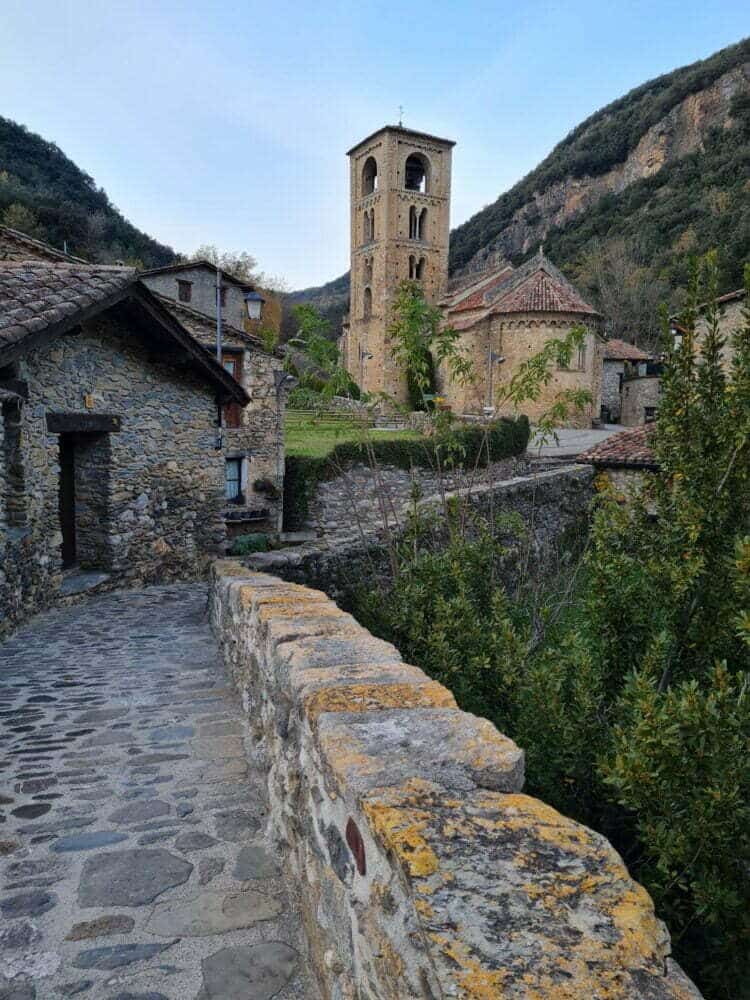 Sant Cristòfol Church / Photo: @soulrey_
2. Routes through Catalonia in motorhome, camper or car: Osona
The following route that we propose is full of nature and surprises: Salt del Mir, Tavertet, Mirador del Ter, Sant Pere de Casserres and Pedres màgiques de Sant Feliuet de Savassona. We invite you to discover it with us. Ideal for your route through Catalonia in a motorhome !.
Osona, first stop: Salt del Mir waterfall: first stop
Our first stop is to visit the spectacular Salt del Mir Waterfall. It is located in Santa María de Besora, a very cozy rural municipality surrounded by forest. It is located in the Osona region, about thirty minutes from Ripoll (approximately 20 km).
We recommend getting to the town by private car, since it is a small town and does not have very good connections with public transport.
The route can be started from the town of Santa María de Besora or from the restaurant Cabanya del Mir. It should be noted that there is the possibility of parking the car there but it is a fairly small parking lot and is reserved for customers.
Just when you leave the car park you can see a sign that indicates the way to follow, there are approximately 30 - 40 minutes to the waterfall. This will vary depending on the pace you take.
As soon as you start the path, you will find a meadow with horses on the left. Afterwards, the path heads into the forest until it reaches a sign that says "El Salt" indicating the direction to the right. Next you will find a bridge that crosses a recluse.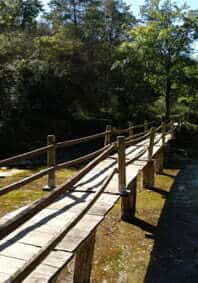 Bridge along the way / Photo: @soulrey_
We
Once past this, you will see a fork and you must follow the path that goes to the right. From here, the path will go down until it reaches an abandoned stone hut and there you must turn right.
A few meters away, the path divides in two, you have to follow the one on the left. Following this path you will find an old ruined flour mill that is fully integrated with the flora of the place.
From here it is the last section until you find the last sign that says "El Salt" again. A short distance away you will find some stairs and a small viewpoint to appreciate the beautiful waterfall.
If you keep going down the stairs and the water level is low, you can reach the foot of the waterfall and contemplate it from closer. This spectacular waterfall is 35 meters high and especially in rainy seasons you can discover the great waterfall that slides down the mountain. It is a spectacular ideal place for a good tour of Catalonia in a motorhome.
Surprising: a waterfall with eyes and a mouth!
As a curiosity, if you look closely you can see a face with two eyes, a nose and a mouth. (We found out once we took the photo).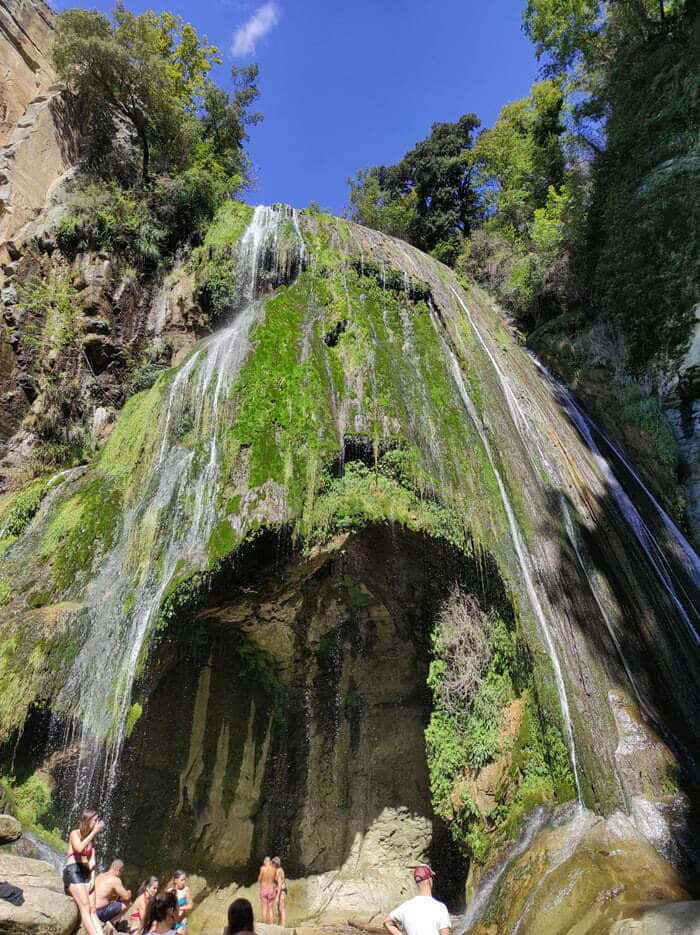 Salt del Mir waterfall / Photo: @soulrey_
For the return, you will have to do the same path but this time it will be all uphill so it may take longer than for the outward journey.
Remember to wear comfortable shoes and for the bravest, bathing suits to take a dip even though the water is very cold. You also have to be careful not to slip near the waterfall area.
Tavertet, second stop in Osona: wonderful views
After all this adventure in the middle of nature we headed towards our next stop which is Tavertet. It is about 46 km (1 hour) from Santa María de Besora.
We recommend that you park your car outside the town in a parking lot since entry is not allowed to those who are not neighbors.
Tavertet is a small picturesque town that belongs to the Osona region, in the province of Barcelona. This is located on top of a rock next to a precipice with wonderful views towards the Sau Swamp and the Montseny Mountains. Touring Catalonia in a motorhome has memorable moments like this one.
Views from the Tavertet viewpoint / Photo: @soulrey_
In the small town you can see beautiful stone houses that convey a very cozy place. The urban area of ​​Tavertet has been declared an Asset of Cultural Interest, since it has forty-eight stone houses built between the seventeenth and nineteenth centuries.
One of the most touristic buildings in Tavertet is la Church of Sant Cristófol de Tavertet. This fortification is one of the first things that you will find when you enter the urban area. This church is part of the Osana Romanesque routes. Its construction began in the XNUMXth century, but it was not finished until the XNUMXth century, given that a large number of reforms were carried out in it.
Church of Sant Cristófol de Tavertet / Photo: @soulrey_
Tavertet is part of the Viles florides initiative developed by the Confederation of Ornamental Horticulture of Catalonia (CHOC). This was created to promote the corners, towns and cities through green and flourishing spaces.
Are you liking the sites that we are showing you? Join us to our next stop, if you want to fully enjoy Catalonia in a motorhome.
Mirador del Ter in Osona: you have to see it!
And we arrive at Mirador del Ter. This is 20 km (30 minutes) from Tavertet. The viewpoint overlooks the river Ter and the Monestir de Sant Pere de Casserres which is on the other side of the meander.
To get here it is best to put the location on Google Maps to guide you. Once there, you must park near the football field since the road to continue by car is not optimal and it is better to keep walking. To get to the viewpoint you just have to follow the road and then enter the path between nature that already guides you to the viewpoint in question.
At the end of the path you will find yourself on a small elevated rock from which you can see an incredible panoramic view of the Sant Pere de Casserres monastery and the meander of the river Ter.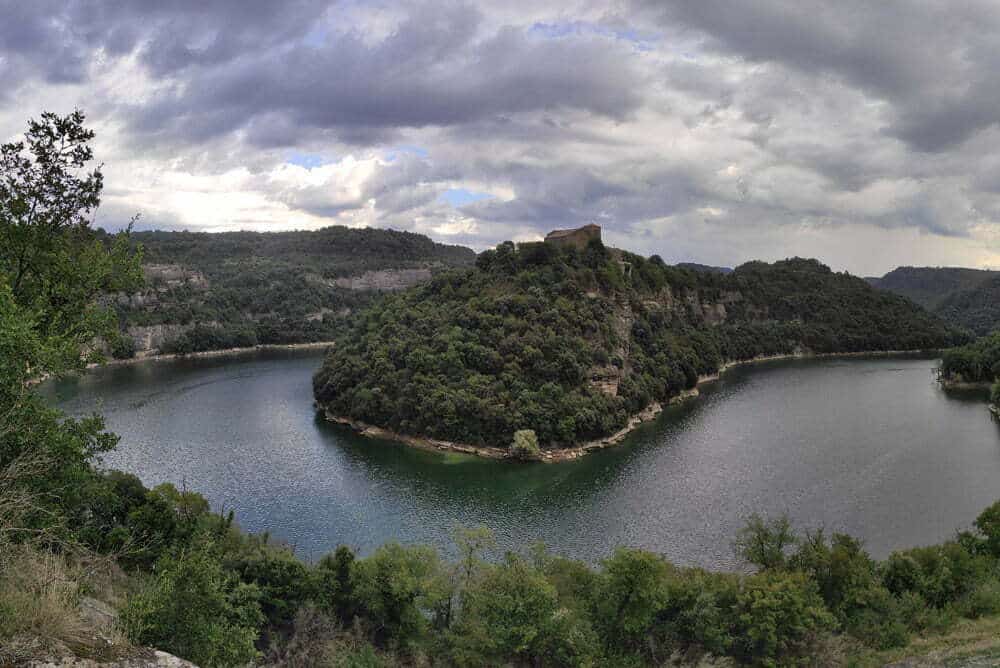 Viewpoint of the meander of the river Ter / Photo: @soulrey_
Monastery of Sant Pere de Casserres de Osona: a piece of history
On the other side of the river we find the Monastery of Sant Pere de Casserres. This was declared National Monument in 1931, since it is one of the most emblematic works of the Catalan Romanesque.
Currently, the monastery houses a permanent exhibition in which you can see how it was the life of the monks in Casserres. In the monastery they have recreated the rooms which have kept the same layout over the centuries.
In addition, there is also a series of photographs and audiovisuals where the legend, the history and the construction process are explained. The entrance is open to the public but has a cost that is specified on its website along with its visiting hours.
To this day, the Romanesque church, the bell tower and the cloister are preserved in their entirety.
Pedres magiques de Sant Feliuet de Savassona: magic in a big way
Finally, Pedresmàgiques de Sant Feliuet de Savassona is the fourth and last point to visit on the route. This place is located 12 km (approximately 16 minutes) from the Mirador del Ter, in Savassona, which is part of the municipality of Tavèrnoles.
We recommend parking in the Savassona and Sant Feliuet car park, which is located on the main road. Once here, we take the dirt road that is indicated by some signs in the direction of Espacio natural de Savassona.
Within this forest we find a series of giant stones that are said to have been used for funeral rituals. Currently, it is not very well known from what time they date. The first we meet is the Pedra del Dau which is quite peculiar due to its large dimensions and in which many people climb.
Later, if you go into the forest you will find another stone, of smaller dimensions, called Pedra de les Bruixes. In it you can see rock carvings such as crosses, various circles and other combinations that are difficult to decipher. Next to it is an informational poster that explains more fully all the details.
We continue!
A little further on we see the Pedra del Nen or de l'Home that in it the anthropomorphic figure of a human body is represented, this consists of a face with eyes and mouth, the body, with arms and hands and two legs of a small size with big feet.
Going back the road to Piedra del Dau, we go to the Hermitage of Sant Feliuet but on the way you will make a stop to observe the Pedra del Sacrifici. This is one of the most important as it weighs more than 400 tons and during some excavations bones and tools have been found.
Pedra del Dau / Photo: @soulrey_
La Pedra de les Bruixes / Photo: @soulrey_
La Pedra del Nen or de l'Home / Photo: @soulrey_
Pedra del Sacrifici / Photo: @soulrey_
Continuing with the path, you will climb up a path through the forest until you reach the end of the mountain where the Hermitage of Sant Feliuet with pre-Romanesque details. From this high point you can see wonderful views of the Montseny, the plain of Vic, the course of the river Ter and the castle of Savassona.
An idyllic place to enjoy the sunset and finally finish our route that you can include in your trip through Catalonia by motorhome.
Hermitage of Sant Feliuet / Photo: @soulrey_
Catalunya by motorhome. You can not lose this!
We hope you liked both routes and that you are encouraged to do them. We would love to see your comments and receive your experiences!
We wanted a special mention to @kucavana for giving us the opportunity to participate in his blog, so don't forget to follow us both on Instagram.
Other articles that may interest you about motorhome trips in Spain