Renting a motorhome can be a very profitable alternative for your vacation but you have to know what to look for
This summer Traveling with the house in tow has become fashionable. The coronavirus has disrupted the vacation habits of thousands of Spaniards, who have parked their plans to travel abroad.
Now, the interest to discover new corners of our country grows. According to various platforms of motorhome rental and for renting camper vans, this situation favors nature tourism and the general growth of road trips as a safe travel option.
Motorhome trips or caravan trips are an excellent option for those seeking flexibility, comfort and social distance. This type of tourism allows reducing costs, enjoying nature and feeling freer.
In addition, this modality has been popularizing in recent years, soaring its demand. According Europapress, demand grows of motorhomes in Spain, with reservations at 80% based on data provided by the Spanish Association of Caravanning Industry and Commerce (Aseicar).
Renting a motorhome or this type of vehicle can be a very profitable alternative, but you have to know what to look for. Here we leave you a series of tips Things to keep in mind when renting a motorhome or looking for a caravan or camper rental this summer.
How much does it cost to rent a motorhome. Campervan rental prices:
The price of the motorhome rental depends on several factors, but mainly on the model, the season and the number of rental days.
The truth is that finding the price you are looking for will take a while. Compare between different companies to find out what works best for your budget.
On the other hand, remember to calculate the distance you want to travel to save you surprises in fuel consumption.
And the numbers ?: there are different rental modalities that range between € 50 and € 180 on average per day.
You can rent your motorhome in Spain although if you are going to make a route through another country it is better to rent there and go by plane or car. This second formula will reduce the costs of the journey there and will save you time because you will arrive earlier.
Trick: Is there a cheap motorhome rental? Here is the tip: rent private motorhomes and more if it is in France or Germany. Keep in mind that in France or Germany, the rental of motorhomes is cheaper than in Spain due to the greater offer.
How to rent a motorhome
When you rent a motorhome, you must pay for days and you have a maximum of kilometers. If not, the cost per kilometer is increased.
On the other hand, find out if they put a limit of countries through which you can circulate. And the Pets? Some rental motorhomes are dog friendly and some are not.
Other issues to which you should pay interest: you must pay a deposit and you have to return the motorhome clean, empty of black and gray waters and with full gasoline or they charge you separately, normally the maximum time to return the vehicle is 20:00 and to collect after 9:00. In many cases, the motorhome is fully insured with excess.
Discover other conditions that are usually required: the driver must be over 25 years old and have a B card valid for 2 years, the user is liable for any sanction or fine and driving by persons other than those detailed in the contract is prohibited.
The vehicle will be returned on the day indicated at the time agreed with the company.
If the return is delayed for more than 4 hours, there will be a penalty. In case of loss of vehicle keys or documentation, there is also a penalty.
Hygiene and Safety
Luckily for everyone, currently the motorhome rental, camper rental and caravan rental companies have extreme hygiene and safety measures, applying three levels of disinfection: deep, general and thorough cleaning of the extras. In this way, everyone's health is ensured.
Where to rent a motorhome or camper van
You have Two options to rent a caravan, rent a motorhome or rent a camper van:
Private businesses
Rental between individuals type airB & B
Private motorhome rental companies
Rental between individuals type airB & B
It is a platform born in France with the participation of the founders of BlaBlaCar. It has more than 5.000 motorhomes throughout Europe and the world also with a very wide variety of models (Camper, nasturtiums, integral, profiled, 6-seater motorhomes, motorhomes for two, 7-seater motorhomes, volskwagen california rental, etc.).
You can search for the ideal caravan by adjusting the filters that interest you most, especially the date and collection site filters. When you find it, you must send a rental request and, if the owner accepts it, you must pay through the web. The day you receive the vehicle, you must show the driver's license to the owner, sign the rental agreement and specify the return schedule.
You can find cheap motorhome rental or campervan rental or campervan rental at the following link, by booking your rental from this link you are helping us to continue with the project
On this platform you can rent, buy or sell cars, vans or motorhomes online. The number of motorhomes to rent in Spain is quite high. If any incident occurs during the trip, you must notify it within a maximum period of 24 hours after the rental.
This website is specialized in car rental, although it also offers an option to search for Camper motorhomes. Its fleet is increasing and it is easier to find the vehicle you need in your own city.
The ABC of renting a motorhome: price, space, equipment and insurance
Space
The interior space of the motorhome is basic, your well-being will depend on it. So, before you go on an adventure, the first thing you have to be clear about are your needs. How do you imagine your trip? Where do you want to go? How many people will you travel? How many beds will you need?
The motorhome offer is very extensive, so the more information you have the better you can choose and the more comfortable you will all be. If the vehicle is too small, the problems of being uncomfortable may soon come. Knowing this, don't forget that the older you are vehicle size, the higher the rental price and also the fuel consumption.
Equipment
One point you should study is what equipment is included in the rental of the motorhome. You will find differences depending on the company, but usually the price includes crockery, kitchen utensils, bed and toilet clothes and even children's seats. Sometimes you can get to get space GPS from motorhomes, snow chains, fridge, table and camping chairs. Ask everything before hiring.
Driving license
Anyone with permission B driving can carry a motorhome of less than 3.500 kg in Spain and also in the rest of Europe. Now, other qualities are needed if you really want enjoy driving a motorhome.
First of all, you need to be a little brave to dare to drive a vehicle between 6 meters and 7,5 meters long, 3 meters high and just over 2 meters wide.
It is not difficult, but if you want to drive a motorhome you have to really want and dare to do it. No more is needed.
Find out about insurance
This is one of the most important recommendations Because having an accident or causing a malfunction in a motorhome can ruin your vacation. Even if you think you will have no problem, you can never trust and even less if you have never driven a large vehicle.
Guide
Finally, we advise that before starting your adventure, you consult a good updated guide above all what you can and cannot do in a motorhome, especially with regard to traffic, overnight stays and parking.
Our personal recommendation!
Do not rent your motorhome lightly. Study the points discussed and choose the vehicle that best suits you.
As always, any questions or recommendations, just write to us in the comments below. We write to help you 🙂
You are lazy?
We look for the best rental and motorhome route us
Summary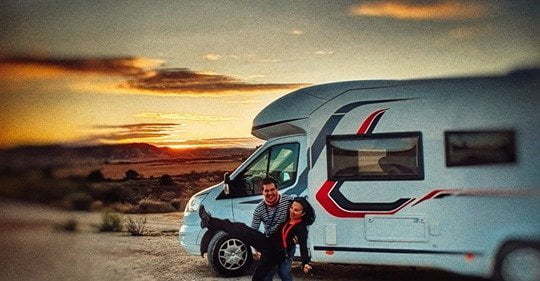 Article Name
9 things you should know before renting a motorhome
Description
Discover the best tips to keep in mind when renting your motorhome this summer.
Author
Publisher Name
Publisher Logo