Alden Biesen one of Belgium's must-see castles
The Alden Biesen Castle an essential stop on our route of castles through Belgium.
On route through Belgium and the Netherlands in a motorhome, we discover Flanders and specifically its cities, towns, natural parks and most charming castles. We also discovered Belgium in a motorhome with children, with our children, and with our dog Max, a family trip that we will always remember.
Stay on our journey through our posts. At the moment here we discover the great castle Alden Biesen, near Leuven.
Know a minimum about Belgium. We make it easy for you, here is a basic mini guide
Get to know the language spoken in Bilzen Flanders, where is the Alden Biesen castle to know how to get to Alden Biesen. Learn to say thank you in flamenco. Discover what is the typical food of Belgium and have a minimum knowledge about Belgium with this mini practical guide. We make it easy for you.
Language
Belgium language
If you are looking for: Belgium, what language is spoken? Belgium what language do they speak? or Belgium official language? Bruges language?
Well here is the answer, These are the 3 official languages ​​in Belgium:
- Dutch (60% of the population), spoken in the north of Belgium in its Flemish dialect. On our trip it is the language that we mainly hear and therefore it is the language that you will hear in Bruges speak.
- French (39% of the population), language of Brussels and the region of Wallonia in southern Belgium.
- German (1% of the population), in a small area that touches Germany.
Basic words in Flemish (Dutch)
Basic words in Flemish (Dutch) the language of Flanders
Yes, Ja.
No: Nee.
Hello: Hoi.
Good morning: Goedemorgen.
Good afternoon: Goedemiddag.
Good evening: Goedenacht.
Thanks: Bedankt.
You're welcome: Graag gedaan.
Please: Alstublieft / Gelieve.
Goodbye: Dag / Tot ziens.
Currency and prices
Belgium currency
Euro.
Belgium average prices
The prices are similar to France, a little higher than Spain in most products, but not much more expensive.
Territorial organization
Territorial organization of Belgium
3 Regions: Flanders, Wallonia and Brussels
10 Provinces: Antwerp (capital Antwerp), East Flanders (capital Ghent), Flemish Brabant (capital Leuven), Limburg (capital Hasselt), West Flanders (capital Bruges), Hainaut (capital Mons), Liege (where German is spoken) , Luxembourg (capital Arlon), Namur (capital Namur) and Walloon Brabant (capital Wavre).
You should also know that Belgium belongs to the European Union, Belgium is from the European Union in fact from the first years.
Maps: Belgium on the map
If you ask yourself: Where is Belgium, here is the answer.
Belgium on the map of Europe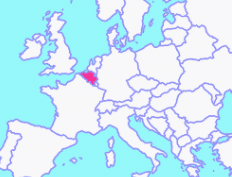 Belgium map: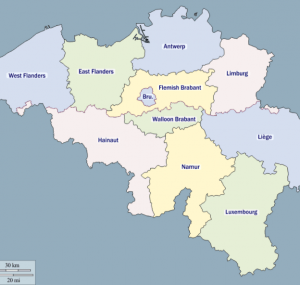 flag
Belgium flag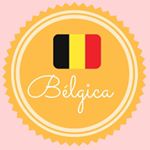 Belgium population
Belgium population / Belgium inhabitants:
Approximately 11.000.000 inhabitants
Typical food in Belgium
Tasting the gastronomy of the country where we travel should be a must on our trips.
In Belgium, buying in supermarkets is similar to that in Spain. Now, restaurants don't have a menu like here. It is usually a letter and you usually eat only one dish and usually without dessert. It is true that the dishes are large and sufficient.
There are many fast food restaurants and friterias that for a low price, around 10 euros per person you can eat well. But if what you want is to try quality gastronomy of the country, it has an average price per person of 20 euros ordering only one dish.
Be that as it may, do not leave without trying the following typical food in Belgium
Typical food in Belgium
- The Frieten, the French fries with a thousand sauces to choose from. Belgians especially love it with mayonnaise. The Belgians consider that they invented them.
- Carbonade flamande or stoofvless in Dutch, the beef stew par excellence accompanied by French fries.
- Stoemp, the muré of potatoes with vegetables. They put it to accompany many times the typical large stuffed meatball in Belgium or other meat or fish dishes.
- Moules frites, mussels with fries. The same as the French but with very rich varied sauces. Of course, here the dish costs twice as much as in France.
- Garnaalkroket, shrimp croquettes or delicious shrimp. Shrimp in general is very tasty and they also put it in salads or as a side, especially on the Belgian coast.
Typical sweets from Belgium
- The chocolade, Belgian chocolate. Inventors of the praline and with great brands such as Neuhaus, Godiva, Leónidas, Marcolini, Nirvana, etc ...
- Wafels, the super Belgian waffles that there are of different varieties and types of doughs and topings.
- Cuberdons or also called in Flanders neuzekes (noses), like a chocolate made with syrup and gum arabic. We saw them especially in Ghent. They are like sweets.
Typical drinks from Belgium
- Belgian beer. The quintessential drink. They say it is the best beer in the world. They are beers of higher graduation than in Spain and they are the truth very good. The ones we liked the most are the Grimbergen, Leffe, Stella Artois, Westmalle ... Most are made in Trappist abbeys or monasteries.
Tips for traveling by motorhome or van to Belgium
Regulations for parking and overnight in Belgium in a motorhome
In Belgium you can stay overnight and park anywhere that is not prohibited by an ordinance or municipal regulation. The regulations are like the Spanish in terms of spending the night in a van or motorhome.
On the Belgian coast it is difficult to park and spend the night in a motorhome, but in the rest of the country there are quite a few authorized areas.
In addition, there are quite a few places with motorhome parking and motorhome areas for payment and also free in some small towns. The latter are, however, very exceptional compared to countries like France.
Garbage
If you are not in a motorhome area, you will see that sometimes it is difficult to throw the garbage in this country. The containers are not public and are first scarce on the street and secondly they are closed (they work with a key or card).
Getting around Belgium: roads and bicycles
Roads of Belgium
In Belgium the roads they are all free, although there are no excellent highways like the toll roads in France and Spain. They have some bumps, but generally they are good.
Bicycle, a must in Belgium to move around
On the other hand, keep in mind to move around the cities and towns that the means of transport par excellence are the bikes.
Be vigilant when driving cyclists, they always have preference and also go without a helmet.
And if you can, bring your bike with you, rain or shine is a must to enjoy this trip.
Official tourism websites of Belgium
Alden Biesen Castle in Bilzen: what to see and do
We recommend that you reserve a morning or an afternoon to see the Alden Biesen Castle and stroll through its gardens around the moat.
Alden Biesenl is near Leuvenyou can go from there drive and park right next to it in its large free parking lot.
Access to the gardens, church and part of the Alden Biesen castle is completely free. Only one exhibition on the history of the castle and some of its activities is charged. Like a night visit or a visit that they do for families.
If you have any questions, you have the Bilzen tourist office inside the castle. You can ask them, in addition to asking your questions about the Bilzen area.
The castle is beautiful, very large, although most of its buildings are reserved for conventions and private events, so they are closed to the public.
In any case, just walking through its gardens and interior patios is worth it. Also around the castle they always organize fairs and activities. When we went in early August there was a very cool medieval fair.
Another cool option is to do one of the bike routes around the castle. In the castle parking lot there is an information point in a sentry box and there they rent bicycles.
And by the time you finish your visit to the castle, we recommend you go to the ice cream shop next to the parking lot, they make some great ice creams!
Alden Biesen in a motorhome or campervan
You can go to visit the castle in your motorhome, van or car without problem, there is a large ample parking, without services for motorhomes (only garbage containers), free and accessible. You can even sleep there with your camper without problem.
And next door you will also find a restaurant, cafeteria bar and some small shops. In addition to a bicycle rental point.
Belgium what to see: 16 essential destinations of a perfect route through Belgium
Posts about Belgium cities and destinations to complete your trip to Belgium and your route of the castles Belgium ...
Don't miss out on these posts that can help you finish planning a 10 trip through Belgium by motorhome, camper van or a trip to Belgium by car on your own. Here you will discover articles about Belgium to see, Belgium cities, Belgium on the map about a trip to Belgium, about Belgium Bruges, about Belgium Ghent, Belgium Antwerp, Belgium Ostend, Belgium Leuven, Belgium capital Brussels and in short a route through Belgium that you can inspire.
Posts about other routes that may interest you ...
Don't miss these posts that can inspire you on your next trip
We hope you liked this trip as much as we do. If you liked it let us know in a comment and subscribe to the newsletter of our blog and social networks. It encourages us to continue writing!
Summary
Article Name
Alden Biesen, one of the largest castles in Belgium
Description
Alden Biesen, one of the largest castles in Belgium
Author
Publisher Name
Publisher Logo