Click to rate this entry!
At last!! You are going to buy a second-hand motorhome to start enjoying a lot of new experiences as a family or as a couple that will change your life. Which motorhome to choose? How to hit? How much to invest?
Here are our 10 basic tips for buying a second-hand motorhome
It's your dream!
You have already decided to seek advice to buy a second-hand motorhome. You want to discover destinations that will change your life forever.
Looking for the best option ...
After hours and hours searching the internet for the best second-hand motorhome, cheap second-hand motorhomes from individuals ... you feel a bit lost among countless ads that offer this or that motorhome model, without giving you truly useful advice.
We help you…!
Those of Kucavana (we have traveled more than 100.000 kilometers and more than 200 destinations visited by caravan, van and motorhome) have created this guide with the 10 basic tips for buying a second-hand motorhome.
Follow her and you will be right!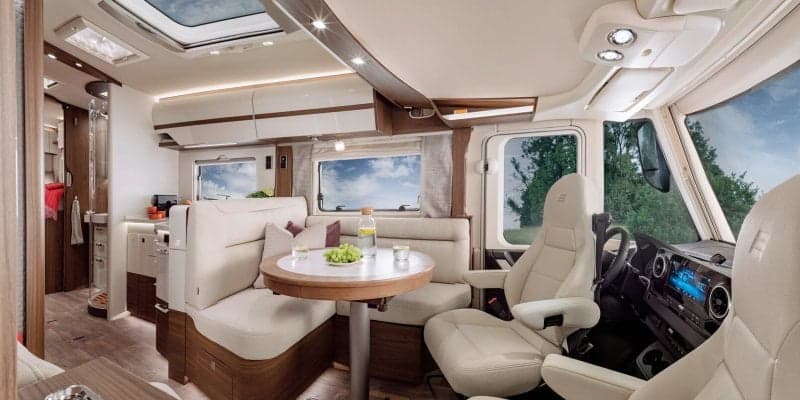 Photo: https://www.hymer.com/
Guide 10 tips to buy your second-hand motorhome:
Become an expert!
Second-hand motorhomes are cheaper, but when you don't know anything about them, you can worry: how not to go wrong with the price, the good condition of the mechanics or the equipment.
Discover the most useful tips that, according to our experience, will help you choose the right motorhome. Look All you need to know so that the purchase of your second-hand camper van or campervan is a success.
Make your needs plan: who will travel, will sleep, where will you park, what type of trips will you make, what will you need to bring….
In order not to regret a bad purchase, the first thing you should do is clearly specify your needs. Don't fix your eyes on the first motorhome you come across. Even a good offer can be a bad buy if it is not what you need later.
As a couple or as a family
Pay attention to the number of places when traveling and also sleeping (sometimes they are not the same places), interior layouts, internal storage and garage payload, types of bed (a loft bed with stairs is not the same as on foot ground) and equipment. It is not the same to travel as a family than as a couple, so you will need different things.
Ask yourself how many passengers will normally travel in the motorhome. This type of vehicle differentiates between passengers for driving and staying overnight. Do not worry, these data appear in its technical sheet.
Important. Find the seat belts in the areas approved for the trip. There must be as many as allowed passengers.
If you have children, look at the type of seatbelt anchorages and if they go against the march, sideways or in favor of the march and make sure to put the safety seats with guarantees. If there are only two-point anchor belts, watch out for them and children.
Beds and interior layout
Pay special attention to the type of beds: whether they are removable or fixed. As you can imagine, the fixed ones take up useful space and the removable ones give more work. See what you need according to your age, tastes and need for comfort.
Pay attention to the layout of the motorhome. It must correspond to your lifestyle and allow good mobility on board. Choose the arrangement of the beds that best suits your needs (central, transverse or French bed, canopy, dining room bed, bunk bed or overboard), the kitchen but also the bathroom (separate toilet and shower, or not). Choose a vehicle whose storage and warehouse spaces are highly capable of meeting your storage needs and provide total comfort based on your needs. Here, think above all about what sports you will practice, if you want to take bikes in or out of the garage, a motorcycle or other items.
Type of motorhomes, become an expert and choose according to your needs and tastes!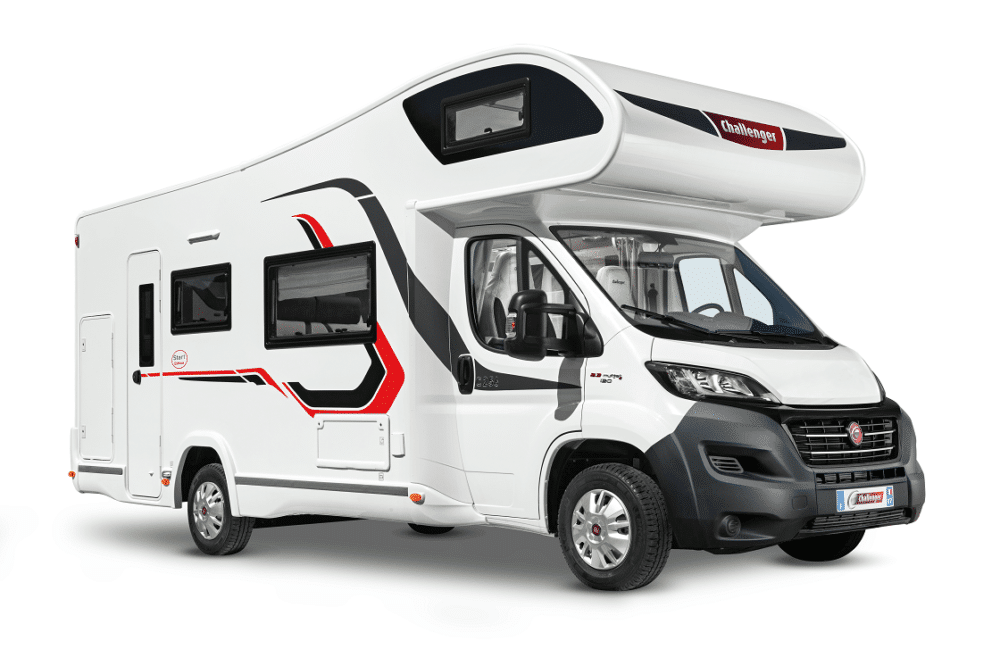 Capuchina motorhome (bed on top
driver)
The capuchin motorhome is very recognizable because it has the bed above the driver's cabin. In addition, it has bunk beds in the back. It is perfect for families of between 4 and 6 people, making the dining room a bed.
Its most negative aspect is that it consumes more diesel and is noisier when driving. The explanation ?: it offers more resistance to the wind.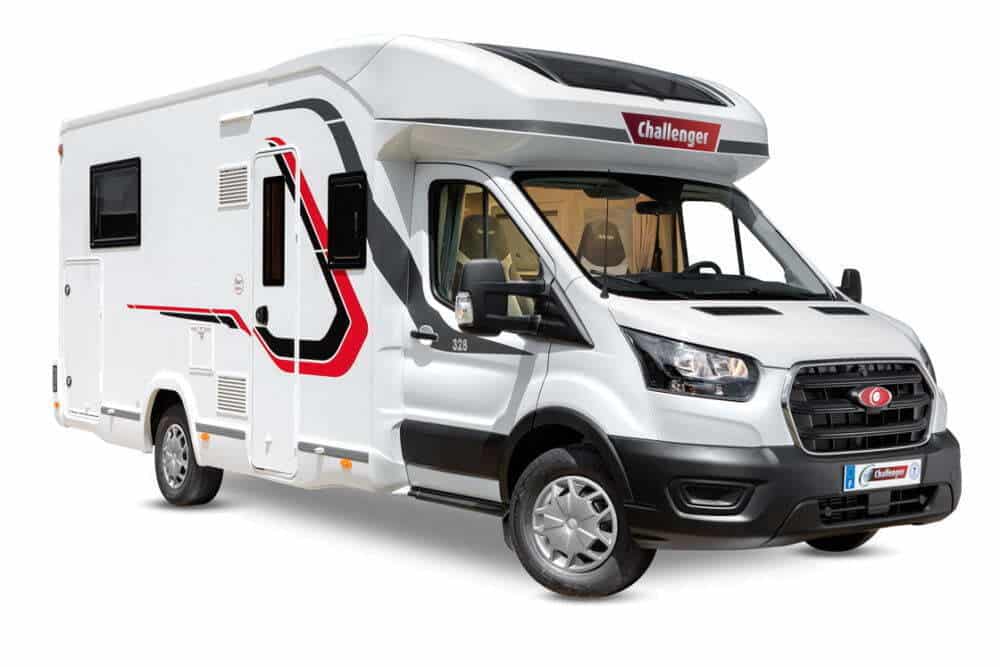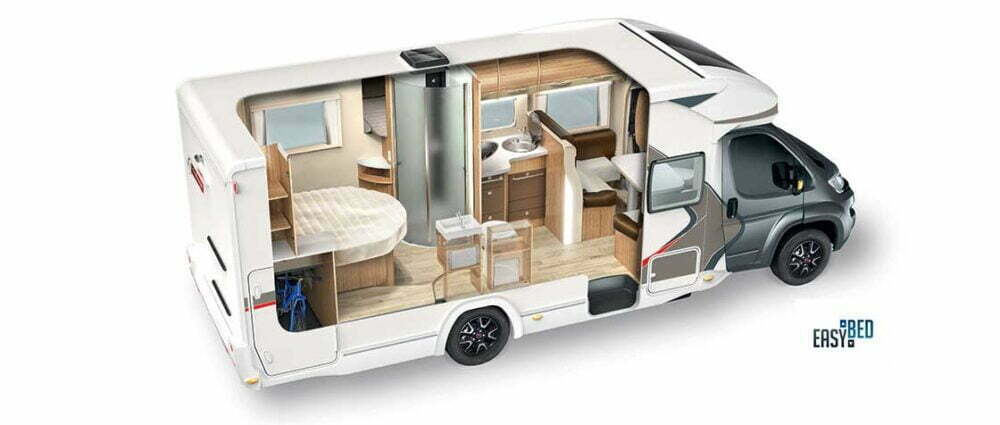 Profiled motorhome (more aerodynamic)
Above all, it is versatile. The profiled motorhome allows you to choose different height and length distributions and dimensions. Therefore, it adapts perfectly to the number of people traveling: from a couple to a maximum of five or six people.
Its design is more aerodynamic than capuchin motorhomes, it has more stability and it makes less fuel consumption. Another advantage: it is easy to drive.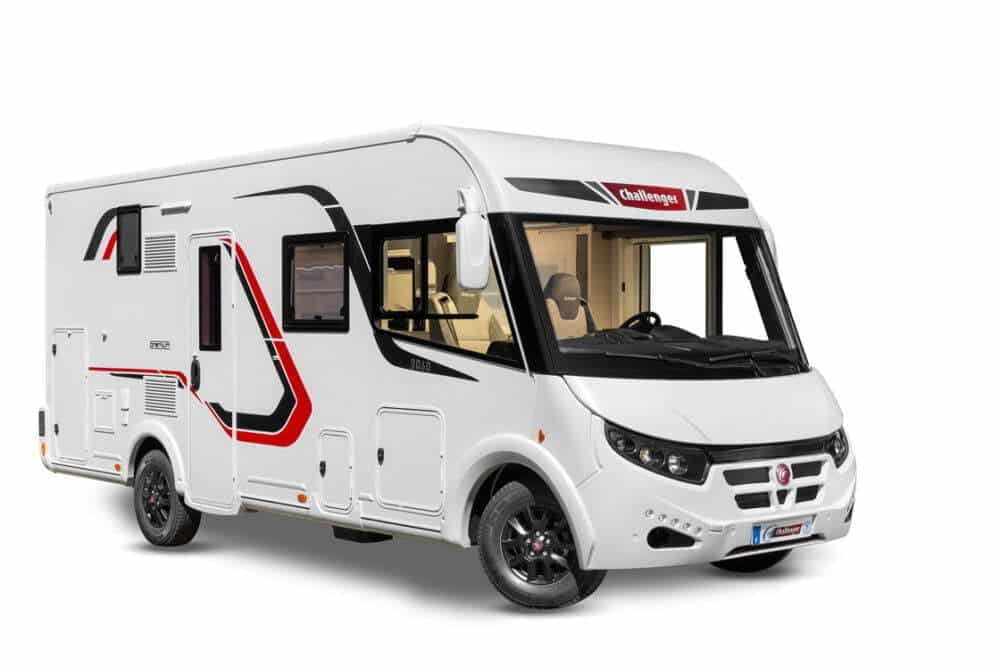 Its main characteristic is that the space is unique, that is, the house is not separated from the driving area. They give a feeling of comfort.
As the beds are at the ends (rear and cabin), the central part of the living room can always be used and is not bypassed as in other types of motorhomes. The maximum number of people that can sleep is four adults and one child.
They are vehicles that can measure up to 8,80 meters in length, so it is not possible to drive them with the B driving license. Fuel consumption is between the nasturtiums and the profiled ones.
The trips that you will make
Pay special attention to what type of trips you will make with your motorhome. If they are going to be short breaks of a few days or long trips or even if you are going to live in it.
It will not be the same to make and unmake the bed only on weekends, as every day.
Also analyze if you are going to use your motorhome to camp or hike. If what you like camping, Establish yourself in a place enabled for it (areas or campsites) it will not be so uncomfortable for you to move elements or assemble and disassemble beds, but if yours is to move by doing route din one place for another, the assembly and disassembly of beds and elements will be harder and heavier
Another important factor is if you are going to skiing, in the snow or on winter routes. Here your needs will be for greater mobility and space inside the vehicle since you will spend many hours inside.
Lastly, think about whether you are going to take long trips outside of Spain. This will give you clues as to whether you need gas or oil heating. The gas is LPG but you will not find it outside of Spain.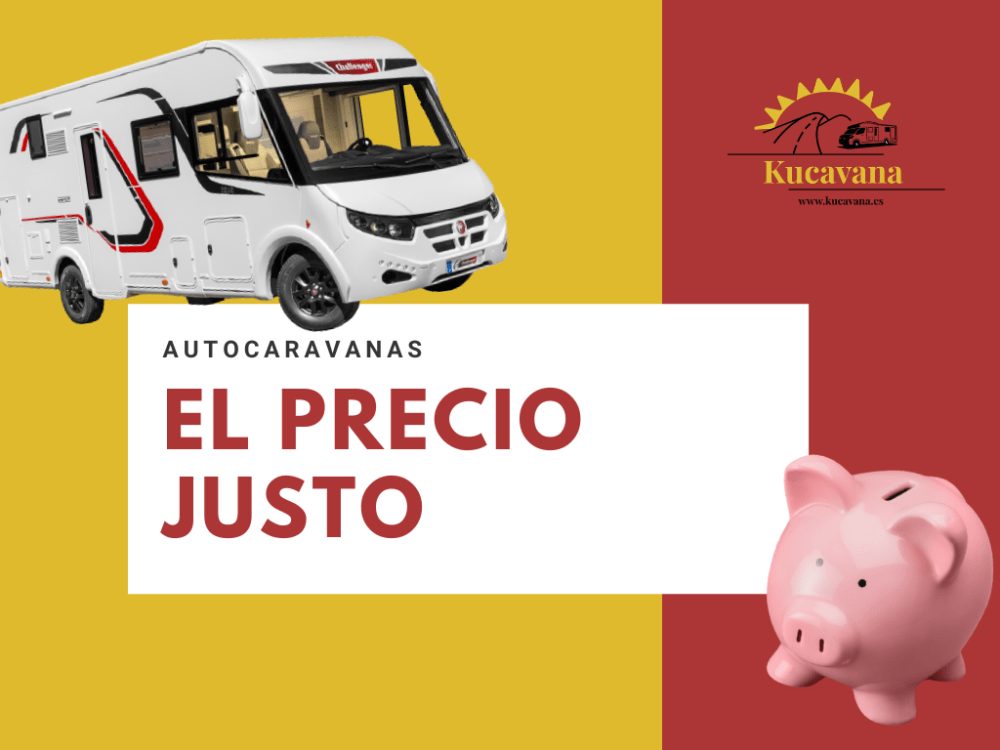 2 Set your budget: the basics and extras
The approximate price of a second-hand motorhome is between 25.000 and 45.000 euros (average second-hand motorhome price). With this budget you can find well-preserved motorhomes.
Remember that, as with any vehicle, you must value the basic equipment and extras, and more in motorhomes than extras are worth a lot and help a lot to your comfort, remember it is like a house.
The list of features is huge. There are websites of motorhome manufacturers that can guide you even with a selector what is asking you questions on number of beds, dimensions, travelers, large fridge, garage or separate shower ... to find you the best model.
This selector helps you to realize all the possibilities.
In addition, once it shows you the best model for your needs, it gives you more information about the equipment. Divide it into three categories: The Indispensable, More Features and More Luxury.
For example, the Indispensable category includes equipment such as manual cabin climate control, double airbags, swivel cabin seats, adjustable in height, electric mirrors with defroster, regulator + speed limiter, OBD antenna, recessed and insulated step, heating using fuel. of the vehicle also in circulation, with programmable digital control, panoramic roof that can be opened in the cabin, panoramic skylight, double-glazed windows with blackout-fly screen, 100% LED interior and exterior lighting, USB socket, IRP or technibox structure.
Above all, keep in mind things like that if you have an air conditioning system for a Viesa-type cooler (which is like an air conditioning that will work without being connected to electricity) it costs around 1500 euros, just like an air conditioning. Or if it has pneumatic suspension, something that will greatly improve your driving and safety on the road costs about 3000 euros. Something that you must value as well as seeing the solar panels and batteries (if they are lithium value it a lot) plus the inverter that it carries, something that you will later need insurance as an extra and that have high costs.
We like to help you with the best tips for buying a second-hand motorhome.
3 Compare motorhomes. Where to look and buy second hand motorhomes: internet portals
If you wonder how to find a cheap second-hand motorhome or how to find a second-hand motorhome from a private individual ... here is a tip from the Kucavana family:
Take your time and do not be infatuated with flashy offers.
If you know people who have a motorhome, ask for their opinion; Take a look at the YouTube channel of experienced motorhomes to extract information for yourself and seek opinions in specialized forums in the sector. Visit dealerships and sector fairs. And if you can, try before you buy.
Motorhome portals that really help you
If you decide to go to second-hand motorhome sales portals, we recommend caravans.net, the largest online portal for motorhomes in the opinion of many.
This platform is great!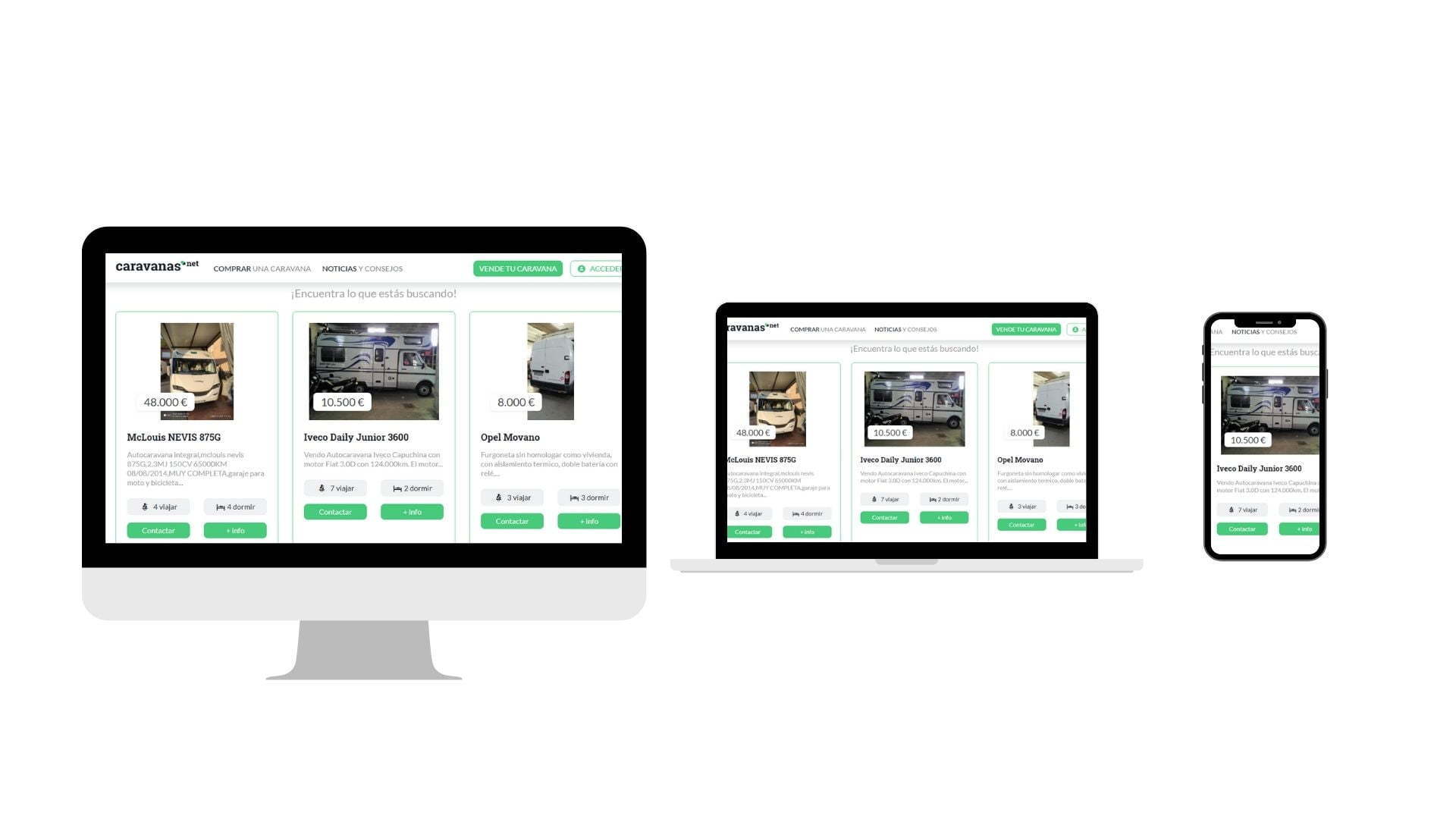 With filters to make a quick search
You can filter results by type of motorhome, brand, model, sleeping places, price, mileage, type of seller (professional or private) and many others ...
When it comes to buying your second-hand caravan, act like when you buy a car. Apply common sense, be wary of bargains, consult opinions and do not advance the money.
Professional or private seller?
In this there are opinions for all tastes. Some people prefer to do the transaction with individuals because they think it will be cheaper or because they can ask you questions about the use that you have given the motorhome.
At the other extreme are those who prefer to buy from a professional because the sale is usually accompanied by extended warranties. But there is also the fear that the vehicle has been rented over and over again, passed from hand to hand.
The right price, another good tip for buying a second-hand motorhome
The risk is paying too much, of course. How to make sure that the price offered by the seller is correct: starting with a little research.
Criteria for a "good deal"
As always, the opportunity is in certain cases, the urgency of the sale (illness, death ...) can obviously be a favorable circumstance ... for the buyer.
Think about reselling
You are now a buyer, but perhaps one day you will become a seller. So remember that the absence of certain equipment makes reselling difficult (cabin air conditioning, in particular).
What do you think of all these tips for buying a second-hand motorhome?
If you wonder how to find a cheap second-hand motorhome or how to find a second-hand motorhome from a private individual, take your time and do not be infatuated with flashy offers
4 Check forums for tips before buying a second-hand motorhome
Once you have chosen a specific second hand motorhome model because its characteristics match your lifestyle, consult internet forums to learn more. The forum par excellence is AC Pasión.
In this way, you will know opinions for and against and, surely, you will realize some aspects that you have overlooked.
Trust the people who think. If the river makes a noise its because water is running!.
5 Check its age and kilometers
Caravans, motorhomes and campers do not usually have many kilometers if we compare them with a car. Although this depends on the use that has been given to it, they are usually vehicles that are taken on the road sporadically and playfully.
In our opinion, it is advisable to buy Second-hand motorhomes that do not exceed 100.000 kms. In addition, it is preferable that it has been used by the same owner and avoid those that have been in the rental circuit for years.
Another thing that you should take into account is if something fashionable is imported from Germany or another country and that sometimes in these cases the original kilometers are changed when imported, be careful with this.
6 Analyze body and mechanics
A good idea is that a mechanic you trust check elements such as bodywork, timing belt, clutch, tires, battery, headlights, radiator, exhaust pipe ...
When buying a second-hand motorhome, the most important thing is check the engine, but also the brakes and suspension. Hopefully the interior will show signs of wear and tear, but those things are cosmetic and easily fixed.
It is convenient to make a visual check of the sheet, to make sure that the motorhome has not suffered any accident that could have altered the structure.
Something important about the tires: Do not accept any motorhome that, even if it appears to have new tires, they are older than 4 years. This point can be seen on the side of the tire, where you have to indicate the month and year of manufacture.
More aspects to take into account: the correct operation of the timing belt, clutch, brakes, gearbox, battery, headlight shock absorbers, radiator, exhaust pipe ...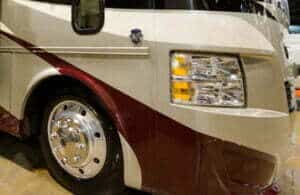 7 Study the tightness, bottom and ceiling
When examining the motorhome, first check the condition of the bodywork. A control that will not affect scratches or small bumps as much as the possible water infiltration, not always easy to detect but one of the most important of a second-hand motorhome.
Pay attention to the slightest marks on the walls, both inside and outside and lumps that you see on the outside or on the ceiling (it could be that it is swollen by water). Inside the cabin, check the smells. Examine low and ceilings above all (get on the ladder and look at them, super important). Checking the condition of the fixing points with accessories and components is also something to review.
8 Interiors: touch and see!
We continue with the guide of tips to buy a second-hand motorhome.
Inside the motorhome, touch and see everything. To check the infiltrations, it is necessary to control the humidity points on the interior walls as well, especially in the attic and in hidden corners.
Another hint: there must be no mold on cushions and mattresses.
More aspects to consider: the state of doors, windows, hatches and furniture, that everything closes perfectly.
9 Check the operation of the gas, heating, refrigerator, stove, water and electricity
Ask for it to come on the fridge a few hours before your visit so it has time to reach operating temperature and carry a thermometer to check its internal temperature.


After purchase, it is advisable to have a review gas system to specialized technicians, to adapt the regulators and pipes with the latest generation approvals. This in fact is mandatory every 4 years, ask him for the certificate of the last gas check he did.
Verify the operation of the water pump by opening all the taps, in this way you will also check the arrival of hot water and the good sealing of the siphons under the kitchen sink and the bathroom sink. Consume a lot of water check the tightness of the recovery tank valves. Do the same with the toilet, check the operation of the flush pump and the operation of the sash of the collection box.
Turn on all the lights and check they work.
Check with the thermometer that the refrigerator has cooled down sufficiently (4/5 °), turn it off and on again to check the correct operation of the ignition mechanism.
Make sure the burners on your stove light regularly, that the flame is steady and blue.
About heating- Check that the heating system turns on regularly without repeated attempts. The heater should come on on the first or second try. It also tests the operation of the ventilation system and the degree of smoke that makes the outer tube of the heating if it is diesel.
If the photovoltaic panel is present, the operation check should be done on a sunny day.
In summary, take note of the best tips for buying a second-hand motorhome
Before buying a second-hand motorhome, check all the systems, refrigerator, battery, sanitary, heating, qgas burners, fotovoltaic, lights, air conditioning plugs, fans and bottle of LPG.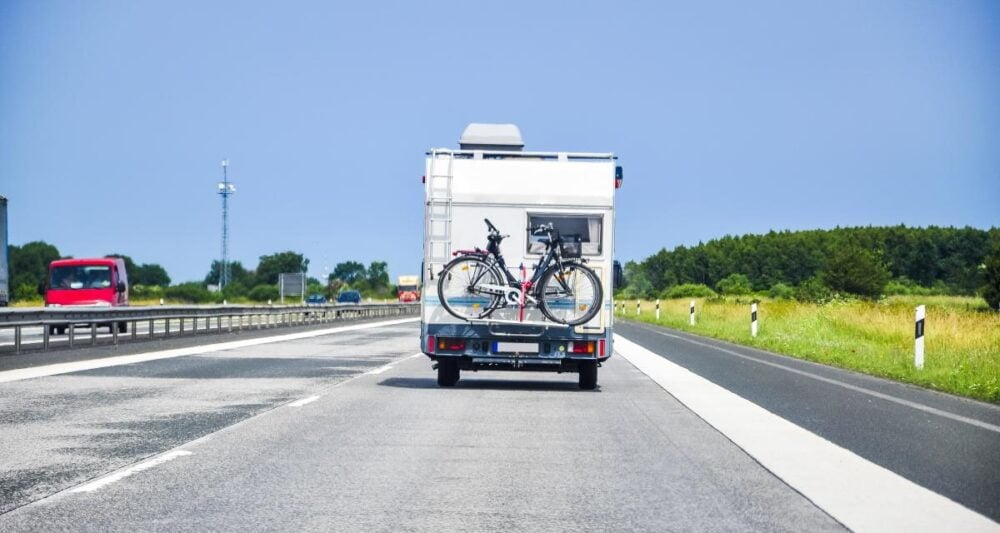 10 Supervise the legal documentation: request the ITV!
Before buying a second-hand motorhome, check that all the vehicle's papers are in order:
La ITV must always be passed, do not forget.
The extras you carry must be legalized in your technical file, check it well. For example, the pneumatic suspension has had to pass the homologation and corresponding legalization ITV.
Ask the owner for the latest ITV report, to find out if there is any minor fault.
Ask the owner for the warranties of the vehicle they have, the watertightness guarantee normally lasts 10-15 years, if the former owner has passed the watertightness check each year, but you will not have a guarantee. Something very important to value.
Verify the payment of the circulation tax, when making the purchase-sale. Who pays for it? It can be agreed, whether seller or buyer. The usual thing is what the buyer pays if the transaction is made before June.
What do you think of our guide of 10 basic tips for buying a second-hand motorhome?