More than 2 million people visit each year in the Netherlands windmills of Kinderdijk, a unique museum in the world, a UNESCO World Heritage Site. There must be a reason.
It is undoubtedly one of the most photographed places in the Netherlands.
History, heritage and the great symbol of the Netherlands. An impressive and magical place!
And don't forget your bike, the place deserves it!
Holland windmills = Kinderdijk
Kinderdijk is actually an area flooded by water, near Dordrecht and not far from Amsterdam, where the most famous and well-preserved windmills in the Netherlands are. Nineteen beautiful mills, built around 1740, which are part of a large water management system to prevent flooding. A place where man defeated water in an incessant struggle.
Today they are the symbol of water management in the Netherlands, a country where 26% of its land is actually land reclaimed from the sea by man and is land below sea level. It is an incredible place and that is why in 1997 they were included in the UNESCO World Heritage List.
The Kinderdijk mills were built to keep the lower Alblasserwaard polder area dry. Together they form a typically very Dutch image, a typical Holland windmills. You will also be able to see the many waterways, dikes, mills and locks, and discover how the Dutch have been using water to their advantage for around 1.000 years to have arable land and land to exploit.
At every step of this visit, you enjoy the best moments in Holland.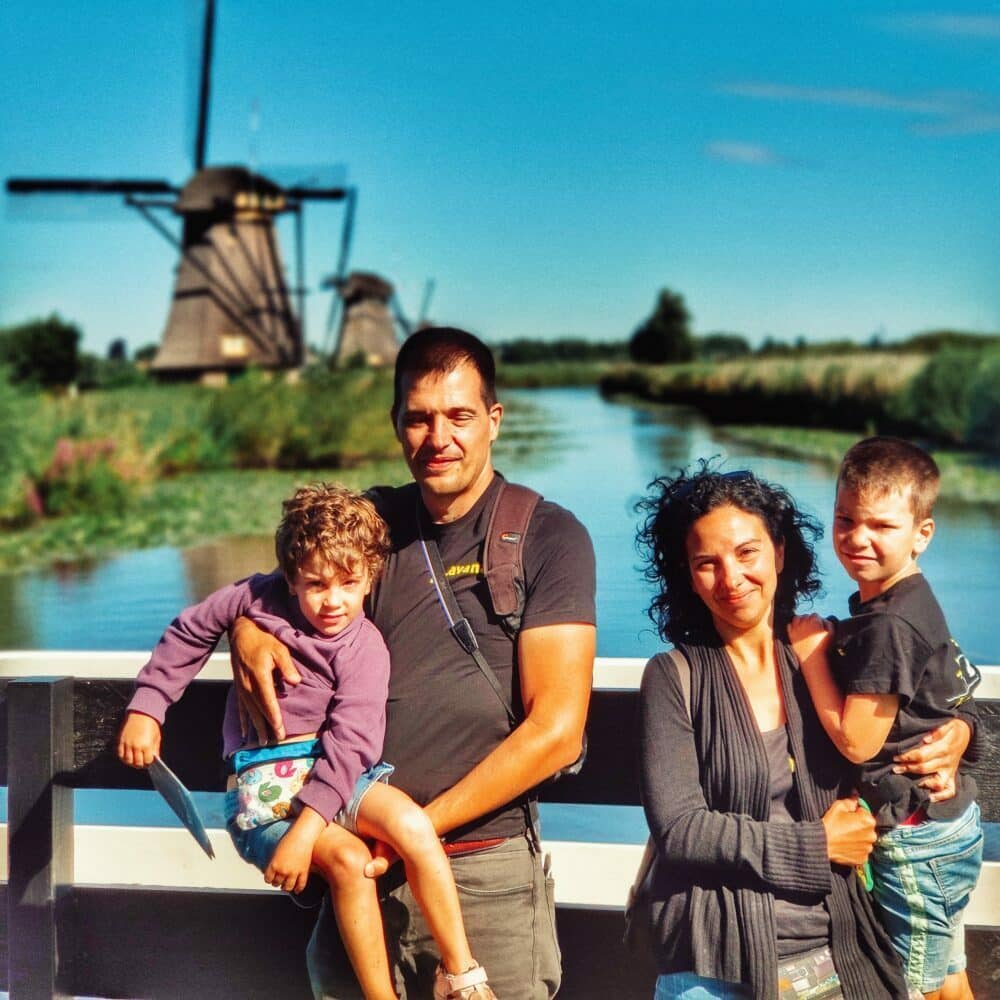 Practical information about Kinderdjk, the visit to the Holland of the historical windmills
How can you book your visit?
You can book your visit online to guarantee entry here!.
By the way, you don't need to print the tickets!
What does the entrance to the Kinderdijk visit include?
Of the 19 mills, only 3 belong to the museum and can be visited, the rest are private property, and people still live.
The 3 mills are themed to discover and learn everything about the place. Also there they will receive you to explain everything, yes in English, although you also have the audio guide included in the ticket.
In the visit to Kinderdijk, you will not only see the 3 windmills inside, which are very worthwhile; but you will also be able to see an audiovisual where you will discover the authentic function and history of this place; tour a museum and catch as many boats as you want to go from one mill to another.
But it does not end here, the entry includes a cruise ship along the entire canal with very good explanations.
We loved the visit and highly recommend it as one of the must-sees in Holland.
Can you bring food and drink?
It is possible to enter with your own drinks and food. There is also a small restaurant, cafeteria and souvenir shop at the entrance.
Pets Allowed?
Leashed dogs are welcome throughout the tour, locations, and tour boats. Dogs are prohibited only in the Visitor Center restaurant and Blokweer Museum Mill.
Parking in kinderdijk
There is parking at the entrance before the Visitor Center, but you cannot spend the night in a motorhome.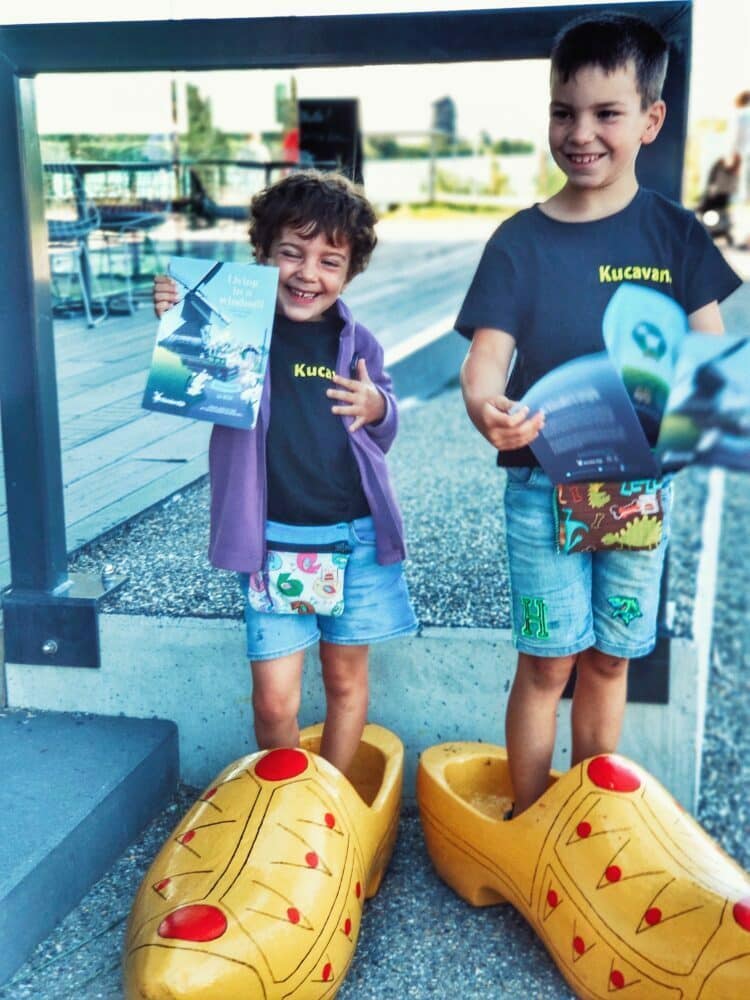 Kinderdijk in a motorhome or camper, our experience
In the entire town of Kinderdijk parking for non-residents is prohibited and it is really difficult to park, so we recommend that you go directly to one of these options in Kinderdjk to park and / or sleep in a motorhome:
IF YOU ARE ONLY PARKING:
Royal IHC car park
Only open on weekends: Address: Smitweg 6, 2961 AW Kinderdijk.
Only Saturdays and Sundays. Parking is free. It is not allowed to stay overnight.
Note: This parking lot is closed with a fence at 18:00 p.m.!
Camper Space Vletstraat
Address: Vletstraat 2, 2957 EB Nieuw-Lekkerland.
Next to the Schoonenburg pool and tennis courts. Overlooking the windmills. Shops and bakery within walking distance. From Nieuw-Lekkerland you can follow a cycle path to Kinderdijk. Distance 2,6 km. You are not allowed to stay overnight in this parking lot!
PARKING AND SLEEPING IN KINDERDJK BY MOTORHOME
Camper Park Kinderdijk
Address: Poldersemolenweg 6,2952 BP Alblasserdam.
Spacious places equipped with all the comforts. Distance: 5,3 km.
Here we park and spend the night, you can go by bike path to the mills passing through the town.
Camping Landhoeve
Address: Lekdijk 15, 2957 CA Nieuw-Lekkerland.
Rurally situated minicamping for campers, caravans and tents. Staying the night comfortably with sanitary, wifi and more included. Bicycle distance 6,5 km. Open from April 9th ​​till October 1st.
We recommend cycling around Kinderdijk, there are many excellent cycle paths