Driving on the Spanish roads with a motorhome: Regulations 2021
Lead toParking a motorhome, camping or spending the night with a motorhome are the first unknowns What do you think about when you want to start in this world?
Here we explain everything you need to know to avoid receiving unwanted fines and act correctly when traveling in a motorhome or traveling in a camper van.
Driving a motorhome on public roads and highways
What you should know, in general, is that you It will mainly affect the general traffic and vehicle regulations of each country to drive, park and spend the night in a motorhome.
En Spain to circulate on a road in a motorhome generally affects the Regulation of Circulation and Vehicles that develops the Law on Traffic, Circulation of Motor Vehicles and Road Safety, that the new Regulation has just entered into force with some modifications to the previous one last January 2 2021 and within the Municipalities, in addition, the municipal ordinances and regulations of circulation and vehicles that they have approved (and these cannot contradict the previous general regulation).
Legal premise to circulate in a motorhome on the roads: It can be circulated like any other vehicle for any road that is not explicitly forbidden for reasons basically of environmental restrictions, measurements or vehicle weight: de height (tunnels), length or width or the weight of your motorhome + or - 3500 kg or the age and environmental impact of your vehicle.
They should never prohibit you from driving on a road or public road just for the mere fact of being a motorhome or camper, these regulations are discriminatory and reportable
There are interurban and urban roads that you will find that prohibit the passage of motorhomes through their streets explicitly and not because of the size of the vehicle or weight or environmental restriction. In that case, the prohibition in the municipal ordinance or regulation must be motivated by security reasons, but it may be a discriminatory regulation and could be illegal, so you could report it to the ombudsman of your autonomous community.
Speed ​​limit for motorhomes and campers
You should know that motorhomes with an MMA of up to 3.500 kg can now circulate at the same speed as passenger cars and motorcycles. Of course, motorhomes of more than 3.500 kg have the same requirements and limits as trucks.
Most camper users still have the maximum speed as well as tourism. Now if they are adaptable mixed vehicles they will have to circulate up to 100 km / h and if they are classified as vans they cannot exceed 90 km / h.
Parking a motorhome or camper in Spain: Regulations 2021
First of all: differentiate the concepts of camping and parking a motorhome well
Differentiating these concepts well is key since in our country CAMPING IS PROHIBITED BY LAW IN ALL SPAIN, and parking is not generally prohibited.
Never ever camp outside of a private or public campground or RV park with specific camping permits.
CAMPING YOUR VEHICLE IS PROHIBITED IN ALL SPAIN
In general, camping is considered, and therefore it is prohibited and they can fine you when elements protrude from the perimeter of your vehicle.
Examples of things that you CANNOT do on public roads because it is considered CAMPING AND IS FORBIDDEN:
Take chairs or tables out of the vehicle and eat outside of your vehicle.
Shower outside the vehicle.
Open windows
Extend awnings or awnings.
Put chocks
Put stabilizing feet.
Discharging fluids (clean, gray or black water) except those from the engine through the exhaust pipe.
Take a step.
Start an electric generator
Make annoying noises (music, radio etc ...)
And remove any item from your vehicle and leave it outside.
Park motorhome or camper on public roads
Now you know that parking is not camping and that you should never camp when you park on a public road, forest or wherever that is not an area enabled for it.
What you should know, in general about motorhome parking, is that in the case of park a motorhome or camper, the ordinances and regulations of each municipality apply, since they are the competent ones of the public thoroughfare of their municipality. So, You will find municipalities with places where you can park and places where it will be forbidden to park your motorhome or camper.
On urban roads, the stopping and parking regime is regulated by municipal ordinance, although in no case can they oppose, alter, distort or lead to confusion with the precepts of the General Traffic Regulations.
Taking into account that the distribution of public car parks among all users must be equitable, motorhomes cannot be deprived of the right to park on public roads, as long as the stop or parking is not dangerous, it is executed in the manner and manner indicated, does not constitute a danger or an obstacle to movement, the vehicle is placed in the indicated way, and it is also located in an authorized place to park.
Unfair bans on parking motorhomes or campers exist and are illegal
Therefore, the exclusion of motorhomes and campers from public roads must necessarily be motivated and based on objective reasons, as can be the dimensions exterior of a vehicle or its masa maximum authorized, and not for its construction or use criteria, nor for subjective reasons.
In this sense, motorhomes can carry out stopping and parking maneuvers under the same conditions and with the The same limitations as any other vehicle, as long as they do not camp, remove any element from the perimeter of the vehicle (open windows, take out a table or chairs, take a step, put chocks ... this is prohibited throughout Spain).
This is the theory, but what we see is that they limit us in many municipalities to park and park motorhomes and campers due to the same fact of being a house with wheels and because they do not know how to differentiate the concepts of parking and camping, they think that we camp simply by parking without removing anything from our vehicle.
Defense mechanisms on discrimination in motorhome parking in a municipality that vetoes us for the mere fact of being campers
In these cases, our only defense is not to park so that we are not fined, firstly, find an area where there is no prohibition or leave the municipality and then report the Ombudsman of our autonomous community this discrimination if we see that the ordinance does not legally motivate the prohibition.
PDFs of DGT regulations on motorhomes
I leave here the Instruction and explanation document of the DGT on motorhomes for you to download.
There are many motorhomes who take them in their motorhome in case a policeman prohibits you from parking in a place where there is no explicit ordinance or prohibition approved by a Local Government.
Download here the DGT document ON MOTORHOMES: GT-53-Mobility_Motorhomes
Download here the DGT Instruction on motorhomes: DGT_Instruccion_08-V-74_Autocaravanas_2076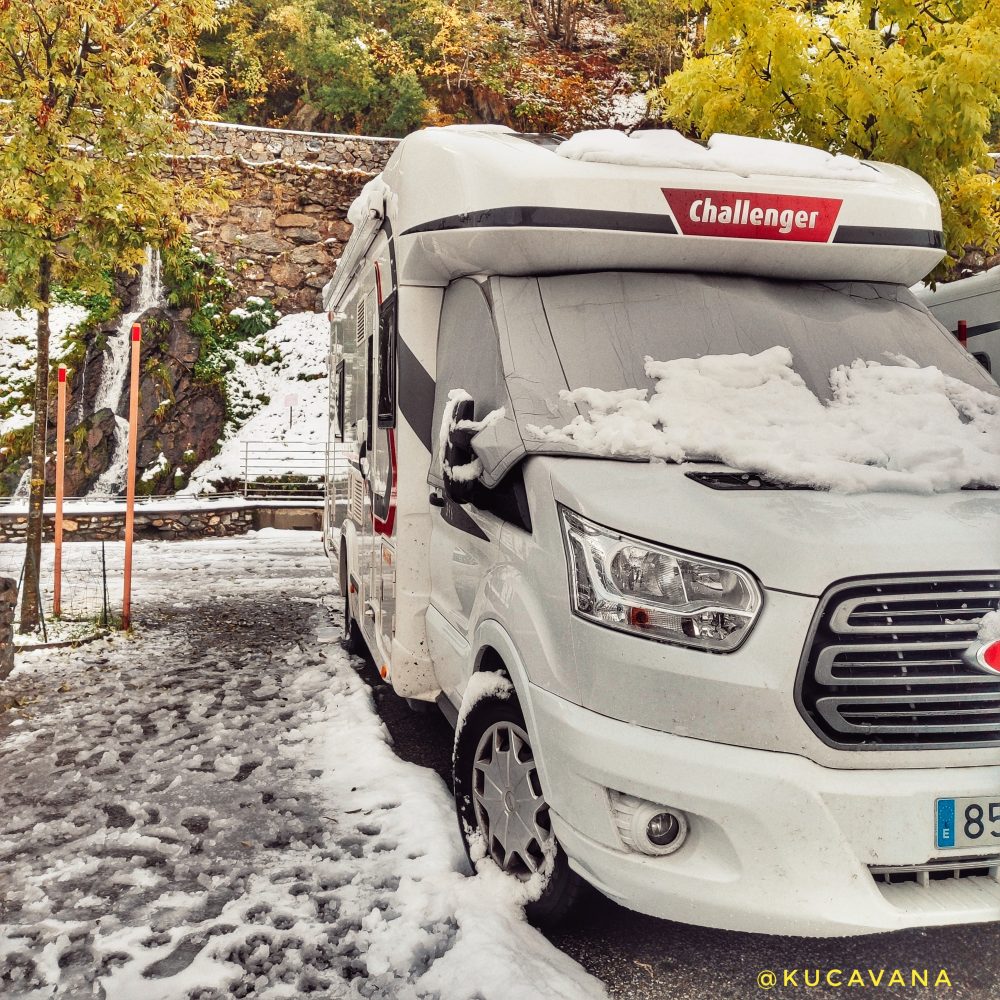 Environmental restrictions applicable to the movement and parking of the motorhome or camper
Especially if you are going to drive a motorhome through big cities, keep in mind the environmental badges that you have to carry in your motorhome or camper.
To consult more information about the environmental mark in Spain go to:
http://www.dgt.es/es/seguridad-vial/distintivo-ambiental/index.shtml
To know what environmental badges require you outside of Spain and even to buy the badges we look at it on the following website:
https://www.green-zones.eu/es.html
Coastal law: we cannot drive or park near the sea
The Coastal Law (article 33.5) also included in the General Traffic Regulations, we prohibits parking and circulation, as well as camping and camping sites 20 meters from the beach in an urban area or 100 meters in a rustic area, counted from the shore of the sea (point that reaches the maximum water in storms or tide).
Technology for motorhomes and campers that helps us know where to drive quietly
Traveling and driving a motorhome, sometimes, due to its height, width and length measurements, is not easy. It is the great fear of most people who start in this world.
Going through mountain roads or small towns that one does not know can become an adventure and even a feat to succeed.
Therefore, today, technology is the great ally of the motorhome.
It makes life easier for us to drive without fear and to drive a motorhome without problems.
Each filtering bag Special GPS for motorhome or trucks They are the great ally en route to drive a motorhome.
Some GPS that we recommend are Sygic (which can work on mobile), Garmin or Tomtom. As long as these are the special ones for motorhomes or trucks.
We have the Garmin one, which we can talk about very well after two years using it:
The good thing about these Specific GPS for motorhomes or trucks is that you can enter the measurements of your vehicle and take it into account when making the route.
They really are a relief and avoid scares during the trip.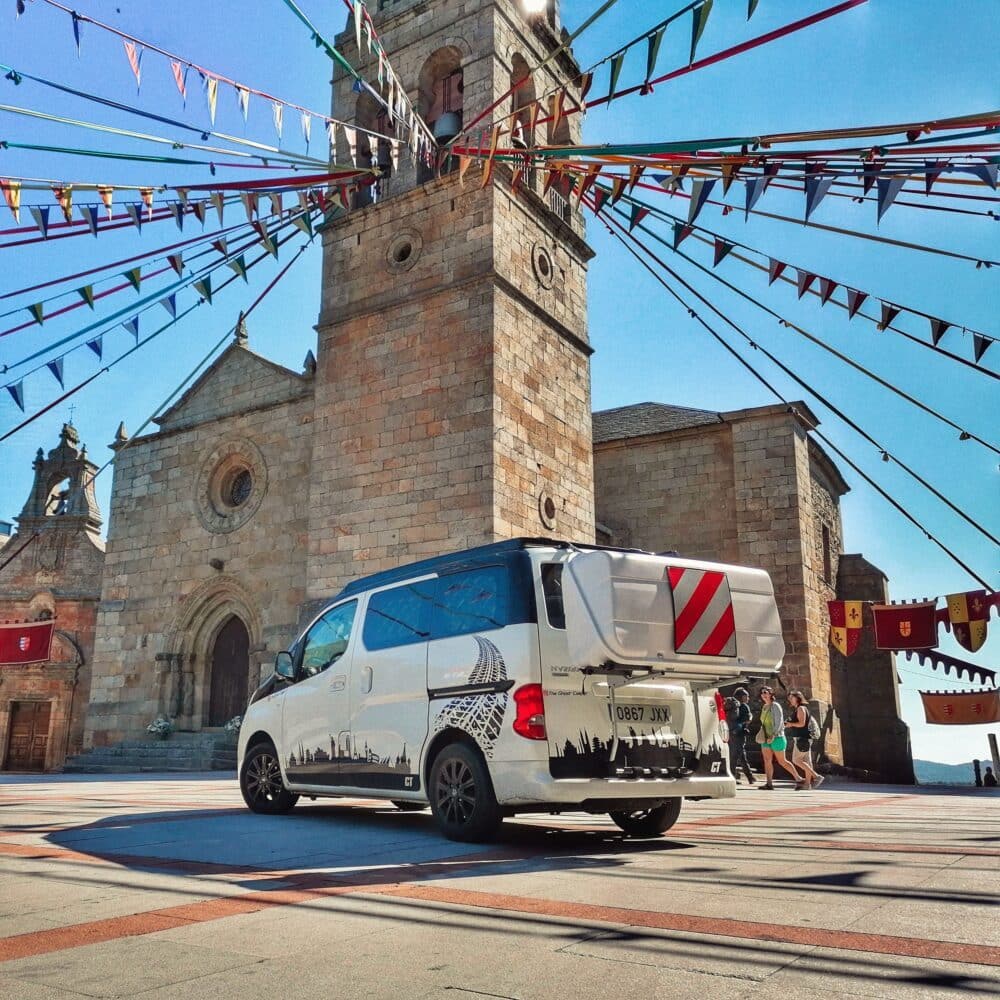 The greeting in a motorhome, the unwritten rule traveling in a motorhome or camper
We couldn't finish this article without mentioning a basic rule for the motorhome driver. Wherever you drive, remember the following:
We must say hello to any fellow motorhome or camper that you find on the road.
It is an unwritten, national and international law. It is a good practice to travel by motorhome and create this community of travelers of which we are part. Driving a motorhome is also a social event for us
The need for a specific Law for motorhomes
When it is for safety or size reasons, it is perfectly understood that they do not let us drive a motorhome there. But, there are some municipalities that prohibit it for much more elaborate reasons. Mainly, due to economic interests or lobbies that reign in the municipality that are contrary to motorhomes.
In this case, In Spain we are not lucky as there is no clear law for motorhomes. There is a European Directive that obliges all European countries to treat a motorhome or camper like any other vehicle, as long as it is not camping (leave the perimeter of the vehicle).
Now, in Spain it has not yet been passed into law and that is why the municipalities can approve ordinances or regulations against motorhomes limiting their mobility or parking or overnight, fining us in many cases. Even for the simple fact of parking in a place that we do not disturb anyone.
Platform with the Law in Hand
It has been created precisely the Platform with Law in Hand to press towards this objective: Develop a national law that explicitly conceives us as any other vehicle. With the same rights to circulate, park and drive a motorhome as any other vehicle (as long as we do not camp, we know that this is something else and other legislation).
But as there is still no law, it may be that there are municipalities that prohibit you from driving in a motorhome, in part or all of the municipality because it is a motorhome or camper.
In any case, if they fine you it is not illegal if they motivate it well in their ordinance, today. As long as the municipal ordinance or regulation that prohibits it is, approved by the Plenary of the City Council and motivated, it is legal.
Now check the motivations, this is where the illegal aspects may be.
Click on each of the sections, to know everything and more about traveling by motorhome: