Discover the Gobi Desert and Mongolia by camper van, from the hand of the adventurous instagramers @compassontheroad. A trip that will make you fall in love through the travel story of these great adventurers.
Without a doubt Agnes and Xevi with their Instagram profile @compassontheroad are one of our favorite instagramers in the world of caravanning and campering. And they are not just any travelers, believe me. There is no place that they will not discover you, for example the one that they will discover here: Mongolia and its Gobi Desert in a campervan !. I certainly don't know of anyone else who has ventured to such a feat in a campervan.
With their publications they inspire us and make us dream of incredible destinations. For me they are one of those instagramers who undoubtedly add value with their publications, so Do not hesitate to follow them! What are you waiting for?
@compassonthe road is made up of Agnes and Xevi, she has a degree in Physical Activity and Sports Sciences, a National Gymnastics coach, has always been an adventure lover, restless and globetrotter, the Master in disaster and emergency management, mountaineer and athlete of Elite. An inveterate traveler, he has already visited more than 100 countries. And together they are compassontheroad; ambassadors of their own lives, citizens of the world, it is difficult to tell more.
They are simple people who come from a complex society that has not been carried away by the flow. Searching inside they found the values ​​that the world and the journey gives them and firmly believe in the essence of sharing. In this sense, its profile, @Compassontheroad, aims to be a learning space for the collection of cultural richness where to transmit to intrepid travelers the essence of civilization and the hidden beauty of our planet, it is to take travel and adventure to its maximum essence! !
Follow them and don't wait any longer for the adventure of living against the current!
We will explain a part of the route that we did in Mongolia in October 2019, where were we almost a monthBut more authentic experience It was the days that we were in the Gobi desert.
How we got to Mongolia
To Mongolia we arrived in train and busFrom Siberia (we hitchhiked part of it), along the Trans-Mongolian route, there we arrived at the capital of Mongolia, Ulan Bator, which we made base camp to move around this incredible and huge country.
We discovered a people and an authentic culture, welcoming people like the most.
Getting around in Mongolia
Getting around in Mongolia is complex, large areas, with almost no paved roads, etc. One can choose to rent a tour or go more for free, which is possible, but you have to plan the days well.
Rent a van with driver
We finally decided on rent a van with stove, of these Russian style, with driver, but without being tied to any tour.
And with us came our expedition tent.
Before leaving for the Desert, we went to buy food and some other supplies that we would not need this week, such as gas charges, toilet paper, garbage bags.
And there began our 7-day adventure in the Gobi Desert in a camper van that we are going to tell you about.
Overnight in the Gobi Desert
The summary of our overnight stays in the Gobi Desert is that they were always in nomadic camps in the Gers, some authentically nomadic, others of nomadic families who have adapted it a bit to the traveler. Sometimes we sleep in Ger, although when traveling with our tent we made a hybrid, combining nights in Ger and nights in a tent.
Meals in the Gobi Desert
We usually ate from our van stove but were also invited by some family for breakfast. We also ate local food somewhere on the road.
What to see in Mongolia in the Gobi Desert
Places Visited: Tasagan Suvarga, Yol Valley, Khongor Sand Dunes, Red Flamming Cliff and Baga Gazriin Chuluu.
The best of Mongolia and the Gobi Desert
The best thing to discover what life is like in the Gobi desert, which despite being a desert and our conception is that the desert is hot, the Gobi is the coldest desert in the world.
Also, discover a very different life and culture, very humble and very welcoming. Traveling without a tour allows us to delve into cultures, people, and share. The essence of the country, something wonderful.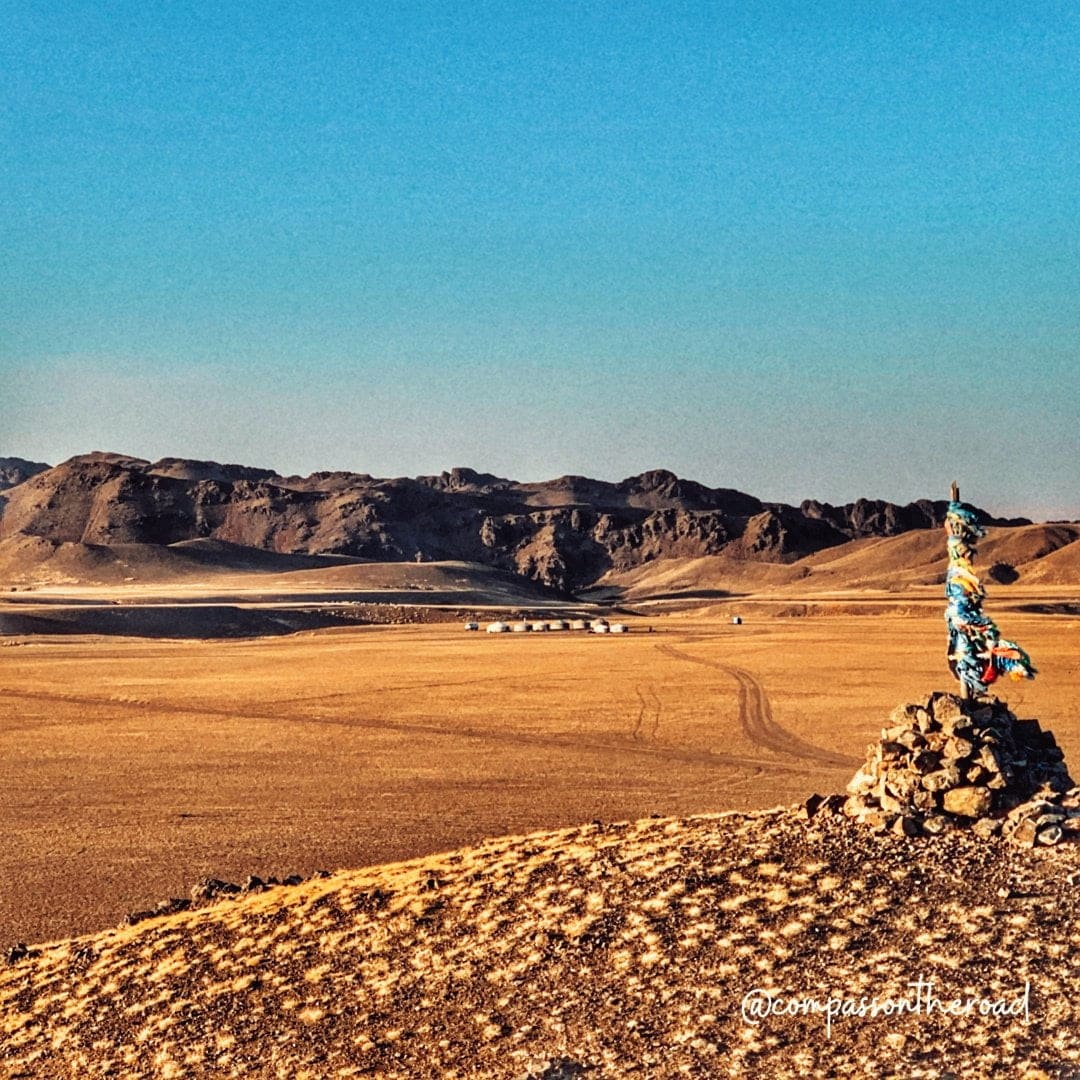 Day 1: Ulan Bator - Tsagaan Suvarga (white stupa) To the Gobi Desert
Ulan Bator - Tsagaan Suvarga (white stupa)
We left at around 11 in the morning from the meeting point with our driver and the Russian van.
Luckily for us he spoke a little English, which would facilitate communication with the nomadic peoples of the south.
Driving in Mongolia is not easy and the kilometers are done more slowly of which we are used. But that was not an inconvenience, on the contrary, it is the way to enjoy the landscape, arid and lunar to a large extent, but fascinating.
Mandatory stop for eat, with our stove We made ourselves lunch and then to continue the route to Tsagaan Suvarga.
We arrive in the middle of the afternoon, they tell us that the lights are better to observe all these rocky structures of a thousand and one colors passing through all shades of brown, white, pink, green.
A lot of photos, one never tires of photographing, of admiring, of leaving the mind blank.
Before night fell we went to a nomad camp very close to where we were. There were some ger (typical Mongolian house) to spend the night there, but we asked permission to plant our shop, and without any problem, a little apart from the Ger, the only condition.
The bathrooms are latrines and are part of the camp. There we saw the sunset, while the camels of the family from the camp returned to their place to spend the night.
La night was cold, below zero.
Overnight Gobi Desert day 1:
In a nomadic camp near Tsagaan.
Day 2: Tsagaan Suvarga - Yol Valley in the Gobi Desert
Tsagaan Suvarga - Yol Valley
We woke up early, between 6 and 7 and watched the sun rise. We used the stove to make some tea and regain heat, some cookies and around 8-9 we left for Yol Valley.
We arrive there around noon, prepare a backpack with water and some food and walk. Yol Valley is a deep and narrow canyon in the Saikhan Gurvan mountains of southern Mongolia.
El valley is named after the Lammergeier, which is called Yol in Mongolian. The bearded vulture is an Old World vulture, which is why the name is often translated as Valley of the Vultures or Valley of the Eagles.
It is spectacular to reach the end, where it opens and you admire thousands of mountains surrounding the canyon. For the more adventurous we recommend going up one of these hills and admiring the canyon from above.
We sleep in a nomadic camp. Our intention was to plant the tent, but the inhabitants there told us that they invited us to sleep in a GerThe wind was blowing too much and it was too cold. We are not afraid of the cold but hospitality of those people was irrefutable.
Explain that Ger's "heating" is salamander type and the fuel is dried camel poop. It heats up a lot but you have to be careful to pour fuel before it turns off, although while you sleep it is inevitable, it turns off and in the morning it is time to turn on again.
We prepare dinner and share it with them.
Overnight Gobi Desert day 2:
Overnight in nomad camp.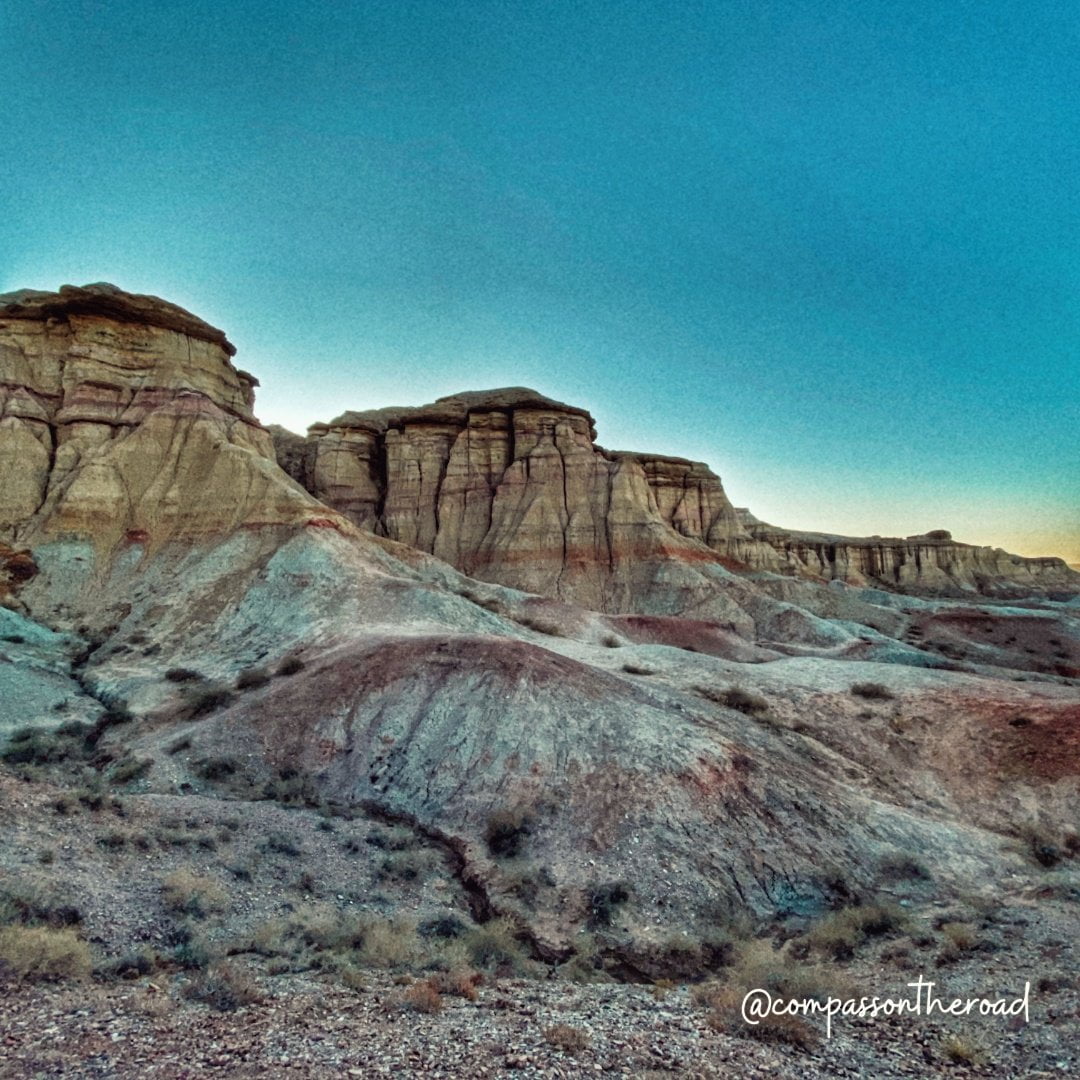 Day 3: Yol Valley - Khongor Sand Dune
Yol Valley - Khongor Sand Dune
We get up around 8, today is a little closer to us destination, the dunes.
The Gobi is not a sandy desert in general, it is rocky and lunar, but there are some areas of dunes that you have to visit.
When we arrive we put on our boots and go up. It seems easy, but the feeling is of a step forward and two back. Patience and climb, at the end the edges of the dunes await you to enjoy immense views of the entire valley.
Overnight again in nomad camp, today we re-plant our expedition tent and generate curiosity to some Mongolian reporters and they take some pictures of us and we talk to them for a while.
Overnight Gobi Desert day 3:
Overnight in nomad camp
Day 4: VISIT TO THE MOST EXTENSIVE ALTIPLANE IN EUROPE
Khongor Sand Dune - Red Flamming Cliff
Today the day is windy, we have many kilometers ahead, but Segui, our driver makes it more enjoyable.
Mandatory stop for a coffee and later for lunch.
In the middle of the afternoon we arrived at Red Flamming Cliff, To give you an idea, it's like the Colorado in small. The wind blows with great intensity, it is difficult to walk but we do not know when we will be able to return to the Gobi so we try to visit everything we can.
Here we don't tire of taking photos either.
Before the sun goes down we go to the camp where we will spend the night, the van has a breakdown and Segui will go to the camp on the "side" (a few kilometers away in the middle of the desert).
We stayed in the camp, which are 4 Ger from a family. There's a oasis near where there is some wood for heating, this time they don't touch the camel poop.
There we cut firewood and return to our Ger. The wind keeps blowing and so much dust is raised that it cannot be seen more than 4 meters away.
The desert is already difficult and with more wind, the difficulty of orienting yourself increases and it is better not to move away from the Ger's if you do not want to sleep in the open.
Overnight Gobi Desert day 4:
Overnight in nomad camp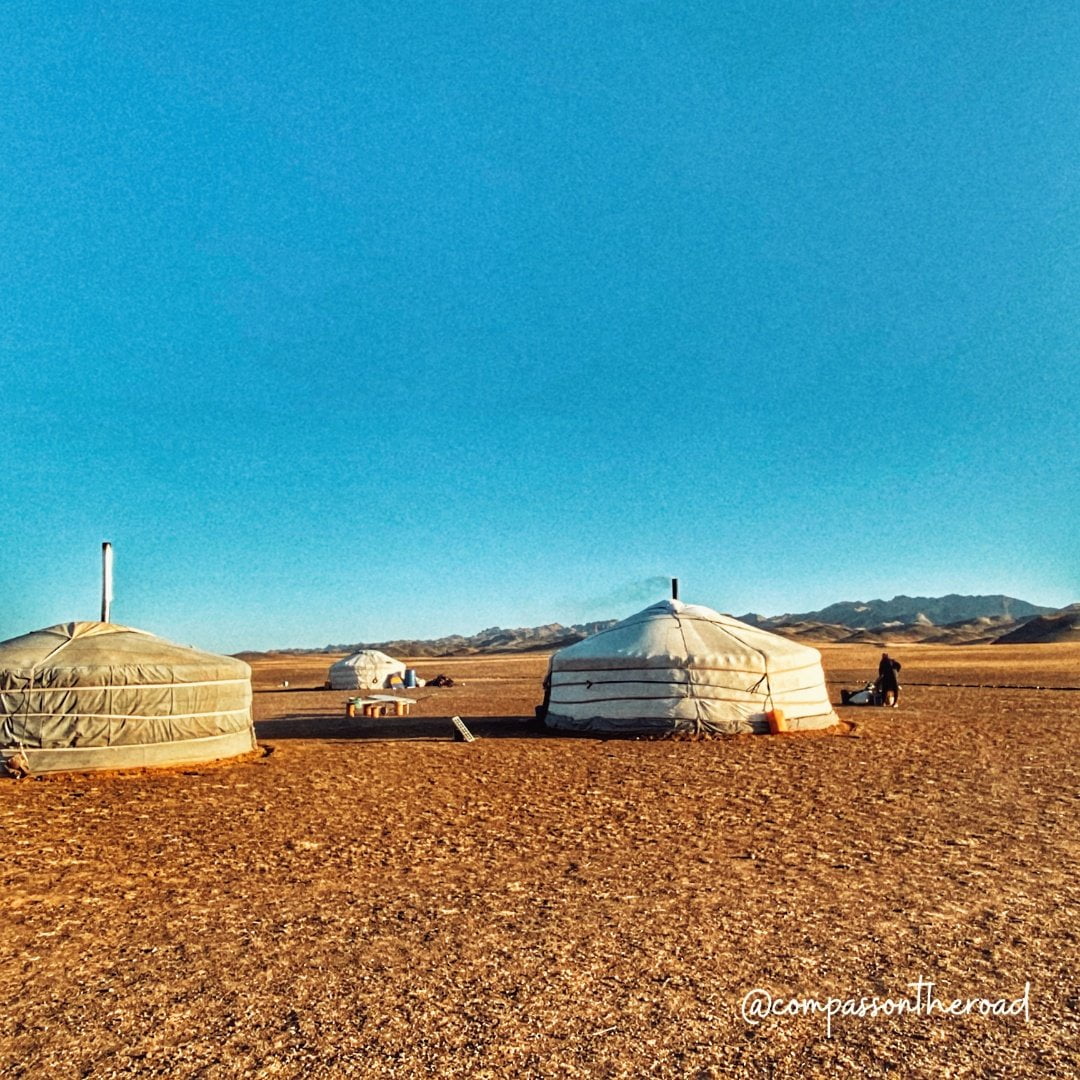 Day 5: Red Flamming Cliff - Baga Gazriin Chulu
Red Flamming Cliff - Baga Gazriin Chulu
The night was windy and cold, luck of the firewood.
We got up with our tea, and the family invited us to have breakfast with them. Typical biscuits and typical Mongolian tea.
We left for Baga Gzariin Chuluu, we were calm, the van was better, but it did not quite work well.
A long day without being able to visit anything, things of adventure and the desert. Of course, we stopped to eat, today without a stove, local food in a roadside place that we do not remember the name of. We eat very well.
Today we sleep again with our shop, cold tightens, and the temperature at midnight drops below 10 degrees below zero.
Overnight Gobi Desert day 5:
Overnight in nomad camp
Day 6: Baga Gazriin Chulu - Mandalgobi
Baga Gazriin Chulu - Mandalgobi
At 6 we are on our feet, the cold of the night does not let us stretch without a hot tea, and something to eat and regain energy.
Yes today, we visit Baga Gazriin Chulu, some very curious stone structures, an abandoned monastery and a Buddha in the middle of nowhere.
We take the opportunity to walk for a long time, it is sunny and although the winter in the desert is hard and cold today it is fine.
We spend the night in a nomad camp in a Ger near Mandalgobi.
Overnight Gobi Desert day 6:
Overnight in nomad camp.
Day 7: Back to Ulan Bator
Day on the road and back to Ulan Bator
Other articles that may interest you