1 getaway proposal and 5 things to know about Cap de Creus by motorhome

What to know before visiting Cap de Creus by motorhome or camper?
1 Cap de Creus is an abrupt, rugged and mountainous geographical feature at Sierra de Rodes that goes into the Mediterranean sea. ORn a place strongly sculpted by the famous Tramontana, a north wind that inexhaustibly lashes the Empordà region.
Cap de Creus is a protected natural park with lunar colors. The easternmost land of the Iberian Peninsula, where the sun first rises.
Its main coastal towns are Llançà, Port de la Selva, Cadaquès and Rosas. And in the interior we find other small towns such as Vilajuïga, Pau or Palau-Saverdera. Everything is small, charming villages with a lot of history and a fishing and agricultural base (don't forget to try the Denomination of Origin wine from Empordà!)
Cap de Creus, a unique protected natural park.
2 Before visiting Cap de Creus by motorhome or camper you have to know that in general, we are not very well received in this area. Although, on the other hand, if we go to designated places, we will not have problems. Perhaps in high season there is no place in these few points, so I do recommend you visit the area outside of July and August.
Therefore, do not exclude going, but do not risk going in August or going to idyllic coves and places, or that idyllic place can cost you € 200 a visit.
Our proposal for a weekend visit to Cap de Creus, in this post, is from the Port of the Jungle, Where we have two parking lots in which they allow us park and stay without problems. The first is one 2 minutes from the beach and behind a supermarket, in the center of town (coordinates: N 42 ° 20'4.5599999999999 "E 3 ° 12'8.244"). The second is located in the municipal sports center, 10 minutes from the beach and with more possibility of finding a place in high season (coordinates: N 42 ° 19'51.96 "E 3 ° 11'56.976").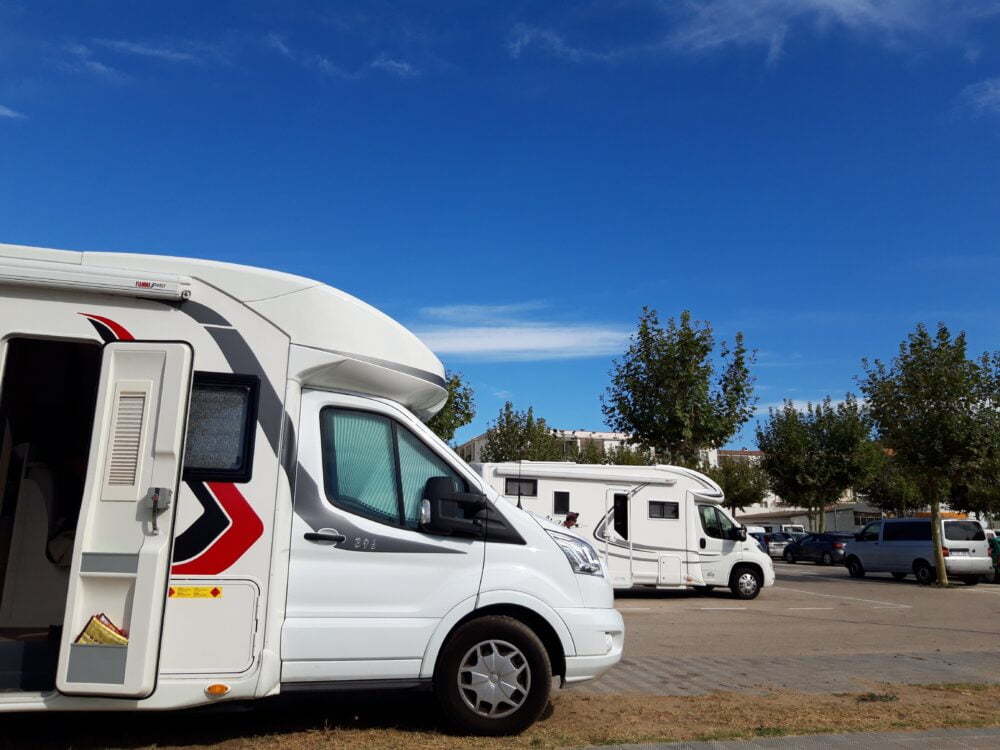 Park and spend the night in Cap de Creus in a motorhome or camper ... there is still hope ...
3 What to see and do in Port de la Selva? In Port de la Selva, you will discover the appeal of the typical fishing villages of Cap de Creus. A beautiful port and an old town with white houses, with beautiful little shops and full of life await you. Buy a ratafía and some carquiñoles, taste them. Sit on a terrace and have a drink. Stroll through its streets, through its port, along its beach and lose yourself in its paths.
There are two walkways They will show you the abrupt Cap de Creus: the one that goes towards Cadaquès, to Cala Tamariua; and the one that goes to Llançà.
If what you like is to do activities or sea sports, you're in luck. At the beach and port of Port de la Selva you will find to rent or contract activities such as paddle surf, windsurf, kayak and scuba diving. There are school prices for a week and it can be quite an experience to try one of these activities.
Port de la Selva, a place with a thousand activities and things to do ...
4 Excursions to paradisiacal coves. Port de la Selva gives you the option of hiking through the Sierra de Rodas and la Albera, contemplating the history of the area, the incredible scenery of Cap de Creus and reaching paradisiacal coves that are still so remote that few people agree. Both the GR-11 and GR-92 pass through their lands and there are multiple trails. In this post we propose a path to a paradisiacal cove, which can only be accessed on foot or by boat. The trail starts from the Cala Tamariua, which you can access by walking on the round road towards Cadaquès and it is until the Cala Fornells, a beautiful place. A fairly easy 5 km trail through the spectacular Cap de Creus: https://ca.wikiloc.com/rutes-senderisme/port-de-la-selva-de-cala-tamariua-a-cala-fornells-18443293.
The second excursion proposal that you can write down as an alternative is one of the most unspoilt coves that exist in Spain today: the Taballera cove, east end of the GR-11 (the mythical 788 km route that runs through the Pyrenees from the Cantabrian Sea, Cape Higuer, to the Mediterranean Sea in Cap de Creus).
So to access this paradise on earth, you must take the GR-11 signposted at the port of Port de la Selva and follow it towards Cala Taballera or Sant Baldiri. Both directions lead to the Taballera nudist cove, which if you take the indication of the last one, you will also see the Romanesque hermitage of Sant Baldiri. The path is more complicated than the first proposal, but moderate, and it takes 2-3 hours.
All the coves are made of stones, so remember to take booties!
The Cap de Creus still houses unspoilt and paradisiacal coves ...
5 Port de la Selva is also culture and history. And her most impressive example, that you should not stop going to see, is the. monastery of Sant Pere de Rodes dated from the year 878.
An impressive Romanesque building located on the Verdera mountain overlooking the bay of Port de la Selva that takes away the hiccups.
It is open every day except Monday and the price is 5,50 for adults and children under 16 free. And if you can balance it on the last Tuesday of each month from October to June they are free.
To access you can make a walking route from Port de la Selva taking the GR-11 through which you will also pass through the ruins of the Verdera Castle and menhir of st helena (https://ca.wikiloc.com/rutes-senderisme/el-port-de-la-selva-selva-de-mar-castell-de-verdera-sta-helena-i-sant-pere-de-rodes-la-vall-de-sant-18106501) or you can park your motorhome or camper very close and even spend the night there. The GPS coordinates of this car park these are: N 42 ° 19'44.3964 "E 3 ° 9'27.396" .
It is a large car park in the middle of nature where you can access the Monastery of Sant Pere de Rodes, at ruins of the town of Santa Creu and to the Verdera Castle on some not very long and easy walks.
The road is narrow and can be long, although the place is beautiful and well worth it. But above all, with strong gusts of the north wind, we strongly advise against going up there.
Cap de Creus photo gallery by motorhome
We write in this blog for love of travel and writing. With the sole objective of preserving our experiences and helping you plan your trips. For this reason, whether this post has served you or not, we appreciate your contributions and comments to improve it.
Summary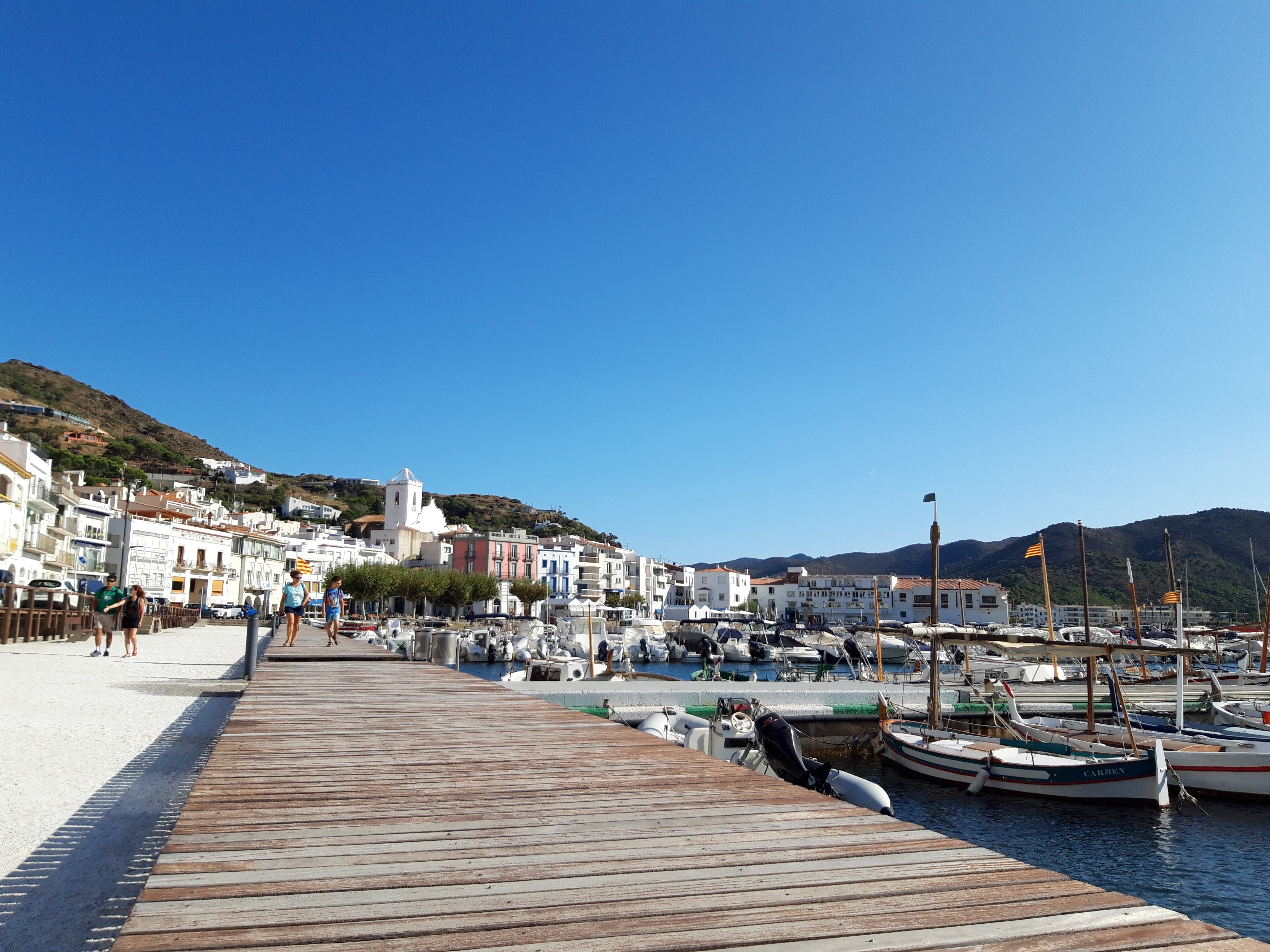 Article Name
Cap de Creus by motorhome
Description
1 proposal to escape to Cap de Creus in a motorhome from Port de la Selva, with 5 things to know before going
Author