Click to rate this entry!
Enjoy Navarra in a motorhome like you have never enjoyed a route with your house on wheels.
An article that is part of our complete guide to travel to Navarra , where we explain all our own experience to help you set up your trip through Navarra.
We are the kucavana familyWe traveled with our two children, ages 7 and 10, and our 2 adopted dogs. We usually travel in our motorhome called Kucavana, but we also like to travel by car or plane and backpacking. We enjoy each learning experience as a family and we hope to help you enjoy it as much as we do traveling by motorhome.
With this article we want to explain our experience touring Navarre in a motorhome and all our lessons learned at the destination.
Hold on, we start the route!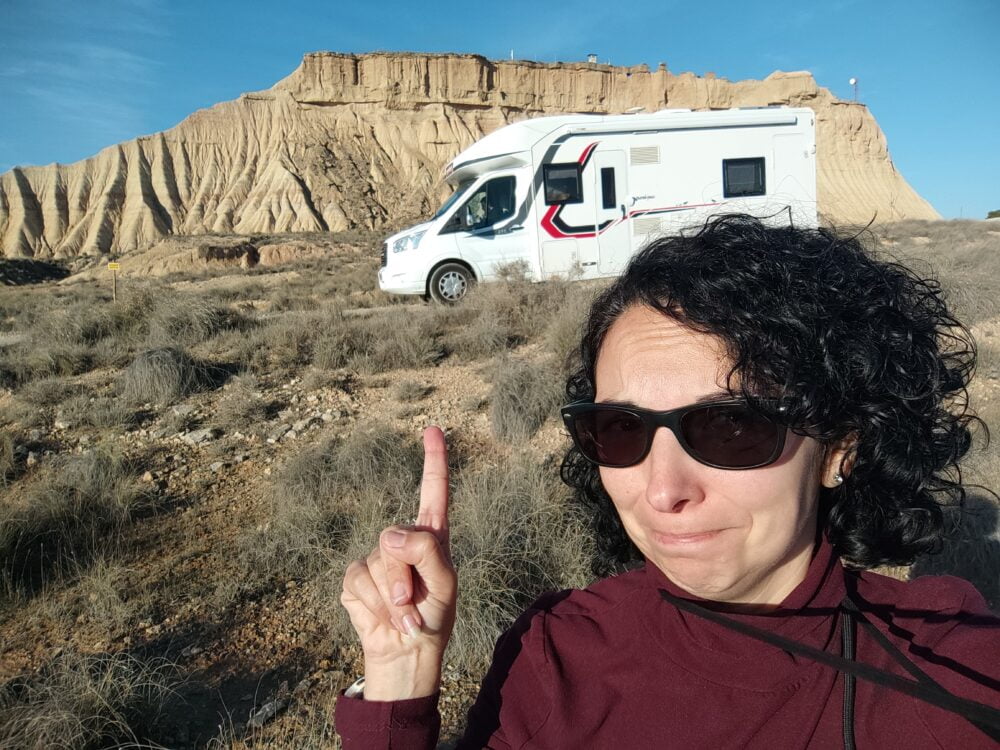 We set up your motorhome route in a personalized way, a route that you will do: Click & Go!
If you would like to save time and trust our experience In the camper and motorhome world, we remind you that we have a assembly and organization of personalized route in motorhome of which many people are more than happy.
With our service you will have a fully interactive Click & GoSo that just click and the GPS will take you to each of the essential places without losing in setbacks and spending the night in the better places possible. Access the service so that we can send you your budget by filling in the following form.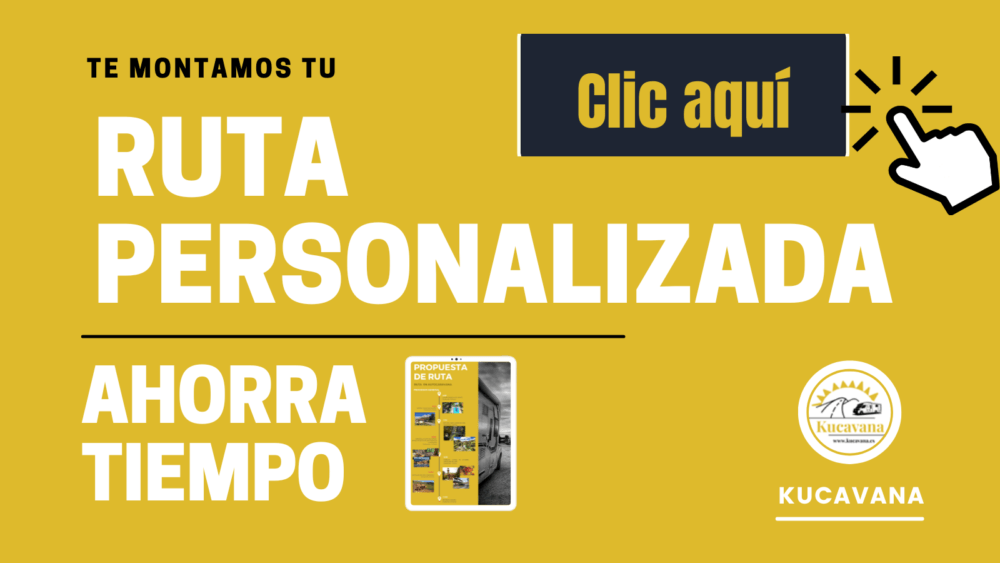 Video of our trip to Navarra by motorhome
Navarra by motorhome: Roads, parking, camping and overnight in a motorhome in Navarra
Regulations on parking and staying overnight in a motorhome in Spain and Navarra freely
The regulations in Spain regulate that You can park and spend the night anywhere that there is not a prohibited sign and as long as there is no camping (Leave the perimeter of your vehicle, that is, remove tables, chairs, remove awning or raise a pop-up roof, etc...).
This is the general rule, you can park and spend the night without any problem if there is no explicit prohibition in any parking lot in Spain. As long as you do not leave the established marks and as long as you do not hinder the passage of pedestrians or other vehicles.
Now, the reality is that in Spain and in this case in Navarra You will often find "prohibited for motorhomes" that we must know and avoid on our route. On many occasions these prohibited are within the limits of the Natural Parks or in parking lots that, due to their influx, veto us from parking and/or staying overnight in a motorhome or camper.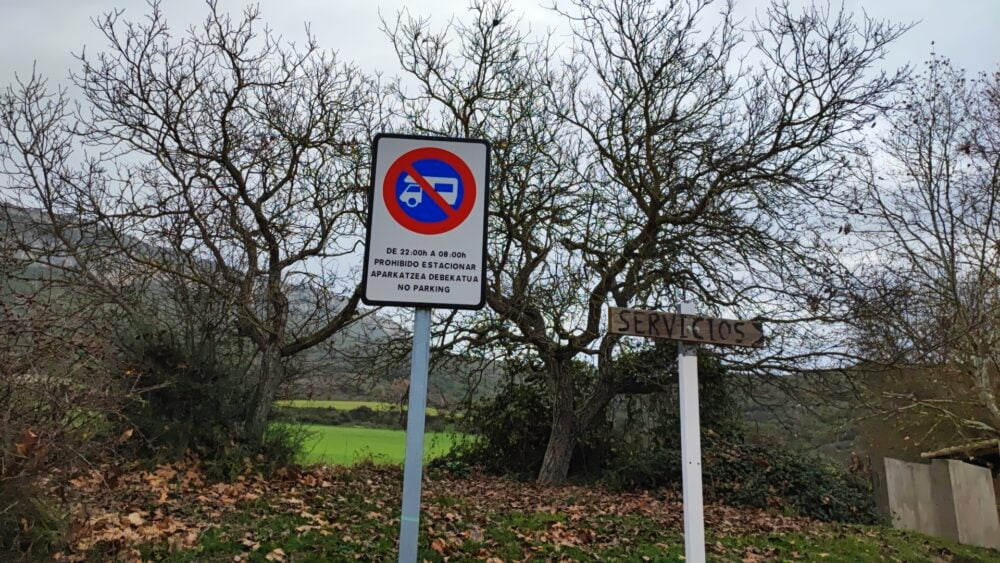 Regulations on camping in a motorhome in Spain and Navarra
Wild camping in Spain is totally prohibited.
As a general rule, the law tells us that Free camping (remove table chairs, open windows, awning…) throughout Spain is prohibited in any public place.
Therefore, in Navarra We can only camp (remove tables, chairs and other elements from the vehicle) in campsites, private motorhome areas that allow it or other places explicitly authorized for this purpose..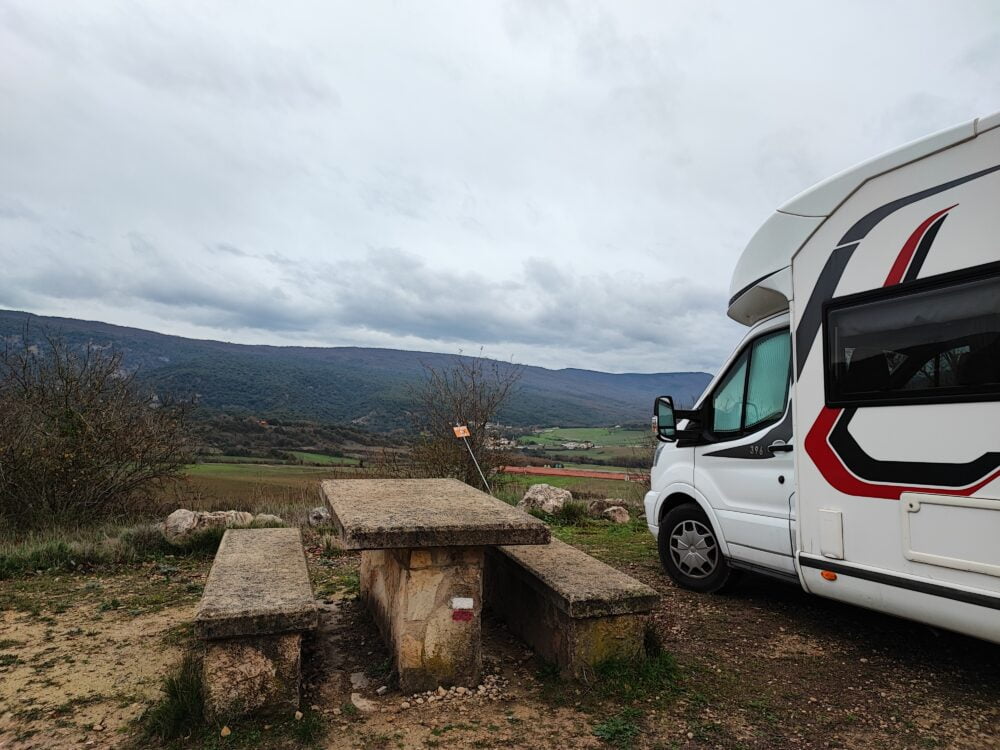 Services and motorhome areas in Navarra by motorhome
Traveling to Navarra by motorhome is quite easy, since It has a large network of motorhome areas and campsites. Motorhome areas, most with all the services for the motorhome and in many cases free, authorized by the Town Halls themselves.
In practically all points of interest or tourist towns you will find a motorhome area, and generally always central or well connected to the center of towns. And if there is no area, in many places there will be some parking without services reserved for motorhomes.
Finally, what you should know is that, if your intention is to spend a lot of time in the north of Navarra and in the Pyrenees, servicing the motorhome will be complicated and you will have to go to a campsite or travel many kilometers to go to an area motorhome with all services.
Attention remember to be responsible with the environment and the environment you visit: Never dump gray or black water anywhere outside the places established in the areas or campsites for it. We are risking the future of motorhomes in our country.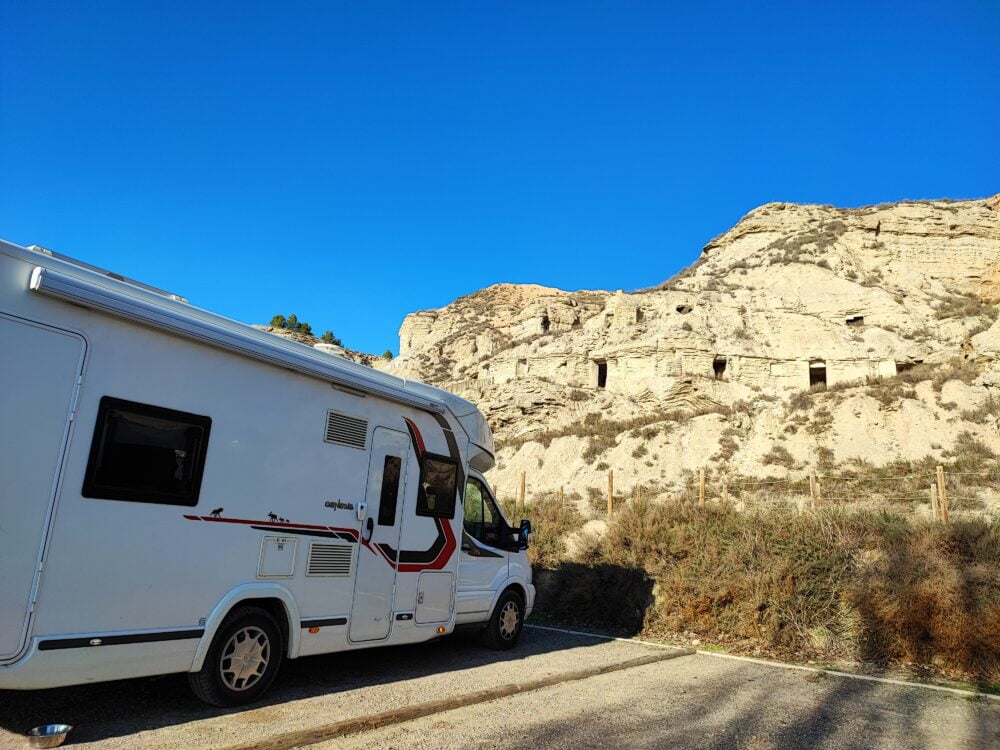 Something important to know about water in motorhome areas in winter
You should know that with temperatures below 0 in the Pyrenees area, as in all countries, They shut off the water in the fountains. That will make you have to save a lot of water in your tank and to refuel look for campsites open in winter, which are few. Also, think about taking a long water hose with you to be able to reach the enabled point that the campsite will have inside one of its buildings, usually the bathrooms.
Carreteras
In general, the roads are good in Navarra. The national roads usually have a hard shoulder and are usually good, they are quite easy, although with quite a few curves and sometimes changes in level in the northern areas and in the Pyrenees.
In areas such as the Pyrenees and the Irati Forest, On secondary mountain roads, you will find roads that are in many cases very narrow, without a shoulder and with curves, where only one car passes. In these cases, remember to drive slowly and, if you can, go up in the afternoons and nights and go down in the mornings to find as little traffic as possible with your motorhome.
The Navarra highways in general they are very good and the AP 15, which goes up from Tudela past Pamplona, ​​is paid, but for small amounts.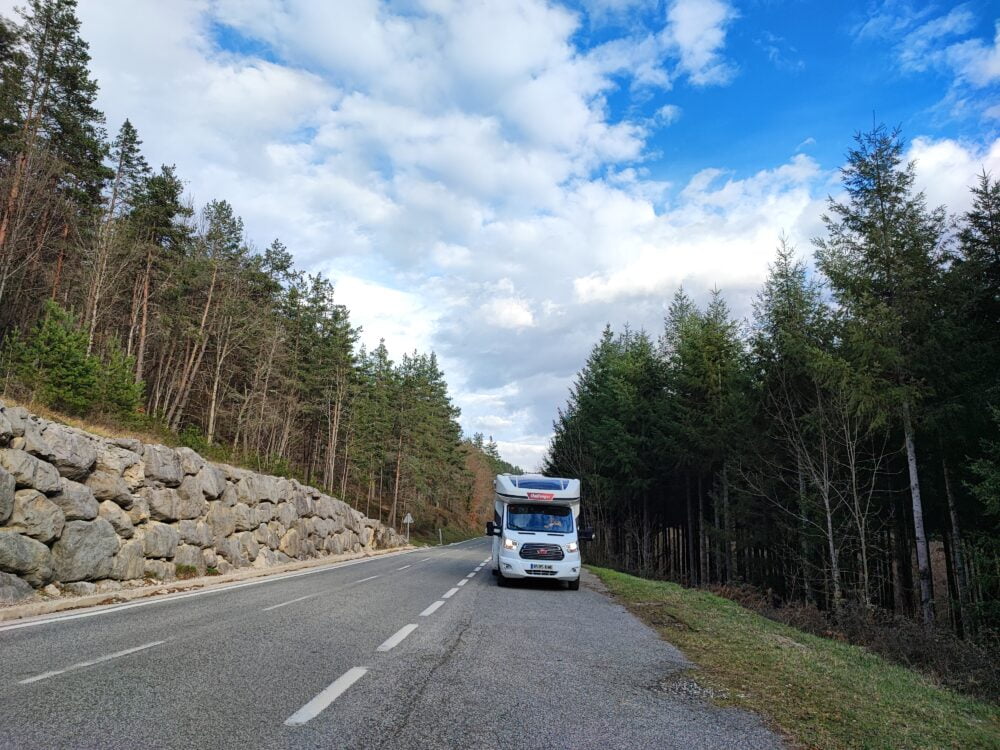 Traveling to Navarra with a motorhome in winter
Finally, you should know that in winter in the area of ​​the Pyrenees is it possible for you find snow and you should go prepared if so.
If you want to see an article about what chains and / or winter tires are better for motorhomes, here We leave you an article that we talk about from our experience in our motorhome.
In addition, you must be prepared so that the deposits do not freeze and to be able to supply yourself with water, when the sources are closed due to frost. I leave you this video that we made about traveling in a motorhome with snow that will surely be great for you to see possible problems and solutions that you can have in your motorhome with the cold and snow.
If you do not have a motorhome, a recommendation to rent a motorhome: rent between individuals and save
If you do not have a motorhome we give you some advice. rent between individuals through the Yescapa platform, such as an AirB&B, is the best option to rent a motorhome at a good price and that has all the extras you need. rent in this link with Yescapa and you will also help us to maintain this blog and continue writing.
Things to take on your motorhome trip
Don't forget to bring some pantry, your health card, basic medicines and first-aid kit, your pet's veterinary card if you travel with him, pills or liquid for the chemical toilet and everything that the route you want to do requires (suitable clothing and equipment such as bikes etc…). If you go to humeral or swampy areas, remember to take mosquito repellent and in summer take sunscreen.
Also, if you want to know what extras and useful things we carry in our motorhome you can see this post 50 useful things that we carry in our motorhome.
Finally, a piece of advice. apart from you motorhome insurance (in this post you have the comparison that we made before choosing ours), we advise you to take it for trips away from home. Even if it's in Spain, a Special travel insurance for motorhome trips It is going very well, as is the Iati Escapadas that for 2 euros, day and person, apart from unforeseen medical events, covers theft inside, accidents involving your pets, among other things that are very interesting for our type of travel. In addition, we leave you in this link a 5% discount that will apply to you at the end of your budget: 5% discount travel insurance Iati Getaways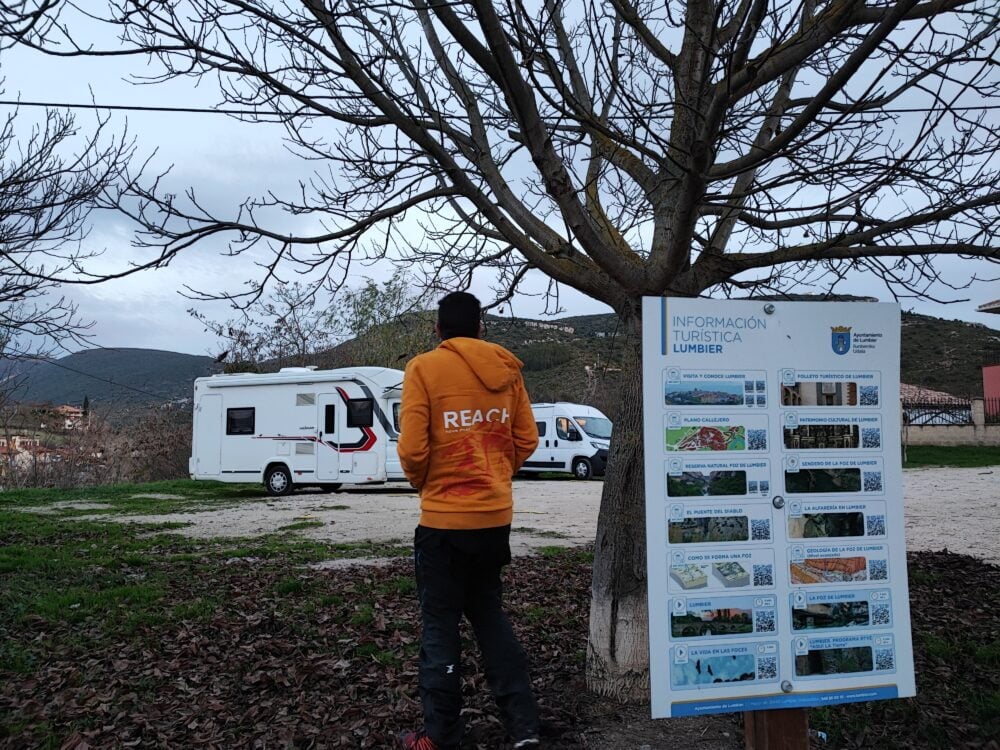 Summary of our trip and motorhome route in Navarra
Our trip through Navarra is a trip of 10 days during winter.
A trip, which as always, we do as a family. With our two children, ages 10 and 7, and this time with our motorhome by road.
In total, almost 5 hours of driving and about 400 km are the ones that separate Barcelona from Navarra on our route, although in our case we make a few stops before. we stopped to see Zaragoza and to see a small town in Zaragoza that they recommend and surprise us. This last town is called Burette and in it we find a forest of elves that we love young and old.
We have loved this route, so much so that We already thought about repeating, with that we tell you everything.
Navarra is a destination to enjoy the landscape. It is pure nature of contrasts. From the desert to lush forests or from beautiful rivers in the plains to impressive mountains and valleys within the Navarrese Pyrenees.
Costs of our trip to Navarra by motorhome
In our 10-day trip through Navarra we have spent a total of 735 € uros for the 4 of us traveling from Barcelona (round trip).
In gasoline: 175
At tolls: 5
In tickets and visits: 105
Hospitality and food purchases: 372
Overnight places: 24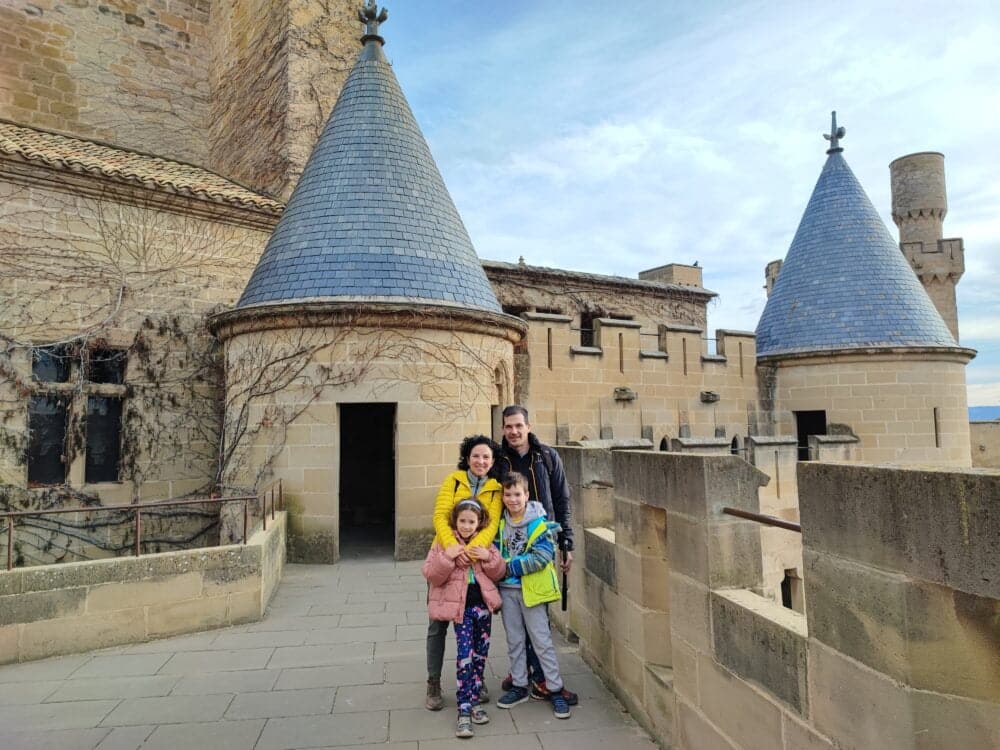 What we liked the most and what we liked the least about our motorhome route through Navarra
Discover 10 reasons to travel to Navarra by motorhome, such as the 10 things that we liked the most and also 8 things that we did not like so much about our trip through Navarra by motorhome.
Find out everything in this post:
10 Things you should know and tips for traveling to Navarra by motorhome
Before advancing on the route and on the essentials of what to see in Navarra, we give you Some tips to keep in mind before going.
Read them all in this post that we have made for you:
The 12 essential things to do and see in Navarra for your motorhome route through Navarra
Navarra is a region located in the north of Spain, known for its rich history, culture, and natural beauty. The region offers a wide variety of activities and places of interest to visit.
The Irati Forest is one of the best-known natural attractions in Navarra. An extensive nature reserve located in the Navarre Pyrenees, it is known for being one of the largest forests in Europe and is considered one of the most impressive natural sites in Spain. It is an ideal place for lovers of nature and hiking, offering a wide variety of trails and routes to explore.
Another natural attraction is the Roncal Valley, a beautiful mountainous region located in the Navarre Pyrenees, which is known for its stunning natural scenery, with panoramic views of the Pyrenees. The valley is famous for its cheese production, especially Roncal cheese, one of the most prestigious cheeses in Spain. In addition to cheese production, the Roncal Valley is an ideal place for hiking and cycling, with several trails and routes that run through the region.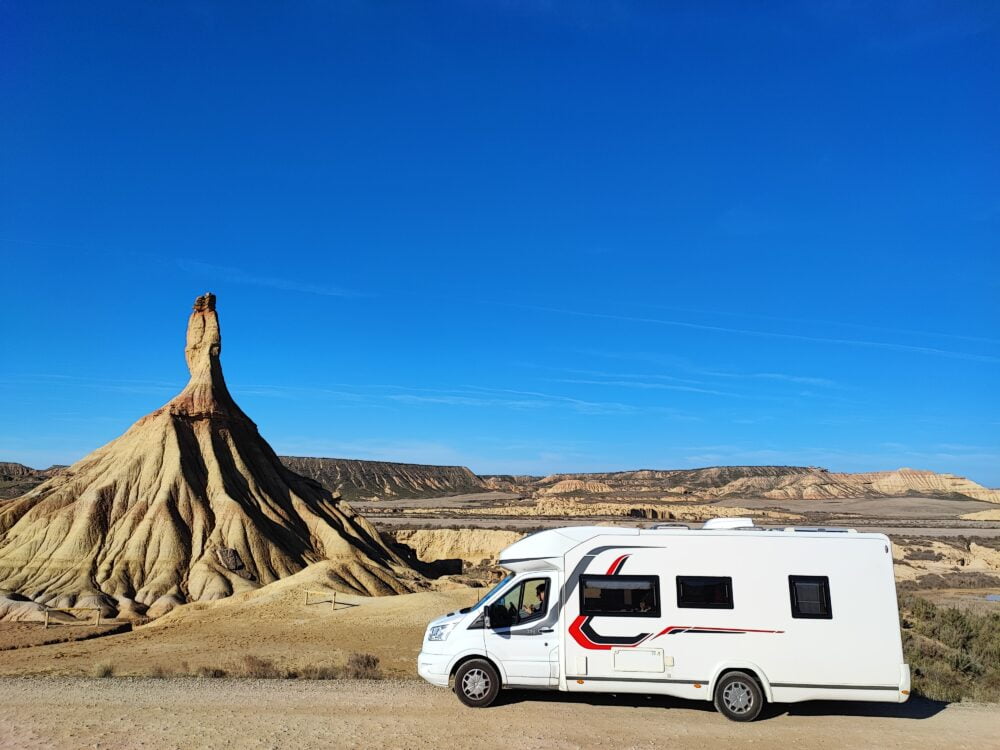 The Foz de Lumbier is another impressive natural place. A beautiful canyon located in the pre-Pyrenees.
It is known for its impressive natural landscape, with panoramic views of the canyon and the Irati River that runs through it. It is a popular place for its greenway.
Finally, you cannot miss places like Pamplona, ​​its capital, Ujué, the most beautiful town in Navarra, the Bardenas desert and surprising and lesser-known places that we describe in this complete and detailed article with the 12 essential things to visit in your route through Navarra in a motorhome that we recommend in this post that we have made with all the details.
Map of northern Spain with the best places to spend the night and parking in a motorhome or camper of the best plans and places to see in northern Spain
If you want to obtain this interactive map of Navarra by motorhome with all the essential places of interest in Navarra, car parks and places to spend the night in a motorhome nearby, send your form to request it here! and we will send it to you shortly. Its cost is 10 €uros.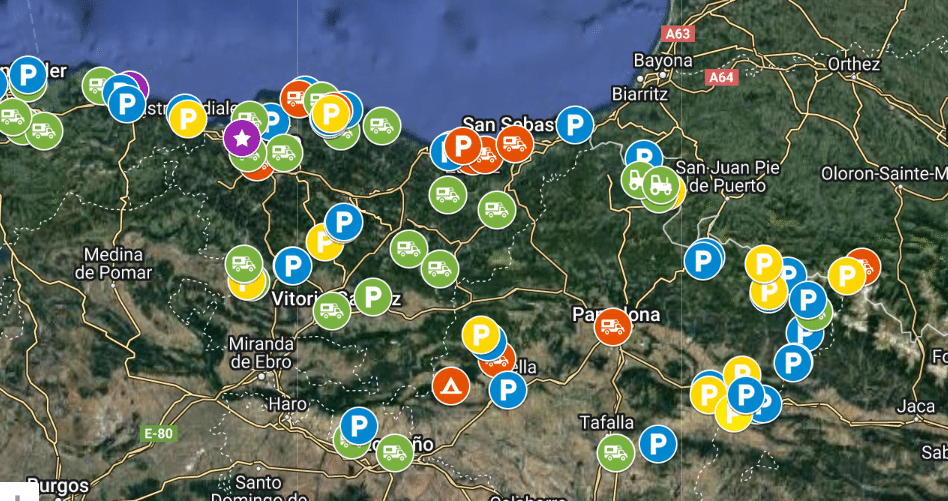 Latest posts from our blog
Click to rate this entry!(Votes: 1 Average: 5) Enchanted forest buret, and much more! Discover in this post our family visit to this beautiful town with a beautiful enchanted forest and which also houses many more surprises so that you fall in love with it, as it happened to us. Burette and its enchanted forest, […]