Click to rate this entry!
Zaragoza with children is an ideal city. Full of history, culture and entertainment for the whole family, is an essential for a family getaway in Spain.
On our last family getaway, we enjoyed Zaragoza with our children, and we definitely recommend it.
With children, this city offers a wide variety of activities and attractions that will make them enjoy and learn at the same time.
We are the kucavana familyWe traveled with our two children, ages 7 and 10, and our 2 adopted dogs. We usually travel in our motorhome called Kucavana, but we also like to travel by car or plane and backpacking. We enjoy each learning experience as a family and we hope to help you enjoy it as much as we do traveling by motorhome.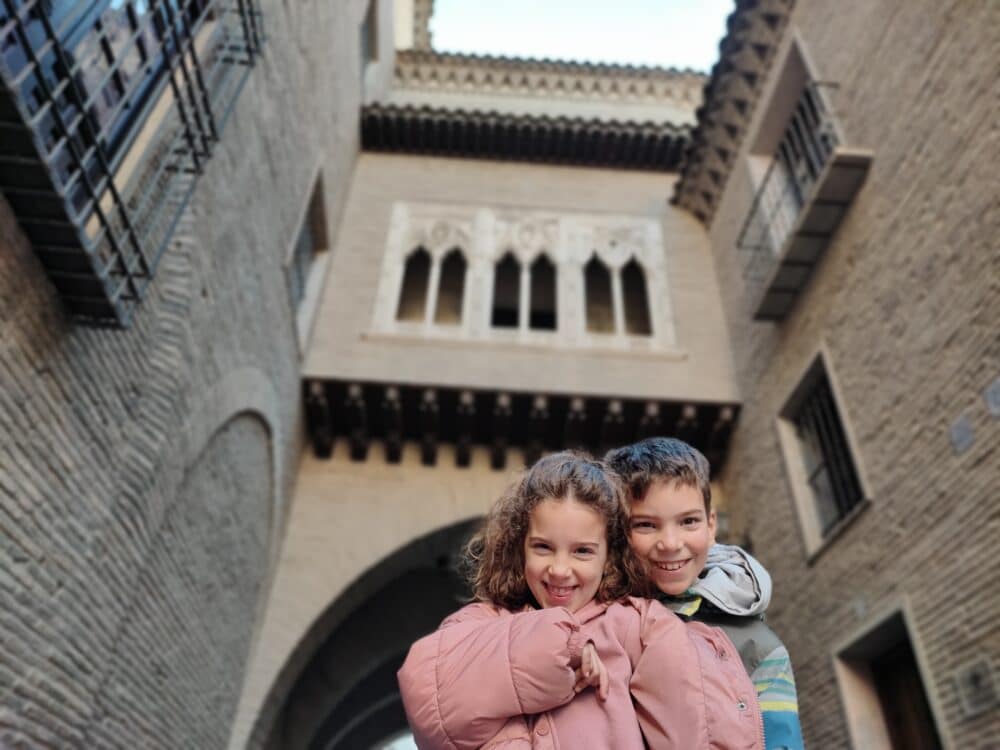 4 reasons to visit Zaragoza with children
Some of the reasons why traveling to Zaragoza with children can be an excellent option are:
Outdoor adventures
Roman, Islamic and medieval culture and history
Entertainment and leisure for children
Delicious food, children are gourmet too
In summary, traveling to Zaragoza with children is an excellent option because this city offers a wide variety of activities and attractions for the whole family, which will allow them to enjoy and learn, at the same time, the culture and history of one of the most important in Spain.
Accommodation in Zaragoza ideal with children
In Zaragoza you can find many accommodations of all kinds. We on our trips with children usually travel with accommodations with kitchens. For this, the best are apartments, family hostels or rural houses. Without a doubt they are the best option traveling with them.
Our recommendation in Zaragoza is to go to one of these ideal aparthotels for traveling with children that you can find here: Booking Offers
The 25 essential plans of Zaragoza with children: what to see in Zaragoza with children
Un council, before beginning, with the essential things to see in Zaragoza with children. In order not to miss anything in Zaragoza and in a fun way with the little ones, I recommend you do one of these Free Tour of Zaragoza, free and lots of fun for young and old alike!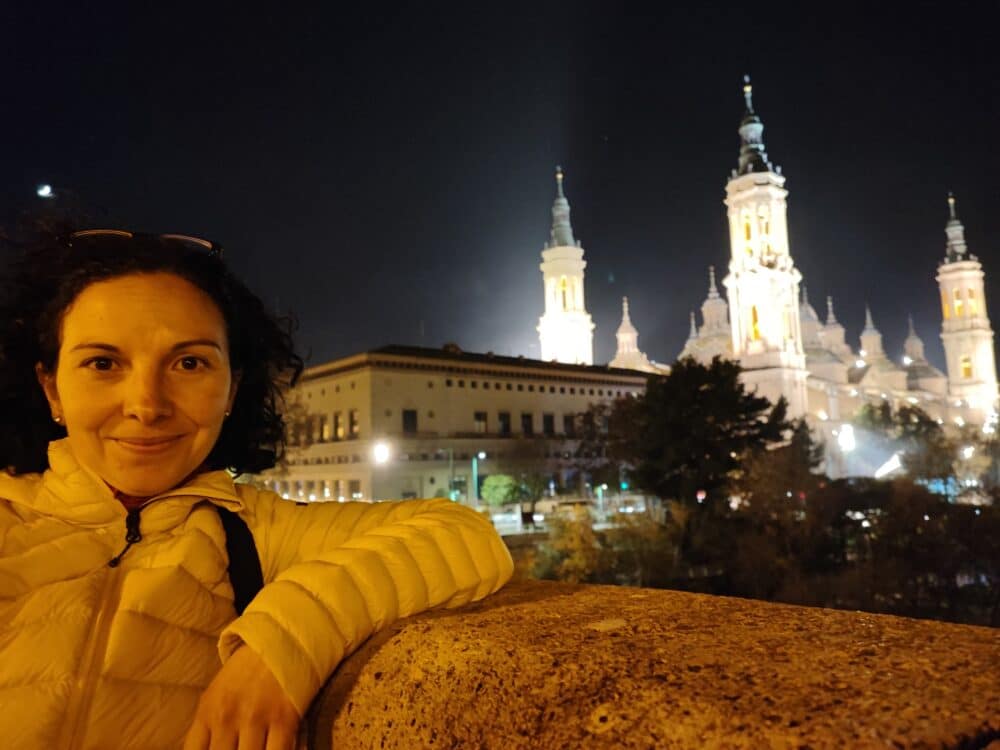 1 Visit El Pilar by climbing its bell tower
El Pilar is one of the main tourist attractions in Zaragoza and is a XNUMXth century cathedral that has a mixture of architectural styles that surprises young and old alike.
The first thing we advise you is to see it from outside, from the river and from the bustling Plaza del Pilar. Then you can visit it inside and as a great plan for the little onesclimb your bell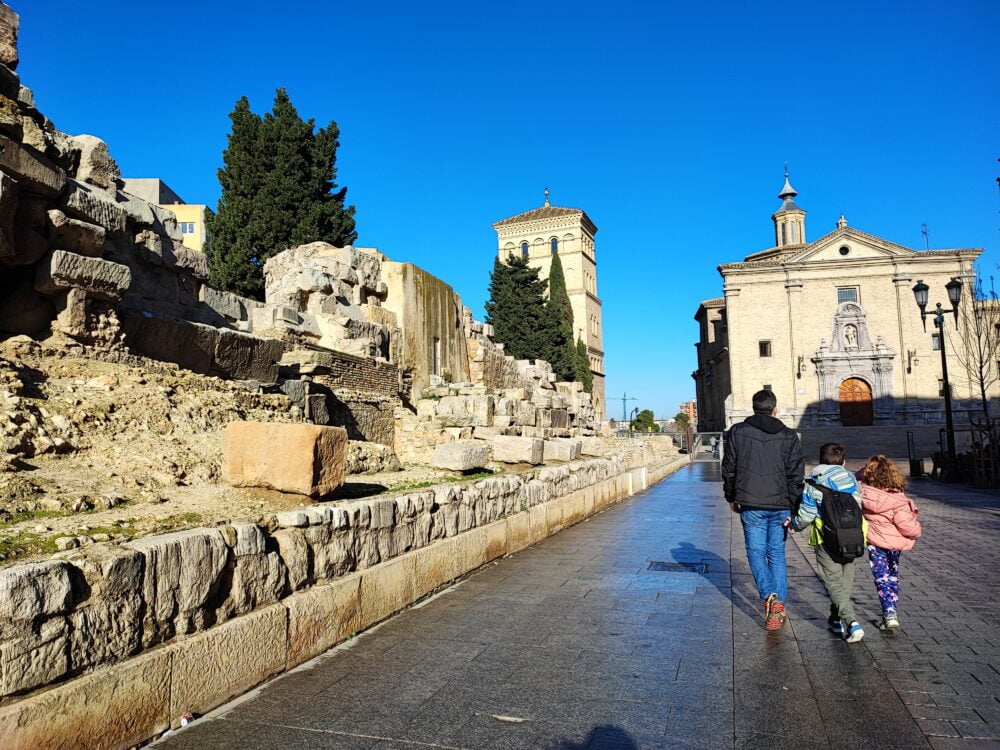 2 Walk along the Roman walls with a stop at the Central Market
The Roman walls of Zaragoza They are a set of fortifications built during Roman times in the city of Zaragoza. They were built to protect the city from possible invasions and attacks. Although much of the walls have been destroyed, some sections and remains can still be seen in some areas of the city. These remains include fragments of the wall and some of its towers and gates.
The most famous section is the one that can be seen just at the beginning of Plaza del Pilar, in front of the Caesar Augustus monument and Zaragoza Central Market, where I recommend you go in with the children and buy something for breakfast or a snack.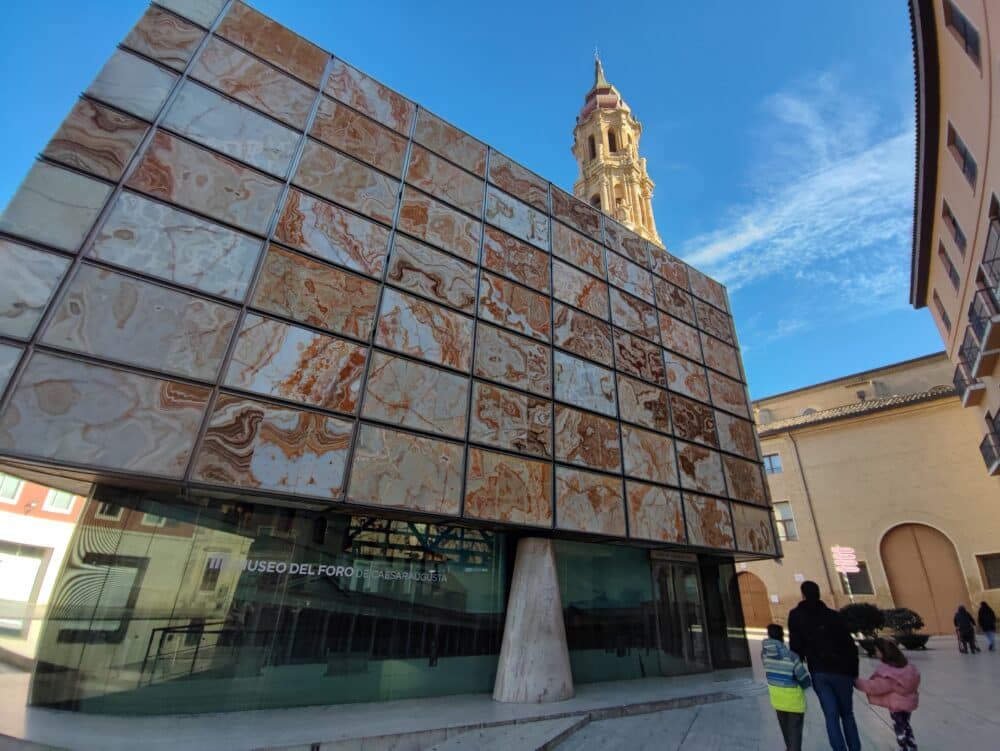 3 The Museum of the Roman Forum
The Museum of the Roman Forum of Zaragoza with children is a great option. It is a museum that presents the history of the city from Roman times to the present day. The museum has a wide exhibition of archaeological remains found in the city, including pieces of ceramics, mosaics and statues. It is an excellent option for learn about history of the city and daily life in Roman times.
4 The Aquarium, a best plan to see in Zaragoza with children
Zaragoza with children is synonymous with visiting the aquarium. The Zaragoza Aquarium has a large variety of marine and fluvial ecosystems from around the world, with an emphasis on Mediterranean ecosystems. The aquarium is home to a wide variety of species and has a wide variety of educational facilities and services, such as talks, workshops and educational programs for children. Without a doubt, a good plan if your children like animals.
An advice reserve here! your ticket before you go and you will save queues, time and money!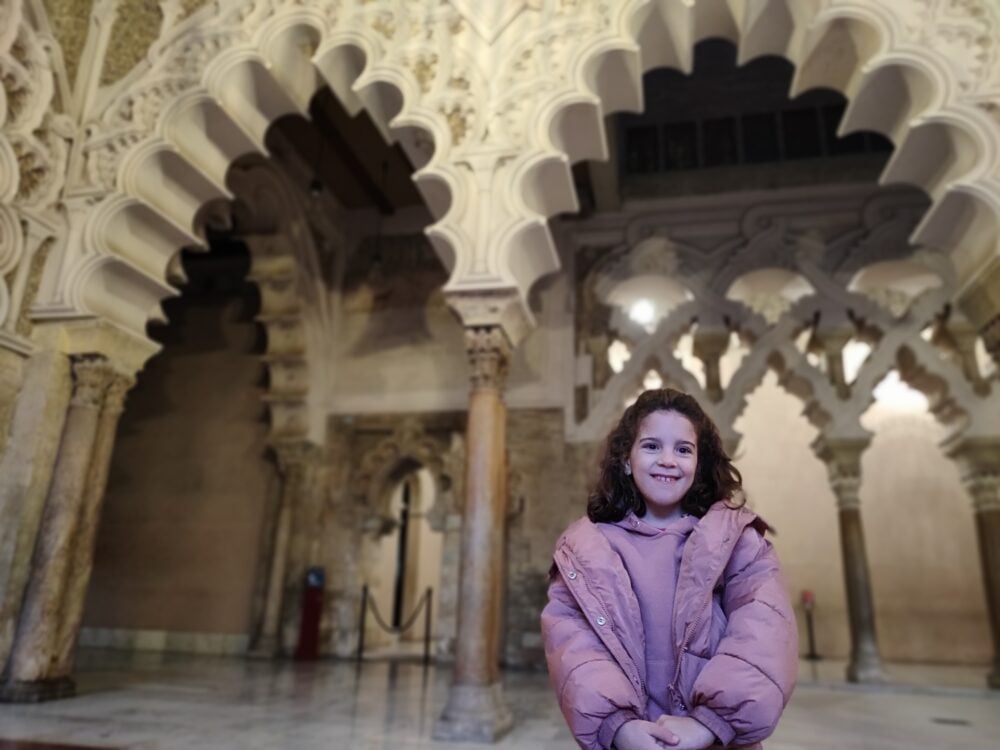 5 The Aljafería Palace, UNESCO World Heritage Site
The Aljafería is a fortified palace from Muslim times in Zaragoza, with a mixture of architectural and decorative styles that will surprise you. It is an interesting historical and cultural place to visit, with impressive Arabic gardens and patios, and a wide variety of rooms and halls decorated with frescoes and tiles.
Besides, it is where the Courts of Aragon, so it will be a 100% educational visit. Oh and kids are free!
Before going you have to buy the ticket online if you don't want to miss the free guided tour What do they do. It fills up fast. Because book your ticket at the time of the guided tours What they do here on the official page of the Aljaferia: https://reservasonline.aljaferia.com/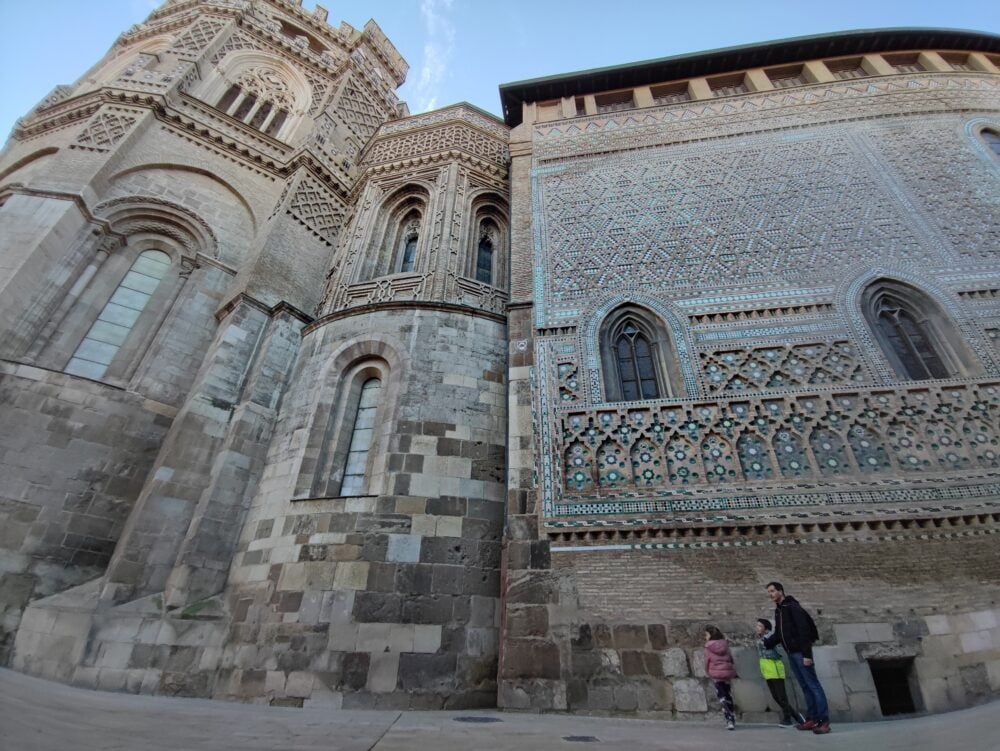 6 Mudejar art World Heritage Site on the outer wall of the Seo and the Arco del Deán
The Seo de Zaragoza is a Gothic cathedral with elements of Mudejar style, built between the XNUMXth and XNUMXth centuries. The Mudejar style is a mixture of Islamic and Christian elements, it stands out for its decoration with geometric and plant motifs, and its use of tiles.
In this sense, the little ones will love it. It is not necessary to visit inside the cathedral (for a fee) de la Seo, at the end of Plaza del Pilar. Just by walking through your outer part lit will enchant them and you. Go to your right side and you will find the large impressive wall of Mudejar-style tiles and behind the arch of the Dean. Where the head honcho of the Cathedral had direct access from his house to the cathedral.
To see all the Mudejar art you can do this free mudejar free tour.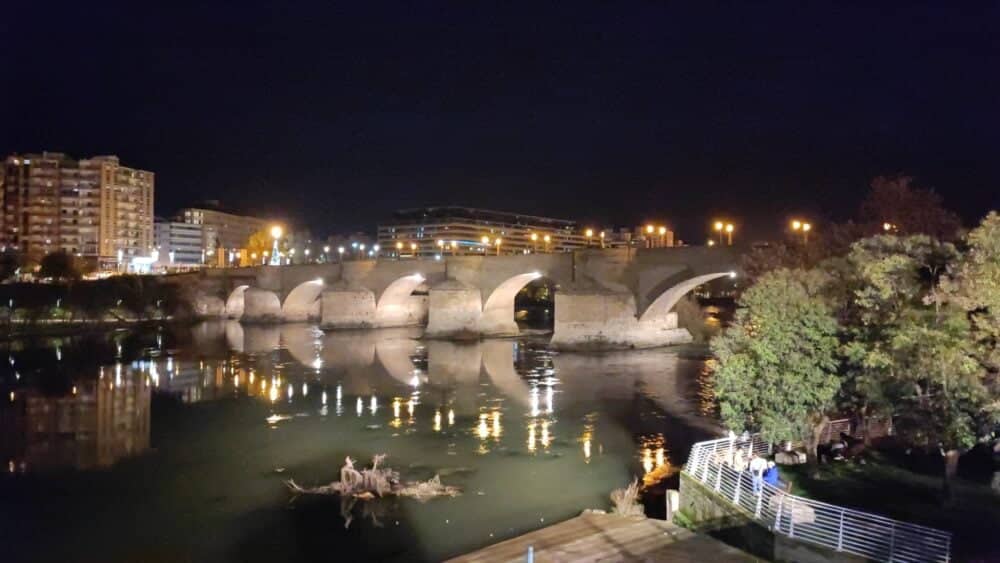 7 Sunset on the stone bridge and the balcony of San Lázaro,
The Stone Bridge is one of the most iconic points of the city, known for its panoramic views of the Ebro River and the old town. The Balcony of San Lázaro is a viewpoint with views of the Ebro River and the old town. Children will enjoy watching the sky turn orange, red and purple as the sun sets behind the city buildings, and the river is illuminated by the sun's rays. An experience that you should not miss when visiting Zaragoza with children.
8 Old amusement park in Zaragoza
The Zaragoza amusement park has a wide variety of attractions for the whole family, especially aquatic ones. It also has a section of roller coasters and attractions for children. In addition, it has services such as restaurants and shops. One of the best plans with children in Zaragoza. Of course, be careful that it is not open all year round, check the hours on its website before going.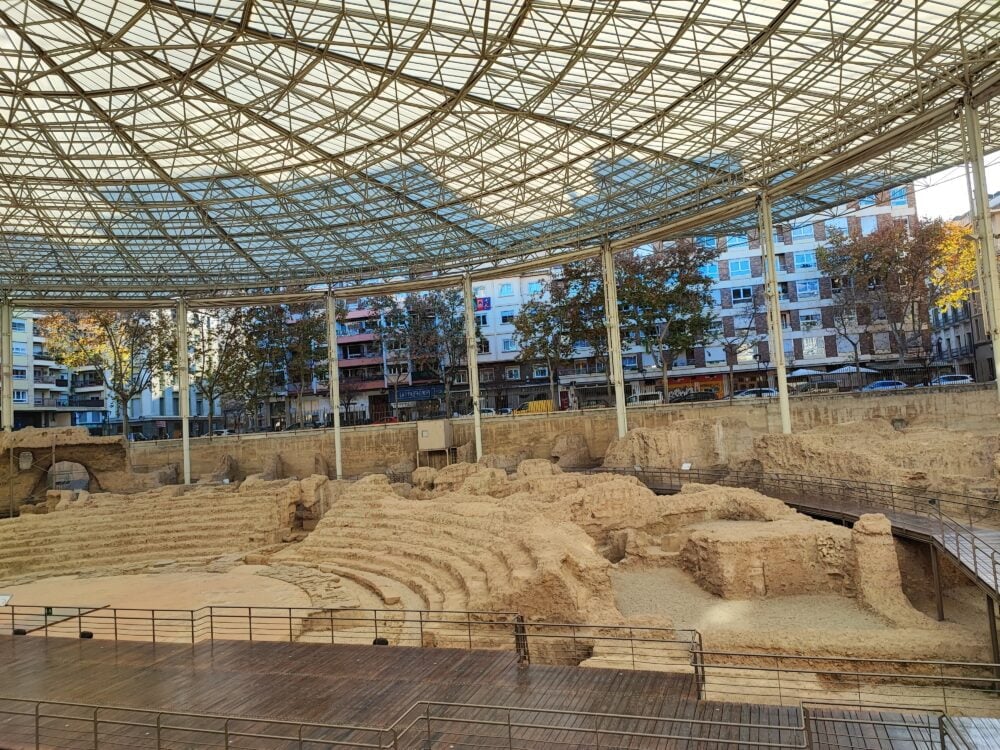 9 The Roman theater and the Roman baths
The Theater and the Roman Baths of Zaragoza are an interesting historical attraction to visit with children. They offer a glimpse of life in ancient Zaragoza during Roman times. Children will be able to learn about the architecture and lifestyle in the city's Roman past and they will love it!
10 Museum of fire and firefighters
The Zaragoza Fire Museum is an educational and fun place to visit, especially for children, where you can learn about the history and evolution of fire and firefighters. It also has a variety of interactive rides and a cool display of vintage fire engines. An essential plan to see in Zaragoza with children.
25 essentials of Zaragoza with children: what to do in Zaragoza with children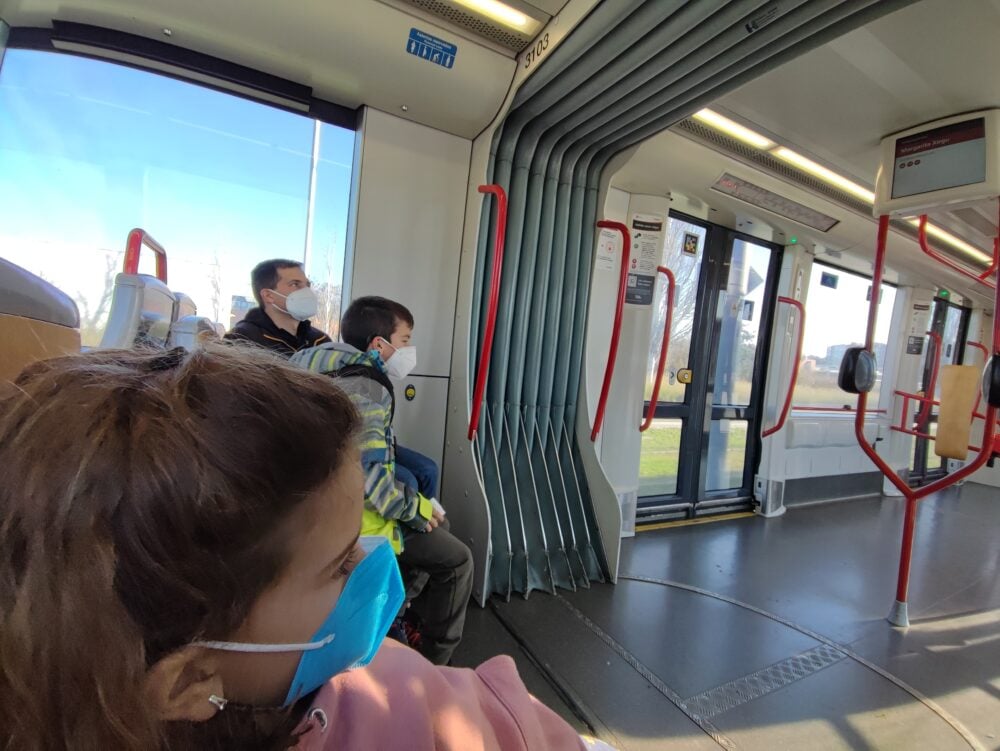 11 Get on the Zaragoza tram or the Zaragoza tourist bus/train
Without a doubt, children love to get on a tram or a little train. A great plan to move around the city and enjoy the road with the children. you can book here! the tourist bus.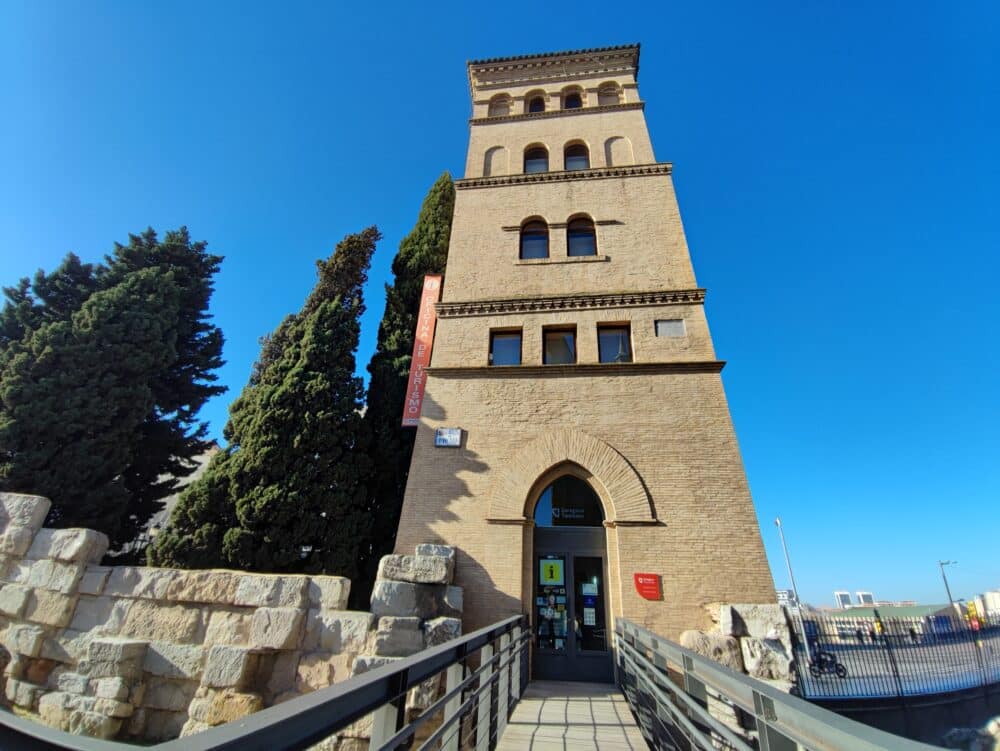 12 Go up to the Torreón de la Zuda, where the tourist office is located, and get a bird's-eye view of Zaragoza
Once you are next to the Roman walls, in front of the Central Market, we recommend you go up to the Torreón de Zuda. The Zaragoza tourist office is there, and from there you can go up to the tower and see Zaragoza from a bird's eye view.
13 A visit to the Market Theater
The Mercado theater is a theater for children and adults with a varied program of shows and activities that you can undoubtedly enjoy with your family.
14 In Zaragoza there is a beach, enjoy a swim with the children in summer
If it's summer and the heat suffocates you, what better plan than going to the beach in Zaragoza? Well, don't hesitate, enjoy the beaches of Zaragoza. Some pools surrounded by white sand and palm trees where you can enjoy a summer morning.
https://www.lasplayaszaragoza.com/
15 Do some water activity on the pier of the Water Park
At the Embarcadero del Parque del Agua de Zaragoza you can do various water activities such as renting water bikes or "aquabikes" in the shape of swans to travel the river in a fun way. Or rent kayaks and canoes and explore the canals of this beautiful park full of ducks and swans. A great family plan!
16 Have a picnic and hike in the natural reserve of Galacho de Juslibol
The Galacho de Juslibol Nature Reserve offers an exciting hiking route to explore with children. The spectacular natural environment, with panoramic views, lagoons and waterfalls is beautiful. You can observe wild birds and animals in their natural habitat and enjoy nature having a picnic in one of its picnic areas.
https://www.zaragoza.es/sede/portal/medioambiente/educacion-participacion/galacho/
17 Eat churros with chocolate in the most famous churrería in Zaragoza or the tourism chocopass
Do not miss visiting the Churrería la Fama as a family, very close to Plaza del Pilar. There you can enjoy some good churros and hot chocolate. Of course, be patient, there is usually a queue, but it is worth it.
On the other hand, you can taste the chocolate tradition of Zaragoza with the chocopass offered by the tourist office:https://www.zaragoza.es/sede/portal/turismo/post/chocopass
18 Enjoy the swings of the Water Park
The water park is a huge urban park that offers a wide variety of activities for children between vegetation and nature. Apart from the water activities, do not miss its swings.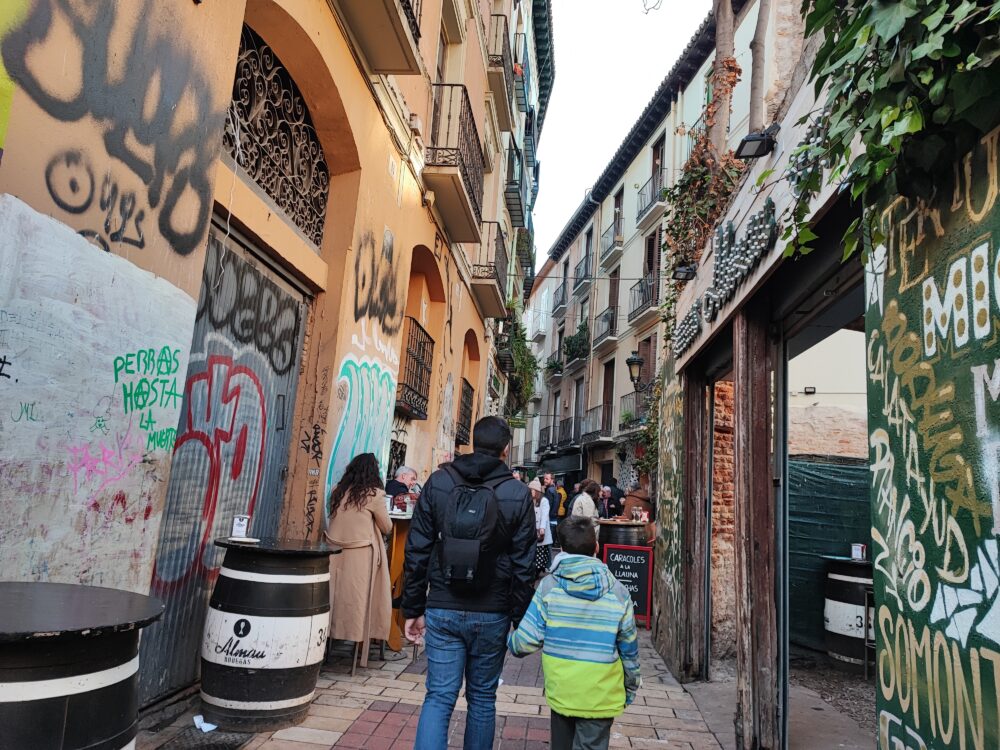 19 Go for tapas as a family through the Tubo and try the typical dishes of Zaragoza: borage, cod in ajoarriero or Ternasco de Aragón
You could not miss the tapas in Zaragoza in the Tubo neighborhood. Neither without children nor with them. Do not leave without tapas and try all the delicious dishes from Aragon.
20 Discover the José Antonio Labordeta Park
It is a large urban park with gardens, an artificial lake and a wide variety of outdoor leisure facilities that you will surely enjoy with your children.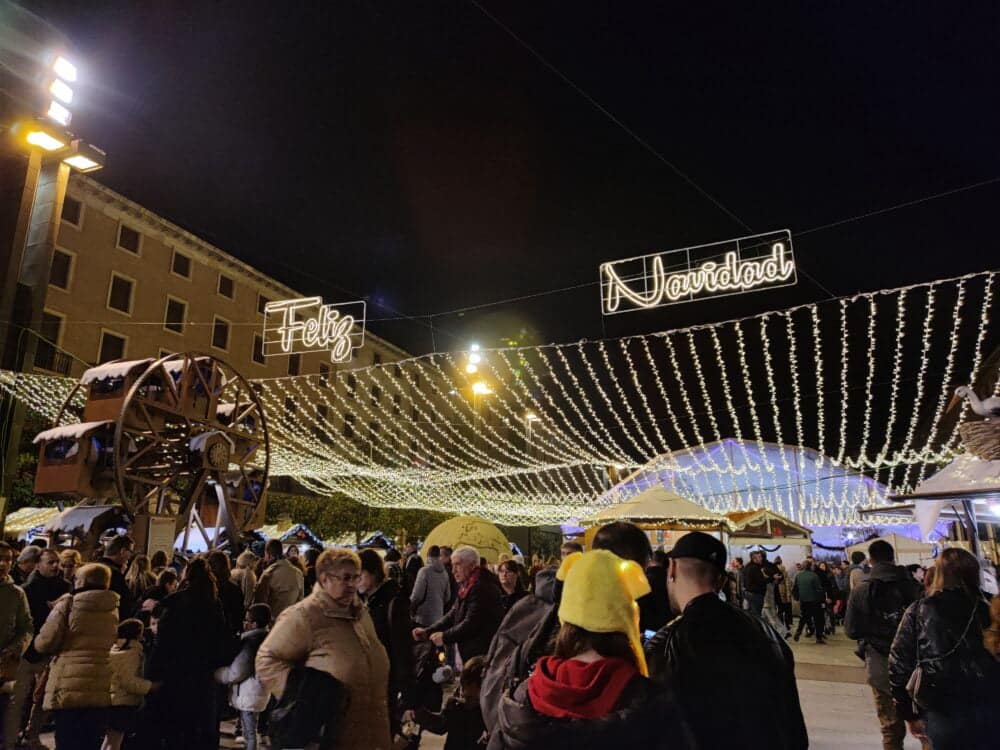 21 At Christmas go to the Plaza del Pilar to skate on its skating rink, see its nativity scene, ride the eco ponies and many other activities for the little ones
Christmas is a great time to go to Zaragoza with children. During those dates you will find in the Plaza del Pilar a beautiful Christmas market with typical products and artisans and many activities for the little ones such as the skating rink among others.
What to see and do near Zaragoza with children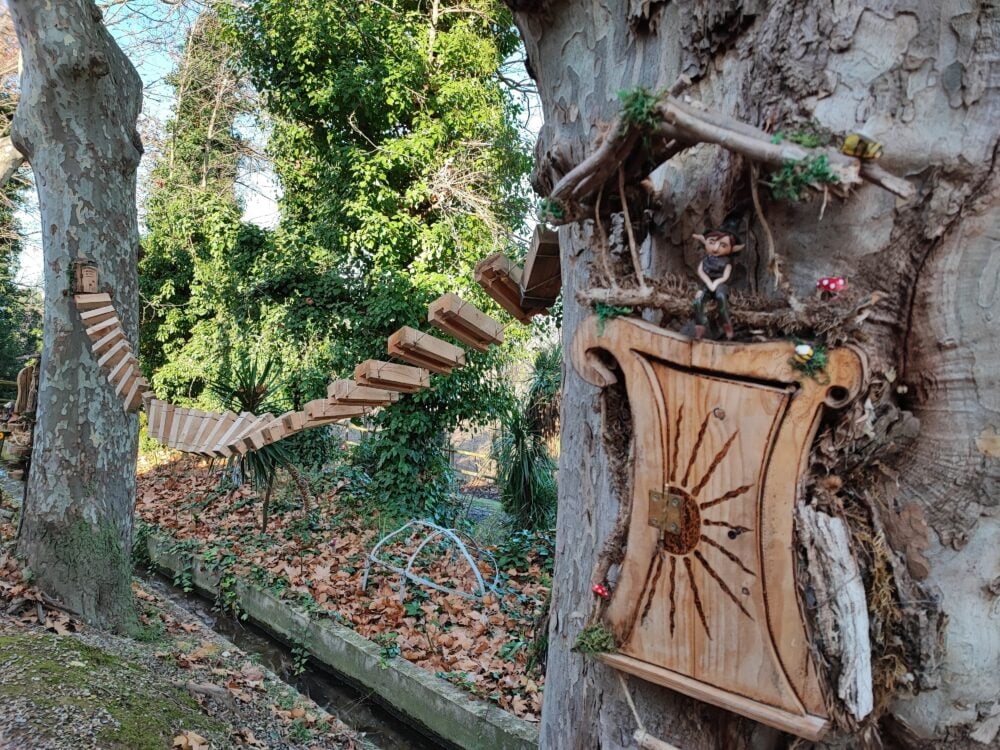 22 Go visit the Burosque de Bureta, an enchanted forest of goblins
40 minutes or less from the capital Zaragoza you will find a small town that, at the initiative of the neighbors themselves, has given life to a magical forest. Go to Burette and discover the big surprise that awaits for the little ones. The burosque and its goblins will be waiting for you to spend a beautiful day! Oh and don't forget to go to their bar and have some tapas and to their shop for some delicious biscuits with chocolate chips that they have.
Video of our route through Navarra, where at the beginning you can see Bureta
23 Desert of the Bardenas Reales, the cave houses of Árguedas and the theme park of Senda Viva
An hour from Zaragoza, we find the surprising desert (semi-desert) of the Bardenas Reales and next door Árguedas where the little ones can enjoy visiting inside the amazing cave houses on the mountain and discover the spectacular Senda Viva theme park.
You can see our motorhome route through Navarra as a family here: Guide to travel to Navarra by motorhome
A piece of advice buy the advance ticket online for Senda Viva here! to save queues, time and money.
And if you want to take a tour of the Bardenas Reales from Arguedas you can hire this tour which is super well priced.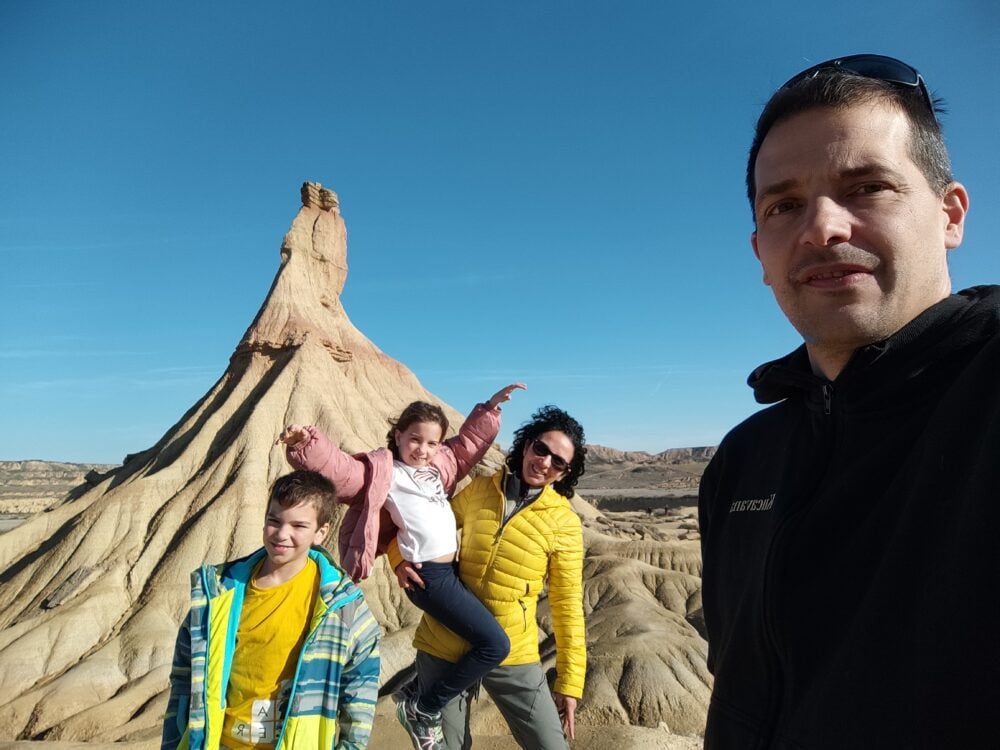 24 Dinopolis
An hour and a little from Zaragoza, you will find paradise for children who love dinosaurs. A theme park to discover the dinosaurs that once lived there.
Before you go buy your ticket online here! to find the best price and avoid queues.
25 Mequinenza Museum, entering a mine
Another surprising place close to Zaragoza, close to Fraga, is the Mequinenza Museum. Here the little ones will be able to enter a mine and live experiences of a real miner.
Map of what to do and see in Zaragoza with children
Latest posts from our blog
Click to rate this entry!(Votes: 1 Average: 5) Enchanted forest buret, and much more! Discover in this post our family visit to this beautiful town with a beautiful enchanted forest and which also houses many more surprises so that you fall in love with it, as it happened to us. Burette and its enchanted forest, […]