Poland by motorhome is different. You want to know why? Discover authentic sensations in this quiet, dreamy European corner. If your plan is to visit Poland by motorhome or camper van, let yourself be seduced by its great destinations by the hand of our one-month experience traveling through Poland by motorhome.
Poland awaits you!
Travel guide to travel to Poland by motorhome
Language and words you should know
Language
In Poland, Polish is spoken as an official language, a language that Spaniards find it difficult not only to pronounce, the mere fact of reading it is already a drama. Experts say that it is one of the most difficult languages ​​in the world. They have letters that we do not have, all including names are declined and there are up to 7 declensions and finally they join endless consonants without not a vowel in the middle.
English and German is the one spoken only in the most touristy places, but the truth is that it is little spoken compared to other European countries.
That is why we recommend that you download the Google Translator app and its Polish dictionary before going to Poland.
Words to know in Polish
SPANISH / POLISH / PRONUNCIATION
Thank you / Dziękuję / llinkuye (and if you want to thank not only you, then: "llinkuyeme" which is something like we thank you, everything is declined :)).
Good morning / Dzień dobry / Gin Dobre (sometimes colloquially they just say "Dobre" to greet you good morning)
Goodbye / Do widzenia / dobidzeña /
Yes / Tak / tak /
No / Nie / ñe
Enjoy! / Smacznego! / smachnego /
Kawa / kava / coffee
Water / Woda / wedding
No gas / Nie gaz / ñe gas
Wine / Wino / wine
Beer / Piwo / pivo / (if you want two or three beers you must decline and it says "piva", for four beers it is said in another way etc ... hehehe)
Ice Cream / Lody / lodi
Sinks / washcloth / washcloth
"Funny" words in Polish that you will learn quickly:
Dog in Polish is said "Feet"
Monk in Polish is said "Hen"
Road or highway in Polish is said "Drug"
Water is said in Polish "Wedding"
Yours in Polish is said "Fuck", so do not be scared if someone says "fuck me" it is a declined variant is not an indecent proposition hehehehehehehe
Lord in Polish is "Pan"
Population, regions and geography
Population
The census amounts to almost 39 million inhabitants.
Area
312 6964 km2, the ninth largest country in Europe
Highest peak in Poland
The Rysy in the Tatra Mountains 2503 meters high.
Political geography: regions
Poland, with its capital in Warsaw is divided into 16 voivodeships or voivodeships (województwo), 380 districts (powiat) and 24787 municipalities (gmina).
The voivodeships, regions, are the following: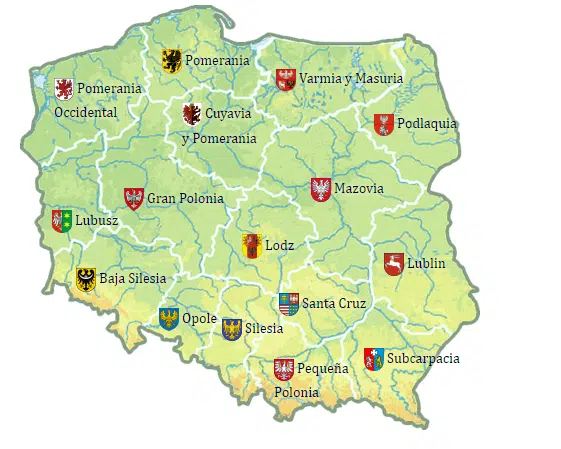 Voivodeship
Capital or Cities
In Spanish
In Polish
Greater poland
Greater Poland
Poznan
Kuyavian and Pomeranian
Kujawsko-Pomorskie
Bydgoszcz / Toruń
Little poland
Lesser
Krakow
Lodz
Lodz
Lodz
Lower Silesia
Lower Silesia
Wroclaw
Lublin
Lubelskie
Lublin
Lubusz
Lubusz
Gorzów Wielkopolski / Zielona Góra
Mazovia
Mazowieckie
Warsaw
Opole
Opole
Opole
Podlachia
Podlaskie
Bialystok
Pomeranian
Pomeranian
Gdansk
Silesian
Silesian
Katowice
Subcarpathian
Podkarpackie Province
Rzeszów
Santa Cruz
swietokrzyskie
Kielce
Warmia and Masuria
Warmia-Mazury
Olsztyn
Western pomerania
West
Szczecin
Currency and prices
Currency
Zloty (PLN)
€ 1 = PLN 4,5
Currency exchange and commissions
The best option to make everything cheaper: payment by card
In most places in Poland you can pay with a card, they pay up to a beer with a card. That is why we recommend that you use whenever you can your card and paying in zlotys when asked by the datafano. This is how it will always be cheaper for you.
We have been using the Evo bank card for 15 years, with which you can withdraw money at all ATMs in Spain and the world without commissions (if they charge you it is because the ATM's bank charges it, it changes ATMs).
With the Evo card, we do not charge any commission for currency exchange when you use the credit card.
With other banks, you should take a good look at the issue of commissions to the currency exchange and to get money, they usually take between 3% to 1% the one that less.
Withdraw money at ATMs or exchange houses
To withdraw money from ATMs in Poland, I recommend those of the PKO blue logo, they give the best change, the Santaders who give the worst change, they gave us a lot. In addition, at the ATM you always select the Cash Withdrawa optionl (best exchange guaranteed) so that it will be cheaper for you.
To change currency there are also Kantor offices from Poland is the one that gives the best change, they are giving about 4,40 for 1 Euro.
Prices
Prices in Poland are generally lower. Above all, it is noticeable in the restoration, museum tickets and entertainment venues. Gasoline and supermarkets are also slightly cheaper but pennies and maybe not so noticeable.
Some examples: 1 euro ice cream, 1 waffle € 1,80, a 1/2 liter beer: € 1,70; A plate of meat à la carte in a restaurant: from € 4 to € 6 and in an elegant or luxurious place at € 10 maximum, 1 kg of chicken breasts € 3 at the supermarket, museum tickets between € 2 to 5 (The great World Heritage attractions are more expensive but also cheaper than in Spain).
Documentation and health
Documentation
If you are from the European Union
Valid DNI, also for minors
European sanitary card
And optionally, we recommend travel insurance to cover medical expenses since in Poland the European health card applies, but it has a co-payment and you also have to advance the money in many cases, and then request the return of the part in Spain.
To avoid complications, we contract Iati Getaways, which is a travel insurance that also covers Covid and is special for motorhomes and campers since it covers theft inside the vehicle, liability and accident insurance for the pets we carry and even a replacement vehicle . I leave you here a 5% discount for those who hire him as Kucavana readers. click here! and they will apply the discount automatically.
Covid requirements
See the current measures always updated on the official page Re-Open UE
Typical meals
Typical Polish gastronomy
Polish gastronomy is a true delight forged between the modernity of its cities and the rural life of 40% of its population. You can find flavors of a great diversity, modern and creative cuisine but also traditional and that varies according to the region where you are.
On your trip to Poland by motorhome you will find very very good and very cheap restaurants. The usual thing is to eat from the menu (dishes are around € 3 to € 6 on average) and choose a starter and then a main, which are usually more than considerable in size or, as a friend says, they are grandmothers' rations. Just to tell you that many times we asked for the leftovers to take away, something that is very normal there, and that we ate and dined with a great meal.
The typical dishes that you cannot miss:
Zurek Soup -> In Poland you will see soups of all kinds. You will observe soups even in the soup. Many go inside the bread, as something curious. The most typical is this Zurek, which is like a stew broth with garlic, sausages (kielbasa) and boiled eggs. But apart from this you will see soups of everything you can imagine, and sometimes as strange as some may seem to you, they are all delicious even in summer!
Rosól Soup -> Children's soup :). A broth with thin noodles.
Pierogis -> My favorite food, that before going to Poland I already made it in my kitchen. They are like a kind of empanadas made with soft pasta like those of Japanese gyozas and filled with many things. The most typical of potato or meat.
Kielbasas ->

Sausages of all kinds. Normal and as sausage, spicy and milder. Spicy you have the krakowska or the wiejska or the mysliwska.

Golonka -> Roasted knuckle

Kotlet schabowy ->

Battered pork chops accompanied by fried cabbage and potatoes usually.
Bigos -> cooked like ours but with sauerkraut and sausages.
Dumplings -> Potato paste stuffed into sundries, usually a large meatball
Placki ziemniaczne -> French fry pancakes, many times they come with meat with sauce.
Golabki -> cabbage leaves stuffed with meat and stewed in a sauce.
Pulpety -> meatballs
Ryba smażona -> fried fish
Krokiety -> They are not croquettes as you might think, but crepes stuffed with meat or cabbage closed like a roll, breaded and fried.
Placek zbójnicki (or placek po węgiersku) -> Our favorite food. A goulash type beef stew inside a kind of potato pancake ... delicious! At La Guarida del Lobo it was the best we ate of the whole trip!
Typical snacks that you cannot miss:
Nalesniki ->

Like cheese-filled crepes

Chleb -> the bread that is eaten with everything made with rye flour and a symbol of luck in Poland and that is usually put in restaurants with lard for you to spread if you want.
Ogórek -> pickled gherkins eaten all the time
Ob wargenek -> Bread donut sold as a snack.

Oscypek ->

the famous sheep cheese with a peculiar flavor from the Polish mountains, which you will find in pierogis or in delicious cheesecakes (sernik).
Typical desserts and sweets that you cannot miss:
Papieska kremówka -> the cream-filled puff pastry cake that was Pope John Paul II's favorite
Sernik -> Cheesecake

Szarlotka ->

Apple pie, which is usually served hot and with vanilla ice cream. Our favorite dessert.
Jagodzianka -> Bun stuffed with blueberries that is typical of summer, in winter they do not
Paczek or Paczusie -> (pronounced "ponchki") Some buns stuffed with jam, the most typical of rose jam, very rich
Typical drinks
Typical drinks
The national drink is undoubtedly the beer (Piwo if it is one or remember if you order two or three Piwa). They have a thousand varieties of national beers and they serve you half a liter. Fortunately, the alcohol content is not very high. The most common brands are the Pearl, Tyskie or Lech. The ones we liked the most are the ones with a Goat and the Bison drawn, so surely easier to remember 😛
He too vodka National is a drink that no good Pole forgets after meals, in fact there is a debate between whether vodka is Polish or Russian, be careful what you are going to say to a Pole about it hehehe
On the other hand, if you like the wine, national production you will not find too much. On the contrary, the cider and in them you will find variety.
Finally, if you are coffee growers, you are in luck. Coffee (Kawa) you have something for all tastes and everywhere. My favorite was the "ice coffe with cream", that's how I asked for it in English and that's how they served me a glass of coffee with cream or vanilla ice cream or ice inside and generous and sweet cream on top, a delight, which I became fond of in Poland and that I will remember my whole life for sure.
Official tourism website of Poland
Polish gastronomy in photos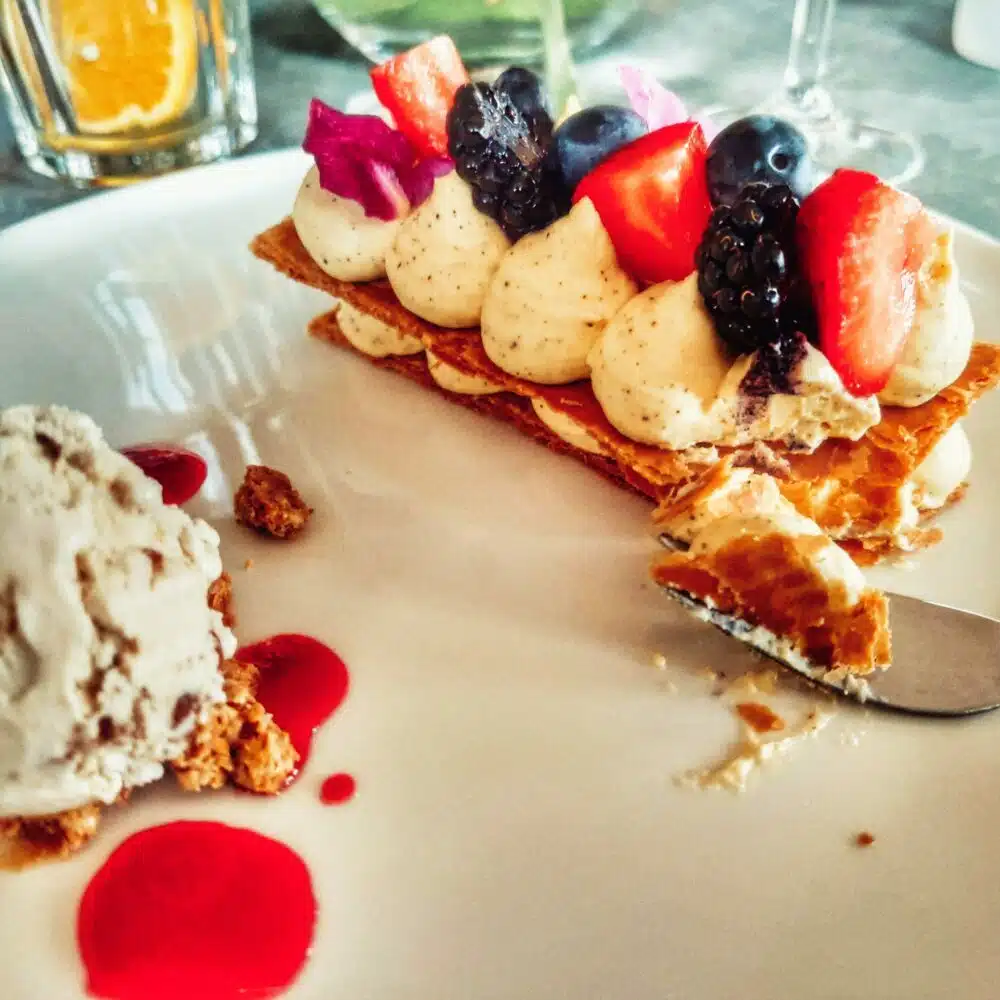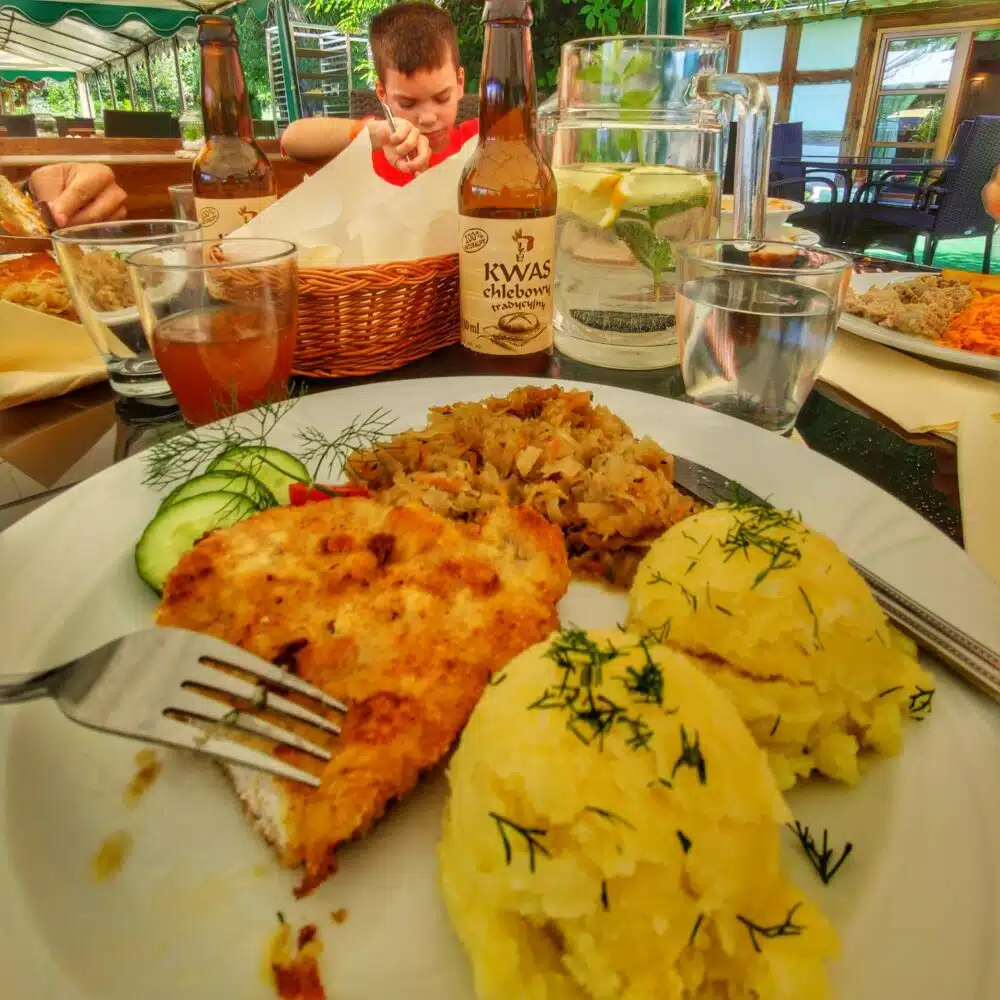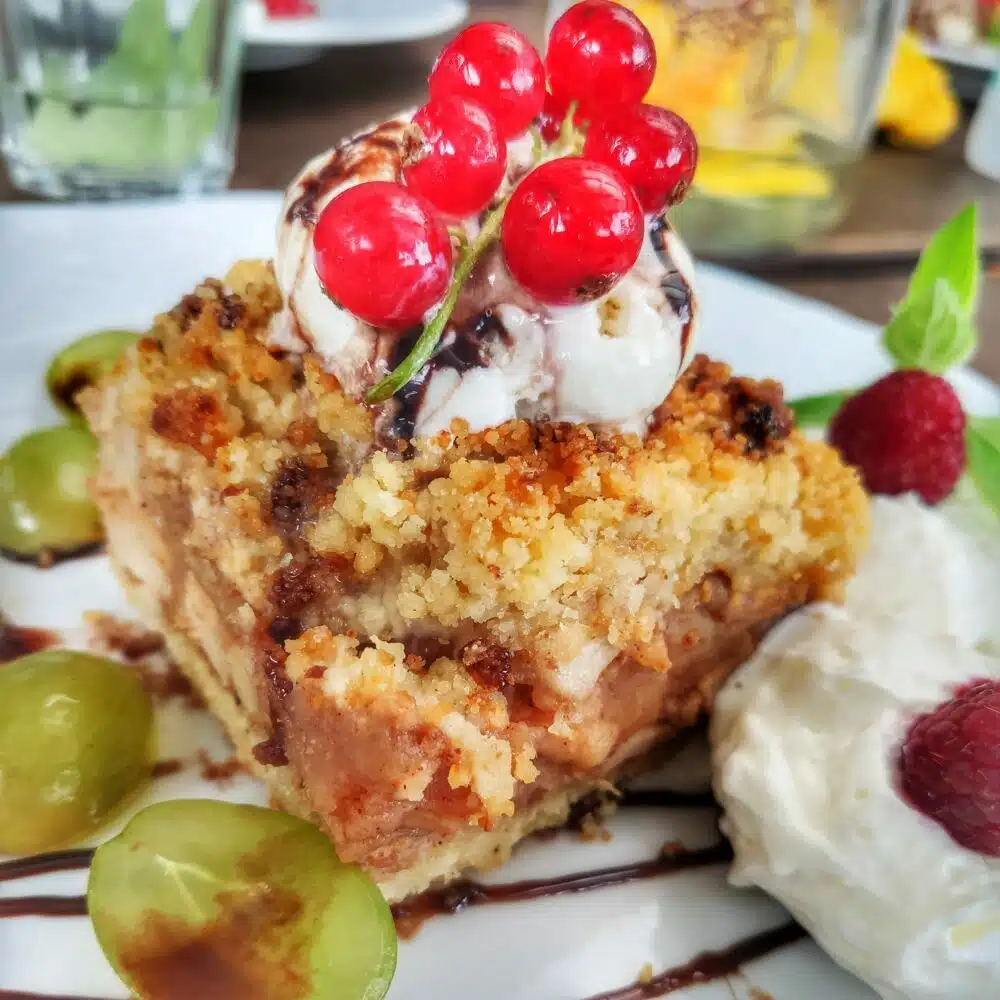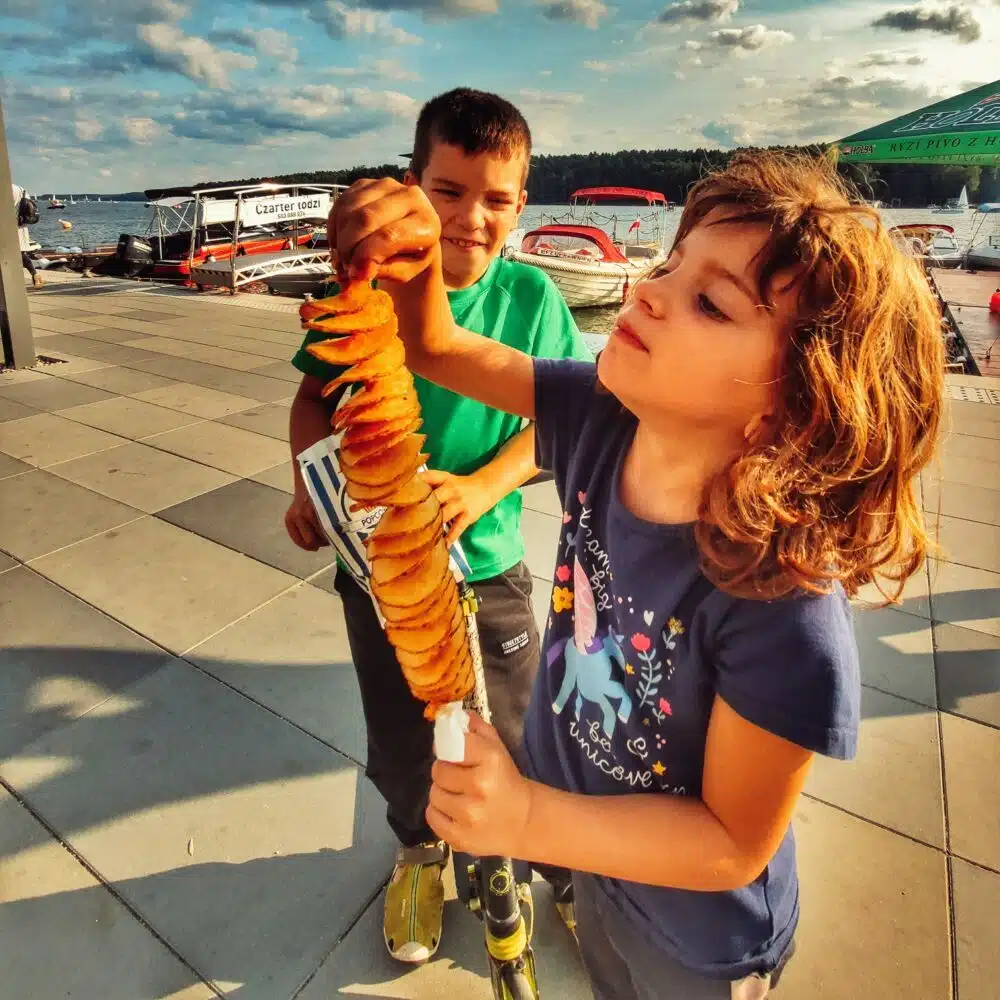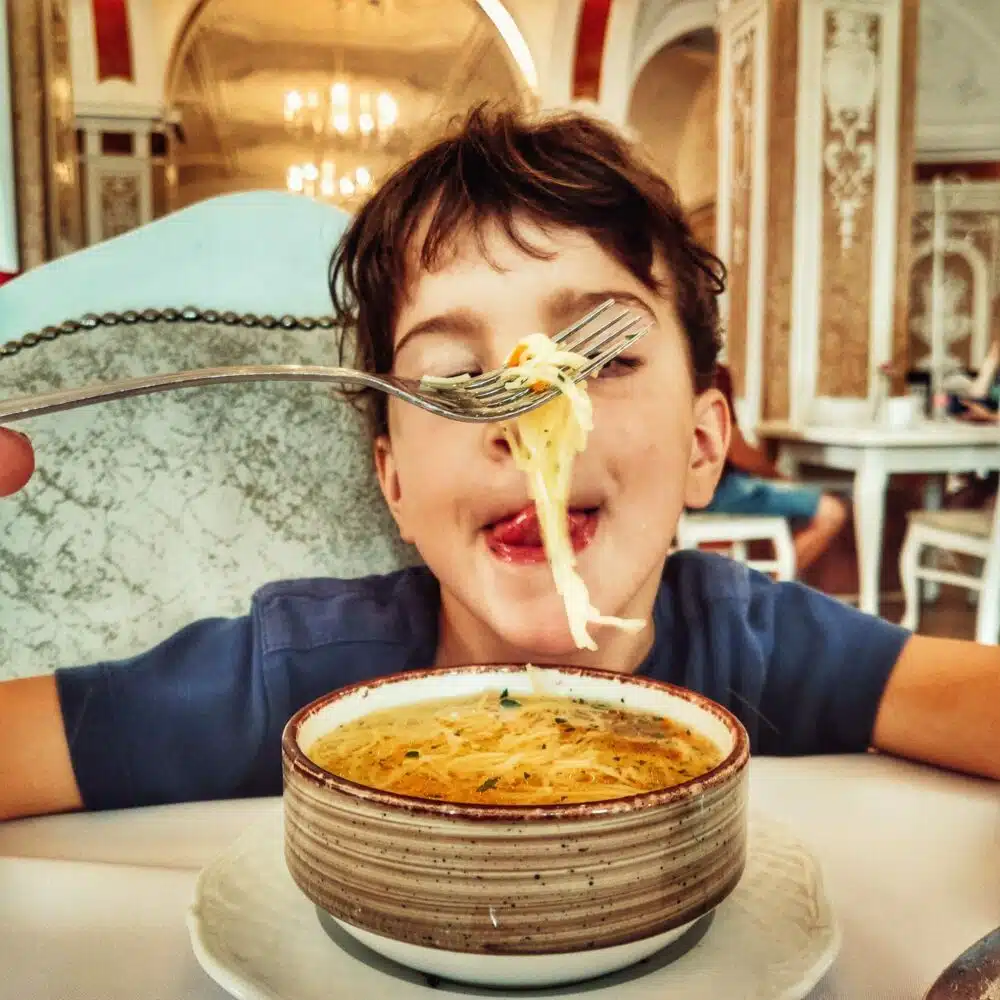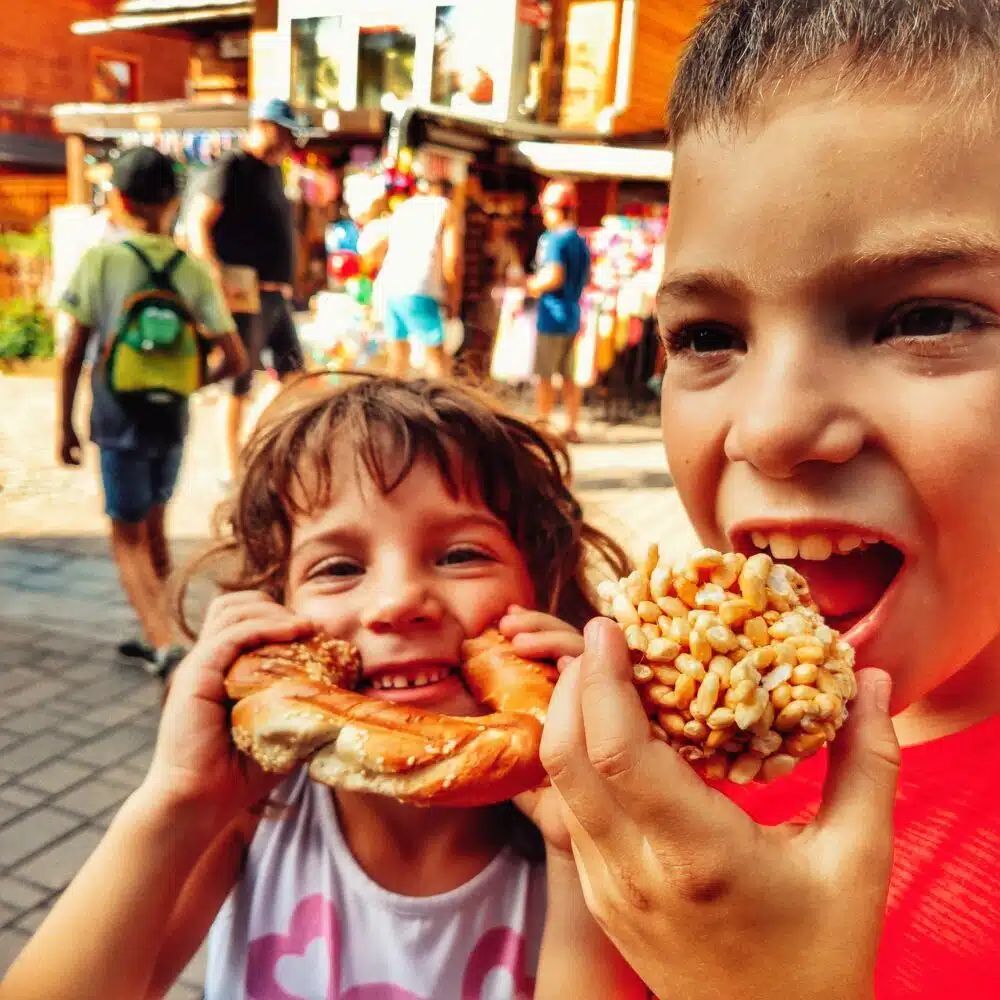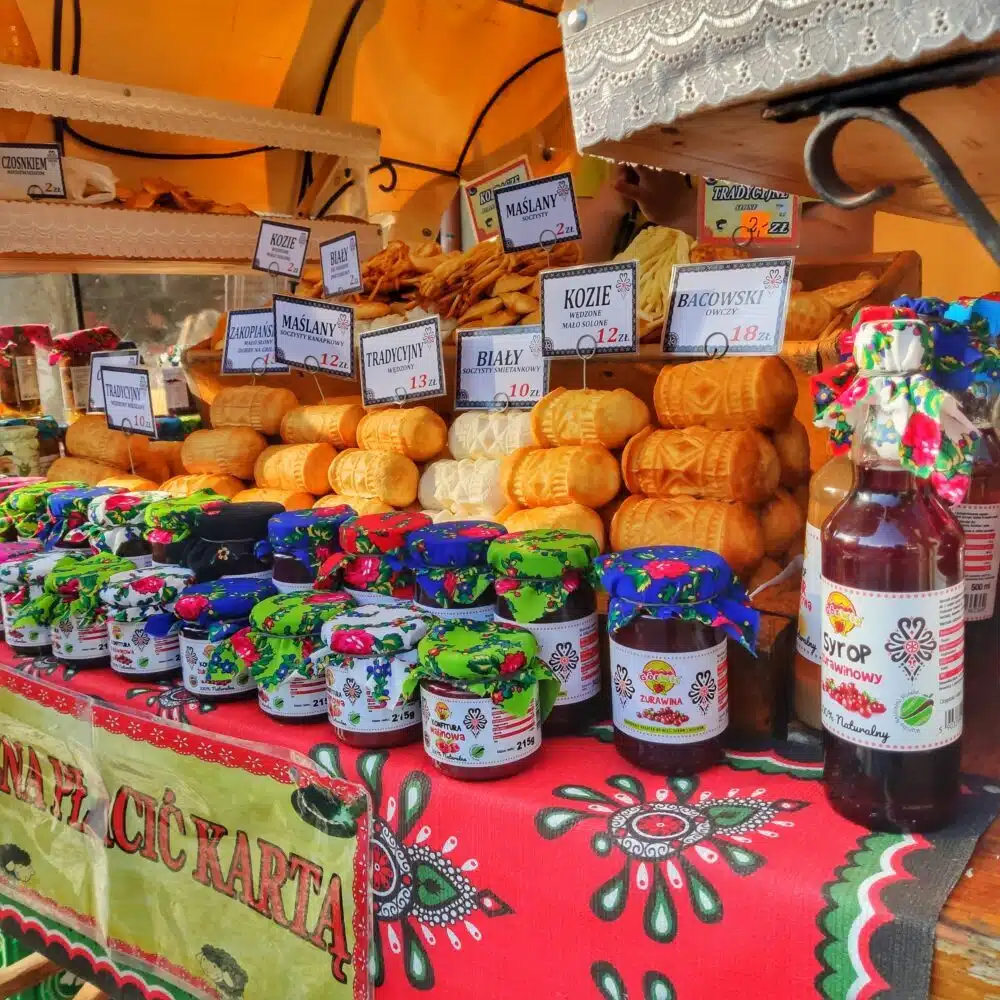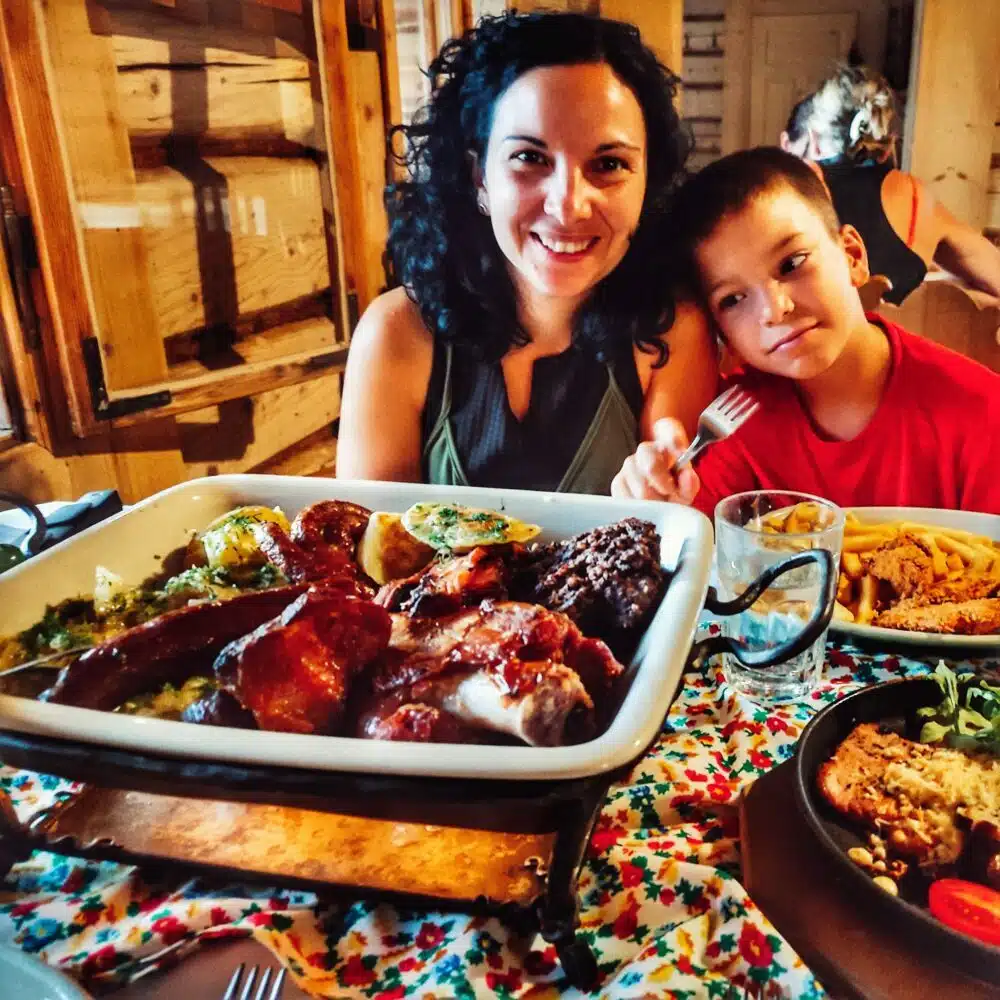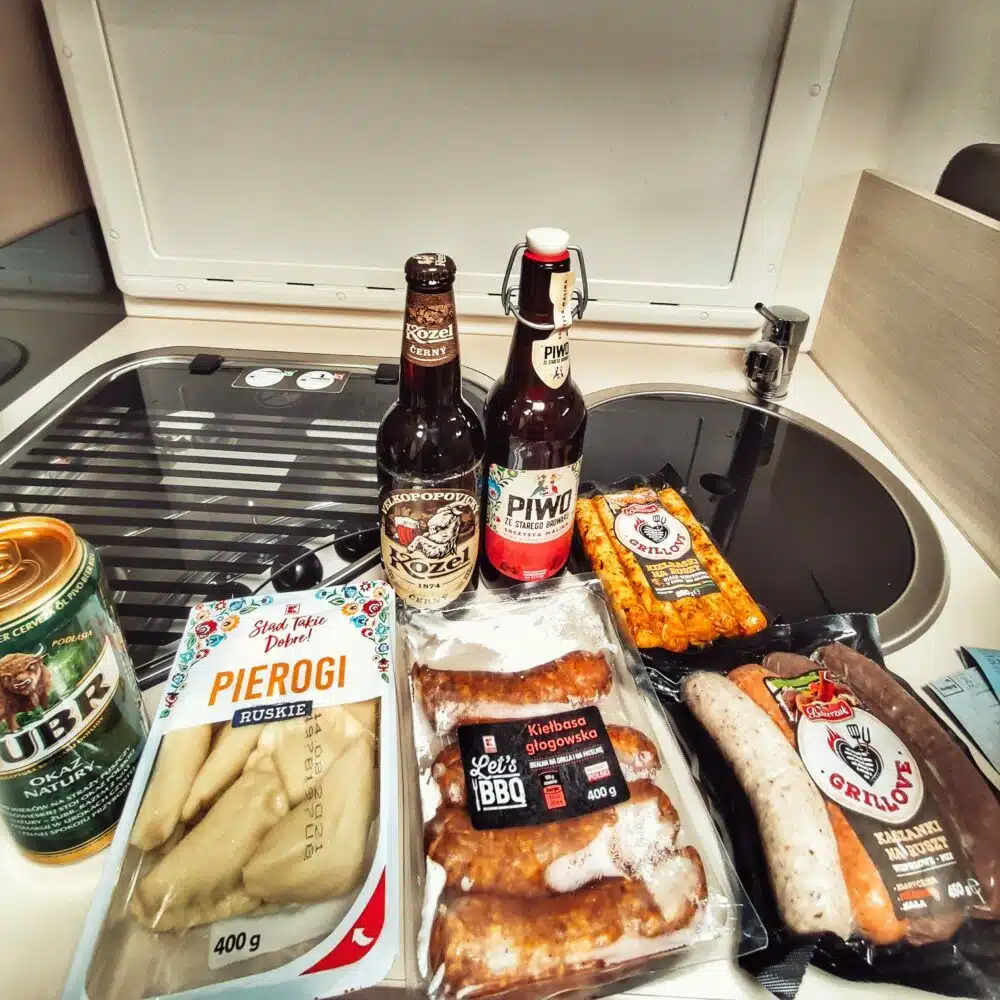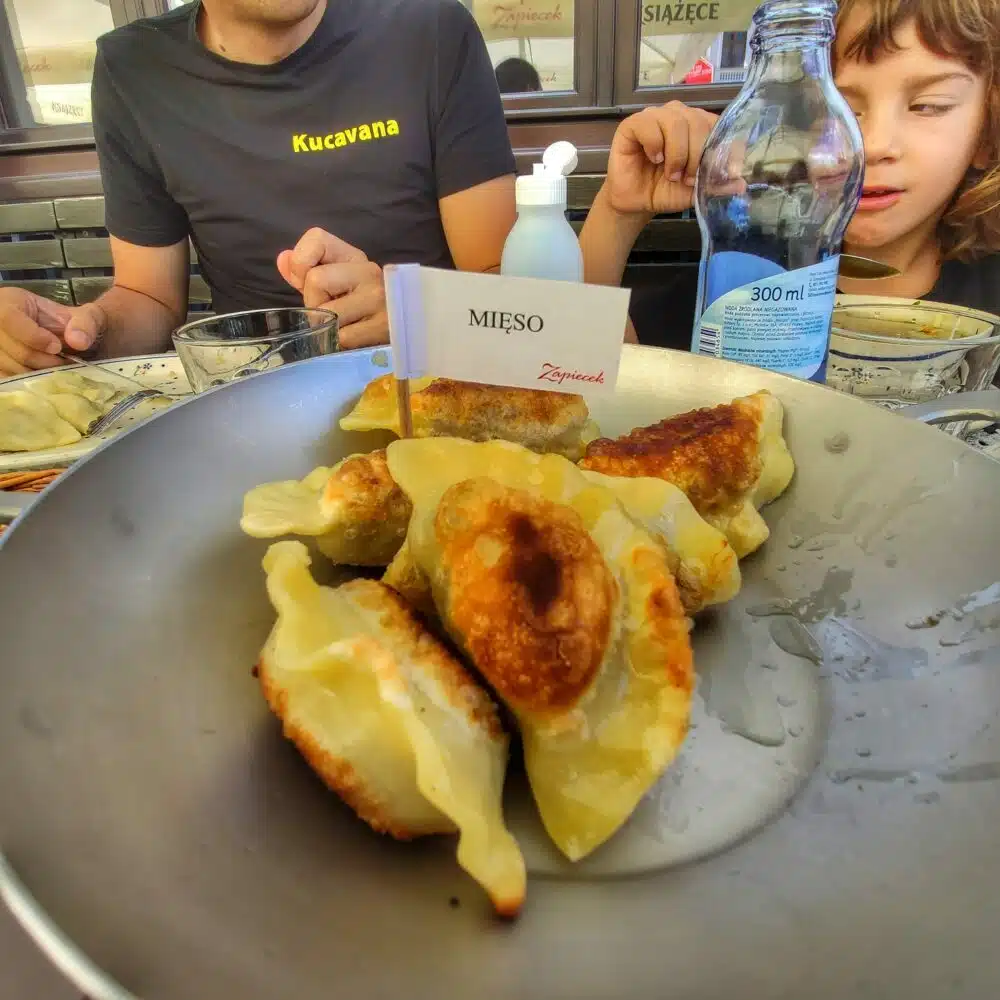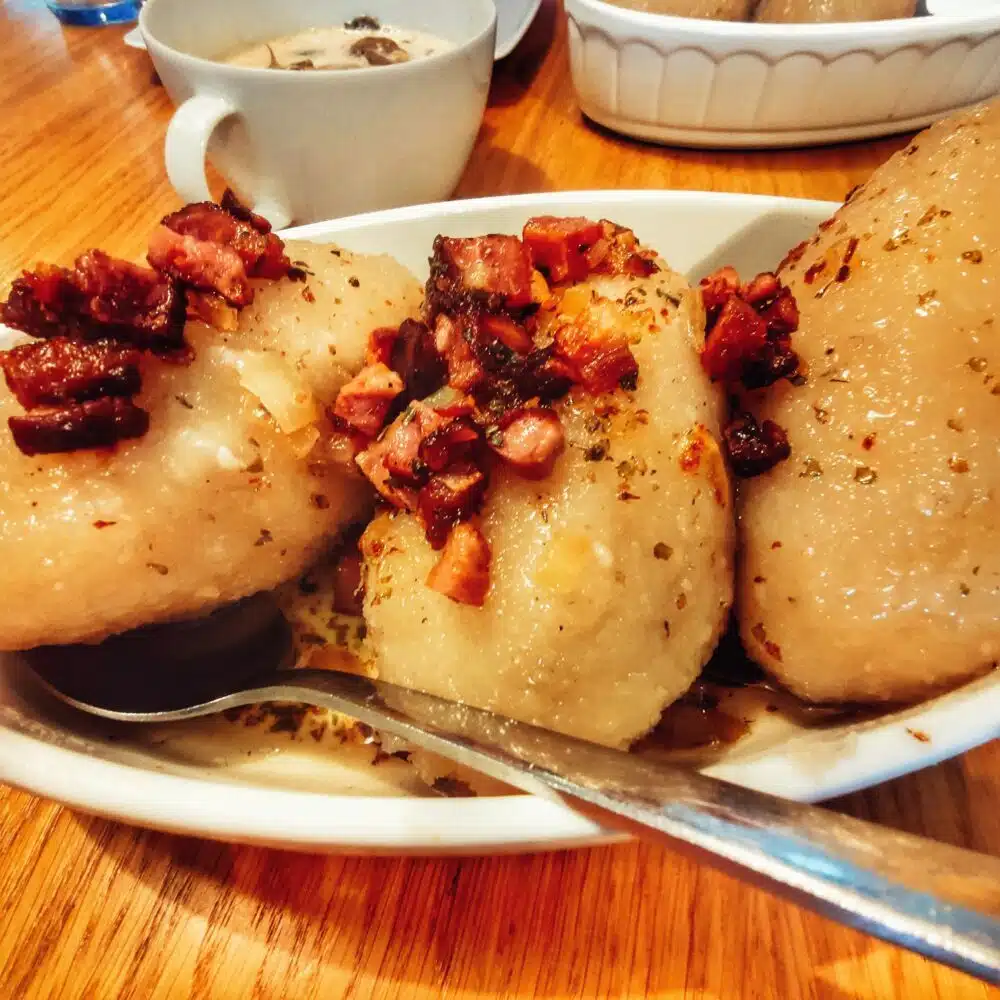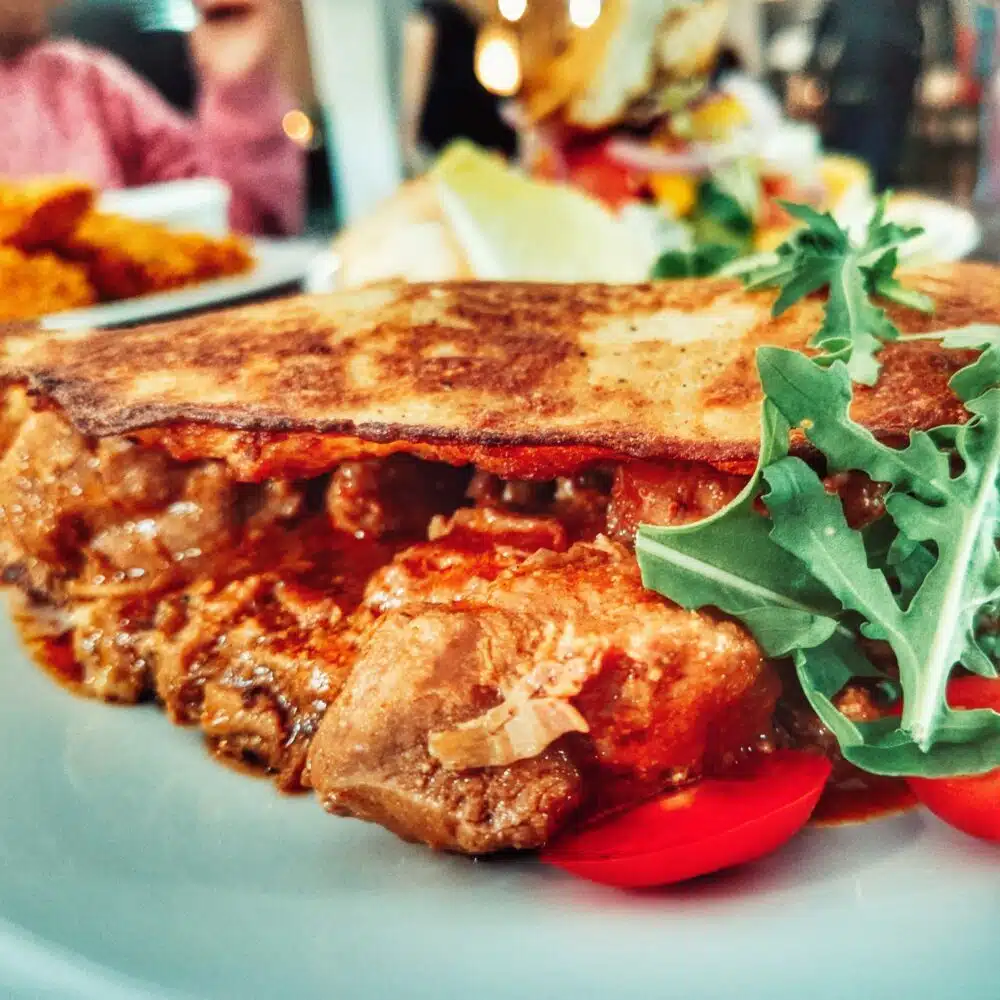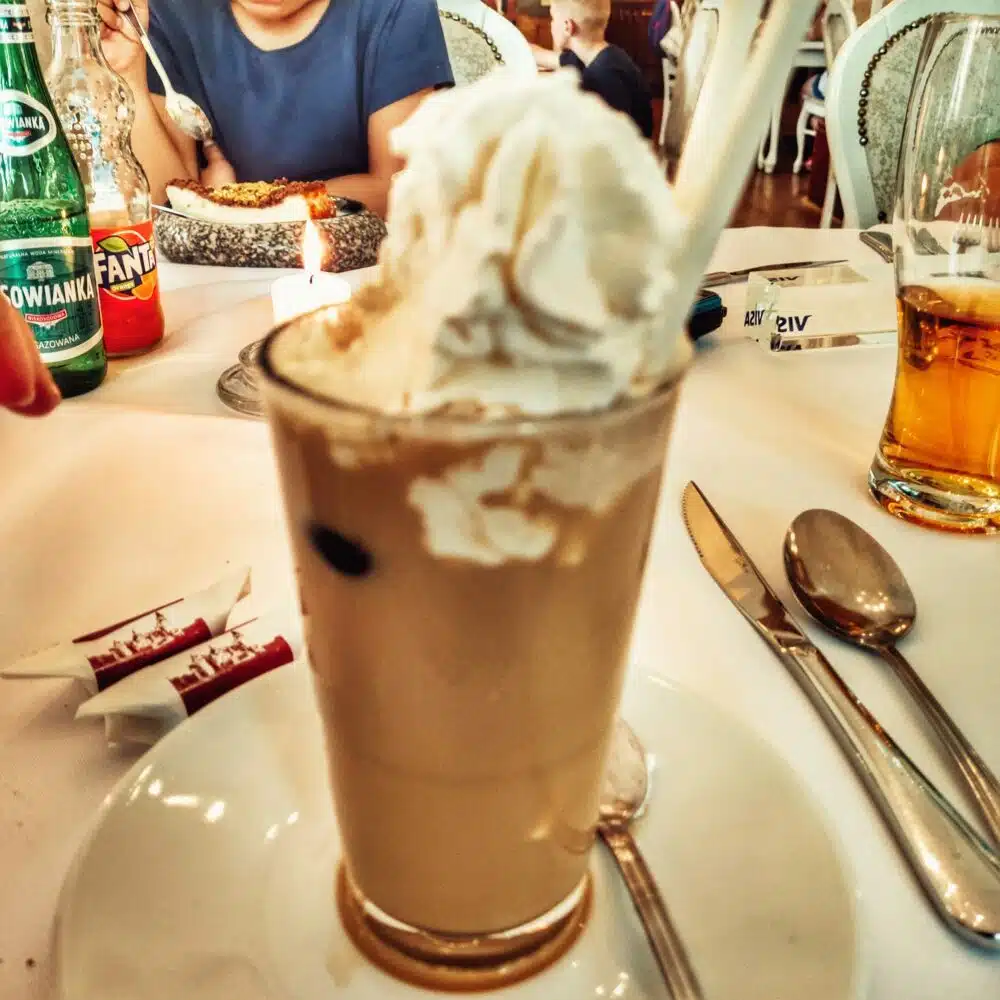 Poland by motorhome: camper friendly country but with its peculiarities. Legislation and what you should know
Driving a motorhome in Poland
Driving on the roads of Poland It is easy but at the same time it can be somewhat tedious. Polish they drive like in SpainEven sometimes I would say that they are more polite than us, although they are rude and in a hurry there are everywhere. Now drivers are not the problem, there is something you need to know. The Poland's road infrastructures are at extreme, or they are excellent highways or they are roads, that if you suffer from your motorhome or camper, you can prepare yourself to suffer. There are a lot of minor and not-so-minor roads that are in pretty bad shape. Many are under construction and surely in a few years this will have improved a lot. Now, for the moment it is what it is.
Most of the roads are patched, with holes and no hard shoulder or painted markings. They are not narrow, nor do they normally have steep slopes, but they are in poor condition. They are roads that for a motorhome make you have to go very slowly if you do not want to get home without a motorhome. To do 60 km, think that it will take at least an hour, except you go from big cities to big cities where there are good highways and highways (but with very very minimal payments, the most we have paid have been 3 euros) of three lanes and new ones.
A trick: do not trust the GPS, take a good look at google maps and if you see a main road or highway pull for it, even if it is more kilometers and turn more.
But above all, driving on Polish roads implies respecting the country's highway code:
Speed ​​limits on highways:
Urbanized areas - up to 50 km / h (60 km / h after 23:00)
Out of town - up to 90 km / h
Urban helmet - up to 20 km / h
Fast dual carriageway - up to 110 km / h
On fast single carriageway - up to 100 km / h
Dual carriageway with at least two lanes in each direction - up to 100 km / h
Obligations on the road that you must take into account:
Mandatory to always circulate with the lights on

The amount of alcohol allowed in the driver's blood is 0,2 mg / l


If you are a motorhome of more than 3500 kg you must have the active TOLL road to circulate on Polish roads.

viaTOLL is an electronic road use charging system in Poland. Further information: http://www.viatoll.pl/en/home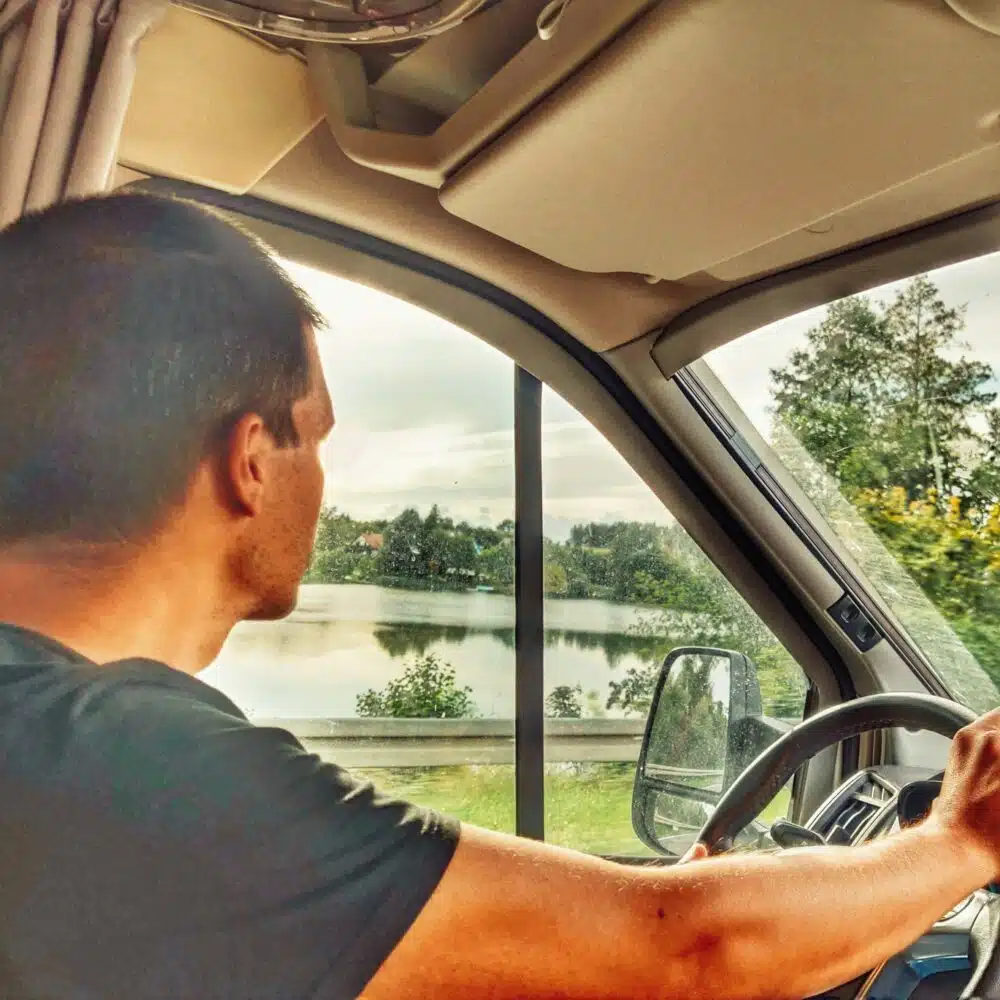 Stay overnight and do motorhome or van services in Poland
If the vehicle is well parked and without camping the overnight stay is allowed as a general rule throughout the countryWe have not seen any sign of prohibited motorhomes in the whole trip. However, in some natural parks or coastal areas the stay of the vehicle at night may be restricted and they put chains closing the accesses.
Although, remember, power staying overnight does not give you the right to camp on your own, something that we explain below and that is prohibited throughout Poland.
To spend the night, apart from being able to do it in any parking lot, you have enough private motorhome and camping areas that are cheap there. In these places, you can also camp.
As they do not exist in Poland they are free municipal motorhome areas as we know them in southern Europe.
In addition, you should know that the camper areas (as there they call motorhomes, vans or any home vehicle) many times they do not have emptying services gray and / or black water. And even in some very basic campsites, more in the south of the country, it also happened to us that they did not have gray casts.
Trick solution for services: obviously search areas and campsites with all services and if we have nothing nearby, look for a Car wash (on the map we leave you some point) or a motorway service area with the sign "Wc bus" and there gray and black drains where the buses. Above all, never ever pour water where you should not, remember that it is our future as a collective that we play for ourselves wherever we go.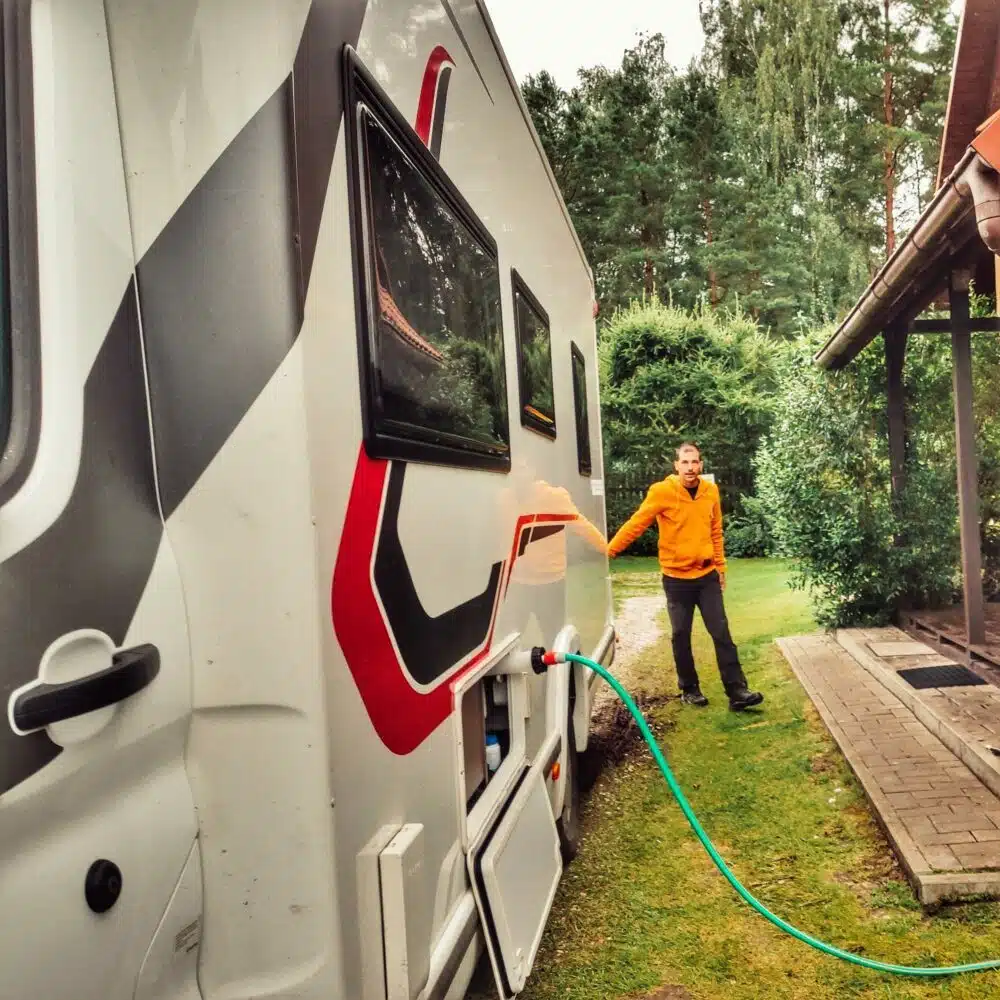 Camping in a motorhome or camper in Poland
La wild camping is not allowed, Same as in spain. Camping is in fact prohibited and strictly controlled, especially in nature reserves and on the coast. If the police catch you camping, you can be fined up to € 120. As in Spain, we ask you to comply with the rules and never ever camp outside a campsite or private motorhome area or specifically regulated camping areas, which are the only places that allow it.
We remind you that camping is taking out an awning, taking out a table and chairs or taking out any element of your vehicle that causes it to exceed its perimeter.
For this, in Poland you are in luck, you have many private campsites and camper parks at a very good price. One good thing about Poland are the Prices of its campsites that average around € 15-20 per night for 2 adults + 2 children + 1 dog + 1 motorhome.
Plan and organize your trip to Poland by motorhome in 5 clicks
Summary of our trip through Poland by motorhome
Our trip to Poland by motorhome
1 month from mid-July to mid-August.
We arrived in Poland, after 48 hours of travel, through the Lower Silesia region, crossing all of France and Germany. Trying to avoid the Czech Republic for its tolls (vignette) and its bad roads, which we already know.
We go through the south of Poland and then we go up to the central area and, finally, to the north of Poland.
Without a doubt, a route where we combine multiple landscapes and attractions. From sea, lakes, rivers, mountains, fairytale cities and towns, bike, boat or kayak routes, hot springs, castles and multiple activities to get to know Poland beyond the typical tourist who goes to see some main Polish city and the vestiges of the Holocaust or World War II.
This will lead us to discover that Poland is much more than we think.
Expenses for our one-month trip to Poland in a motorhome
To give you an idea of ​​the approximate costs of a trip to Poland by motorhome, we give you a summary of our expenses during our one-month trip to Poland. These costs are the total for the 4 of us in the family plus our dog Max.
The cost of gasoline going to and from Barcelona to Poland and traveling from south to north Poland has been 944 € uros
, of the total approximately 6.000 kilometers made. On tolls the costs have involved € 277, all mainly from France and Spain. Luckily neither Germany nor Poland have tolls if you are a vehicle weighing less than 3.500 kilos.
En car parks, motorhome areas and campsites the cost has been 370 € uros. And in tickets to museums or places of interest, restaurants and activities of leisure unos 1800 € uros.
In total this trip that we explain to you of a month for Poland for the 4 has involved an approximate cost of around 3800 € urosFor all that we have done, I assure you that in another place it would have meant a lot more.
Also, remember that we go in our motorhome. Now, if you do not have a motorhome and you want to rent one, add about € 50-180 per day if you rent it, depending on the season and type of rental you do.
Finally, we recommend you rent a motorhome or camper in Yescapa from this link where Yescapa offers you the best offer: motorhome rental with Yescapa
The best of Poland by motorhome
The best thing about this trip for us has been ...
The worst of Poland in a motorhome
For us the worst thing about this trip has been ...
Our route through Poland by motorhome on the map

Access the interactive map and see the motorhome areas, overnight or day-only car parks, campsites, restaurants that we liked and the points of interest (lilac or orange icons, those that are World Heritage by UNESCO) that we elaborate from Poland during our trip.
Our route through Poland by motorhome in a video summary

Poland what to see: The 30 essential plans on a route through Poland in a motorhome or camper
Poland what to see: 30 destinations in Poland that you should not miss
Finally, in this article, we will tell you our 30 essential destinations if you travel to Poland by camper or motorhome, after our one-month trip through Poland.
Apart from these 30 destinations, if you travel with teenagers or without children, we recommend that you also see the destinations of Auschwitz, witness to the horrible Holocaust, and other large and interesting cities such as Wroclaw, Polish Venice, or Poznan or Torun.
You will see that these places are arranged in chronological order and by visit during our route to help you in your travel planning.
Lastly, remember to do click on SEE each of the destinations and you will discover what to see and do in that destination, where to sleep in a motorhome and some advice or tips that will help you on your trip through Poland in a motorhome or campervan!
Attention!
The next section is under construction, you will be able to display and see more information about each of the destinations shortly.
Our trip to Poland in photos