Click to rate this entry!
If you are looking for which are the best motorhome areas in Catalonia, in this post we will tell you about it so that you can enjoy Catalonia in a motorhome on your next trip. A post inside our Complete guide to travel to Catalonia by motorhome.
We tell you everything through our own experience. we were born and we live in catalonia and they are many years traveling through their lands with our motorhome and before camper. We surely know a lot about the best and worst things about traveling by motorhome in Catalonia, so we hope to help you with this article.
We are the kucavana familyWe traveled with our two children, ages 7 and 10, and our 2 adopted dogs. We usually travel in our motorhome called Kucavana, but we also like to travel by car or plane and backpacking. We enjoy each learning experience as a family and we hope to help you enjoy it as much as we do traveling by motorhome.
Follow us live on networks!
We set up your route through Catalonia in a motorhome in a personalized way, a route that you will do: Click & Go!
If you would like to save time and trust our experience In the camper and motorhome world, we remind you that we have a assembly and organization customized motorhome route of which many people are more than happy.
With our service you will have a fully interactive Click & GoSo that just click and the GPS will take you to each of the essential places without losing in setbacks and spending the night in the better places possible. Access the service so that we can send you your budget by filling in the following form.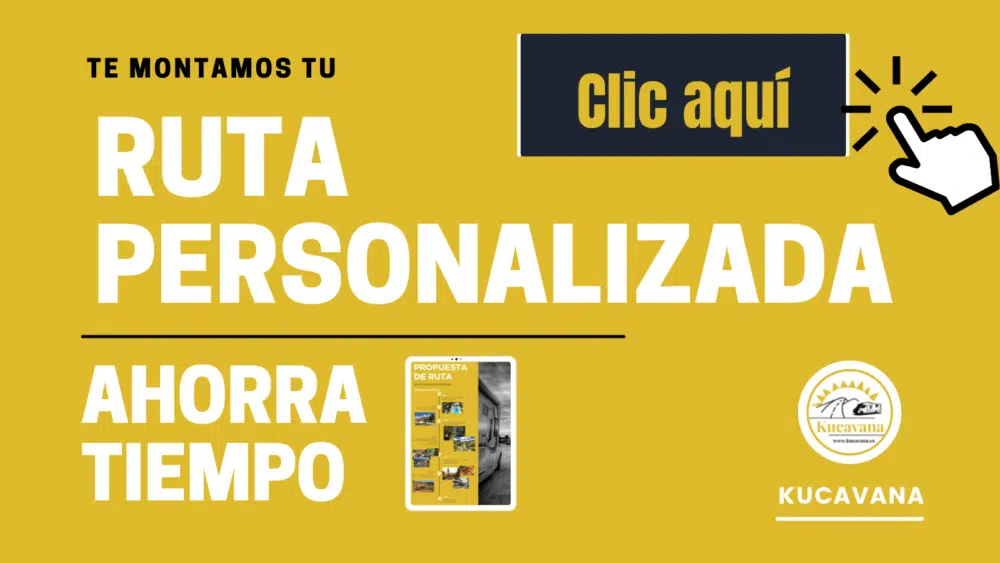 If you don't have a motorhome, a recommendation for traveling to Catalonia by motorhome: rent between individuals and save
If you do not have a motorhome we give you some advice. rent between individuals through the Yescapa platform, such as an AirB&B, is the best option to rent a motorhome at a good price and that has all the extras you need. rent in this link with Yescapa and you will also help us to maintain this blog and continue writing.
Things to take with you on your motorhome trip in Catalonia
Don't forget to bring some pantry, medicines, your pet's veterinary card if you travel with him, pills or liquid for the chemical toilet and everything that the route you want to do requires.
Also, if you want to know what extras and useful things we carry in our motorhome you can see this post 50 useful things that we carry in our motorhome.
Finally, a piece of advice. apart from you motorhome insurance (in this post you have the comparison that we made before choosing ours), we advise you to take for trips away from home, even in Spain, a Special travel insurance for motorhome trips such as the Iati Escapades that for 2 euros per day and person, apart from medical contingencies, covers theft inside, accidents involving your pets, among other very interesting things for our type of travel. In addition, we leave you in this link a 5% discount that will apply to you at the end of your budget: 5% discount travel insurance Iati Getaways
The best 10 destinations and motorhome areas in Catalonia with a motorhome
Catalan Tuscany in L'Urgell
We suggest you start your route through Catalonia in a motorhome in the most camper friendly place in Spain. L'Urgell, a Catalan region where all its municipalities have saved a space for motorhomes and campers, without exception. Together with the L'Urgell Regional Council and the collaboration of its town halls, we have prepared the free L'Urgell Camper Tour guide, where you will find all the places to spend the night on 3 different surprising routes in L'Urgell. You can download it for free here: https://www.kucavana.es/urgell/
From L'Urgell do not miss its beautiful towns such as Guimerà, Verdú or Vallbona de les Monges. Neither is its fabulous gastronomy where the best places to savor it are in Agramunt and Tàrrega.
In Tàrrega together with Vallbona de les Monges you will find two of the best motorhome areas in Catalonia de L'Urgell, with all the services and in perfect places for precious visits.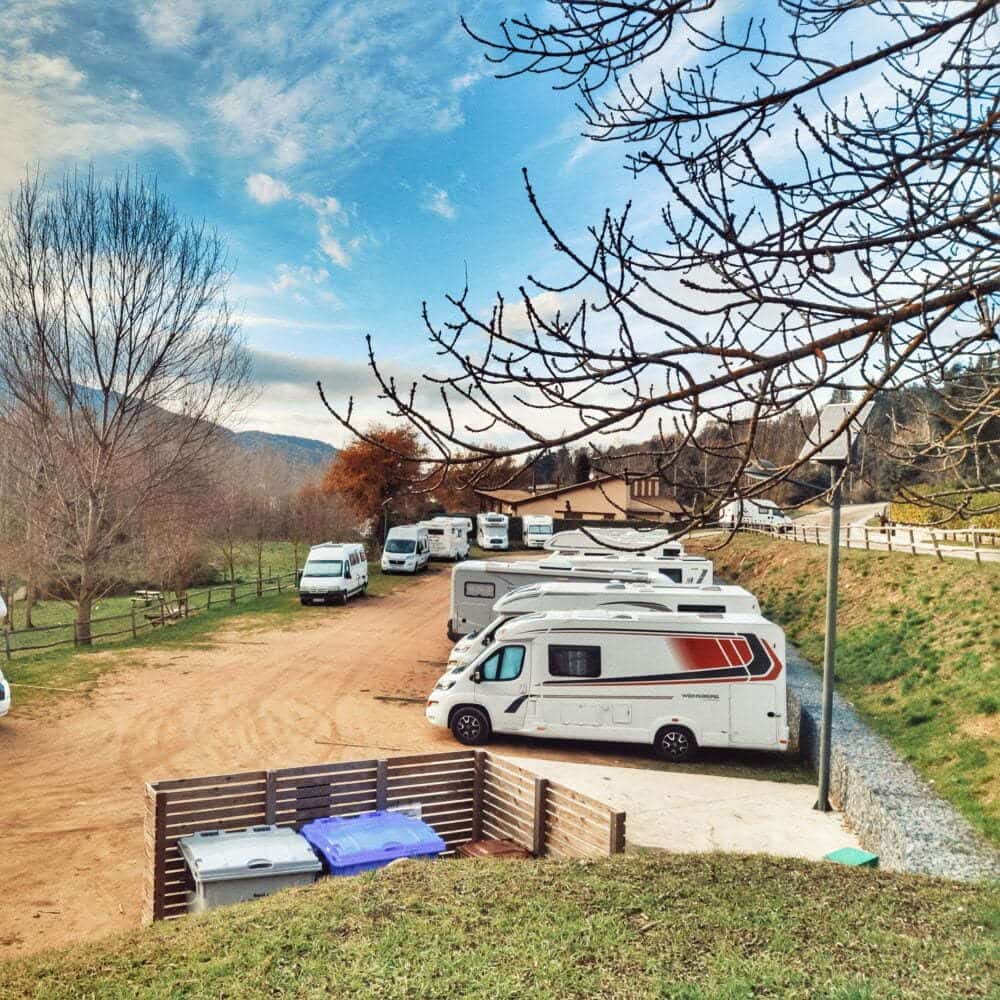 Viladrau and the Montseny Natural Park, one of the best motorhome areas in Catalonia and the best in Spain
We suggest you leave Barcelona in the direction of Viladrau, our first stop. Viladrau is a beautiful town in the Montseny Natural Park area, the oldest natural park in Catalonia and one of the most important because it contains, in a small area, typical plant communities of the 3 major European biomes: Mediterranean, Euro-Siberian and Boreoalpine.
Viladrau is a small town surrounded by wooded green areas and more than 200 springs, where the well-known Viladrau mineral water comes from. From this place, you can discover wonderful hiking trails, among which we recommend the Route of the Fountains (Ruta de les Fonts), highly recommended with children. It is also a mystical town, because every October 31, with its Witches' Dance, it remembers having been the town where there was the most persecution of women considered witches between the years 1618 and 1622.
The Viladrau Motorhome Area is a quiet area in an exceptional natural environment. It is paid with QR (€3/day during low season and €5/day during high season) and includes overnight stay, water change and Wi-Fi with a maximum stay of 48 hours. Does not allow camping. This area won in our survey of the 100 best motorhome areas in Spain of 2021 among motorhomes from all over Spain, which is why it is undoubtedly one of the best motorhome areas in Catalonia and in Spain that you should visit sometime.
If you feel like camping, both Camping Can Cervera, Camping les Illes and Camping Les Piscines del Montseny will surprise you with their wonderful views and the routes that you can take on foot from them, because they are in the middle of nature.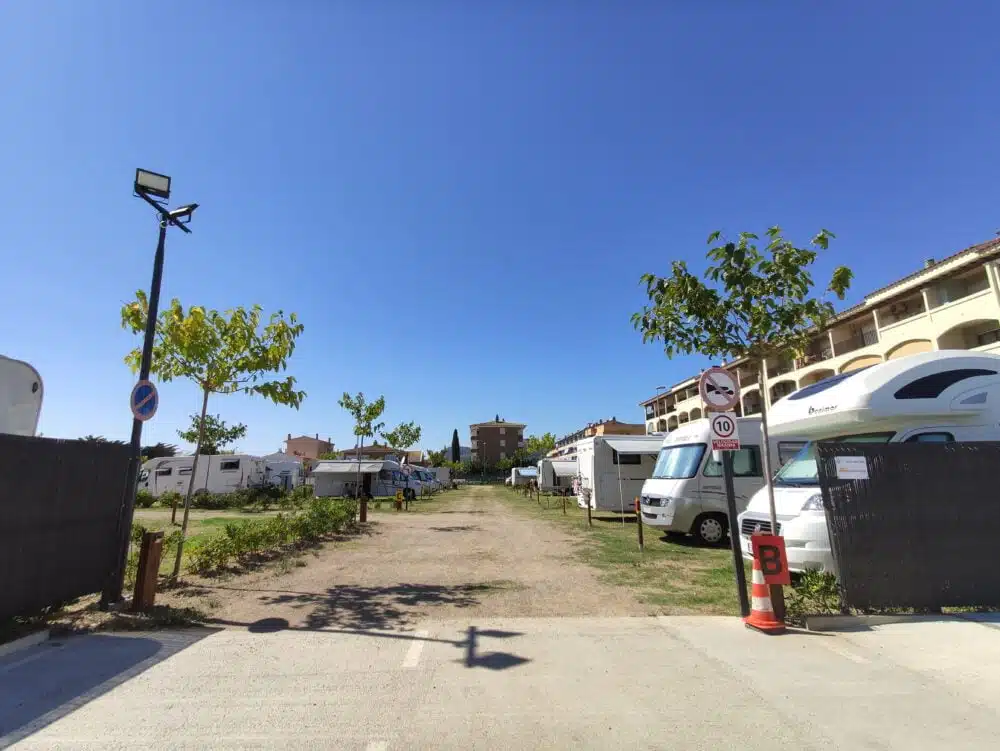 L'Estartit on the Costa Brava, one of the best motorhome areas in Catalonia
L'Estartit is a tourist town that has a wide gastronomic offer and is popular for its location, next to the Medes Islands, and its seabed, a large reserve of marine fauna and flora considered one of the most remarkable natural spaces in the entire Mediterranean. In L'Estartit you can do a thousand activities such as kayaking, snorkelling, boat trips or paddle surfing. You can see all the activities aquí.
Costa Brava Area is a modern parking area with exclusive services for motorhomes and campers and designed with the motorhome driver's comfort and safety in mind. It is a guarded area with all services. It is located in the center of the town of L'Estartit, next to the beach and shops, although in a quiet environment that facilitates rest. Undoubtedly one of the best motorhome areas in Catalonia.
Among the recommended campsites in the area are Camping Begur, synonymous with nature and tranquility; Camping Cypsela, a 4-star campsite with a multitude of recreational activities; and Camping Les Medes (Estartit), located in one of the most beautiful towns on the Costa Brava, 1 kilometer from the beach and with pitches set up for motorhomes.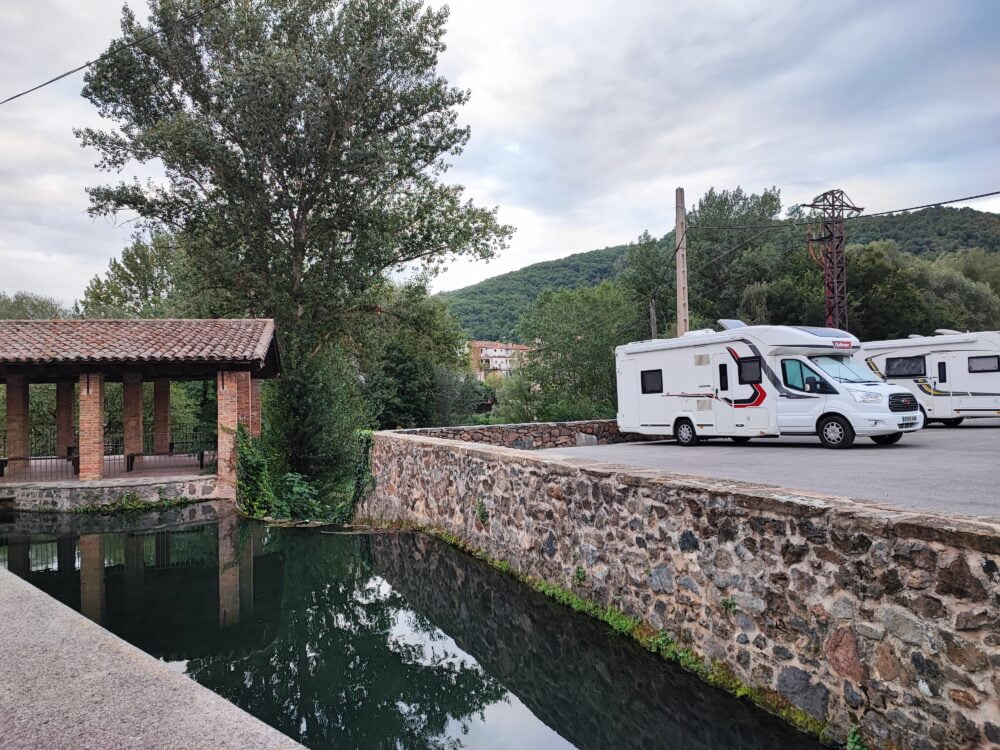 Olot and the volcanic area of ​​La Garrotxa
Olot is known as the city of volcanoes and is part of the Garrotxa Volcanic Zone Natural Park. You can see our post about the garrotxa here. In its municipal term, there are four volcanoes: Montsacopa, Montolivet, La Garrinada and Bisaroques. The city of Olot also has an interesting cultural heritage with modernist and Renaissance monuments.
20 minutes from Olot, there is a beautiful town called Santa Pau with a motorhome area without service, but where you can spend the night and be calm. In the same place, there is a tourist office, which can come in handy to find out about visiting the volcanic area or other towns of interest.
Of the 40 volcanoes in La Garrotxa, the Santa Margarita volcano stands out for its 2000 meter diameter and, for this reason, it is one of the best known and most visited. This volcano has a paved car park where overnight stays are allowed for €5/day, although we do not recommend it as it is next to the road.
In the Garrotxa area we only found one motorhome area in Sant Joan les Fonts, but with partial services, although due to its central location and next to good excursions it is one of the good motorhome areas in Catalonia that we recommend you visit.
To do services in the Garrotxa area, it is best to go to a campsite. Camping Les Tries, in Olot, has pitches adapted for motorhomes and a station for emptying black and gray water.
You also have the Lava campsite next to the Santa Pau volcanoes with activities and ideal for families.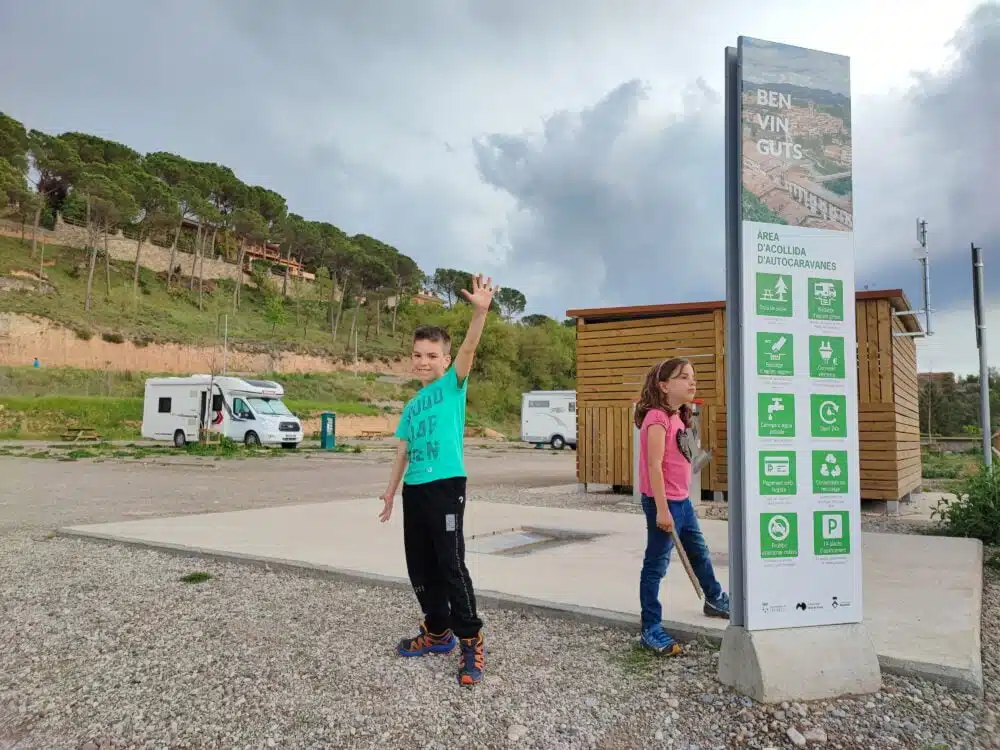 Gironella, textile colonies and modernism on the slopes of the Llobregat
Gironella is a town in the Berguedà region, which the river Llobregat crosses from north to south. Its architecture has been influenced by the textile industry, being the Gironella Textile Colonies Route one of the most interesting. Other routes offered by this stop on our itinerary are the Route of the Fountains and the Modernism Route.
The Gironella Area is a pleasant, quiet place, with picnic tables and close to a green area where you can walk with your pet. It is located next to the municipal swimming pool and the sports center, where you will find paddle tennis courts, volleyball courts and a soccer field. It offers all services for €5/day (payment by bank card) for a maximum stay of 48 hours. Undoubtedly one of the best motorhome areas in Catalonia that we recommend.
10 minutes from Gironella, you have Camping Berga Resort at your disposal, a paradise to pamper yourself a little at the door of the Pyrenees. Berga Resort delights you with pools with slides, treatments in its own thermal space, activities for children and restaurant services. A piece of advice about this campsite is to call and let them know that you are coming in a motorhome so that they can reserve a suitable space for you and, also, make the reservation in advance online and add the characteristics of your motorhome in comments, if your idea is to stop by there . An interesting fact is that they have spacious plots with a bathroom on the same plot.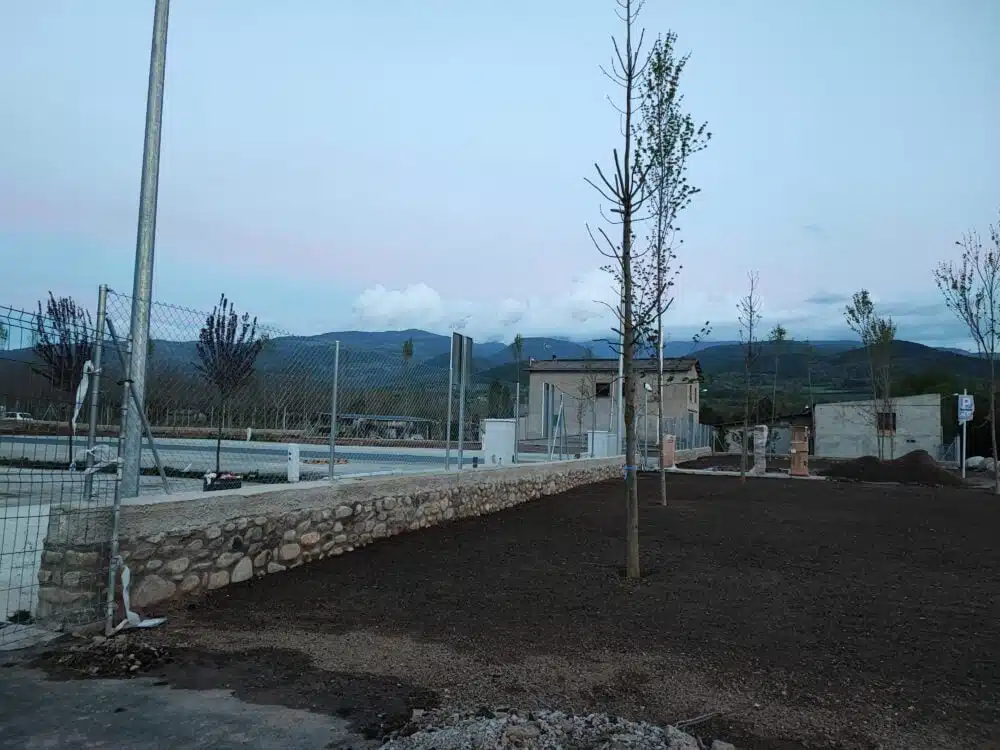 La Seu d'Urgell and La Cerdanya, one of the widest valleys in Europe
Delve into La Cerdanya, a large elevated valley in the Pyrenees and one of the widest in Europe with an east-west orientation that makes it unique. A magical place that you can fly over in a balloon as a recommendation.
Unlike other narrower valleys, La Cerdanya boasts of having an area of ​​9 km wide by approximately 30 km long, which receives heat and sunlight thanks to its strategic orientation. Another of the attractions of La Cerdanya is the fact that it is a land between countries, since it borders on France and Andorra. One part of La Cerdanya is, in fact, in France, the well-known upper Cerdanya, while the other belongs to Catalonia and is known as lower Cerdanya.
From this place, it is worth exploring some of the 17 municipalities that make up the Catalan part or any of the 26 French ones. They are of special interest: Dorres and Llo for their hot springs; Mont-Louis, wall it up as a town; Puigcerdà, capital of the Catalan Cerdanya, for its main street and the services it offers; Guils, viewpoint town of La Cerdanya; Llívia, a Ceretana island surrounded by French territory and which has the oldest pharmacy in Europe, documented from the year 1594.
La Seu d'Urgell as a base and its motorhome area
The closest motorhome area, with all the services, is in La Seu d'Urgell, currently for a modest fee and with a maximum stay of 48 hours. It is a fenced area, next to the center of the population, well leveled and with night lighting. Undoubtedly one of the best motorhome areas in Catalonia. 1 km from the area, there is a Repsol gas station where they also sell gas and which has a Mercadona supermarket next door.
From La Seu d'Urgell, you can also plan a visit to Andorra (half an hour away) or go into the town itself where it is worth exploring the Santa María Cathedral, the main street and old town, Segre Park and del Valira, Torre Solsona and the Parador, among others.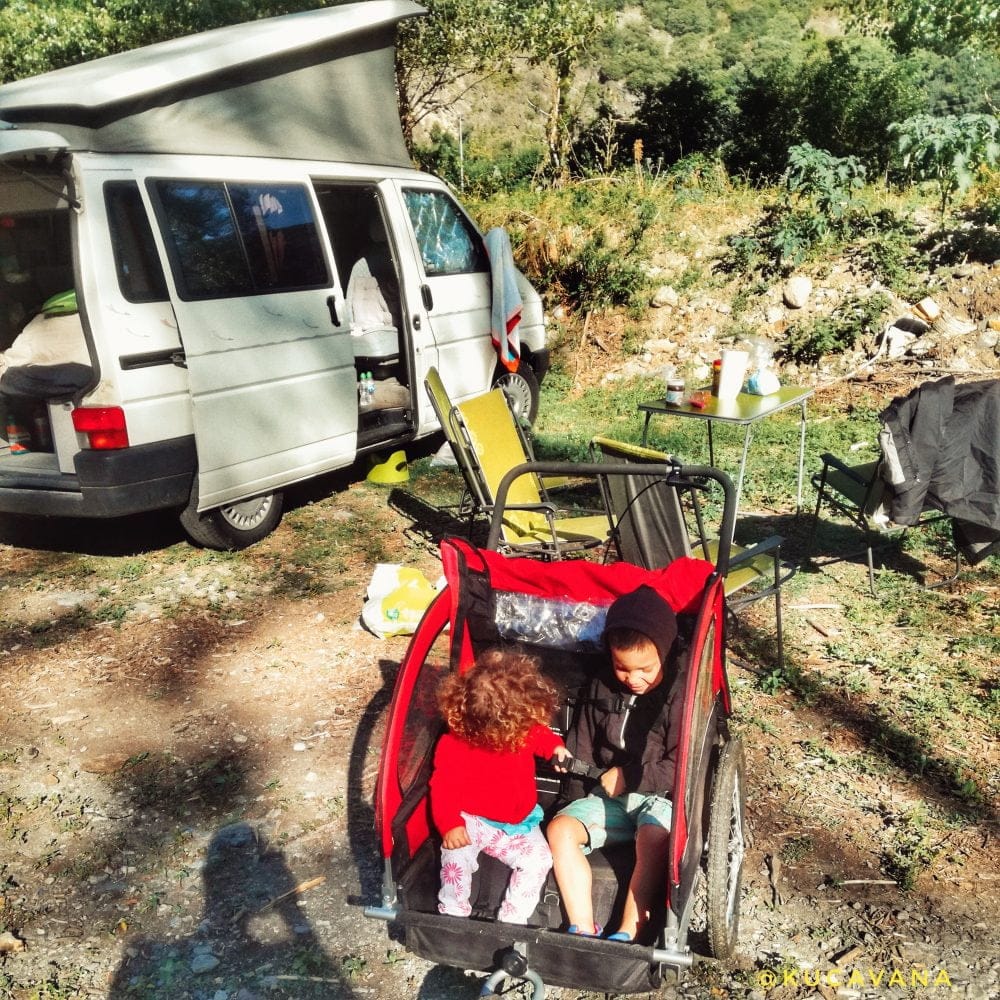 Rialp, Espot and the Natural Park of Aigüestortes and Sant Maurici
Rialp is a charming town in the province of Lleida. Its history is written by artisans, who filled the town with a multitude of trades, although now its main economic activity is tourism, especially in the Port Ainé ski resort.
Rialp has an excellent free motorhome area with a water change service included. Electricity costs €15 for 6 hours. One of the best motorhome areas in Catalonia and Lleida.
From Rialp, you can visit Espot and from there, take an excursion to the Sant Maurici Pond (l'Estany), in the Parc Nacional d'Aigües Tortes, the only National Park in Catalonia. To carry out the excursion, you can park for the day (not overnight) in the main parking lot of the town. In the ski resort car park, you can spend the night without problem, but only in the area reserved for motorhomes above the station car park b. Look closely because the motorhome area is at the end of parking B going up a ramp, it is more hidden.
At Espot, if you go in winter we recommend you do a snowshoe or ski outing in your station, a good place also to learn.
One of the recommended campsites on this occasion is Camping Voraparc, located at the entrance of the National Park. It has large grass plots and is a good starting point for exploring the area.
Àger, a place surrounded by nature and under the stars
One proposal is to go through the Àger valley, located in the region of La Noguera, in the province of Lleida. The valley is delimited to the east by the Noguera Pallaresa river, to the west by the Noguera Riobagorçana, by the Sierra del Montsec to the north and the Sierra de Montclús to the south. From this wonderful town, you can do all kinds of hiking trails, visit other Charming towns with historical memory such as Salàs and its shops or stop by the Montsec Astronomical Park (PAM) to live an adventure under the stars with the family.
Camping de Àger is small and familiar, but it has plots of 70 to 90 m2 with electrical connection. The plots are surrounded by almond and olive trees and enjoy spectacular views of Montsec.
12 km from Àger is Tremp and there, you will find an area for motorhomes with free water services and overnight stays, one of the best motorhome areas in Catalonia. Only the electrical connection is paid.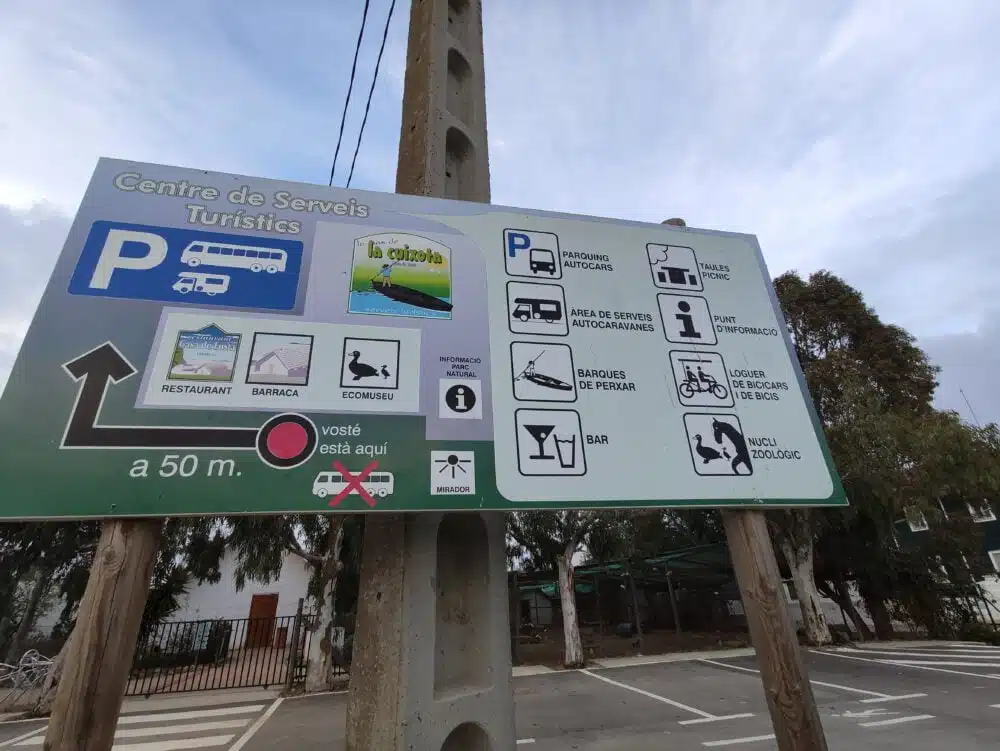 Ebro Delta Natural Park
To reach this destination, if you come from Àger, you may want to stop at the Flix motorhome area. It is located 30 meters from the C-12 highway, on a slightly uneven piece of land, with shadows and night lighting. It is located next to the Ebro river in an area with little traffic during the day, although quiet for the night. It has all the services and is free.
The Delta Natural Park is the largest wetland area in Catalonia, around the mouth of the Ebro River, with a total area of ​​7.736 ha and one of the most important aquatic habitats in the Mediterranean. The Delta landscape has a great personality that makes it unique. The totally flat lands attract the tourist's attention and the garden crops and fruit trees and the extensive rice fields that change their appearance throughout the seasons do not to a lesser extent.
In the Delta you can do a thousand activities that you can find here!, from bird watching to aquatic or cultural activities.
In the Delta, you can carry out various activities such as cycling through it, visiting the mouth of the river, enjoying hiking, the beaches and viewpoints, going to a multi-adventure park for activities with kayaks or canoeing and visiting a museum and surrounding town.
Campsites and motorhome areas in Catalonia in the Delta de l'Ebre area
In Amposta (Casa de fusta), for €9/day you can stay overnight and change the water. Right next door, in "Lo Mas de la Cuixota", they rent bikes, binoculars and you can sail in boats to hang out through the canals. Undoubtedly one of the best motorhome areas in Catalonia that we recommend you go to.
The Camarles area, ideal to start your visit to the Delta, has the tourist office nearby and is one of the good motorhome areas in Catalonia. It has barbecues and the possibility of filling and emptying water. It is a quiet area to spend the night and parking costs €6.
Other free areas with water change are that of Sant Jaume d'Enveja with a sandy surface, not delimited and that allows tables and chairs and the Parking l'Aldea, on the outskirts of the town of the same name and a base place from which to visit the Ebro Delta.
As for campsites, there are several options: Camping Ampolla, located on La Ampolla beach itself; Camping Ametlla, also located on the coast; Camping Alfacs, which offers pitches for motorhomes next to the beach in a quiet environment; Camping & Bungalows Estanyet, next to the sea and with special services for dogs.
Tarragona and Montsant
Tarragona and Reus
Known as the Roman city of Tarraco, Tarragona will allow you to explore an endless number of Roman vestiges where you will enjoy from adults to children. Tarragona is a warm and familiar city that invites you to a wide range of cultural activities and to enjoy the wide range of restaurants or an ice cream by the sea. Of course, you should know that there is no area or area for motorhomes and it is not easy to park in the city for motorhomes. It is difficult to find motorhome areas in Tarragona do not forget.
In Tarragona do not miss this Free Tour to not miss anything: https://www.civitatis.com/es/tarragona/free-tour-tarragona/?aid=8558
And if you prefer private guided tours or other activities, look at all that you can do in Tarragona here.
Visit Reus and have a good vermouth, because that is where this type of drink was born and, if you still want to, visit the vermouth museum there. In addition, in Reus you will find one of the places where you can see more modernist architecture and where you can do guided tours interesting.
The Montsant
We invite you to go a little inland towards the Sierra del Montsant and enjoy hiking in the surroundings of the Priorat vineyards or visit towns like Siurana, a town with spectacular views that has official car parks for motorhomes.
The town of Alcover has a free car park with a water change service. Also, in Alcover and near the motorway, there is a motorhome area with an asphalt floor, without shadows and with night lighting, one of the recommended motorhome areas in Catalonia for services in the area. The overnight stay is free with a maximum stay of 48 hours, while the water change has a cost of €5. It has a gas station 2 kilometers away, a municipal swimming pool 700 meters away and a restaurant just 50 meters away.
Camping & Bungalow Las Palmeras stretches along the long beach (platja llarga) and is located 5 kilometers from the Roman amphitheater of Tarragona and 19 kilometers from PortAventura theme park. It is a family campsite, with a station for motorhomes and located in a unique environment, although close to urban centers, an advantage that makes it a good base camp for exploring the surroundings.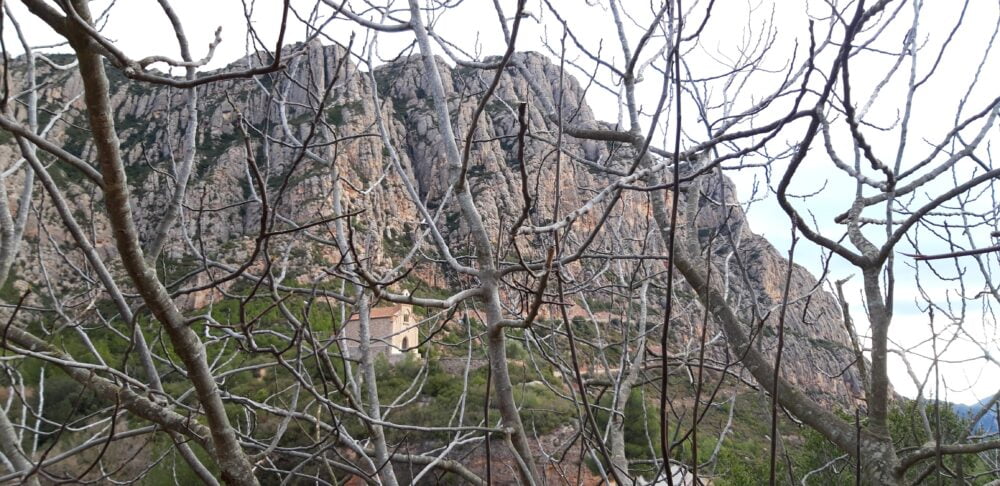 Montserrat massif and monastery
We end our adventure through Catalonia in a motorhome in the Sierra de Montserrat, a fascinating place of great natural and spiritual interest and a symbol of Catalonia. Montserrat is an emblematic massif of unique abrupt rock formations located in Bages, El Baix Llobregat and l'Anoia. The highest peak is Sant Jeroni at 1236 meters and among the most outstanding rock formations are Els Ecos, El Cavall Bernat, Els Frares Encantats and Les Agulles.
It has places of great architectural, cultural and spiritual value such as the monastery, a notable pilgrimage center located on the eastern slope of the mountain, at an altitude of 720 metres. It is an XNUMXth century medieval-style monastery that can be visited and contains a polychrome Romanesque carving (XNUMXth or XNUMXth century) of the Virgin of Montserrat, known as La Moreneta, patron saint of Catalonia.
This wonderful natural area offers multiple alternatives to spend the night in a motorhome. The Monistrol de Montserrat motorhome area is free and with services, one of the good motorhome areas in Catalonia. It is located near the town and the rack railway station to visit the monastery.
Can Jorba is a great car park near El Bruc with beautiful views and no services. It is close to the climbing area and trails.
The Montserrat Monastery itself has a car park where overnight stays are allowed for €6,50/24 hours, per vehicle. A piece of advice is to park in the upper part and less inclined to spend the night once the visitors have left.
We hope you liked this post. Remember if you have doubts write us below in comments.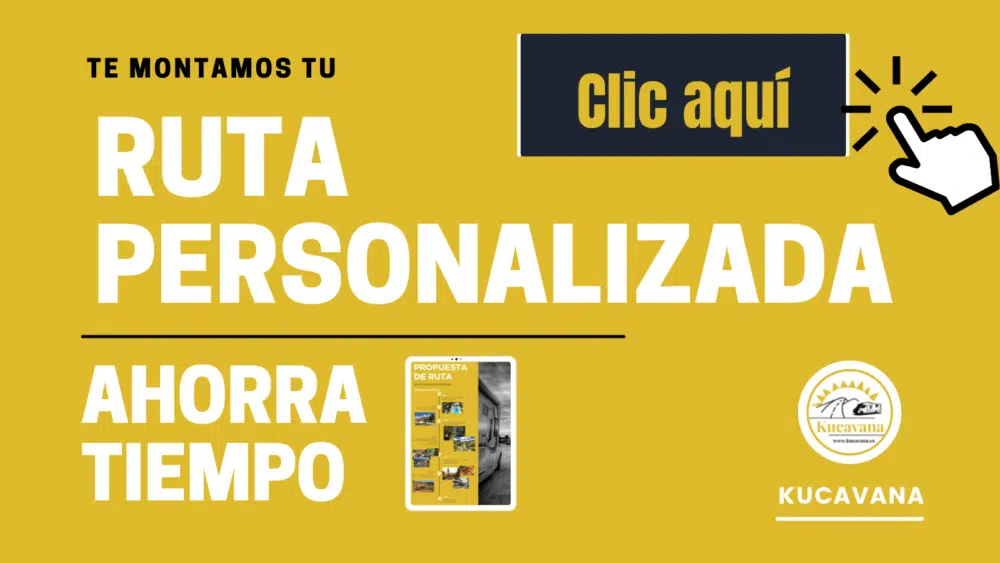 latest blog posts
Click to rate this entry!(Votes: 1 Average: 5) Enchanted forest buret, and much more! Discover in this post our family visit to this beautiful town with a beautiful enchanted forest and which also houses many more surprises so that you fall in love with it, as it happened to us. Burette and its enchanted forest, […]