If you are looking for a complete guide to travel to Catalonia by motorhome, in this post we hope to help you.
We tell you everything through our own experience. we were born and we live in catalonia and they are many years traveling through their lands with our motorhome and before camper. We surely know a lot about the best and worst things about traveling by motorhome in Catalonia, so we hope to help you with this article.
We are the kucavana familyWe traveled with our two children, ages 8 and 11, and our adopted dog Max. We usually travel in our motorhome called Kucavana, but we also like to travel by cycle tourism, by bike, or by plane and backpacking. We enjoy every learning experience as a family and we hope to help you enjoy traveling as much as we do.
If you don't have a motorhome or camper, a gift
Roadsurfer, camper rental professionals, has given us a gift for you! We do not charge any commission if you reserve a Roadsurfer camper, but in this case the discount they give you I think is very worth it for you, so we leave it here in case it helps you:
Road surfers you are going to deduct 80 euros in your camper rental if you reserve it through this link and enter the CODE: KUCAVANA80
We set up your motorhome route in a personalized way, a route that you will do: Click & Go!
If you would like to save time, setbacks, fines and trust our experience In the camper and motorhome world, we remind you that we have a assembly and organization of personalized route in motorhome of which many people are more than happy.
With our service you will have a fully interactive Click & GoSo that just click and the GPS will take you to each of the essential places without losing in setbacks and spending the night in the better places possible. Access the service so that we can send you your budget by filling in the following form.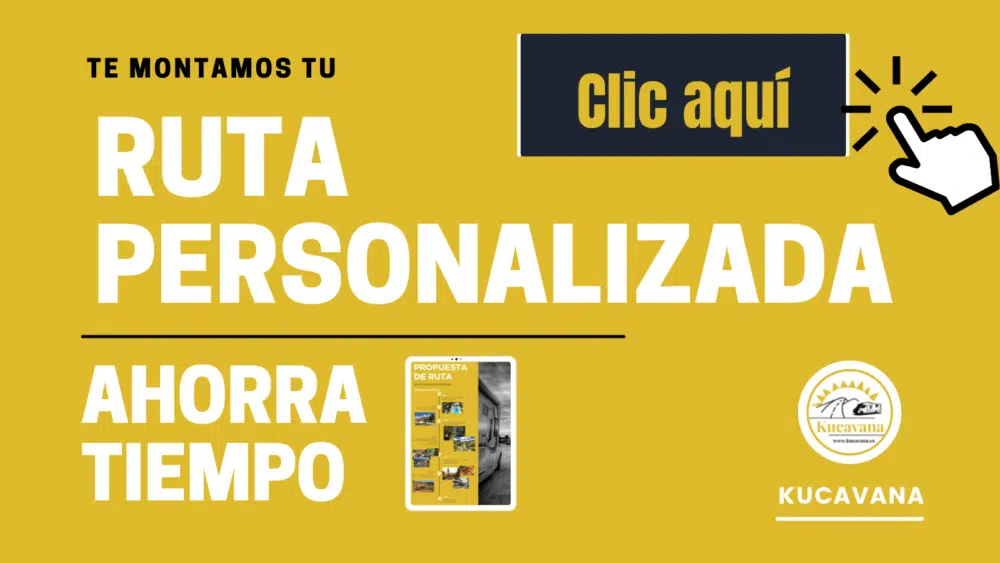 Catalonia in a motorhome or camper: Park, spend the night and camp in Catalonia in a motorhome or camper
Catalonia has magnificent routes to travel in a motorhome through the diverse landscapes of sea and mountains that characterize it. Away from the urban centers, there are fishing villages, dream coves, mountain villages and spectacular natural landscapes that fully maintain their essence.
It is said that Catalonia is one of the best-prepared communities for motorhome tourism in Spain and that it has service areas and host campsites that will make your trip an unforgettable experience. It really is so, we attest.
Stay with us and discover our guide to Catalonia by motorhome with everything you need to know. Are you coming?
Regulations on free overnight stays in Catalonia in a motorhome or camper
The regulations in Spain regulate that You can park and spend the night anywhere that there is not a prohibited sign and as long as there is no camping (Leave the perimeter of your vehicle, that is, remove tables, chairs, remove awning or raise a pop-up roof, etc...).
This is the general rule, you can park and spend the night without any problem if there is no explicit prohibition in any parking lot in Spain. As long as you don't go off the beaten track for parking and as long as you do not obstruct the passage of pedestrians or other vehicles.
However, the reality is that in Spain and in this case in Catalonia You will often find "prohibited for motorhomes", just like throughout Spain. These we must know and avoid on our route, hence the importance of plan our motorhome route well in advance.
On many occasions these prohibited are within the limits of the Coast, Natural Parks or in parking lots that due to their influx They veto us from parking and/or spending the night in a motorhome or camper.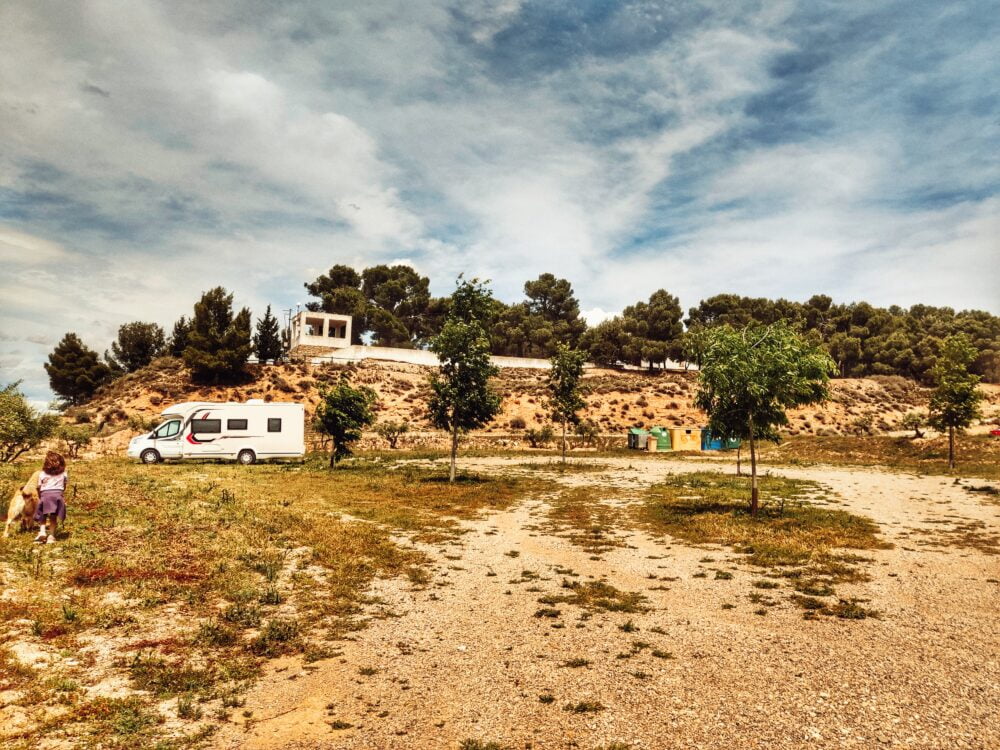 Camping for free in Catalonia is prohibited and severely fined
Free camping in Spain is totally prohibited, therefore, in Catalonia the same.
As a general rule, the law tells us that Free camping (remove table chairs, open windows, awning…) throughout Spain is prohibited in any public place.
Consequently, in Catalonia we can only camping (removing tables, chairs, and other items from the vehicle or even raising the pop-up roof of a camper is considered camping when protruding from the perimeter of the vehicle) in campsites, private motorhome areas that allow it or other sites explicitly enabled for this purpose.
Our fines are varied, depending on the municipality, between 100 to 300 euros. But what we can guarantee is that in Catalonia they are not permissive with free camping and we have seen many fines for camping. So don't camp for the sake of your pocket.
Services for motorhomes and campers in Catalonia: motorhome areas in Catalonia
We will find many motorhome areas in Catalonia of all kinds, both public and private, paid and free.
Almost all of them have all the services for motorhomes. And most of them are located in inland and less touristy towns. On the Coast and the Pyrenees, where we will find more prohibitions to park and spend the night, what we will find will be mostly campsites or some private motorhome area.
Most of the Catalan campsites not only have the basic services for motorhomes, they also have many other services such as entertainment, swimming pools with slides, among others. Of course, the campsites in Catalonia, being almost all "glamping sites", are also very expensive.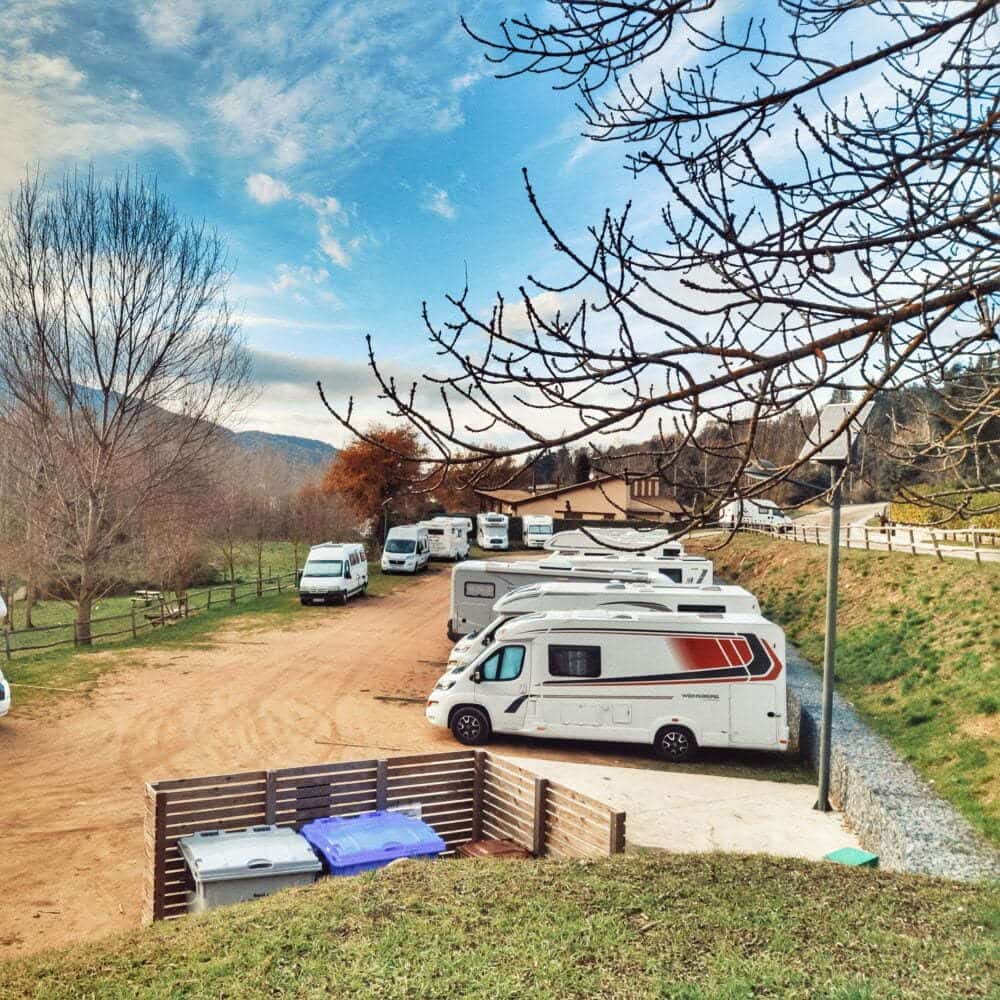 Roads and driving in Catalonia in a motorhome
En the roads are generally good in Catalonia. have especially attention on the mountain roads of the Pyrenees. There you will find great unevenness, roads where only one car takes and many curves.
Another tip to remember is Do not get into the center of the Catalan towns. Most towns have historic quarters with narrow, labyrinthine streets and low balconies. Do not enter the center of towns in a motorhome, save yourself trouble and have a hard time.
Also, if you go in winter to the Pyrenees remember that it usually snows and you have to be prepared, your motorhome must be properly shod and you must take into account that with freezing water you can have problems. Look to you This Video that we did that can help you to solve problems that arise when traveling in winter and with snow in a motorhome.
Things to take on your motorhome trip
Don't forget to bring some pantry, your health card, basic medicines and first-aid kit, your pet's veterinary card if you travel with him, pills or liquid for the chemical toilet and everything that the route you want to do requires (suitable clothing and equipment such as bikes etc…). If you go to humeral or swampy areas, remember to take mosquito repellent and in summer take sunscreen.
Also, if you want to know what extras and useful things we carry in our motorhome you can see this post 50 useful things that we carry in our motorhome.
Finally, a piece of advice. apart from you motorhome insurance (in this post you have the comparison that we made before choosing ours), we advise you to take it for trips away from home. Even if it's in Spain, a Special travel insurance for motorhome trips It is going very well, as is the Iati Escapadas that for 2 euros, day and person, apart from unforeseen medical events, covers theft inside, accidents involving your pets, among other things that are very interesting for our type of travel. In addition, we leave you in this link a 5% discount that will apply to you at the end of your budget: 5% discount travel insurance Iati Getaways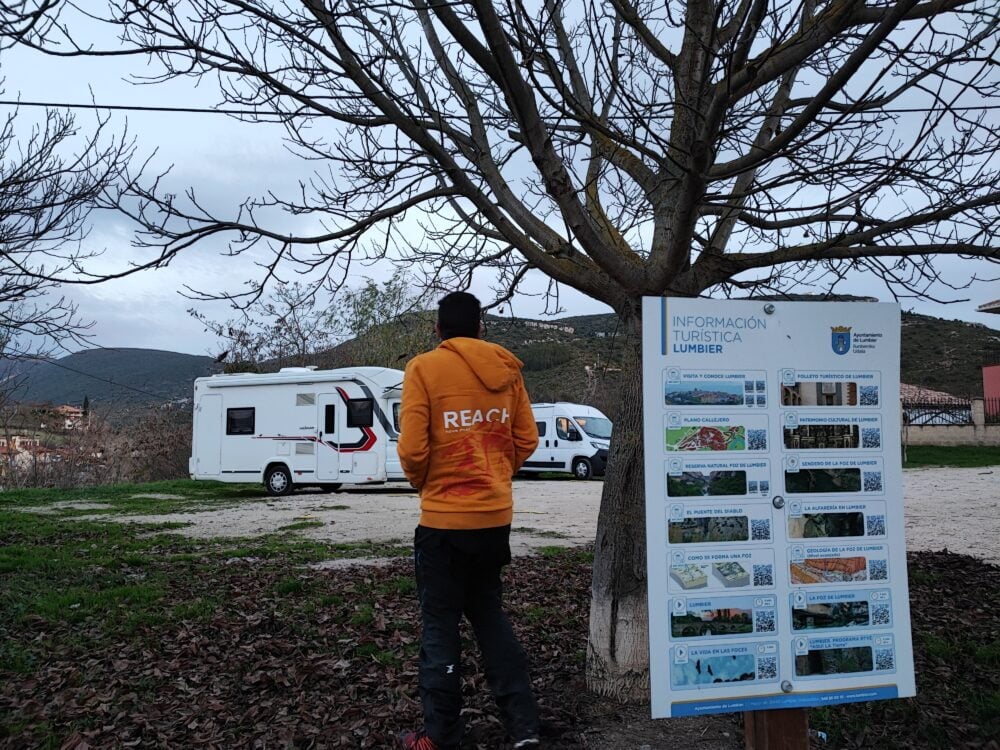 The best destinations to visit and see in Catalonia by motorhome
Catalonia is a Spanish region with a great variety of landscapes and tourist places to visit by motorhome. Of all of them we have created a post with the 10 best motorhome destinations and the best motorhome areas in Catalonia.
click here to see The best 10 destinations to visit in Catalonia by motorhome with the best motorhome areas in Catalonia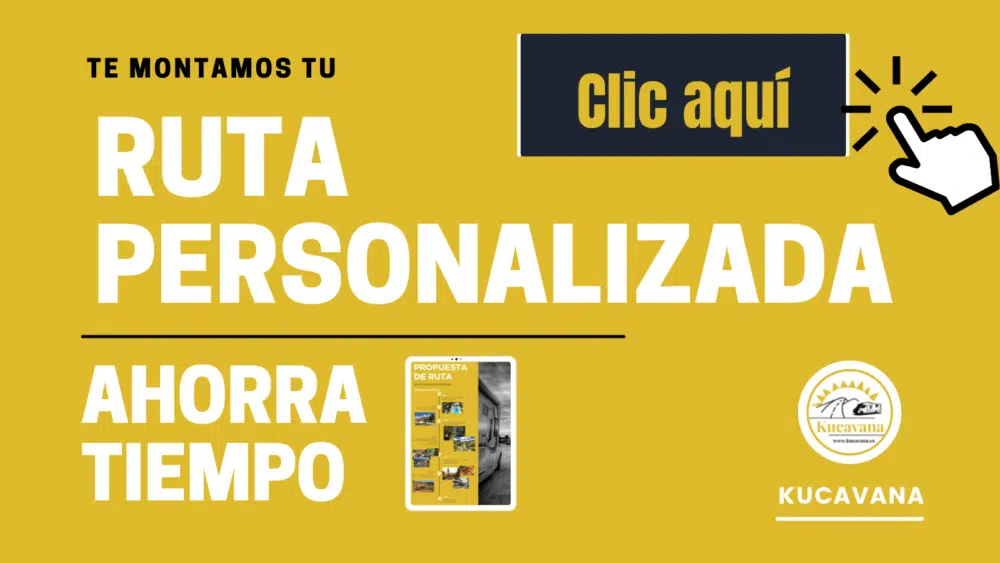 Some of the top destinations to see on a route through Catalonia in a motorhome
Here are some of the best destinations worth visiting in Catalonia:
Costa Brava: With its sandy beaches and crystal clear waters, this is one of the most popular areas for motorhome tourists. The Cap de Creus Natural Park is an impressive place to enjoy panoramic views and go hiking. But remember that it is not the most camper-friendly place in this area, you will have to go to campsites a lot if you want to enjoy it well.
L'Urgell, Catalan Tuscany: undoubtedly the most camper friendly place in all of Catalonia. Where motorhomes are more than welcome and its landscapes and heritage full of castles and beautiful towns will surprise you.
Montseny Natural Park: This natural park is located in the mountains near Barcelona and is an ideal place to enjoy nature. It offers a great variety of trails for walking and cycling, as well as a great variety of fauna and flora.
Girona: This medieval city is famous for its old town, with its cobbled streets and hanging houses. It is also known for its cathedral and for being the filming location for the television series "Game of Thrones".
Tarragona: This city is famous for its Roman heritage, including the amphitheater and the Roman theater. It is also an ideal place to enjoy panoramic views from its acropolis. But beware that it will be difficult for you to park in a motorhome.
Natural Park of Aigüestortes i Estany de Sant Maurici: This natural park is home to some of the most beautiful lakes in Catalonia and is an ideal place for hiking and fishing.
Delta del Ebro Natural Park: This natural park is home to a wide variety of birds and is an ideal place to practice bird watching. It is also an ideal place to practice water sports such as kayaking and windsurfing.
Videos of some of our motorhome getaways in Catalonia on our YouTube channel
In general, Catalonia is a region with a great variety of landscapes and tourist places to visit by motorhome, from beaches and natural parks to historical and cultural cities. There are many sites worth visiting, each offering a unique experience.
We hope you enjoy Catalonia in a motorhome and that you write us below in comments. We read you!
Latest posts from our blog
Hello! Are you looking for a magical Christmas in a motorhome? Here are the best 10 motorhome trips we have taken at Christmas. As a mother of two children who has traveled with her family in a motorhome throughout Europe, I am going to tell you which trips we have taken we liked the most during this time of…
Click to rate this entry!