Discover a route through 2 incredible beaches of Cantabria in a camper van or motorhome. A route to enjoy traveling by motorhome or van and that will make you fall in love through the travel story of these great adventurers.
Without a doubt this couple who love the camper world are one of those Instagram profiles that hook us. They are one of our favorite instagramers in the world of traveling by camper van and motorhome.
With their publications they inspire us and make us dream of beautiful destinations. For me they are one of those instagramers who undoubtedly add value with their publications, so Do not hesitate to follow them! What are you waiting for?
Yadi and Javi they are a couple that carries all my life dreaming of this kind of camper life and that fate brings them together to make this dream come true.
After some travels through Spain and Portugal, they decided to go to live in germany, where they have spent the last 3 years. This has allowed them to travel across much of Europe.
Follow them and don't wait any longer for the adventure of seeing the world from their van!
Plan and organize your trip through Cantabria by motorhome in 5 clicks
Of all the trips we have made, we want to recommend the one in Cantabria, which has undoubtedly been one of the most incredible in terms of landscapes and gastronomy. And here our proposal is for a weekend spacada to Liencres through two of the best beaches that we set foot on in Cantabria by motorhome or van.
Here we propose a getaway through Cantabria in a motorhome or van through two incredible beaches that will make you fall in love.
Arnía Beach (Liencres) in Cantabria by van or motorhome
We begin our recommendation of a getaway through Cantabria in the Arnía Beach, belonging to the district of Liencres belonging to the municipality of Piélagos.
Arnia beach
Arnía beach is apbeach located on the coast around Santander, in a spectacular area for its landscapes
geological, with small islets vestige of the old coast, and a spectacular platform of eroded rocks. It is about 3 km from the town of Soto de la Marina and it is a beach that the last section of the descent to the beach must be done on foot.
It is a beautiful beach of fine golden sand that is 220 meters long.
Access to the beach and parking
For, to access you have to cook the S-463, 2,5
Km from the crossing. The proposal is that you park in the private car park next to the El Cazurro restaurant.
By contributing one euro to the owner, you can spend the day there with the campers and with views that do not envy landscapes like those of Thailand.
GPS Coordinates: 43,473,-3,916
Visit and enjoy the place, but to sleep think that you will not be able to spend the night here. For this you must go to the next beach that we recommend for this weekend getaway.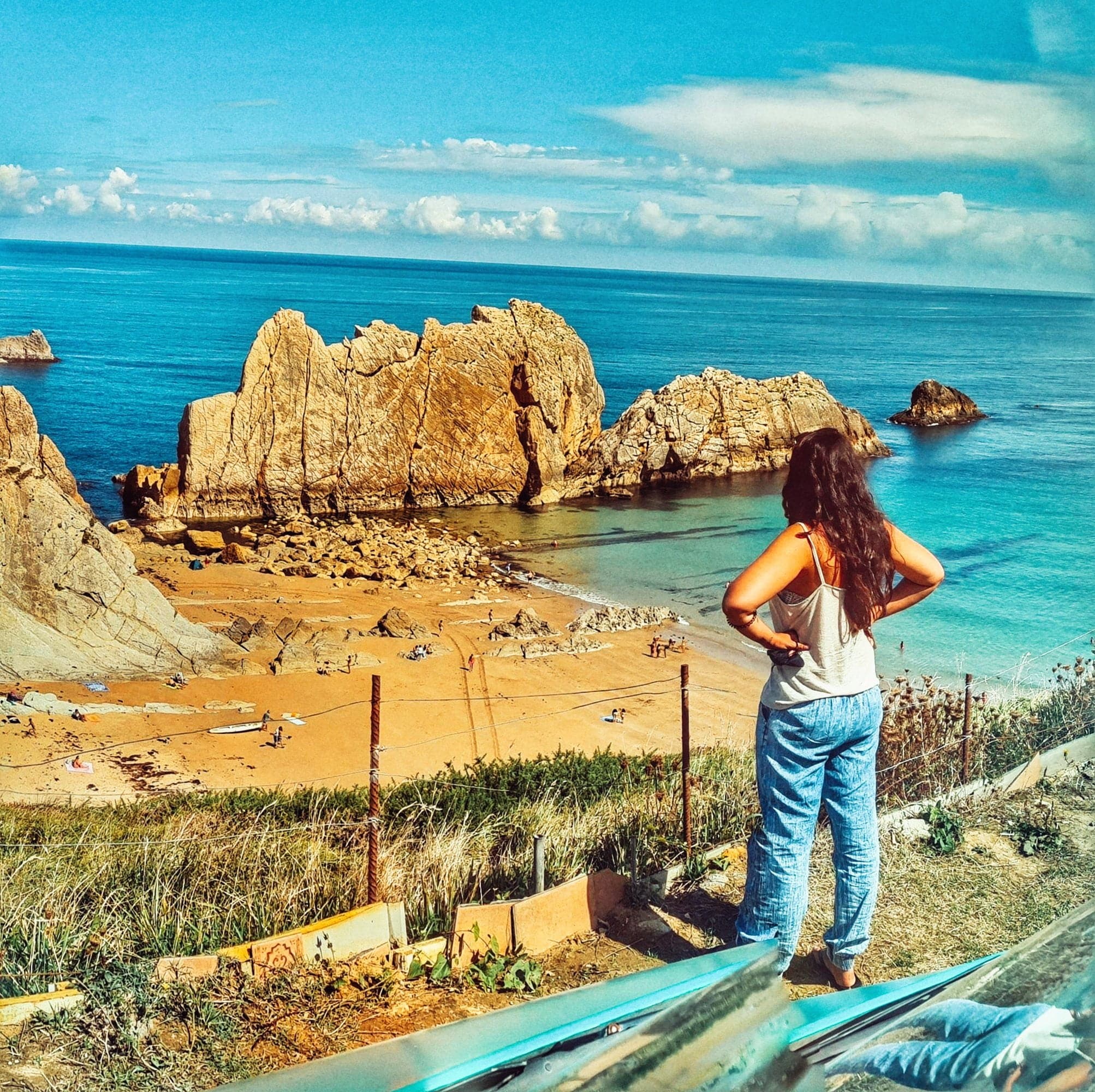 Somocuevas beach (Liencres), the second recommendation for a getaway through Cantabria in a campervan or motorhome
To sleep you can go to this wonderful second beach, the Somocuevas beach. The second beach that we recommend on a route through Cantabria in a camper van and that you should not miss.
Somocuevas Beach
Somocuevas Beach in Liencres, Piélagos municipality, 3 km from Boo de Piélagos is also beautiful and ideal for spending the night. It is accessed from a small parking lot from which a short path starts that ends in the 139 stairs that lead to the sand. We recommend leaving all your weight in the van or car so that climbing the stairs is not so hard. This beach has a very high percentage of nudists. It has fine sand and a gently sloping entrance to the sea. A large overhang protects the beach from the open sea. It is one of the best coves on the Costa Quebrada without a doubt.
Access, parking and overnight
On this beach, there is a small free car park on the edge of a cliff above the beach that is where you can spend the night.
GPS coordinates for the overnight stay: 43,469,-3,942
Gastronomy in the area: a recommendation
Finally, the gastronomic recommendation for this wonderful getaway through Cantabria in a camper van. The La Viga restaurant, in Soto de la Marina, where not only did we have a deal of 10 but the food is exquisite and the place is super cool. Another recommendation to sign up for your next getaway or route through Cantabria by van or motorhome.
If you do not have a motorhome and what you want is to rent one and start in this world, this is your service. Or, if you don't have time to organize your next motorhome or camper trip and you want someone to organize it for you with the utmost professionalism, this is also your service.
We advise, manage, solve doubts, give support and set up a route or organized trip in a motorhome personalized to your tastes and needs, so that you go calm, safe and your motorhome trip is unforgettable.
PRICE: Depending on the days of the organized motorhome trip to be assembled.
Other articles that may interest you