Click to rate this entry!
Discover the most practical and useful tips for traveling by motorhome with children . We tell you about a family that has traveled thousands of kilometers by many countries in a motorhome and before a camper van, caravan and tent, traveling with your family and traveling with your children is great!
VIDEO OF PRESENTATION OF THIS MANUAL FOR TRAVELING IN A MOTORHOME WITH CHILDREN
Why travel with a motorhome with children?
Because traveling by camper is the itinerant tourism most attractive of all because it gives you total freedom and that with children is essential.
If you choose to travel in a camper or motorhome, you decide the schedules and the route, just what your kids need. Go at your own pace and schedules.
Furthermore, it will enjoy beautiful family places away from conventional tourist routes. Children's genuine curiosity will kick in quickly.
This way of traveling te is closer to the customs of the different regions you visit and also to people. It is a more humane tourism. We stop being simple tourist families to become traveling families.
And if you get closer to people, what to say about what you get closer to your familyia, your children and yourself. Many things can happen in a small space without barriers! It is a space to make a beta tester for your family. In a motorhome you will discover things that you may not yet know about your own family or yourself, I assure you.
For us, what Better to travel in a motorhome with the family is that day by day we reinforces family ties, without a doubt unites us more. That, or definitely breaks them lol.
More advantages
El quality time with your children is another of the realities that occur within a motorhome, there is less to clean, less to cook, less to collect… Cast gives us more time for our children! A time developed in little space, which is definitely more space for your children and your family. Traveling in a motorhome with children is for us, without a doubt, the most practical and best way to travel with children.
Another of the great advantages of traveling in a motorhome with children is that te allows to respect the rhythms of the little ones, without interruptions, without external aggressiveness. You can eat when necessary, sleep when necessary, or go to the bathroom when the need is tight. For what it does to schedules, it is undoubtedly the best family trip option.
In addition, lThey bring up their toys, their favorite stuffed animal, their sheets, their pillow... In short, they carry their house with them, nothing for them is strange, the other way around.
Everything is familiar, it is a home. That relaxes them and makes them enjoy the trip more. Focusing, thus, on the discovery of the place, and on the mosquito of genuine curiosity of learning bites them wherever they go.
Since I was born 36 years ago, I have known the camper world. I was born in a hippy caravan, as the daughter of a good showman. From the caravan I went to a van, from the van to a T4 camper and from this to a motorhome which is the one we have today.
I'm a bit of a novice, as you can see. And the best, I have been a girl in this world, and I can say that without a doubt my best childhood memories are in the camper world.
ORGANIZED TRIPS IN MOTORHOME WITH CHILDREN
Sign up for our next getaway or organized trip in a motorhome. We take you.
NEXT ORGANIZED TRIP IN MOTORHOME WITH CHILDREN:
Next month
For families with children
Maximum 3 motorhomes or campers
Price: € 150 2 adults + 2 children (does not include meals or motorhome rental,)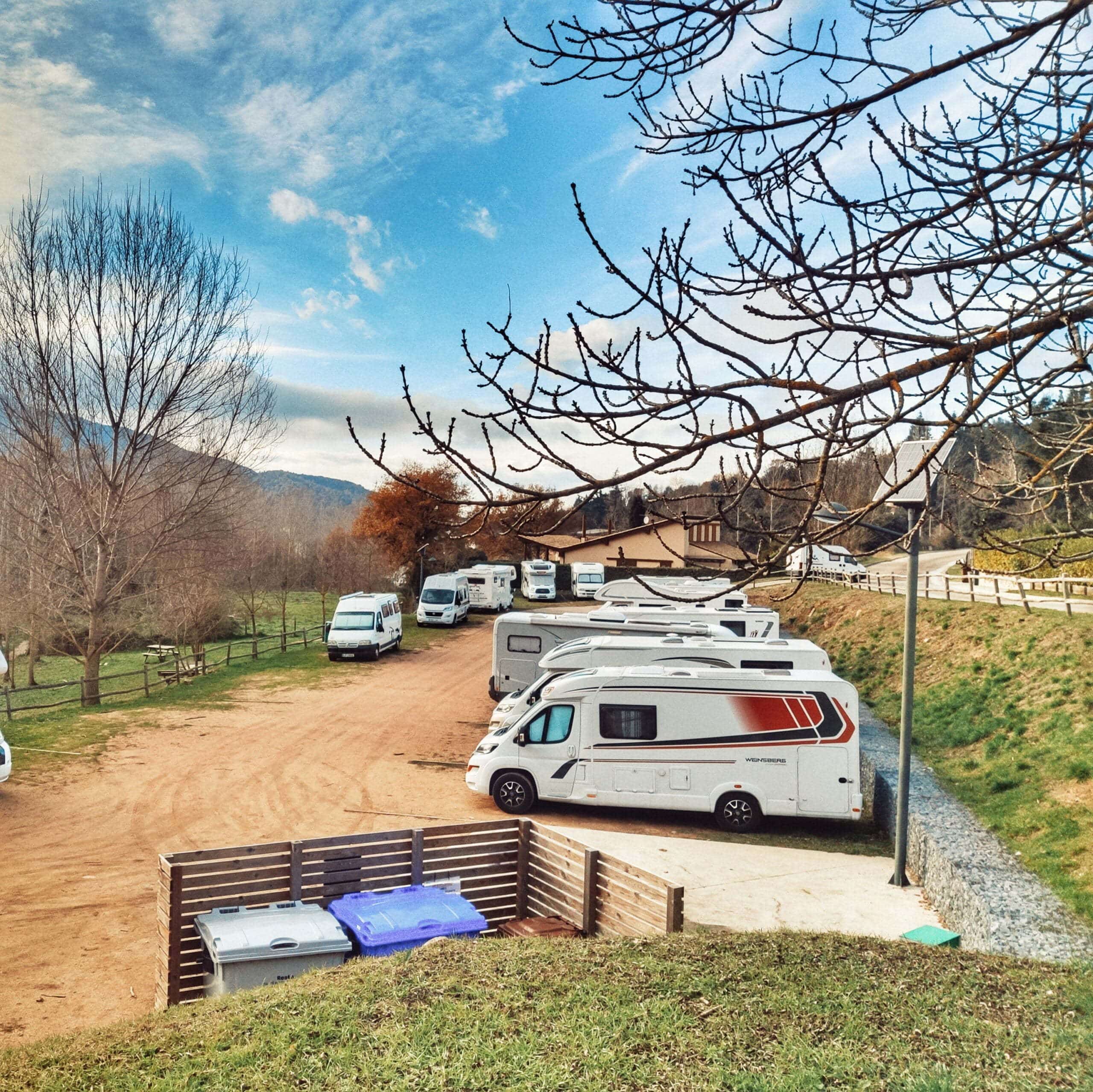 How to start traveling with a motorhome or camper with your little ones?
En first, take a good look at this manual. See if it is your way of traveling or not. This world you either love or hate.
View How much does it cost to travel in a motorhome and if it will compensate you. You will see them in each of the posts of our trips, 10 days for French Brittany the 4 of the family for 900 Euros with everything (if you rent it costs an average of € 120 per day), or 38 days for Denmark, Sweden, Norway and Finland cost us about € 4000.
Once decided, choose a motorhome or camper
To start traveling in an AC or camper you have three options: rent, buy or camper. And all that between different types of vehicles, from small California-type vans to buses and camper trucks. Look at the manual below to discover all the types of motorhome you have.
If it is your first time, it is best to rent, it is what we would always recommend before buying. Do not forget that you must assume a rental cost between 100 to 150 euros the day for this.
If you are inclined to buy a new motorhome, you should know that its price ranges between 40.000 and more than 200.000 euros.
In case you have thought about buying a second-hand motorhome, the figure can drop to around 15.000 euros.
Finally, handymen can camper their own van or vehicle.
E

scoger among many types of motorhomes and vans

Also choosing a motorhome for a family is a bit difficult at times. It depends on how many of you are in the family, there are motorhomes with 2 to 9 seats, but watching are sometimes places to sleep but they are not the same for traveling.

Besides the places to travel and sleep we advise you to make a list of the utilities and priorities that you will give him, to later decide on his good distribution. For example, if your priority will be to take a nap, perhaps the best thing is to have a distribution where at least there is always a mounted bed.

And when you have your motorhome, start planning your motorhome trip.

Tips for traveling in a motorhome with children before leaving

Traveling with a motorhome with children has its tricks, and in this super manual that we have written below there are many that can help you during the trip and before.

Look in the manual safety tips with children in the motorhome. Tips such as remembering to lower the dining room table when you travel, that you anchor the approved safety seats well, always better against the counter, close drawers well and do not leave anything loose by the motorhome or do not run.

And above all keep looking in the manual to see Safe places to sleep in a motorhome with children, with the motorhome apps that we give you in the overnight guide, you will be sure of a good place.
What to bring in the motorhome with children
Then plan the suitcases and accessories to take in the motorhome that can help you distract and entertain your children in the motorhome during the trip or on rainy days.
Bring board games and cards, notebooks to paint, a blackboard, bikes, a good gps locator watch to avoid losing your child, some walky talkies always practical with the kids, a glass with a lid so that you do not throw your colacao and other things that we give you as ideas in our manual below.
Finally, always wear sunscreen, swimsuits (even if it's winter), hats, anti-mosquito bracelets, aloe vera gel (for bites, nettles, burns etc ... you don't know the headaches that have taken me and some campers away with children), a good first-aid kit with a thermometer and lots of catapun, raincoats, warm clothes, spare shoes, crabs for the rivers, nets, stick and bucket, a kite, spare bedding for unexpected vomiting ... With children! they always go well!
And finally he decides one of the great campervan trips with children in Europe. Where to travel in a motorhome with children?
Choose a route, place and activities to make them suitable for children and without a doubt they and you will make motorhome trips unforgettable.
Take
route ideas
, places and activities to do with the children in the motorhome on our blog. There is no trip or getaway that we have described that we have not gone with our children, so it is a good place to get inspired. .
To tell you some, I think we will never forget to travel with children in Europe as the Nordkapp trip when we went to see Santa Claus in motorhome and Disneyland in motorhome and Legoland in Denmark or when we saw the chobby girls in Brittany, etc…!!!
We also won't forget traveling in a motorhome with children in Spain to places like la Garrrotxa, where its rather lunar landscape of volcanoes and its gorgas have made us enjoy, the spectacular Aragonese Pyrenees in its Valle de Tena or Valle de Zuritza already in Navarra, or by the Basque Country or by Córdoba, Zuheros and Almodobar del Río, contemplating one of the most beautiful game of thrones castles.
These are some ideas of routes with children that you will find through our blog, among many others! Go to the manual and you have direct access to everything you want to expand.
If you still do not have a motorhome or camper, this interests you
COMPLETE MANUAL FOR TRAVELING IN A MOTORHOME WITH CHILDREN
Click on each of the sections, to know everything and more about how to do tourism traveling in motorhome with children
You have doubts? We help you
Discover the most practical tips Of how travel in AC or camper with this guide - user manual. A manual designed to help you travel in a motorhome with children, travel with a motorhome with dogs and a guide designed to motivate you to try traveling in a motorhome in Spain or Europe however and with whoever.
But if after exploring the guide we provide, you still have you have questions and you want us to advise you or we can give you a cable To buy a new or second-hand motorhome or simply try this world of caravanning you can contact us through our advice.
We can also help you plan your ideal route with children! We will be delighted.
DO YOU ENCOURAGE TO TRAVEL IN A MOTORHOME WITH A FAMILY?
If you do not have a motorhome and what you want is to rent one and start in this world, this is your service. Or, if you don't have time to organize your next motorhome or camper trip and you want someone to organize it for you with the utmost professionalism, this is also your service.
We advise, manage, solve doubts, give support and set up a route or organized trip in a motorhome personalized to your tastes and needs, so that you go calm, safe and your motorhome trip is unforgettable.
PRICE: Depending on the days of the organized motorhome trip to be assembled.
From € 20
Summary
Article Name
The definitive manual for traveling in a motorhome with children
Description
The definitive manual for traveling in a motorhome with children
Author
Publisher Name
Publisher Logo